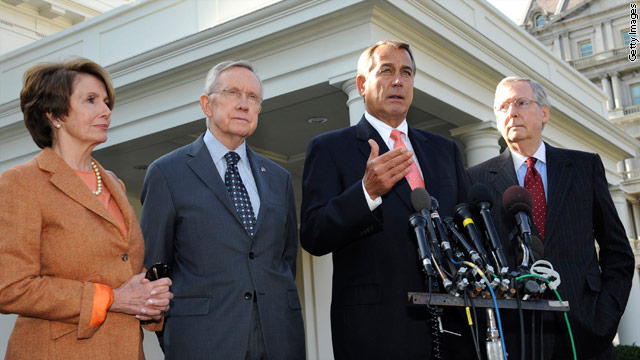 November 16th, 2012
01:22 PM ET
The bipartisan leadership of Congress sounded optimistic what they addressed reporters outside the entrance to the West Wing on Friday following their meeting with the president, vice president and members of the White House economic team. House Speaker John Boehner spoke first, calling the meeting "constructive" and vowing to keep additional revenue on the table:
We had a very constructive meeting with the president to talk about America's fiscal problem. I outlined a framework that deals with reforming our tax code and reforming our spending and I believe that the framework that I've outlined in our meeting today is consistent with the President's call for a fair and balanced approach. To show our seriousness, we've put revenue on the table, as long as it's accompanied by serious spending cuts. And while we're going to continue to have revenue on the table, it's going to be incumbent for my colleagues to show the American people that we're serious about cutting spending and solving our fiscal dilemma. Now I believe that we can do this and aver the fiscal cliff that's right in front of us today.
Next, Majority Leader Harry Reid stepped up to the the microphone. Using the common parlance of Washington D.C., Reid also called the meeting "constructive," repeatedly saying that he felt "very good" about what the leaders discussed, and promising not to wait until the last possible moment to get a deal done:
This isn't the first time that we've dealt with these issues. We feel we understand what the problem is and we've felt very – I feel very good about what we were able to talk about in there. We have the cornerstones of being able to work something out. We're both going to have to give up some of the things that we know are a problem. And so it's like when you arrive at a point where we all know something has to be done. There is no more 'let's do it some other time.' We're going to do it now and I think we feel very comfortable with each other and this isn't something we're going to wait until the last day of December to get it done. We have a plan. We're going to move forward on it. We're going to work during the Thanksgiving recess. We're going to meet with the president when we come back the first week – at least that's as I understand it. So I think it was a very constructive meeting. I feel very good about what we were able to talk about.
Democratic Leader Nancy Pelosi spoke next, emphasizing that her priority was to send a strong signal to consumers and the markets that the leaders are committed to finding a solution. Pelosi also acknowledged that if they aren't able to find a solution, the consequences could be severe: FULL POST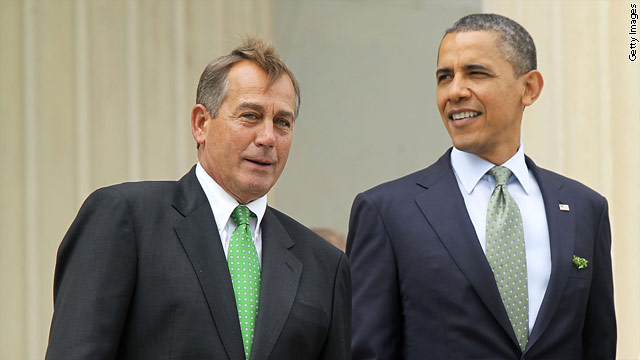 November 16th, 2012
07:37 AM ET
Today President Obama begins negotiations with congressional leaders on how to avoid the so-called fiscal cliff – severe budget cuts and tax increases that are set to go into effect at the end of the year. House Speaker John Boehner, Leader Nancy Pelosi, Senate Majority Leader Harry Reid and Minority Leader Mitch McConnell will all come to the White House at 10:15 for a meeting with the president and the Vice President Biden in the Roosevelt Room. Later Obama and Biden will meet with civic organizations and other outside groups for yet another listening session on the potential impacts of going over the fiscal cliff.
There is no press briefing today. Here's the schedule as released by the White House: FULL POST
November 15th, 2012
10:38 PM ET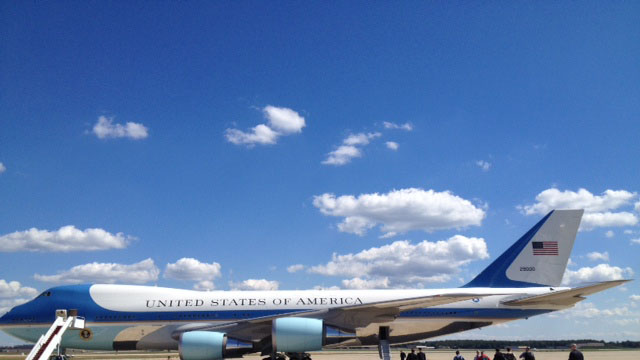 November 15th, 2012
08:02 AM ET
President Obama returns to New York Thursday to view clean-up operations weeks after Hurricane Sandy devastated parts of the area.
President's schedule:
10:20AM THE PRESIDENT departs the White House en route Joint Base Andrews/South Lawn/ Open Press
10:35AM THE PRESIDENT departs Joint Base Andrews/ Out-of-Town Travel Pool Coverage
11:30AM THE PRESIDENT arrives New York City/ JohnF.KennedyInternationalAirport/ Open Press
12:15PM THE PRESIDENT views storm damage, talks with citizens who are recovering from the storm and thanks first responders who put their lives at risk to protect their communities/ Out-of-Town Travel Pool Coverage FULL POST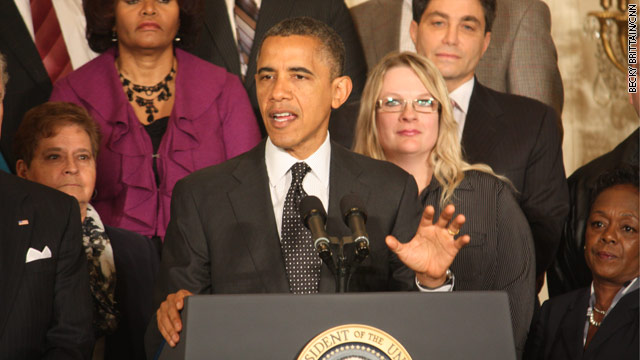 November 14th, 2012
07:48 AM ET
Washington (CNN) - The last time President Barack Obama held a full-blown news conference at the White House, his first campaign rally was two months away and former Pennsylvania Sen. Rick Santorum looked to have the upper hand over Mitt Romney in the GOP presidential primaries.
To be sure, in some ways the political landscape has changed dramatically since Obama fielded questions from the White House press corps on March 6: He is now assured of four more years in the Oval Office and can claim fresh leverage in his dealings with Republicans over reaching a budget deal.
But in many ways, the political environment closely mirrors what it looked like eight months ago: Republicans remain in control of the House of Representatives, the GOP leadership maintains it is opposed to any measure that will raise tax rates on the nation's top earners and the president's approval rating remains stubbornly stuck around a less-than impressive 50%.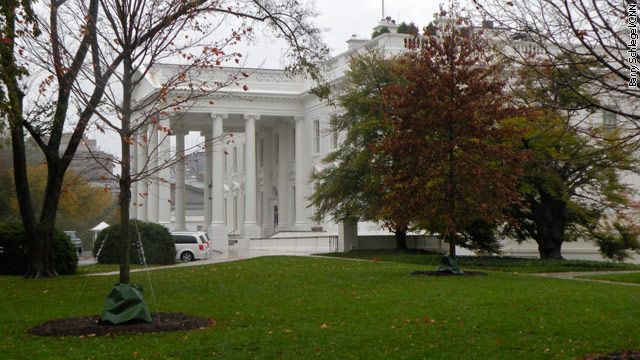 November 14th, 2012
07:40 AM ET
It's a busy day at the White House with the main event at 1:30 PM when President Obama holds his first full-length press conference with White House reporters since March.   Reporters will grill the president in the East Room of the White House and the entire event is expected to last about an hour.
Following the press conference, Obama will sit down with prominent business leaders to discuss his upcoming budget negotiations with Congress.  The meeting follows a similar sit down with labor leaders and prominent women's groups Tuesday.  It's all ahead of the president's meeting with congressional leaders of both parties Friday at the White House.
Full White House schedule after the jump:
FULL POST
November 13th, 2012
02:11 PM ET
(CNN) – When President Barack Obama holds a news conference on Wednesday, it will be the 16th solo, formal White House press conference of his presidency.
It will be his first since winning re-election and since the resignation of his CIA director over an affair – both topics likely to come up on Wednesday.
Obama has taken reporters' questions in a variety of other forums, most recently in late August, when he made an unannounced stop at the regular White House briefing for reporters in the midst of the heated campaign and a week before the start of the Republican National Convention.
He confronted criticism of a video produced by the main super PAC supporting his candidacy which appeared to tie Republican presidential nominee Mitt Romney to a woman's death, as well as stood by his call for Romney to release his tax documents. He also addressed the controversial comments on "legitimate rape" made by Rep. Todd Akin, the Republican U.S. Senate candidate from Missouri.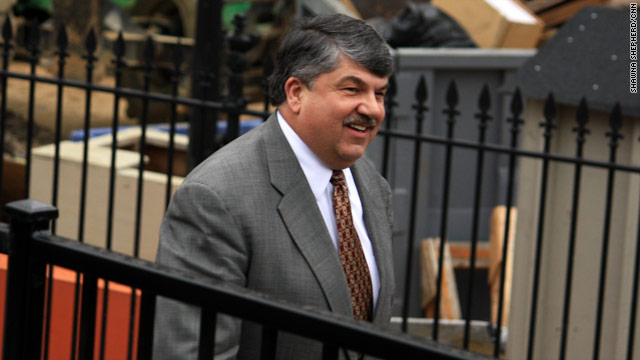 November 13th, 2012
10:25 AM ET
WASHINGTON (CNNMoney) - A cadre of top labor leaders is headed to the White House on Tuesday to press their concerns about the fiscal cliff.
Topmost on their list: Tax hikes for the wealthiest Americans, and protection from cuts to Medicare, Medicaid, Social Security and other programs for low income families.
Attending the meeting are leaders representing teachers, municipal employees, nurses, truck drivers, grocery store clerks, and factory floor workers, among others.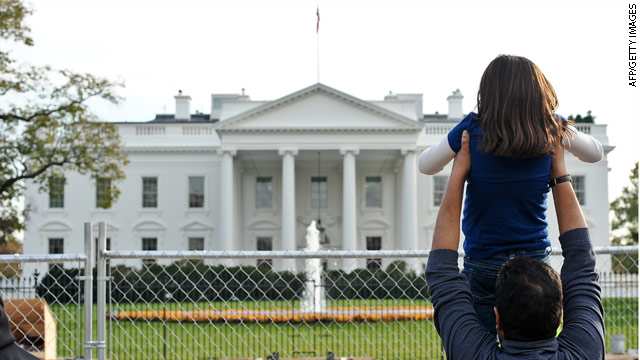 November 13th, 2012
08:47 AM ET
At this point, we won't see President Obama in front of any cameras today but he definitely has many issues on his plate that will get attention behind closed doors today. The only thing listed on his public schedule is a meeting with labor leaders and other progressive leaders to discuss solutions to avoiding the fiscal cliff. The meeting is in the Roosevelt Room and is closed to the press. Other than that, we assume he'll continue to be briefed on the scandals and investigations involving Gen. Petraeus and Gen. Allen. Here is a listing of meeting participants, as provided by a White House official:
· Mary Kay Henry, SEIU
· Lee Saunders, AFSCME
· Dennis Van Roekel, NEA
· Rich Trumka, AFL-CIO
· Neera Tanden, Center for American Progress
· John Podesta, Center for American Progress
· Bob Greenstein, Center for Budget and Policy Priorities
· Laura Burton Capps, Common Purpose Project
· Max Richtman, National Committee to Preserve Social Security and Medicare
· Justin Ruben, MoveOn
· Deepak Bhargava, Center for Community Change
Beyond that, we'll hear from the WH Press Secretary when he holds a briefing at 12:30p.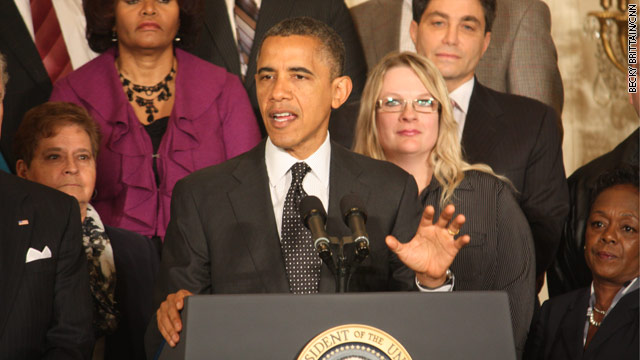 November 12th, 2012
04:37 PM ET
In an email sent to reporters on Sunday night, a White House official laid out President Obama's meeting schedule for the week culminating in the first round of negotiations with Congressional leaders on how to avoid the impending fiscal cliff at the White House on Friday.
The president will be meeting with leaders from both parties at the end of the week, including Senate Majority Leader Harry Reid, Minority Leader Mitch McConnell, House Speaker John Boehner and Minority Leader Nancy Pelosi.
But before kicking off the conversation with Congress, the president will host two other meetings at the White House "focused on finding a balanced solution to our deficit challenges and moving our economy forward," the administration official wrote.
First Obama will welcome "leaders from the labor community and other progressive leaders" to the White House on Tuesday. This group will include AFL-CIO president Richard Trumka, SEIU president Mary Kay Henry, NEA President Dennis Van Roekel and AFSCME president Lee Saunders.
On Wednesday, the president will meet with business leaders to hear their concerns. Among those planning to attend Wednesday's meeting are two members of the President's Council on Jobs and Competitiveness, American Express Chairman and CEO Kenneth I. Chenault and GE CEO Jeffrey Immelt, who serves as chair of the jobs council. Executives from Aetna, Xerox, Honeywell, Walmart, Dow and Chevron are also expected to attend. On Friday, in addition to the meeting with Congressional leaders, Obama will also meet with "leaders of civic organizations," according to the official's statement.