December 27th, 2010
07:08 PM ET
Honolulu, Hawaii (CNN) – President Obama believes in second chances. The president recently called Philadelphia Eagles owner Jeff Lurie and during the conversation the two discussed Michael Vick and the fresh start the quarterback has received while at the team, according to the White House.
"He of course condemns the crimes that Michael Vick was convicted of but," says White House Deputy Press Secretary Bill Burton, "as he's said previously, he does think that individuals who have paid for their crimes should have an opportunity to contribute to society again."
According to a report from SI.com, the president spoke passionately to the Eagles' Lurie about giving prisoners a "fair second chance" once released.
Michael Vick spent 18 months in jail after pleading guilty to running a dog fighting ring in 2007. After a suspension by the NFL, Vick was reinstated to the league, and picked up by the Philadelphia Eagles.
Asked if President Obama would welcome Michael Vick around the first family's dog, Bo, the White House has not yet responded. According to the terms of Vick's release, he is not allowed to own a dog until 2012, when his supervised release ends and has expressed his desire to own one.
December 27th, 2010
02:10 PM ET
HONOLULU, Hawaii (CNN) - Hawaii Governor Neil Abercrombie vowed to end the "birther" controversy surrounding President Obama's nationality once and for all.
Abercrombie, a newly-elected Democrat, told CNN that he will do whatever it takes to prove once and for all that Obama was born in Hawaii.
"We'll do what we can as quickly as we can to make it inevitable that only those who wish the president ill, only the ones with a political agenda, will be the ones doing this kind of thing," Abercrombie said. "The president is entitled to the respect of his office and he's entitled to have his mother and father respected."
Abercrombie, in his first on-camera comments on the matter, said that he has his attorney general and the state's Health Department director looking at what legal avenues can they follow to release more documentation of Obama's birth in 1961.
"As quick as we can we will," Abercrombie said. "This is a transparent state in terms of our communication with one another. This is the Aloha State.  We care for each other, we look out for each other, we're family."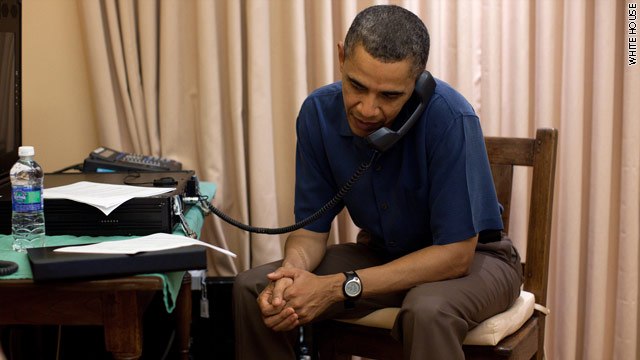 December 26th, 2010
09:21 PM ET
HONOLULU, Hawaii (CNN) -  Between a visit to the gym, attending church and a round of golf, President Barack Obama took time away from his Hawaiian vacation Sunday to place a phone call to Saudi Arabia's king and participate in an interagency coordination call and briefing on holiday threats.
Chief counterterrorism adviser John Brennan led the call with the president and various agency heads involved with national security. According to a White House statement, they discussed the United States' "continued efforts to stay vigilant throughout the holiday season, and to coordinate with our foreign partners."
In addition to the call, Obama was briefed in person at his Kailua vacation rental by National Security Staff Senior Director for Counterterrorism Nick Rasmussen and Deputy National Security Adviser for Strategic Communications Ben Rhodes.
The administration dealt with an attempted terrorist attack just one year ago on Christmas Day, when a Nigerian allegedly tried to detonate an explosive device on a flight from Amsterdam to Detroit.
December 26th, 2010
03:11 PM ET
HONOLULU (CNN) – There are several perks to covering the president.  Trips around the world, vacations in Hawaii.  And then there's the food. CNN senior White House correspondent Ed Henry shares what's it like to work on a beat that loves to eat.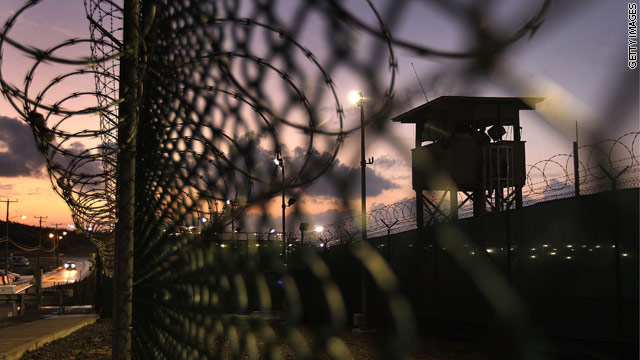 December 26th, 2010
01:58 PM ET
(CNN) – A year has passed since the Obama administration said the Guantanamo Bay military prison would close, but White House press secretary Robert Gibbs said Sunday that the facility won't go away in the near future.
In an interview on CNN's "State of the Union," Gibbs said that even though the site is a recruiting tool for Islamic terrorists, legal and legislative issues have contributed to the delay in its closing.
"It's certainly not going to close in the next month. I think it's going to be a while before that prison closes," Gibbs told CNN Chief Political Correspondent Candy Crowley. "I think part of this depends on the Republicans' willingness to work with the administration on this."
Check out the complete story on CNN's Political Ticker.
December 26th, 2010
12:30 PM ET
(CNN) – The president may have kicked his smoking habit once and for all. It has been about nine months since the president's last cigarette, according to White House Press Secretary Robert Gibbs.
In an interview on CNN's "State of the Union," Gibbs said he still chews Nicorette, but that the president used "stubborn willpower" to stop.
Check out the complete story, including video from "State of the Union," on CNN's Political Ticker.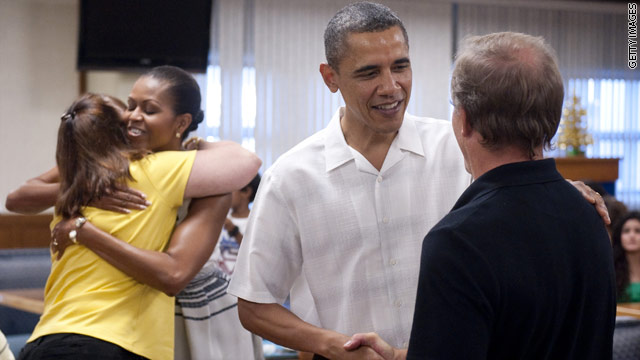 December 25th, 2010
01:30 PM ET
By the CNN Wire Staff
(CNN) - President Barack Obama shook hands with Marines, took pictures, and heard Christmas tales from eager children during a visit to Marine Corps Base Hawaii.
Obama, who is on a family vacation in Kailua Bay, Hawaii, made an unannounced visit to the base on Saturday afternoon. The visit was hardly a surprise - he stopped by the base during his Christmas vacations in 2008 and 2009.
The first family is renting a vacation home in Hawaii, the president's home state.
At the base, Obama and the first lady posed for group photos and shook hands with diners.
Check out the complete story on CNNPolitics.
December 24th, 2010
09:11 PM ET
WASHINGTON (CNN) - It was a short but busy week for President Obama and the White House. By Wednesday, he got almost everything on his Holiday wish list with the exception of the DREAM Act passing.  Bipartisanship may have been his biggest gift this year.
Take a look at all the highlights in this week's White House Week in Review.
HONOLULU (CNN) - The first family may be enjoying an ocean side view on their holiday vacation but for Christmas dinner they'll be eating something a little more land based.
The Obamas plan to have steak, roasted potatoes, green beans and of course, one of the president's favorite desserts - pie. No word from the White House on what kind of pie will be available.
WASHINGTON – In this week's address, President Barack Obama and First Lady Michelle Obama wished families across the country a "Merry Christmas" and encouraged everyone to support the troops and their families this holiday season. Anyone can visit http://www.serve.gov to find ideas for what they can do to help our servicemen and women and their families. You can watch the President's address at http://www.whitehouse.gov/briefing-room/weekly-address.
THE PRESIDENT: Merry Christmas, everybody. Michelle and I just wanted to take a moment today to send greetings from our family to yours.
THE FIRST LADY: This is one of our favorite times of year. And we're so fortunate to be able to celebrate it together in this wonderful home.
This is the "People's House." So Barack and I try to open it to as many people as we can, especially during the holiday season.
This month, more than 100,000 Americans have passed through these halls. And the idea behind this year's theme, "Simple Gifts," is that the greatest blessings of all are the ones that don't cost a thing – the comfort of spending time with loved ones…the freedoms we enjoy as Americans… and the joy we feel upon giving something of ourselves.
So in this time of family, friends, and good cheer; let's also be sure to look out for those who are less fortunate, who've hit a run of bad luck, or who are hungry and alone this holiday season.
FULL POST