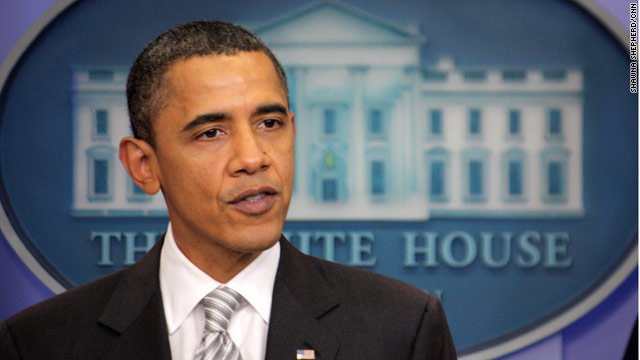 February 15th, 2011
10:08 PM ET
WASHINGTON (CNN) - President Barack Obama issued a veto threat Tuesday, following the introduction of a controversial spending bill last week. The bill is a continuing resolution that would fund federal government for the rest of the fiscal year and includes $100 billion dollars in spending cuts promised by House Republicans.
For the full story, check out the CNN Political Ticker.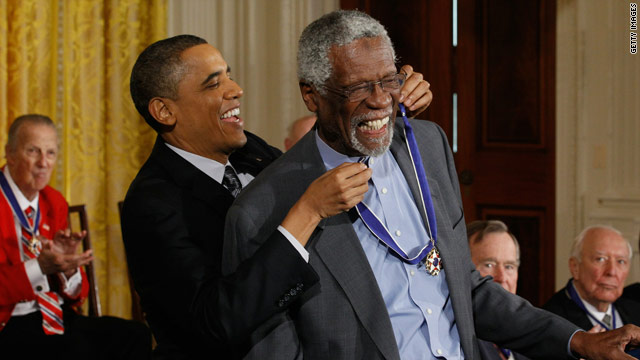 February 15th, 2011
05:29 PM ET
WASHINGTON (CNN) – Today the president awarded 15 people the Presidential Medal of Freedom for their contributions to society. In a ceremony in the East Room of the White House, President Obama said that this is one of the events, as he described it, he most looks forward to each year.
Maybe that's because the Presenter-in-Chief gets to try his hand at humor.
No more than a few seconds into his remarks, Obama had the crowd laughing when he welcomed the audience and guests to the White House. "Some of you have been here before," he deadpanned, no more than a few feet from award winner and former president George H.W. Bush.
According to the White House-provided transcript of the event, the president earned just about two dozen laughs in the nearly hour-long event. "Now you can see why I love this day," the president exclaimed at the event's conclusion.
Read below the fold for some of the highlights: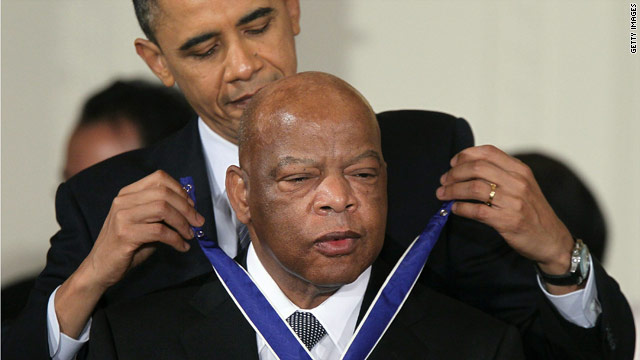 February 15th, 2011
04:43 PM ET
WASHINGTON (CNN) - Congressman John Lewis (D-GA) came into the James S. Brady Briefing Room after receiving the nation's top civilian honor today. Surrounded by reporters, the civil rights icon described the honor as "unreal."
He recounted his efforts during the civil rights movement, when endured more than 40 arrests and countless beatings.  "I didn't give up, I didn't give in, I kept the faith, I kept my eyes on the prize," he said solemnly. "It's worth every step, every sit-in, every beating, every arrest."
Nearly 50 years later, the man who was at times left for dead  was seated along-side athletes, musicians, poets, and even a former president. Today he was one of just 15 to be honored by the President of the United States.
"Generations from now, when parents teach their children what is meant by courage, the story of John Lewis will come to mind," Mr. Obama said. "An American who knew that change could not wait for some other person or some other time; whose life is a lesson in the fierce urgency of now."
FULL POST
February 15th, 2011
02:30 PM ET
WASHINGTON (CNN) - A former U.S. president, along with legendary names from the worlds of business, literature, sports, civil rights, labor rights and politics were at the White House on Tuesday as President Obama awarded the Presidential Medal of Freedom to fifteen people.
The medal, the nation's highest civilian honor, is presented to individuals who have made especially meritorius contributions to the security, or national interests of the United States, to world peace, or to cultural or other significant public or private endeavours according to the White House.
Check out this photo gallery from Senior Supervising Producer Stacia Deshishku of all of this year's recipients.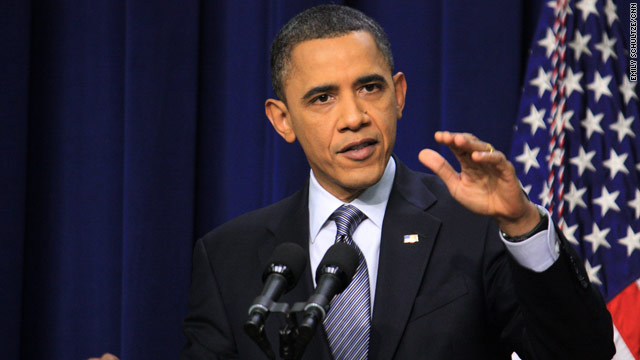 February 15th, 2011
01:34 PM ET
By CNN Wires Staff
WASHINGTON (CNN) - President Barack Obama called on congressional Republicans to engage in an "adult conversation" about the federal government's long-term financial health Tuesday, warning that serious debt reduction will remain impossible without bipartisan agreement on how best to stabilize Social Security, Medicare, and Medicaid costs.
Leaders of both parties have to be willing to make unpopular concessions, he said, while declining to specify exactly what form those concessions should take.
"All sides will have to do a bit of posturing on television" to "rally the troops," he told reporters at a hurriedly scheduled news conference. But eventually there needs to be a "quiet and toned-down conversation" on where compromise can be reached.
The president defended his $3.7 trillion budget plan for fiscal year 2012, characterizing it as a responsible first step on the road to stability - an assertion sharply disputed by top Republicans calling for more budget cuts.
FULL POST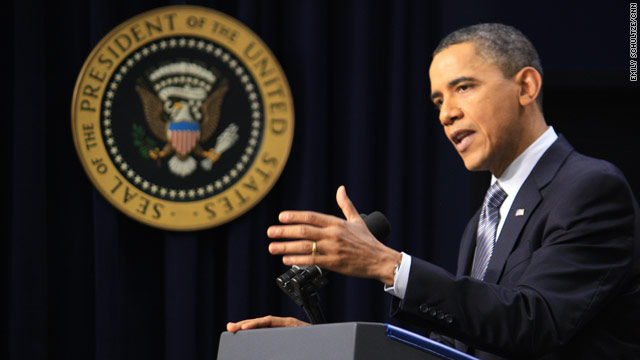 February 15th, 2011
01:26 PM ET
By CNN Wires Staff
WASHINGTON (CNN) - Middle Eastern leaders "can't be behind the curve" as their populations demand change, President Barack Obama said Tuesday after protesters forced out Egypt's longtime strongman and faced a government crackdown in Iran.
Speaking at a White House news conference, Obama said Iran's clerical leadership is "pretending to celebrate what happened in Egypt" while "gunning down and beating people who were trying to express themselves peacefully."
Mindful of the Islamic republic's accusations that the United States and other powers were behind Monday's opposition protests in Tehran and other cities, Obama said Washington can "lend moral support to those who are seeking a better life for themselves."
"My hope and expectation is is that we're going to continue to see the people of Iran have the courage to be able to express their yearning for greater freedoms and a more representative government, understanding that America cannot ultimately dictate what
happens inside of Iran any more than it could inside of Egypt; that ultimately these are sovereign countries that are going to have to make their own decisions," Obama said.
FULL POST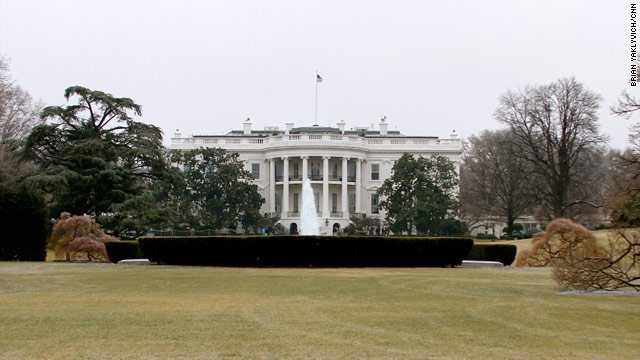 February 15th, 2011
12:14 PM ET
Sheep were used during WWI to trim the grass of the White House.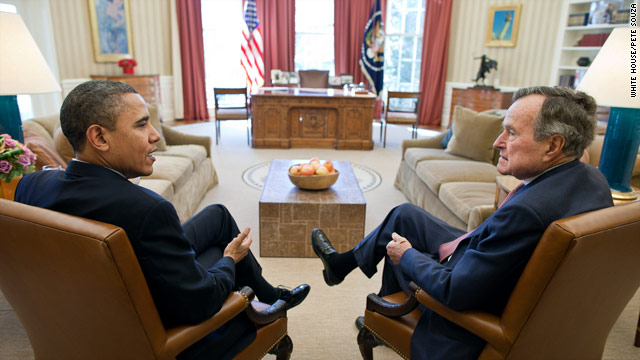 February 15th, 2011
10:43 AM ET
WASHINGTON (CNN) - Former President George H.W. Bush returned to his old office on Tuesday for a brief meeting with President Obama.
Bush, the 41st president of the United States is in Washington to recieve the Presidential Medal of Freedom later this afternoon in the East Room. He is one of 15 recipients to receive the nation's highest civilian honor. Maya Angelou, Warren Buffet, German Chancellor Angela Merkel, Rep. John Lewis, and Yo-Yo Ma are some of the other recipients.
Today's meeting is not the first for the two presidents. Obama traveled to College Station, Texas in October 2009 to celebrate the 20th anniversary of Bush's 'Points of Light Institute,' and Obama met the former president, and his son, former Florida Governor Jeb Bush, in the Oval Office in January of last year when they were in Washington to attend a dinner at the Alfalfa Club.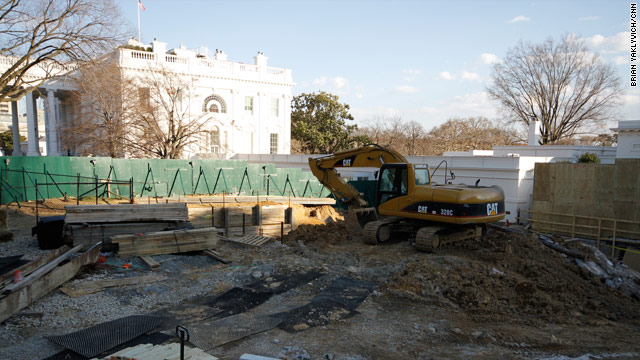 February 15th, 2011
08:03 AM ET
The White House has announced President Obama has added a news conference to his schedule at 11:00am/et. Here is the president's updated schedule for today.
From the White House:
In the morning, the President and the Vice President will receive the Presidential Daily Briefing in the Oval Office. This meeting is closed press.
This morning, the President will hold a news conference in the South Court Auditorium. This is open press.
In the afternoon, the President and the Vice President will meet for lunch in the Private Dining Room. This lunch is closed press.
Later in the afternoon, the President and the First Lady will honor recipients of the 2010 Medal of Freedom in a ceremony in the East Room. The ceremony is open press.  The fifteen recipients of the 2010 Medal of Freedom were announced in November; the full list can be found at the bottom of this schedule.
FULL POST