February 28th, 2011
09:12 AM ET
WASHINGTON (CNN)–Secretary of State Hillary Clinton is in Geneva, Switzerland Monday to meet with European Union foreign ministers.  Clinton is expected to press them to approve tough sanctions on Libya in response to its crackdown on an anti-government protesters.
Clinton will address the U.N. Human Rights Council in Geneva ans later hold a press conference.
Libyan leader Moammar Gadhafi seemed increasingly cornered as security forces defected to the opposition in a town near the capital and the United Nations Security Council voted for tough restrictions and possible war crimes charges against the Libyan regime.
On Sunday, Gadhafi criticized the Security Council resolution, passed over the weekend, telling private Serbian station Pink TV by phone that council members "took a decision based on media reports that are based abroad." He added, "If the Security Council wants to know about something, they should have sent a fact-finding committee."
The Security Council measures - which include an arms embargo, asset freeze and travel bans for Gadhafi and members of his family and associates - also refer the situation unfolding in Libya to the International Criminal Court.
Secretary Clinton said the Security Council measures form "one of the speediest international responses to a government targeting its own people."
"We recognize the killings are ongoing," Clinton told reporters en route to a meeting of the U.N. Human Rights Council in Switzerland. "We recognize we need to advance the humanitarian, the military, judicial, and even forensic planning already under way."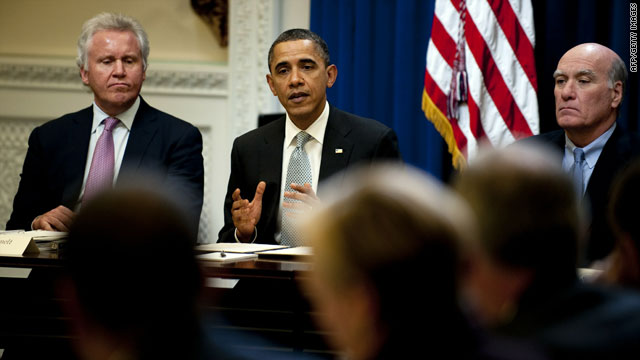 February 28th, 2011
08:30 AM ET
WASHINGTON (CNN) – The president convened the first meeting of his newly created White House Council on Jobs and Competitiveness last week, with hopes gleaning information to boost hiring in the short term and improve the nation's place in the global economy in the long term.
"It's critical for us to have input from folks who are actually hiring, putting people to work, making payroll, making the products and services that make our economy so powerful," President Obama said in the meeting last Thursday, which was open to the press for only the first few minutes.
So just who is on this council?
The White House released the names and bios of 22 men and women, each of whom has excelled in his or her career in business and labor (see below for White House-provided bios).
The group is helmed by the CEO of GE, Jeffrey Immelt.
What most on the council have in common is their willingness to donate money to political candidates and parties.  In fact 20 of the 23 members (including Immelt) made financial contributions in the 2008 and/or 2010 election cycles, according to opensecrets.org.
Their combined household donations to Democratic and Republican candidates, parties, and PACs in the two election cycles comes to $1,772,439.
Of that, $1,449,094 went to Democrats while just $312,245 was donated to Republicans. $11,100 was directed toward Independents or others.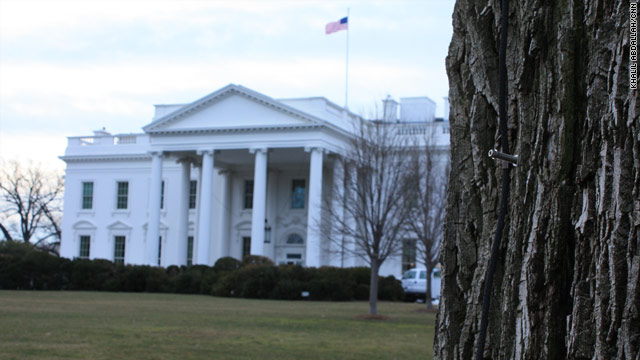 February 28th, 2011
07:42 AM ET
President Obama and Vice President Biden will host a meeting with a bipartisan group of governors today in the State Dining Room, where Dr. Biden, First Lady Michelle Obama, the VP, and the president are each expected to speak. In the afternoon, the president will meet with with UN Secretary General Ban Ki-Moon in the Oval Office to discuss the humanitarian, diplomatic, legal and other actions needed to put a stop to violence against civilians and to ensure that UN agencies and UN members mobilize to provide humanitarian assistance to Libya's people.
9:45AM          THE PRESIDENT and THE VICE PRESIDENT receive the Presidential Daily Briefing
Oval Office, Closed Press
11:00AM        THE PRESIDENT and THE VICE PRESIDENT meet with a bipartisan group of governors
State Dining Room, Pooled Press
2:10PM           THE PRESIDENT meets with UN Secretary General Ban Ki-Moon
Oval Office, Pool Stills Only Spray at the Top
Briefing Schedule
3:00PM           Briefing by Press Secretary Jay Carney   
February 27th, 2011
10:20 PM ET
President Obama made a surprise pre-taped cameo at Sunday's Academy Awards program, where he divulged his all-time favorite movie song was As Time Goes By, performed by Dooley Wilson in the 1942 film Casablanca.
The song that famously prompted Ingrid Bergman to say, "Play it, Sam," also ranked as the #2 movie song by the American Film Institute.
Their #1 pick was Somewhere Over the Rainbow.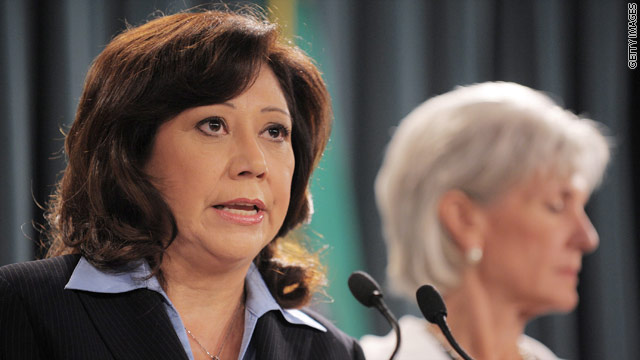 February 26th, 2011
06:49 PM ET
WASHINGTON (CNN) – An impassioned Labor Secretary Hilda Solis rallied Democratic party members Saturday to tell voters "elections do matter" as she gave a detailed – and political – response to the Wisconsin union fight.
Solis delivered her remarks before the Democratic National Committee winter meeting, in the same hotel where conservative activists held their annual convention two weeks ago.  But the message was decidedly different, as Solis accused Republicans of turning back the clock on workers' rights.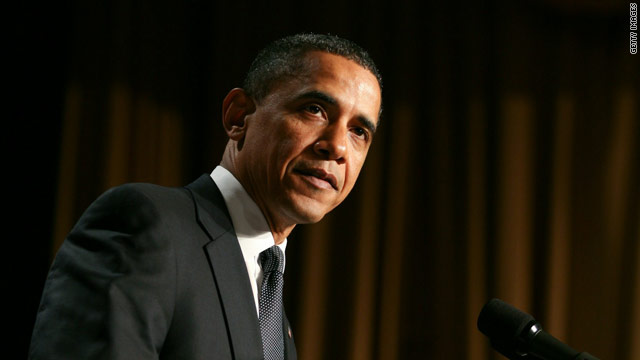 February 26th, 2011
07:00 AM ET
WASHINGTON (CNN) - In today's weekly address, President Obama once again pledged a freeze on annual domestic spending over the next five years, a freeze he claims, "that would cut the deficit by more than $400 billion over the next decade, bringing this kind of spending to its lowest share of our economy since Dwight Eisenhower was President."
This despite PolitiFact's rating of "false" earlier this week.
The president also called on Congress to avoid gridlock during budget debates next week to avoid a government shutdown.
"For the sake of our people and our economy, we cannot allow gridlock to prevail. Both Democratic and Republican leaders in the House and Senate have said they believe it's important to keep the government running while we work together on a plan to reduce our long-term deficit," he said.
"There will be plenty of debates and disagreements, and neither party will get everything it wants. Both sides will have to compromise," he added.
Read the remarks as prepared, below the fold.
February 25th, 2011
11:03 PM ET
Here's your week in review for February 21 – 25, 2011.
February 25th, 2011
05:01 PM ET
WASHINGTON (CNN) - For the first time in White House history the social events guru and keeper of the coveted invite lists will be an openly gay man.
Jeremy Bernard will become President Obama's third White House social secretary, filling a job that has become a revolving door of sorts since the president took office.
"Jeremy shares our vision for the White House as the People's House, one that celebrates our history and culture in dynamic and inclusive ways," President Obama said in a written statement.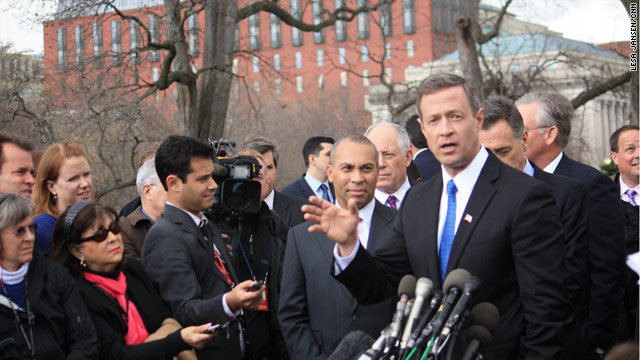 February 25th, 2011
01:41 PM ET
President Obama and Vice President Biden today met with Democratic Governors "to discuss the ways Washington and the states can work together to grow the economy and create jobs."
The White House made the event "closed press," but some of the governors, including Maryland Gov. Martin O'Malley stopped by the stakeout location to talk to reporters. 
"We just emerged from a very productive meeting," he said, adding they had a conversation about their local business communites.
North Carolina Gov. Bev Purdue added, "We talked about capital access, we talked about infrastructure, we talked about rules and regulations – all the things that are real to working Americans across this state and country. And then we focused on what the great job creator is in long term, and you all know that's education."
Massachusetts Governor Deval Patrick said the meeting focused on jobs, and stressed that investment in infrastructure was crucial.
What they didn't talk about? Wisconsin. When asked if they discussed the stand-off in the midwest, O'Malley responded, "No, not really."
He reiterated that the focus was jobs. "We didn't talk about whatever it is they're doing in Wisconsin today."
February 25th, 2011
11:34 AM ET
According to the Athens Banner-Herald, Rep. Paul Broun (R-GA) got a doozy of a question at a town hall meeting Tuesday.
The reporter couldn't hear the question, but reported that the "whatever it was, it got a big laugh."
Later, a Broun spokesperson confirmed to the reporter that the question was, in fact, "Who is going to shoot Obama?"
According to the Athens paper, Congressman Broun did not denounce the question, but responded:
The thing is, I know there's a lot of frustration with this president. We're going to have an election next year. Hopefully, we'll elect somebody that's going to be a conservative, limited-government president that will take a smaller, who will sign a bill to repeal and replace Obamacare.
Today the United States Secret Service said they interviewed the subject. "We've taken appropriate investigative steps. At this point we consider the matter closed," Secret Service spokesman Ed Donovan told CNN.