WASHINGTON (CNN) – With his foreign policy team focused on an unfolding humanitarian crisis in Libya, and revolution and instability continuing to grip other portions of the Middle East and North Africa, President Obama has nominated Ambassador Princeton Lyman as his special envoy to another troubled part of the world, Sudan.
"With a lifetime of experience working on some of Africa's most pressing challenges, Ambassador Lyman is uniquely qualified to sustain our efforts in support of a peaceful and prosperous future for the Sudanese people," Obama said in a written statement Thursday announcing the appointment.
FULL POST
March 31st, 2011
05:55 PM ET
WASHINGTON (CNN) – The controversial bank bailout program may have saved some financial institutions from crumbling, but a Treasury official said the rescue plan was actually "unfortunate."
Speaking to a small group of reporters, Timothy Massad, Treasury Acting Assistant Secretary for Financial Stability said "it's never fair to have to use taxpayer dollars to rescue any institution."
"It's terrible that we had to do this."
Massad stressed the massive taxpayer investment was necessary in order to prevent another great depression, but hoped it would not be an option in the future.
"We have now reformed our regulatory system," he said. "That gives us the tools to avoid having to do this again."
On Wednesday, the Treasury Department revealed that its bank bailout, part of the Troubled Asset Relief Program (TARP) is becoming profitable.
March 31st, 2011
04:19 PM ET
WASHINGTON (CNN) – A group of transparency advocates recognized President Obama on Monday for his commitment to a more open and transparent government.
No doubt some much needed good news for the White House, which has been mired in budget negotiations on the Hill and defining the conflict in Libya.
But, if a tree falls in a forest and no one's there to hear it….does it make a sound?
The White House not only closed the meeting to the press (despite requests from the advocates to invite reporters), but it also failed to even put it on the president's public schedule.
A move one of the transparency advocates who participated in the 20-minute long Oval Office meeting called "boneheaded."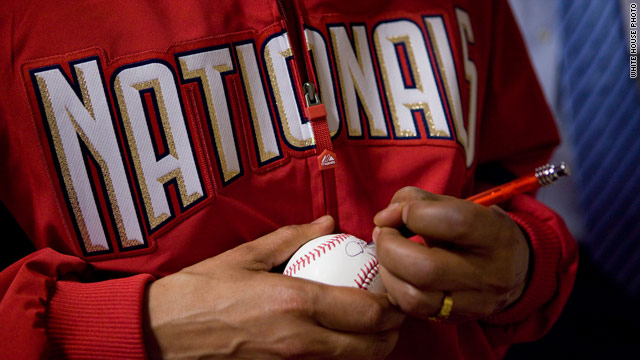 March 31st, 2011
12:56 PM ET
WASHINGTON (CNN) – It may be Opening Day of baseball season, but the White House is conspicuously not taking part.  No ceremonial first pitch from the President this year.
Neither President Barack Obama nor Vice President Joe Biden have the nation's pastime on their schedules today, marking the first time in the administration that Opening Day ceremonies won't have White House participation.
Last year, President Obama threw out the first pitch when the Washington Nationals took on the Philadelphia Phillies, marking the beginning of the 2010 baseball season. Although a White Sox fan, the president wore a Nationals jacket while doing the honors. The pitch was, in his words "a little high and outside."
In 2009, President Obama missed Opening Day when he made a surprise stop in Baghdad on his way home from an international trip that included England, France, Czech Republic and Turkey. Instead, Vice President Biden was the guest of honor at Camden Yards in the season-opener between the Orioles and the New York Yankees.
Presidents have been throwing out the first pitch for more than one hundred years. William Howard Taft started the tradition of the first pitch for Opening Day in 1910 when he pitched from the mound at a Washington Senators game. Every president except for Jimmy Carter has taken part in the tradition ever since.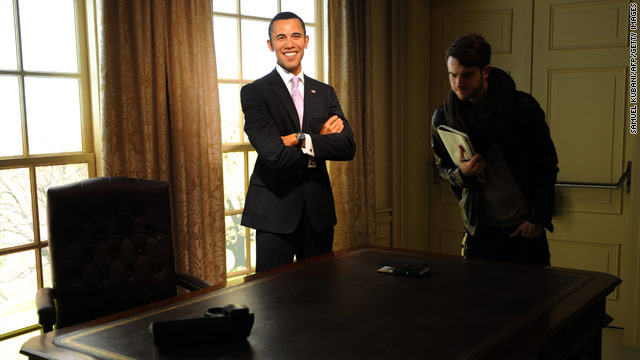 March 31st, 2011
12:38 PM ET
A visitor checks out the wax sculpture of President Barack Obama at the new Madame Tussauds wax museum in Vienna. The new museum opens its doors to the public on April 1, becoming the world's 11th Madame Tussauds.
Other locations include London, Hollywood, New York, Las Vegas, Washington DC, Amsterdam, Berlin, Hong Kong, Shanghai and Bangkok.
March 31st, 2011
08:49 AM ET
Remember that transparency award President Obama was supposed to receive March 16th? Yes, the one that praised his commitment to an "open and transparent government."
The event was initially billed by the White House as open to a limited press pool, but was postponed "due to changes to the President's schedule."
Well, turns out the award was presented to the president on Monday – and, ironically, the press wasn't invited (only a White House videographer and photographer were present). The event didn't even make it on the president's public schedule.
Fortunately, three of the transparency advocates who presented Obama with the award have posted their accounts of the Oval Office meeting online.
The verdict? You be the judge.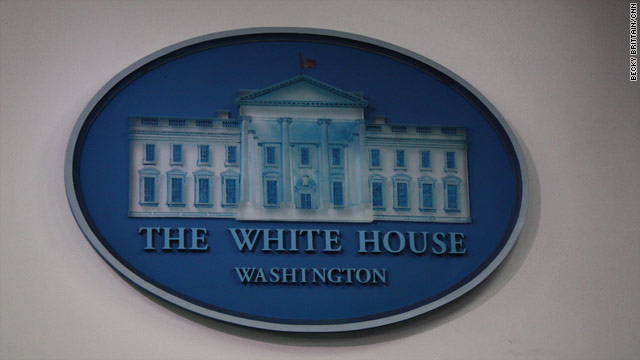 March 31st, 2011
08:15 AM ET
WASHINGTON (CNN) - President Obama has a quiet day on tap, at least as far as his public schedule indicates. The only events we know about are his usual Presidential Daily Briefing, meeting with his senior advisors and then this afternoon a meeting with Secretary of State Hillary Clinton. Clearly the situation in Libya will be discussed throughout the day but at this point, we won't see him on camera. We'll update you if there are any changes. FULL POST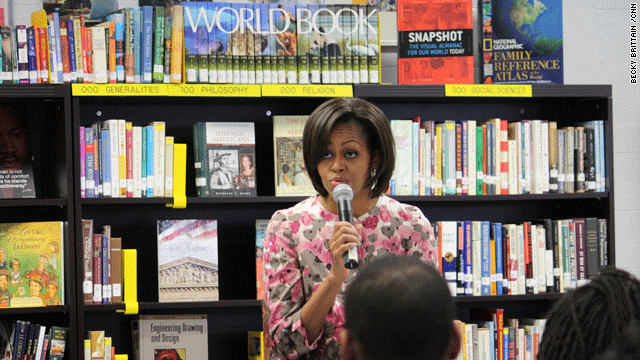 March 30th, 2011
07:16 PM ET
From CNN Senior Producer Sally Holland and CNN White House Producer Becky Brittain
WASHINGTON (CNN) - First lady Michelle Obama invited more than 20 accomplished women to the White House on Wednesday, asking them to serve as mentors for area high school students.
The women, along with the first lady, fanned out across the District of Columbia and surrounding suburbs in the afternoon visiting six local high schools encouraging the teenagers to follow their dreams and work hard to get there.
"There is no magic to being here. You know, Barack and I were not born with silver spoons in our mouths and connections and money and resources. A lot of why we're where we are today is because we worked hard. We felt a deep passion for getting our education," the first lady told students at Ballou High school in Washington. FULL POST
March 30th, 2011
06:35 PM ET
WASHINGTON (CNN) – There are multiple reports out today that President Barack Obama has signed a "secret order" authorizing covert U.S. support for Libyan rebel forces.
According to Reuters:
Obama signed the order, known as a presidential "finding," within the last two or three weeks, according to four U.S. government sources familiar with the matter.

Such findings are a principal form of presidential directive used to authorize secret operations by the Central Intelligence Agency. This is a necessary legal step before such action can take place but does not mean that it will.
Meanwhile, ABC News is reporting that the finding doesn't "provide arms to the rebels immediately, although it does prepare for such a contingency and other contingencies should the president decide to go down that road in the future."
In response to questions by the press on the reports, the White House issued the following statement from Press Secretary Jay Carney:
As is common practice for this and all Administrations, I am not going to comment on intelligence matters. I will reiterate what the President said yesterday – no decision has been made about providing arms to the opposition or to any group in Libya. We're not ruling it out or ruling it in. We're assessing and reviewing options for all types of assistance that we could provide to the Libyan people, and have consulted directly with the opposition and our international partners about these matters.
While CNN has not confirmed that Obama signed such a finding, John King reports that there is a CIA presence in Libya to help with "military and political understanding," and is gathering intelligence first hand from some of the opposition entities.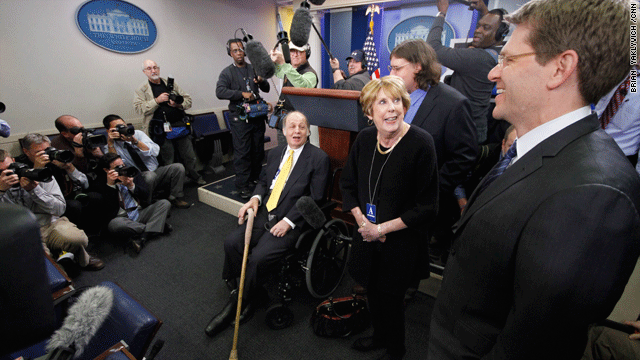 March 30th, 2011
06:33 PM ET
WASHINGTON (CNN)  – Former Reagan Press Secretary Jim Brady was back at the White House today.   Brady and his wife Sarah stopped by the White House briefing room, named after Brady, with the current holder of the Press Secretary job, Jay Carney.  
The Bradys are in town to mark the 30th anniversary of the assassination attempt on President Ronald Reagan and to ask Congress and the president to support tougher gun laws.  It was during the Reagan assassination attempt that Brady was shot and partially paralyzed.
Just prior to the briefing room drop by, the Bradys met with President Obama.   Mr. Brady said, "We spoke of large capacity magazines."    It was a large capacity gun magazine that was used in the shooting of Arizona Congresswoman Gabby Giffords.   Mr. Brady said of the shooting,  "So many similarities to mine that it hurt a lot."   
 He showed his sense of humor when asked what was his favorite part of the briefings, "Hearing Helen Thomas say thank you Mr. Brady," he said.   That thank you signaled the end of the briefing.