April 29th, 2011
09:53 PM ET
MIAMI (CNN) - President Barack Obama traveled to downtown Miami Friday evening, where he delivered remarks to some 4,000 new graduates of Miami Dade College (MDC).
"Class of 2011, you and your generation are now responsible for our future. I'm only going to be president a little bit longer," Obama said. "You are going to be leaders for many years to come."
During the 25-minute address, the president spoke of equality, diversity, and tolerance to the students, who were mostly Hispanic and black. Some, Obama acknowledged in his speech, were undocumented.
April 29th, 2011
09:42 PM ET
Washington (CNN) - Saturday night the stars will shine just a bit more brightly in the nation's capital when the White House Correspondents' Association hosts it annual dinner at the Washington Hilton.
The ballroom will once again be at capacity. All 262 tables are sold out. That means over 2,600 men and women decked out in their finest trying to see and be seen. Here is a list of invited guests scheduled to attend this year's dinner:
Hollywood:
Maria Bello
Paul Rudd
Eric Stonestreet
Jesse Tyler Ferguson
Justin Mikita
Katherine Tokarz
Jane Lynch
Elizabeth Banks
Wendell Pierce
Morgan Fairchild
Hill Harper
Daniel Dae Kim
Mira Sorvino
Kate Hudson
FULL POST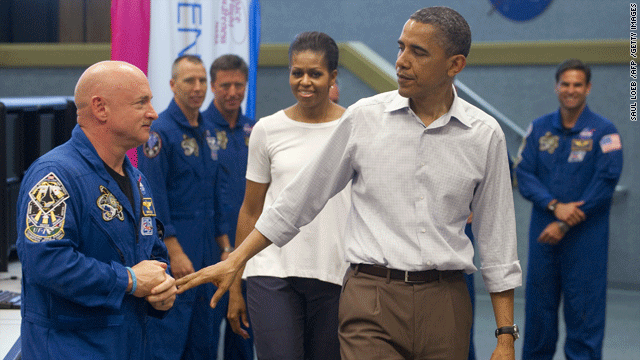 April 29th, 2011
03:26 PM ET
KENNEDY SPACE CENTER, Florida (CNN) – As many as 700,000 people, including the first family, were hoping to watch space shuttle Endeavour lift off at 3:47 p.m. for its final space flight.  Any excitement was mixed with disappointment when news spread that the launch had been postponed.
President Obama was wrapping up his visit in Alabama, surveying tornado damage, when NASA tweeted that the launch was scrubbed "because of an issue with Auxiliary Power Unit 1 heaters."
It was not until Obama got on Air Force One that the press found out the president and his family would still visit Kennedy Space Center despite the scrubbed launch. FULL POST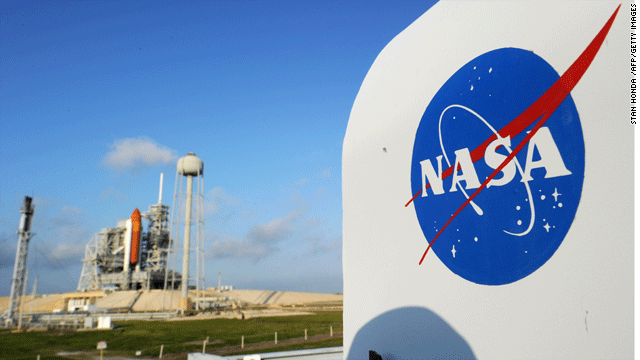 April 29th, 2011
11:28 AM ET
KENNEDY SPACE CENTER, Florida (CNN) – With the curtain closing on America's space shuttle program, President Obama will bring his wife and two daughters to witness the 25th and final launch of the space shuttle Endeavour, which appears to be a "go" for it's scheduled 3:47pm launch.
Before takeoff, the family will tour the Orbiter Processing Facility, where the space shuttle Atlantis is being prepared for its final launch in June.
Obama will become only the second president to attend a shuttle launch. President Bill Clinton watched Discovery takeoff in October 1998.
The shuttle commander, Mark Kelly, is also the husband of Arizona Rep. Gabrielle Giffords, who survived an assassination attempt in January. The congresswoman is expected to watch the launch with other family members of the Endeavour crew. The first family is expected join NASA Director Charles Bolden, Jr. in the Launch Control Center. FULL POST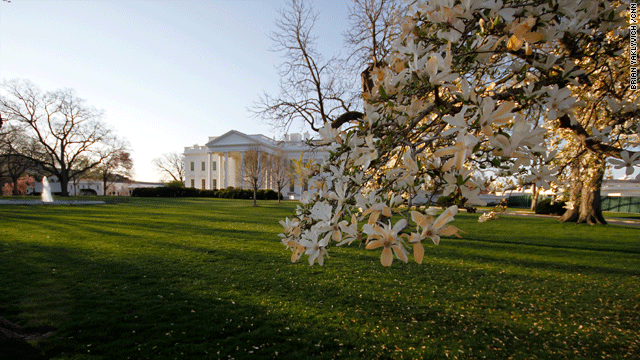 April 29th, 2011
08:07 AM ET
WASHINGTON -  President Obama has a lot on his plate today.  He will tour parts of Alabama effect by the recent violent storms, then head to Florida for the launch of  the space shuttle Endeavour.  After the launch (all fingers crossed for good weather) the president will travel to Miami to deliver the commencement address at Miami Dade College.
the full schedule is after the jump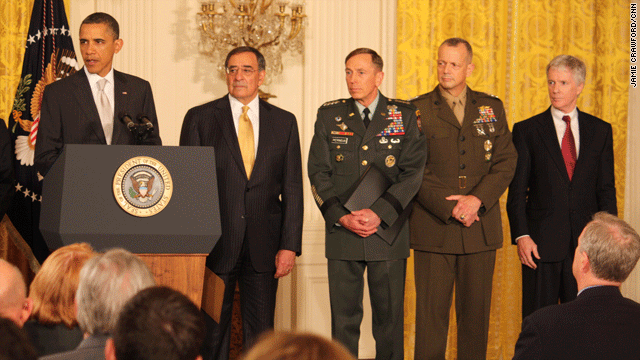 April 28th, 2011
07:28 PM ET
WASHINGTON (CNN)–When President Obama unveiled his revamped national security team in the East Room, he quickly joked about how badly Defense Secretary Robert Gates has been itching to finally get serious about retirement.
"When I took office, Bob Gates had already served under seven presidents, and he carried a clock that counted down the days, hours, and minutes until he could return to Washington State with his wife Becky," said Obama, adding that he felt lucky to get Gates to keep pushing the exit date back to deal with wars in Afghanistan and Iraq as well as some major budget decisions confronting the nation.
First it was Obama during the presidential transition in December 2008 getting Gates to stay on for just one more year for continuity's sake. Then that grew to staying on for first two and a half years of the administration.
Senior officials tell me Obama had even been hoping to somehow convince Gates to stay on through all four years of the first term for the good of his country, but the president finally gave in and then set his sights to twisting the reluctant arm of CIA Director Leon Panetta to delay his own retirement to take the top spot at the Pentagon.
As Obama noted to laughter about his lobbying of Gates, "At some point along the way, Bob threw out that clock."
FULL POST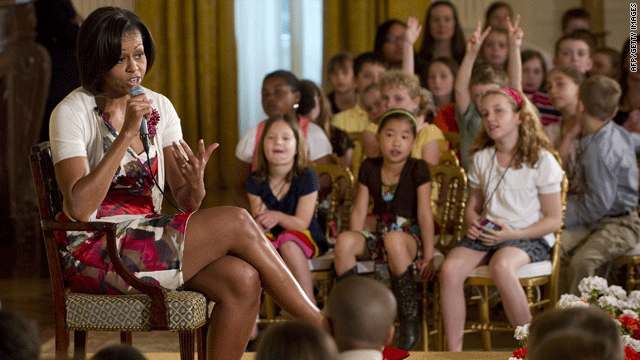 April 28th, 2011
06:58 PM ET
WASHINGTON (CNN)–With thousands of parents across the country taking their children to work Thursday, it was no different for employees at the White House as First lady Michelle Obama welcomed the children of Executive Office employees to the White House for 'Take our Daughters and Sons to Work Day'.
Appearing in the East Room, Mrs. Obama wasted no time with opening statements, and immediately opened up the forum to questions with her guests quizzing her about everything from her job, to her favorite sports teams, and life with Bo, the family's Portugese Water Dog.
"When you have kids, we do what you do so that becomes our favorite thing," she said as she described her favorite things to do with her daughters, Sasha and Malia, which included going to their soccer and lacrosse games. She said tennis was "without a doubt" her favorite sport, but that she enjoyed basketball as well.
FULL POST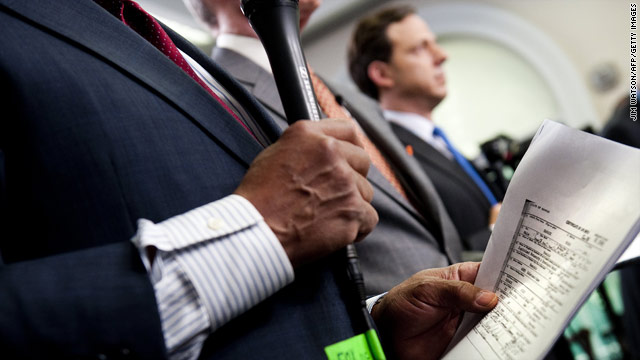 April 28th, 2011
12:00 PM ET
(CNN) - It was a busy day for reporters at the White House Wednesday after President Obama's long-form birth certificate was released.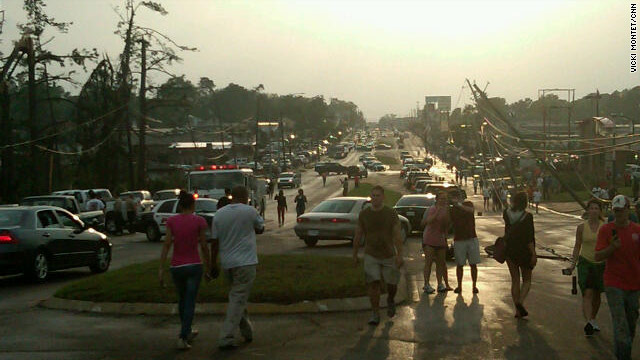 April 28th, 2011
11:24 AM ET
WASHINGTON (CNN) Federal emergency management officials including FEMA administrator Craig Fugate will travel Thursday toAlabama, one of the most severely hit areas, after a series of devastating tornadoes killed more than 200 people in six states this week.  More than two thousand National Guard troops are already on the ground assistingAlabamafirst responders in the search and rescue effort.
President Barack Obama Wednesday night declared a state of emergency inAlabamaafter tornadoes there killed at least 131 people. The president and Homeland Security Secretary Janet Napolitano called Alabama Governor Robert Bentley Wednesday night and the president issued this statement, "[I] told him that I have ordered the Federal Government to move quickly in our response and informed him that I approved his request for emergency Federal assistance, including search and rescue assets. While we may not know the extent of the damage for days, we will continue to monitor these severe storms across the country and stand ready to continue to help the people ofAlabamaand all citizens affected by these storms." FULL POST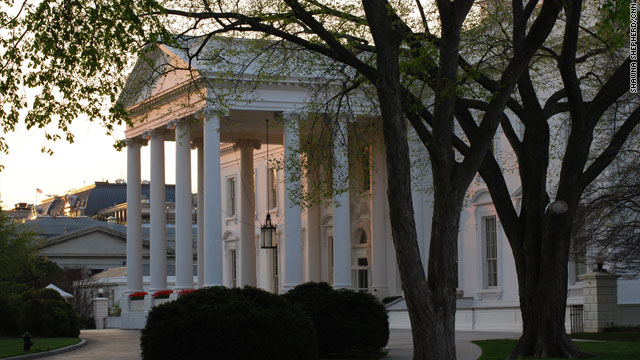 April 28th, 2011
11:23 AM ET
10:15AM        THE PRESIDENT receives the Presidential Daily Briefing/ Oval Office/ Closed Press
10:50AM        THE PRESIDENT holds a meeting onLibya/ Situation Room/ Closed Press
11:30AM        THE PRESIDENT meets with Secretary of State Clinton    /Oval Office/ Closed Press
2:05PM           THE PRESIDENT meets with a group of influential Hispanics from across the country on the importance of fixing our nation's broken immigration system to meet our 21st century economic and national security needs so that America can win the future/ Roosevelt Room/ Closed Press
3:10PM           THE PRESIDENT makes a personnel announcement/ Rose Garden/ Open Press
3:45PM           THE PRESIDENT meets with Panamanian President Ricardo Martinelli/ Oval Office/ Closed Press
4:20PM           THE PRESIDENT and Panamanian President Ricardo Martinelli will deliver statements to the press/ Oval Office / Pooled Press