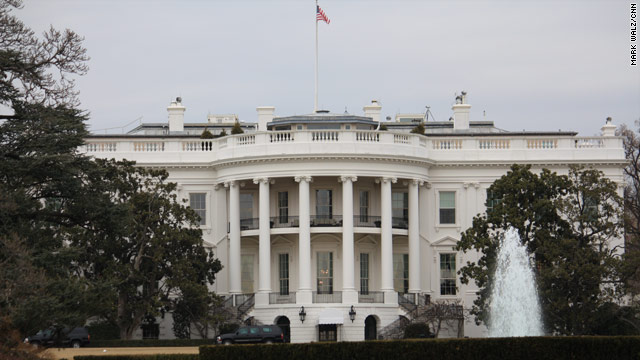 April 6th, 2011
11:09 PM ET
WASHINGTON (CNN)—Leaders of Congress are busy meeting with President Obama at the White House on Wednesday night over the budget deal. But if they are unsuccessful, the impact could hit close to home for the president.
The Executive Office of the President encompasses almost 50 different departments at the White House, ranging from the Executive Residence to the social secretary's office to the White House press secretary to the White House Counsel. In addition, there are other departments such as the United States Secret Service and the landscapers which fall under other departments.
But who would be deemed essential to keep the White House running? While senior administration officials expect that there will "be significant lower staffing levels at the White House", no one is quite sure who will be affected. FULL POST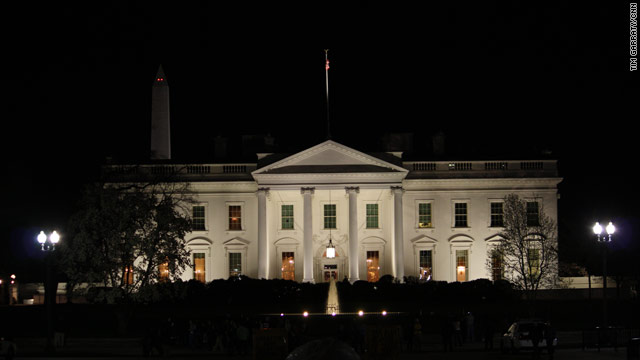 WASHINGTON (CNN) - President Obama called Senator Reid and Speaker Boehner back to the White House for a late night meeting, in hopes of hammering out a budget deal to avoid a government shutdown. As soon as he landed on the White House South Lawn in Marine One, he headed into the White House residence for a few minutes but a few minutes later, the meeting began about 9:15p.
April 6th, 2011
10:40 PM ET
WASHINGTON (CNN) – A longtime friend of President Barack Obama was arrested in Honolulu Monday on a prostitution charge, local Hawaii media are reporting.
Bobby Titcomb, 49, was among four men arrested in a Monday night sting, for soliciting sex from an undercover officer in Honolulu.
Titcomb attended Honolulu's prestigious Punahou School with Obama, and has remained a close friend over the years.
A familiar face in Obama's Hawaii entourage, Titcomb has hosted the First Family and staffers at day-long barbeques at his North Shore beachfront home, played rounds of golf with the president, and even accompanied Obama when the then President-Elect spread his grandmother's ashes off the cliffs of Oahu.
Titcomb was released after posting $500 bail, and is expected to appear in court next month for the charge that is considered a misdemeanor, according to reports.
April 6th, 2011
07:15 PM ET
WASHINGTON (CNN)– After returning to the White House from a trip to Pennsylvania and New York, President Obama will meet with House Speaker John Boehner and Senate Majority Leader Harry Reid to "help them bridge the narrow, but important gaps that remain," said a White House official.
Earlier in the day the president had received a more optimistic assessment on the negotiations after speaking by phone with Boehner and Reid, according to the official.
"They told him that they were making progress and did not need him to get involved."
Even so the official added that "the White House team has been monitoring the situation," all day.
Traveling with the president, spokesman Jay Carney told reporters that the president concluded that "not enough progress has been made," according to a pool report.
Another source familiar with the situation was more blunt. "There was almost no progress made today." FULL POST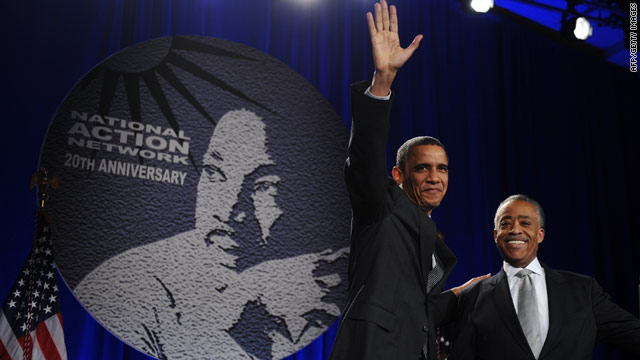 April 6th, 2011
07:10 PM ET
NEW YORK (CNN)- Sharing the room with famous athletes, record moguls, musicians and union leaders, President Obama made a stop in New York City Wednesday evening at a gala event honoring some well known Americans for their efforts in advancing civil rights.
"We've still got work to do," Obama said despite listing a litany of accomplishments such as passage of health care, and financial reform legislation as he delivered remarks at the annual convention of the National Action Network – the civil rights organization headed by Rev. Al Sharpton.
In his remarks, Obama said "we are going to have to up our game as a nation," if the country is going to attract new investment and jobs through the modernization of communication and transportation infrastructure, and the development of a clean energy economy. "It is the civil rights issue of our time," he said.
FULL POST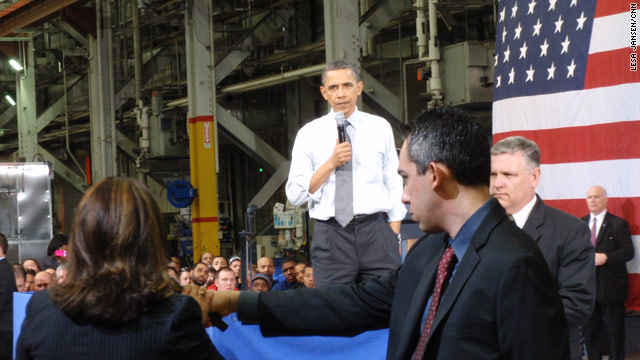 April 6th, 2011
06:38 PM ET
(FAIRLESS HILLS, PA) CNN - As a federal government shutdown looms, President Obama Wednesday scolded congressional Republicans for injecting ideology into the budget debate and holding up a deal on funding the government for the rest of the year.  "[B]ut somehow we don't have a deal, because some folks are trying to inject politics in what should be a simple debate about how to pay our bills," the president told workers at a Pennsylvania wind turbine factory.  "They're stuffing all kinds of issues in there, abortion, the environment, health care.  There are times to have those discussions, but the time is not now.  Right now we need to pay our bills, and the government needs to stay open."
The comments were made at a town hall where the president tried to focus his message yet again on clean, renewable energy.  He spoke to more than 400 workers at the Gamesa Technology Corporation in Fairless Hills, PA, 25 miles north-east of Philadelphia.  The president reiterated his administration's commitment to renewable energy like wind turbines and the development of job markets and investment in these fields to bolster the economy.  "We are going to get 80% of our electricity from clean sources," Mr. Obama told the workers.  "If we follow through on this, if we tackle this challenge, our economy will be less vulnerable to swings in oil prices our nation will no longer be beholden to the country we now rely on for oil imports."  FULL POST
April 6th, 2011
06:00 PM ET
(WASHINGTON) CNN- Our CNN photojournalists who staff the White House everyday are indeed jacks-of-all-trades!  March was CNN's turn as "pool" for television lighting duties at the White House.  Each month the five networks rotate this duty which includes handling lighting for the White House briefings, photo ops or any other "events" planned on the White House grounds.  It's hard work and long hours.  As CNN's lighting duties ended March 31, our own lighting expert photojournalist Dave Jenkins celebrated his freedom by cooking up a gourmet breakfast his colleagues in the White House press lunch room.  Bon appetit!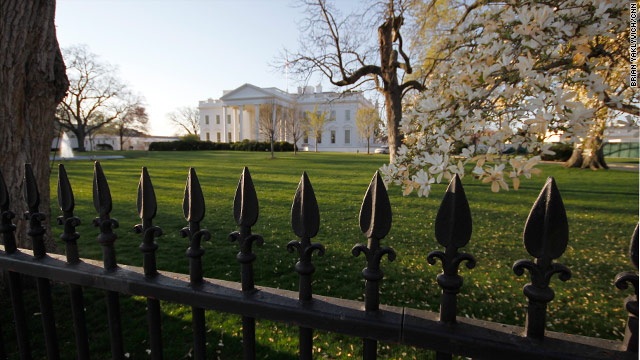 WASHINGTON (CNN) - Good morning from the White House unit at CNN. So far, no word if there will be another meeting at the White House on the budget this morning but if "time is of the essence", there's not much of it. The president will leave at 12:15p to spend the day out-of-town. First Obama goes to Fairless Hills, PA to hold a town hall meeting with employees of Gamesa Techonology Corporation where the president will continue to highlight his long-term energy plan. He'll take questions from the audience so we'll see if they broaden their questions to topics other than energy. Then he'll go up to New York City (he was there just last week, too) for the annual gala for Rev. Al Sharpton's group, the National Action Network where he'll highlight civil rights and social justice. He'll return to DC later this evening around 9p. FULL POST