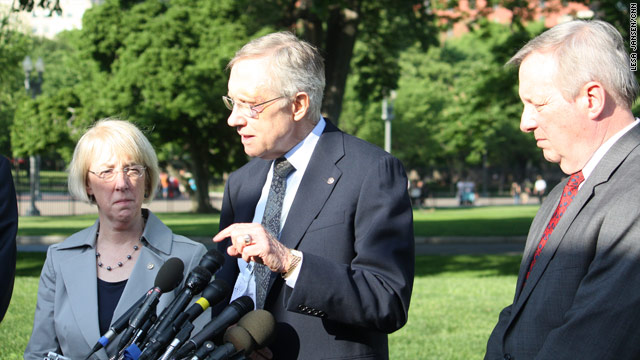 May 11th, 2011
07:51 PM ET
WASHINGTON (CNN)–President Obama is laying down the law to his Democratic colleagues as they begin negotiations to raise the nation's borrowing limit. The president's message: you have no choice but to work this out.  Wednesday, Mr. Obama met with Democratic senators at the White House as Congress continued to try to reach a compromise by this summer to raise the nation's borrowing limit which is now $14.2 trillion.  If the debt ceiling, as it is called, is not raised the government could default on its loans.
Wednesday, in the first of what will likely be many meetings between both parties in Congress, Mr. Obama told Democratic senators not to "draw any lines in the sand" according to Democratic Majority Leader Harry Reid.  Reid told reporters the caucus' meeting with the president ended on a "high note" and Democrats and the president stand united, "without any question, we're together," he said. 
Just last month, Mr. Obama took the lead in negotiations between congressional Republicans and Democrats when it looked like they might not reach a compromise to avert a federal government shutdown.  There was grumbling among some in his own party that the president gave too much.  But Wednesday, Reid said there is no division between democrats as they head into negotiations over raising the nation's debt limit.  "We are singing from the same hymn book, on the same page" he said. 
The majority leader conceded deciding what to cut in the budget will not be easy but he maintained "all options are open." FULL POST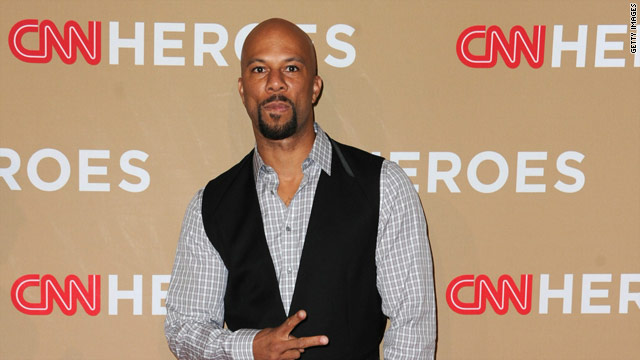 May 11th, 2011
05:26 PM ET
WASHINGTON (CNN) – During the nearly 20 years rapper Lonnie Rashid Lynn, Jr. – a.k.a. 'Common' - has been making music, he's been described as a "street poet," a "neo-soul rapper," and a "positive rapper."
Most often, he's been called a "conscious rapper."
"At first I thought, 'Man, why are (the media) trying to box me in?'  Because when you're looked at as being conscious, they also put a label of self-righteous on you, and that kind of disconnects you with the street and the average people," Common told Jet Magazine in 2005.
The Chicago-born rapper eventually appreciated the generalization, once he realized other artists like Bob Marley, Marvin Gaye, Stevie Wonder, and John Coltrane were also dubbed "conscious."
But now on the heels of Common's visit to the White House Wednesday to participate in an event celebrating poetry, conservative media outlets and the likes of Sarah Palin have given him a new label: "vile."
By CNNMoney.com's Jennifer Liberto
WASHINGTON(CNNMoney.com) - A Senate Republican vow to block any nominee to lead the new Consumer Financial Protection Bureau gives President Obama no choice but to appoint a head of that agency during congressional recess, a top House Democrat said Wednesday.
Last week,44 Senate Republicans said they would not approve any nominee to run the Consumer Financial Protection Bureau without major changes that would weaken the power of the bureau and the bureau's chief.
So Republicans, with their filibuster-proof 44 votes, give the president no choice but to sidestep the nomination process, said Rep. Barney Frank of Massachusetts.
"The Republicans are the ones who have announced that (the president) has to do a recess appointment, or else gut the agency. That's their choice," Frank said.
The ranking member of the House Financial Services Committee called the Republican move "extortion" and told Republicans to "stop acting like thugs."
Republicans say that the president has had 10 months to make a nomination.
Read full post HERE.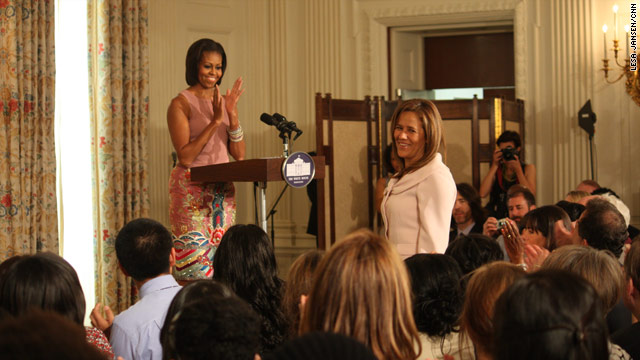 May 11th, 2011
04:04 PM ET
WASHINGTON (CNN) – Michelle Obama introduced a surprise guest at a White House poetry workshop this afternoon: the First Lady of Mexico, Margarita Zavala.
The visit doesn't seem to be official in nature. "She happened to be here, and I was like, you got to come, you got to come and check this out," Mrs. Obama told the audience of students and artists.
The First Lady said that she and her Mexican counterpart were simply "dear friends."
"I get to meet a lot of First Spouses in my work, and sometimes you just click with people, and this woman, who is an attorney, she's a passionate advocate for young people in her home country and around the world, she's somebody that I click with," she explained.
The two may have bonded last year during a state visit for the Mexican president and first lady. 
Prior to the official state dinner, the first ladies visited a school together in Silver Spring, MD, to talk about nutrition.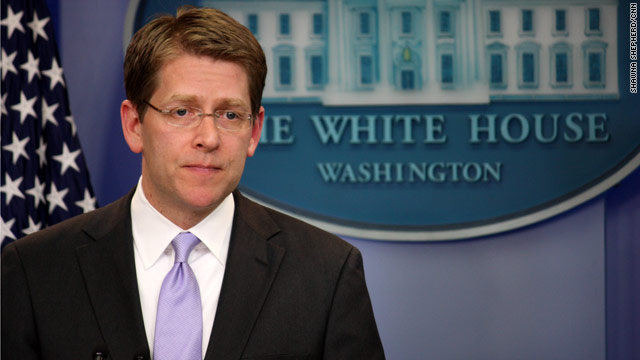 May 11th, 2011
02:18 PM ET
Washington (CNN) - The White House pushed back Wednesday against allegations by family members of Osama bin Laden, who said the raid by Navy SEALs, in which the terrorist leader was killed, "blatantly violated" international law.
"We feel very strongly that the successful mission against a mass murderer of Americans and people across the world, was entirely justified," White House Press Secretary Jay Carney said Wednesday when pressed on the matter at the daily press briefing.
In a statement provided to the New York Times on Tuesday, Omar bin Laden, and other children of Osama bin Laden, said the lack of a body, or photographic or video evidence of his death, led them to question whether their father had been killed in the May 2, operation in Abbottabad, Pakistan.
FULL POST
May 11th, 2011
11:28 AM ET
WASHINGTON (CNN) – At a pair of fundraisers in Austin, Texas, Tuesday night, a confident Barack Obama touted accomplishments made under his watch, and declared, "We saved the country from a Great Depression."
The president said the shrinking economy he inherited "is now growing fairly steadily."
"I don't think we fully realized how dramatic some of the changes would be as we came into office," he told supporters, citing his administration's handling of the banking crisis, intervening in the auto industry, passing equal pay legislation, investing in education and clean energy, doubling exports, ending a war, "as promised," and working on drawing down troops in Afghanistan this year.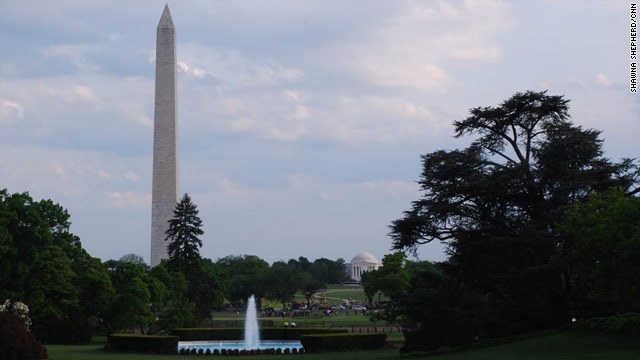 May 11th, 2011
07:57 AM ET
WASHINGTON (CNN) - President Obama is back in Washington Wednesday.  He will participate in a CBS News town hall focusing on the economy at the Newseum. CBS News will air the town hall Thursday morning; they'll likely release excerpts later today. The president also has a closed press meeting with members of the Senate Democratic caucus in the afternoon. In the evening, he will speak at a celebration of prose and poetry in the East Room, which he is hosting with the first lady, with poets, musicians, artists and students from across the country.
Schedule released by the White House after the jump. FULL POST