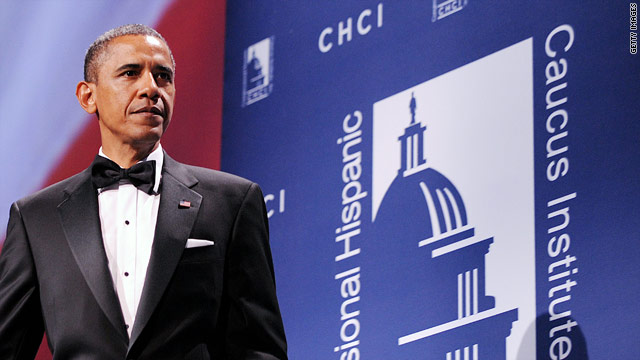 September 14th, 2011
09:10 PM ET
President Obama took his jobs push to a Congressional Hispanic Caucus event Wednesday where he chastised Republicans in Congress, claiming some of them are putting "party before country."
"If we're being honest, we know the real problem isn't the members of Congress in this room," he told the enthusiastic crowd. "It's the members of Congress who put party before country because they believe the only way to resolve our differences is to wait 14 months until the next election. Well I've got news for them: the American people don't have the luxury of waiting 14 months."
We're going to have to get Congress to act. I know Nancy Pelosi is ready to act. I know the CHC is ready to act. But we got to get more folks in Congress to act. It's time to stop playing politics, and start listening to the people who sent us there in the first place. So everybody here tonight, keep the heat on me, keep the heat on Nancy, the rest of the Democrats. We feel good about where we're at," the president also said.
FULL POST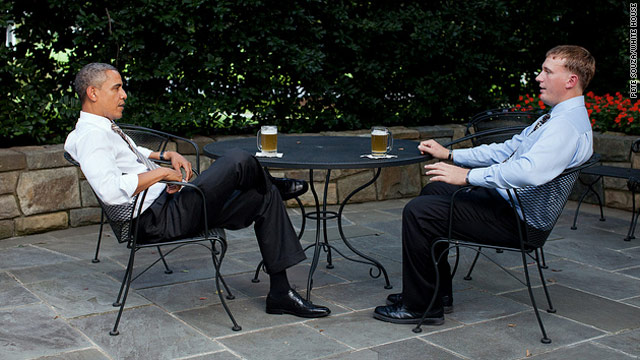 September 14th, 2011
08:37 PM ET
It wasn't quite a beer summit, but President Obama did share some brew time with Dakota Meyer Wednesday afternoon, the day before Meyer is to be awarded the Medal of Honor:
From the CNN Political Ticker:
Washington (CNN) – President Barack Obama enjoyed a beer with Dakota Meyer on the patio outside the Oval Office Wednesday. The president will present Meyer with the Medal of Honor Thursday during a ceremony at the White House.

According to a series of tweets by White House spokesman Jay Carney, when a member of the president's staff called Meyer over the weekend to prepare, Meyer made a special request.
More HERE
September 14th, 2011
03:46 PM ET
President Obama took his jobs push to North Carolina Wednesday, another swing state that he won in 2008 but is in danger of losing in 2012. Here's the report from CNN Wires:
Raleigh, North Carolina (CNN) - President Barack Obama took the push for his $447 billion jobs plan to the politically pivotal state of North Carolina Wednesday, telling an enthusiastic college crowd that it's time to "finally get Washington to act."

"If you're in favor of America's job creators, this is your bill," Obama told an audience in a campaign-style setting at North Carolina State University in Raleigh. "The time for hand-wringing is over. ... We've got to pass this bill right away."

The president made a similar plea during visits to Ohio on Tuesday and Virginia on Friday. All three states - Ohio, North Carolina and Virginia - were carried by Obama in 2008 but are considered up for grabs in the 2012 presidential race.
More HERE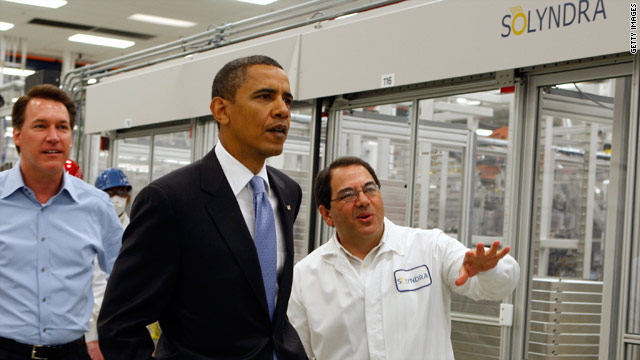 September 14th, 2011
02:56 PM ET
White House Press Secretary Jay Carney Wednesday downplayed recently revealed e-mails that Congressional Republicans say suggest the White House was pushing for a hasty approval of a $535 million loan to an unstable but politically connected solar energy company.
One e-mail, uncovered by the House Energy and Commerce Committee and reported by ABC News, is from a White House budget analyst warning then-Vice President Biden's chief of staff, Ron Klain, that the 2009 Department of Energy loan was "not ready for prime time." In a separate e-mail to the budget analyst, Klain wrote, "If you guys think this is a bad idea, I need to unwind the W[est] W[ing] QUICKLY."
But the loan to the now-defunct Solyndra company was was later announced by Vice President Biden and reviewed in only 9 days - proof, a House Energy and Commerce Committee report says, that the administration pressured the budget office to hastily approve a tax-payer funded deal with a company they had reason to believe wasn't standing on strong financial ground.
Speaking to reporters on Air Force One Wednesday, Carney said the e-mails show nothing more than concern over a scheduling matter, in light of the fact the announcement event was already planned and would have to be pushed back if the loan was not approved on time.
"What the e-mails, I believe, made clear is that there was urgency to make a decision about a scheduling matter. As you know, and you are familiar with it in a way that most Americans aren't, it is a big proposition to move the President or to put on an event and that sort of thing," Carney said. "So people were simply looking for answers about whether or not we could move forward - they could move forward with that."
FULL POST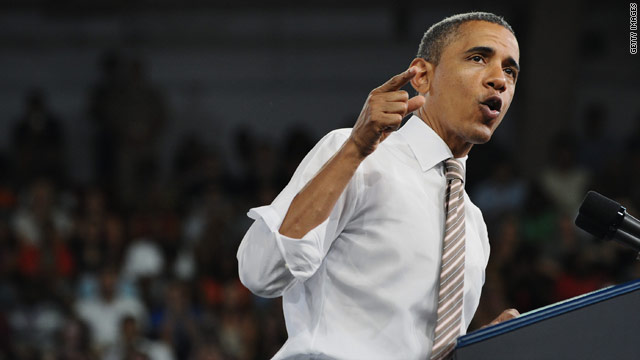 September 14th, 2011
12:06 PM ET
Raleigh, North Carolina (CNN)– In a trip that seems to be as much about the 2012 presidential election as pushing his jobs plan, President Obama heads to North Carolina today, visiting a small business he says would benefit from his jobs plan and addressing a crowd of thousands in the basketball stadium at North Carolina State University.  The Tar Heel state is a must-win for his Republican challenger next year and it's ripe for the picking: Mr. Obama beat John McCain in 2008 by a mere 0.3 percent, capturing less than half the popular vote.  White House officials deny this is a politically motivated stop but it is the president's third in six days to swing states he won in 2008 (he was in Virginia Friday and Ohio yesterday) and is hoping to hold onto next year. 
On this trip, Mr. Obama will again wave the powerful card he's prepared to play against House Republicans.  If they don't swallow his $447 billion jobs plan whole he's going to paint them as obstructionists, standing in the way of getting Americans back to work.  And make no mistake, the House of Representatives won't pass the jobs bill the White House wrote up themselves and delivered to congress Monday.  Even Senate Democrats I've spoken with, prepared to carry water for the president by promoting the bill on their side of the Capitol, concede it doesn't have a chance of passing.  This is especially true because the president proposes paying for his plan predominantly with tax increases on individuals making $200,000 or more and joint-filers earning $250,000 or more, a proposal that historically lacks support from congressional Republicans and Democrats alike. 
That isn't stopping President Obama from urging Congress to pass his plan and pass it now.  "Maybe there's some people in Congress who'd rather settle our differences at the ballot box than work together right now.  But I've got news for them: The next election is 14 months away.  And the American people don't have the luxury of waiting that long," Mr. Obama told a crowd in Columbus, Ohio Tuesday.  By some people, he means Republicans, though he's made a habit of not calling them out directly.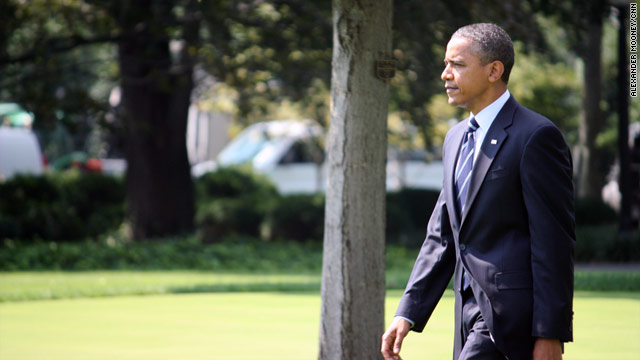 President Obama continues his push on his jobs plan by another road trip. This time to the Raleigh, North Carolina area. He'll first stop by a small business in nearby Apex to speak at WestStar Precision, a small business that specializes in machine components for the aerospace, medical, and alternative energy industries. The White House says this company is an example of people who will benefit from the American Jobs Act. After touring their facility, he'll head over to North Carolina State University where he'll make remarks urging Congress to pass the bill, much like yesterday's stop in Columbus, Ohio. The president will return to the White House in the afternoon and then this evening, he and First Lady Michelle Obama will attend a gala at the Washington Convention Center for the Congressional Hispanic Caucus.
For the full schedule released by the White House, click below. FULL POST
September 14th, 2011
07:43 AM ET
The 1600 Blog's daily roundup of what the White House is reading this morning online and in the papers:
*What, Obama worry? NY House district elects first Republican since 1920  [LA Times]
*White House pushed $500 million loan to solar company now under investigation [Washington Post]
*On jobs bill, White House bets on Boehner's support [Politico]
*Obama's disapproval rating hits new high [CNN.com]
*Obama's jobs plan complicates task of debt panel [BusinessWeek]
And to check out the coverage of today's trip to Raleigh in the local newspaper:
*If Obama can help, Apex is listening [Raleigh News Observer]
*Obama struggling in North Carolina [USAToday.com]