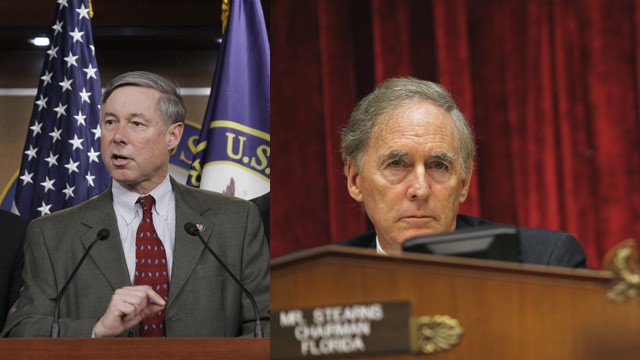 November 10th, 2011
06:50 PM ET
The folks over at CNN wires have the latest on the back and forth between the House Committee on Energy and Commerce and the White House over a subpoena issues last week by the Committee for all White House documents relating to Solyndra – the solar panel manufacturer that received hundreds of millions of dollars in federal loan guarantees before going bankrupt earlier this year. According to a statement by spokesman Eric Schultz, the White House plans to respond tomorrow to the Committee's latest requests.
Here's the story:
WASHINGTON (CNN) - The White House agreed Thursday to turn over some documents demanded under subpoena by a House panel investigating the collapse of solar energy firm Solyndra, Republican investigators said.

White House Counsel Kathryn Ruemmler initially balked at complying with the House Energy Committee's subpoena, calling it too broad.

A statement by committee chairman Rep. Fred Upton, R-Michigan and Rep. Cliff Stearns, R-Florida, who heads the investigating subcommittee, said the White House counsel's office informed them Thursday "that it plans to begin providing responsive materials to the committee's subpoena."

"As we have said before, we stand ready to work with the White House on its document production and believe it is entirely possible for the White House to produce information for an investigation that the White House Counsel herself has acknowledged is both legitimate and necessary," the statement said.

White House spokesman Eric Schultz said, "We are continuing to work with the committee to accommodate legitimate oversight requests and will provide a response to the committee tomorrow."
Check out the rest of the story here.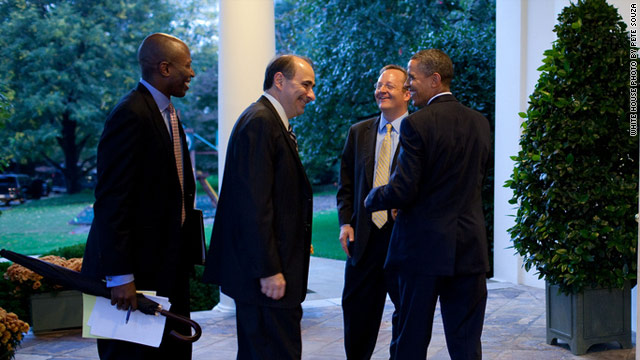 November 10th, 2011
06:34 PM ET
President Obama's ubiquitous assistant and body-man Reggie Love is getting ready to leave the White House at the end of the year. Never far behind the president, Love is the man responsible for keeping the leader of the free world on schedule and can often be seen carrying bags full of briefing books and background papers as the president walks ahead unencumbered.
"Over the years, Reggie has been a friend, a teammate, and an indispensable member of my staff," President Obama said today in a statement. "From my Senate office to the White House, his ability to juggle so many responsibilities with so little sleep has been an inspiration to watch. He is the master of what he does.  And even though I will miss seeing Reggie every day, I want to thank him for his service and wish him all the best as he begins a new chapter in his career."
Love began working for Obama's senate office in 2005, and served as candidate Obama's traveling assistant throughout the 2008 campaign. Before that he was a member of Duke University's 2001 NCAA Championship basketball team, making him the perfect teammate for President Obama in the frequent pickup basketball games on the White House South Lawn. Love even helped organize a birthday game for Obama in 2010 featuring such NBA stars as LeBron James, Dwayne Wade, Grant Hill and Earvin "Magic" Johnson.
For much of the past year – in addition to shadowing the president almost everywhere he goes – Love has been attending the Wharton Executive MBA program, and he will be leaving the White House to focus more on school. So the president might be comforted to know that Love will not be too far away. An exact date for Love's departure has yet to be announced.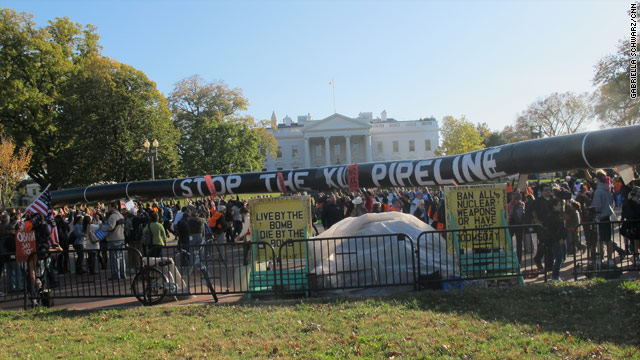 November 10th, 2011
04:40 PM ET
The State Department Thursday authorized an extension to study the routing of a controversial oil pipeline in order to study the environmental sensitivities, a move that will delay a final decision until after the next presidential election.
The Keystone XL Pipeline, a project that planed to transport oil from tar sands in Alberta, Canada to the Texas Gulf Coast was thought to be in the final stages of review following a summer of State Department sponsored town hall meetings in communities where the pipeline planned to cross.
In a written statement supporting the State Department's announcement, President Obama said: "Because this permit decision could affect the health and safety of the American people as well as the environment, and because a number of concerns have been raised through a public process, we should take the time to ensure that all questions are properly addressed and all the potential impacts are properly understood."
"The final decision should be guided by an open, transparent process that is informed by the best available science and the voices of the American people," Obama said in his statement.
With the announcement, the State Department said it was necessary to study alternative routes that may be less environmentally harmful. FULL POST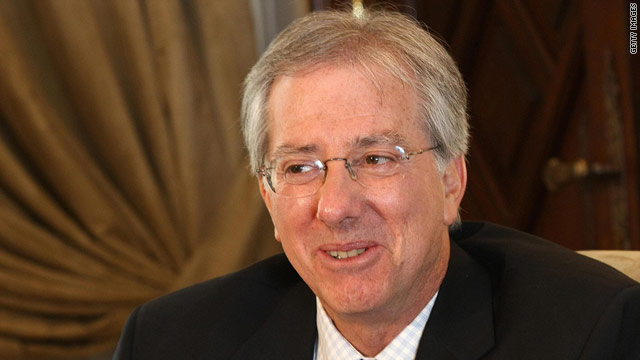 November 10th, 2011
03:14 PM ET
Washington (CNN)- Dennis Ross, one of the president's top advisors dealing with Middle East policy, announced he's stepping down from his post Thursday, leaving prospects for the administration's efforts to restart the peace process even more uncertain.
He cited a promise he made to his wife to only serve in the Obama administration for two years.
Ross, who has served in key diplomatic positions during the first Bush, Clinton, and Obama administrations, said in a statement, "It has been an honor to work in the Obama Administration and to serve this President, particularly during a period of unprecedented change in the broader Middle East."
"Obviously, there is still work to do but I promised my wife I would return to government for only two years and we both agreed it is time to act on my promise," added Ross. "I am grateful to President Obama for having given me the opportunity once again to work on a wide array of Middle Eastern issues and challenges and to support his efforts to promote peace in the region."
Ross's formal title is Special Assistant to the President and Senior Director for the "Central Region," the key area that includes Israel, Afghanistan, Pakistan, Persian Gulf, and South Asia. His influence is hard to understate, having been handed a portfolio that includes the United State's most pressing national security interests and regions that have undergone significant turmoil over the last two years.
FULL POST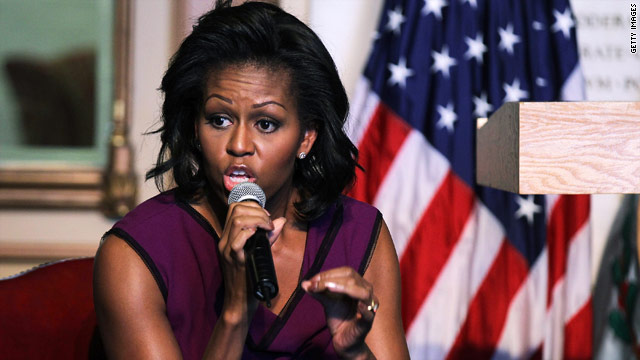 November 10th, 2011
11:41 AM ET
First Lady Michelle Obama announced Thursday that a major business association has pledged to hire 80,000 veterans and military spouses by the end of 2014.
During a speech at the U.S. Chamber of Commerce, Mrs. Obama said the International Franchise Association, a partnership that represents well over 1,000 business franchises, has made the major military employment commitment, which includes hiring 5,000 wounded veterans. In addition, Mrs. Obama announced the Military Spouse Employment Partnership, which includes 100 major companies and organizations, has pledged to employ 20,000 military spouses.
The announcement comes a month after the president announced the American Logistics Association, an organization consisting of 270 corporate partners, had also committed to hiring 25,000 veterans and military spouses in two years time.
"Those aren't just numbers. There are millions of Americans all across this country who are working hard every day to find new ways to honor military families' service," Mrs. Obama said Tuesday.
During a speech at the Washington Navy Yard in August, Obama directly challenged private sector businesses to hire or train 100,000 unemployed veterans or their spouses during the next two years. Earlier this week, he also unveiled a series of enhanced job-search tools designed to help recent veterans find private-sector employment.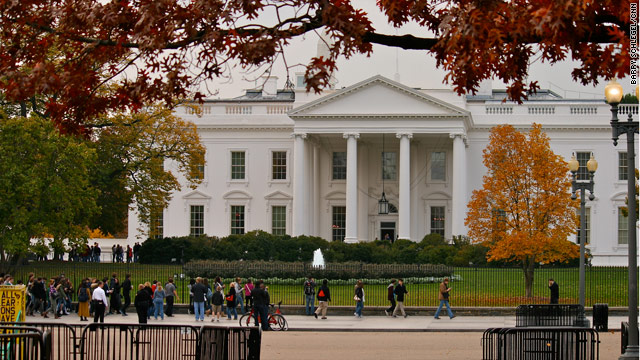 November 10th, 2011
08:43 AM ET
The president has a light public schedule Thursday with no on camera events as he prepares to begin his Pacific Rim trip Friday as he heads to San Diego to mark Veteran's Day on an aircraft carrier and then to Hawaii for APEC (Asian Pacific Economic Cooperation summit) and other meetings then Australia and Indonesia. 
BRIEFING SCHEDULE: 1:30PM Press Briefing by Press Secretary Jay Carney
PRESIDENT OBAMA'S SCHEDULE:
5:15PM THE PRESIDENT meets with senior advisors
Oval Office
Closed Press