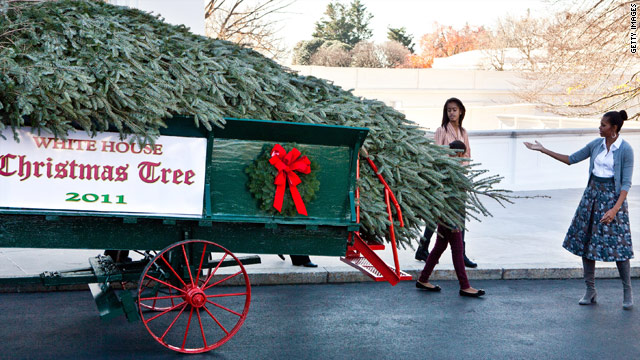 November 25th, 2011
12:50 PM ET
First Lady Michelle Obama, her two daughters, and Bo the dog officially welcomed the White House Christmas Tree earlier Friday.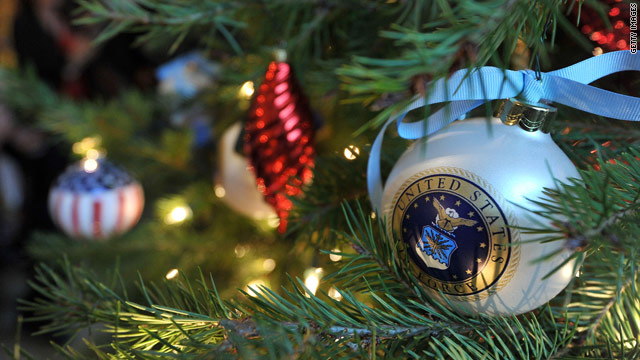 November 25th, 2011
08:08 AM ET
President Obama will lay low Friday with no events on the schedule. But first Lady Michelle Obama will officially usher in the beginning of the Holiday season here at the White House at 11:00 a.m. ET when she receives the White House Christmas Tree.
This year's tree comes from Schroeder's Evergreens farm near Neshkoro, Wisconsin. Selected in early October, it is a 19-foot tall balsam fir. It will be displayed in the Blue Room. According to the White House, members of the National Christmas Tree Association have presented the official White House Christmas Tree for display since 1966.
November 24th, 2011
12:11 PM ET
The White House has released today's Thanksgiving menu. Highlights include Oyster stuffing, sweet potatoes, and six pies choices.
Dinner:
• Turkey
• Ham
• Cornbread Stuffing
• Oyster Stuffing
• Greens
• Macaroni and cheese
• Sweet Potatoes
• Mashed Potatoes
• Green Bean Casserole
• Dinner Rolls

Dessert:
• Banana Cream Pie
• Pumpkin Pie
• Apple Pie
• Sweet Potato Pie
• Huckleberry Pie
• Cherry Pie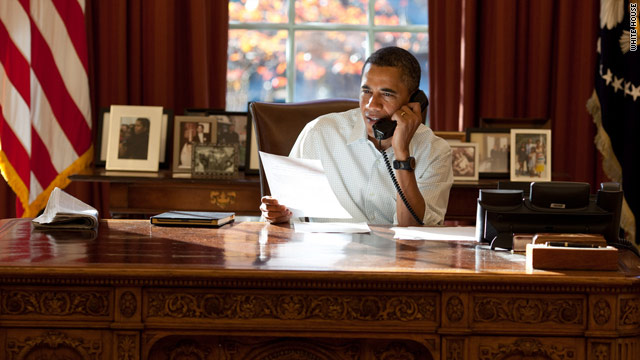 November 24th, 2011
11:13 AM ET
President Obama kicked off this Thanksgiving with phone calls to 10 service members, the White House announced.
The president's phone calls were to two members each of the Army, Air Force, Coast Guard, Marine Corps, and Navy. All are deployed in either Iraq or Afghanistan. The White House says the president thanked each for their service while sending along his Thanksgiving wishes to them and their families.
Obama is expected to spend the rest of the day with friends and family in the White House.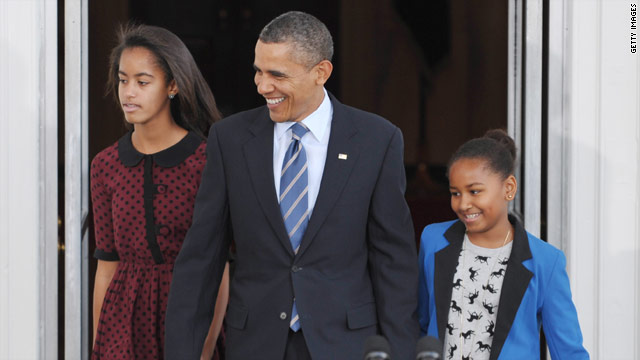 November 24th, 2011
09:35 AM ET
Wishing Americans a Happy Thanksgiving, President Obama said he hopes Democrats and Republicans will carry forward the spirit of the holiday when they return to Washington:
With all the partisanship and gridlock here in Washington, it's easy to wonder if such unity is really possible. But think about what's happening at this very moment: Americans from all walks of life are coming together as one people, grateful for the blessings of family, community, and country.

If we keep that spirit alive, if we support each other, and look out for each other, and remember that we're all in this together, then I know that we too will overcome the challenges of our time.
The comments were part of the presidents weekly radio address. Full Transcript below.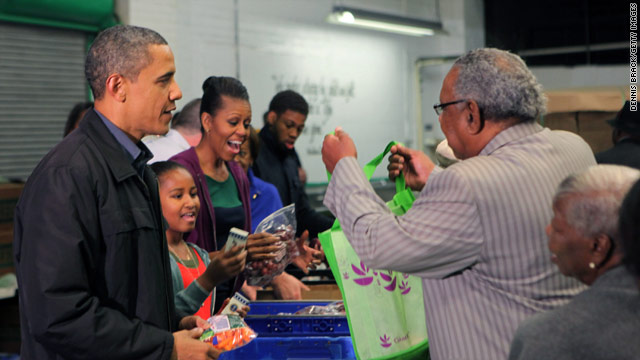 November 23rd, 2011
06:33 PM ET
WASHINGTON (CNN) – In the spirit of Thanksgiving, the First Family spent time counting their blessings and serving their community when they visited the Capital Area Food Bank on Wednesday.
The president, Mrs. Obama, and their daughters Malia and Sasha were joined by the First Mother in Law, Marian Robinson, and members of the Oregon State men's basketball team where they filled reusable grocery bags with produce and even some White House M&Ms.
President Obama, while handing out bags of baby carrots, greeted patrons of the food bank with a "Happy Thanksgiving" as they walked by.
The White House says that the Capital Area Food Bank distributes more than 30 million pounds of food a year to needy families.
The Obama family has had the tradition of doing a community service project around the Thanksgiving holiday since taking office. For the past two years, they put together bags of food at another local shelter, Martha's Table.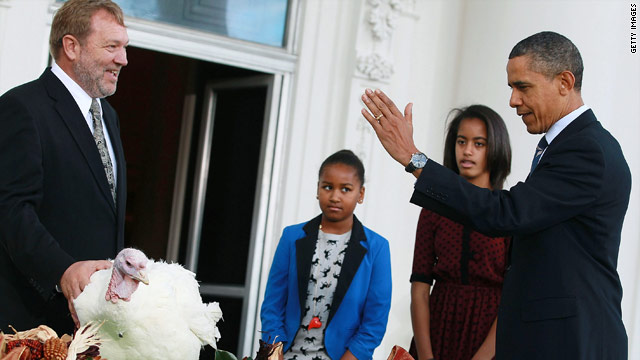 November 23rd, 2011
11:00 AM ET
(CNN) – Two turkeys from Willmar, Minnesota are counting their blessings this day before Thanksgiving, officially pardoned by President Obama and set to be transported to classy digs at Mount Vernon.
For two turkeys, the day before at least 45 million of their comrades are to be consumed at dinner tables across the country, it's the equivalent of winning the jackpot.
"Tomorrow is one of the best days of the year to be an American. It is a day to count our blessings, spend time with the ones we love, and enjoy some good food in great company. But it's also one of the worst days to be a turkey. They don't have it so good," Obama said at a ceremony on the North Portico of the White House.
Named Liberty and Peace, the turkeys clock in at 45 pounds each and are 19-weeks old, according to the White House. They were chosen from over 100 submissions for the top honor.
FULL POST
November 23rd, 2011
10:05 AM ET
Turkeys have long played a ceremonial role at the White House come Thanksgiving time, though formal pardoning did not begin until 1989.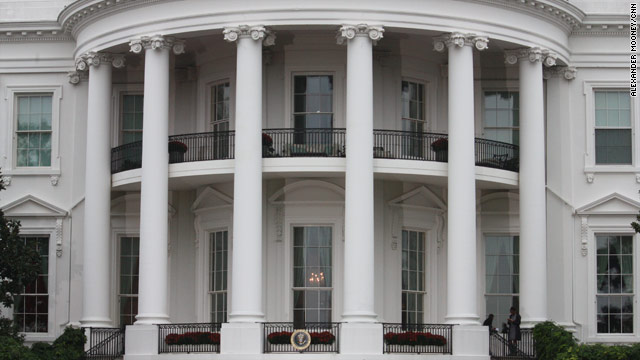 November 23rd, 2011
08:00 AM ET
It's turkey day at the White House, the day when President Obama enjoys one of the more ceremonial roles of being president and officially pardons two turkeys ahead of Thanksgiving.
The two turkeys whose lives will be spared, named Liberty and Peace, are 19-weeks old and weigh 45 pounds, according to the White House. They were chosen after more than 100 submissions were made for consideration.
The two turkeys will live out their days at Mount Vernon.
Full schedule after the jump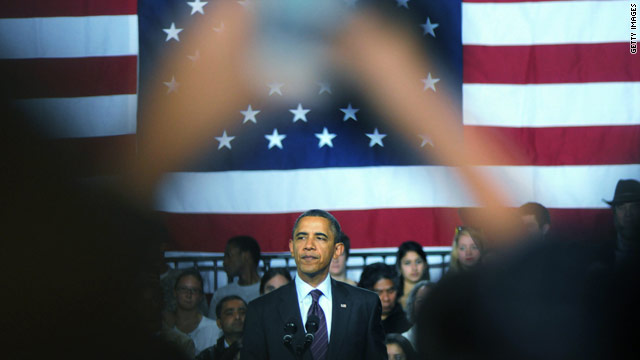 November 22nd, 2011
02:57 PM ET
Manchester, New Hampshire (CNN) – A small group of Occupy New Hampshire activists disrupted a speech by President Barack Obama at a Manchester high school Tuesday.
The group of protesters, modeled after the Occupy Wall Street movement, began chanting soon after Obama took the stage.
"Mic check," one called, and then a handful of people in the audience chanted in response. According to one man who took part in the chant, the group wanted Obama to "stop the assault" on peaceful protesters who had been arrested as part of the OWS movement.
The activists' words were difficult to hear in the school gymnasium, and after several moments of confusion, students in the audience began to chant "Obama" to drown out the protesters.
Obama listened to the shouts and then responded to the disruption.
"I appreciate you guys making your point. Let me go ahead and make mine," he said. "I'll listen to you, you listen to me." FULL POST