January 11th, 2012
08:54 PM ET
President Obama focused on his 2012 campaign in earnest Wednesday when he returned to his hometown of Chicago to rally supporters at his re-election headquarters and raise some hefty campaign cash.
Not long after arriving in the Windy City, the president stopped by his national campaign headquarters to thank workers and supporters. It was the president's first visit to the offices of Obama for America. There he addressed a few hundred campaign staffers encouraging them to run "a campaign that embodies the values we're fighting for."
His second stop: a fundraiser at the University of Illinois Chicago (UIC). President Obama greeted a group of about 800 supporters on the campus. During his remarks Mr. Obama made a point of thanking his outgoing chief of staff Bill Daley, who accompanied him to Chicago, for his service.
FULL POST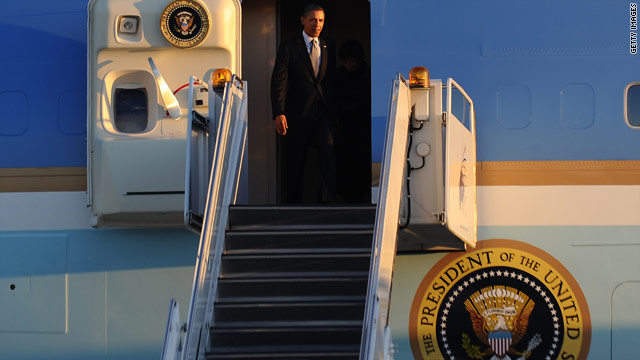 January 11th, 2012
06:56 PM ET
Even as the GOP presidential primary season gets well under way, the White House continues to insist President Obama has yet to focus on his own reelection bid.
It may come as no surprise then that when Obama made an unannounced visit to his campaign headquarters in Chicago Wednesday night, members of the traveling press corps were kept far away.
To be sure, images of Obama giving high fives and back slaps to his campaign staff would surely contradict the notion that the president has yet to give any significant thought to the effort ahead.
Speaking with members of the press shortly before the visit, deputy press sectary Josh Earnest said that Obama merely wanted to "say hello and thank the people in Chicago who are working hard on his reelection campaign."
Still, Earnest quickly repeated what White House officials have said for months: while his campaign operation is in full gear, "the president himself and the staff at the White House have been focused on the critical priorities and the items on his agenda as the President of the United States."
Earnest wouldn't provide a specific reason why the press was not allowed to cover the visit. Later he put out a short statement describing the event.
"[Obama] stood at one end of the large, open bullpen area at the center of the 6th floor of the bldg," the statement read. "He spoke for less than ten minutes to a few hundred members of his campaign staff. He talked about coming to Chicago for the first time as a young man and reminisced about the early days of his campaign for the senate. He both thanked his staffers for their hard works and encouraged those saying that he hoped to run 'a campaign that embodies the values we're fighting for'. On the way out, he shook many, many hands."
After the visit to the headquarters, Obama will attend three fundraisers for his reelection campaign and the Democratic Party. Television cameras are allowed into one of those.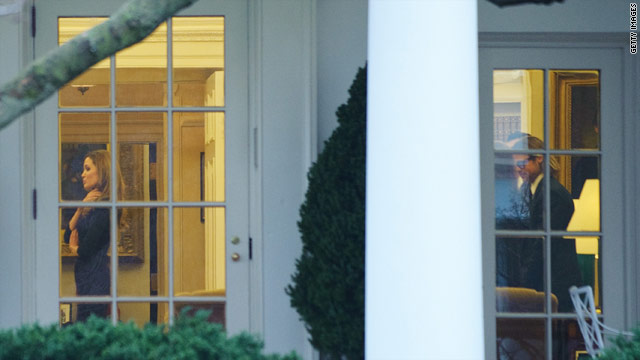 January 11th, 2012
04:23 PM ET
(CNN) – A big slice of Hollywood came to the White House Wednesday when President Obama greeted Brad Pitt and Angelina Jolie in the Oval Office.
For a brief moment the White House press corps was transformed into a pack of paparazzi as the star couple was spotted through the Oval Office windows during a previously unannounced visit with the president.
A senior White House official later told CNN Pitt and Jolie were in Washington to screen a new movie Jolie directed about Bosnian war crimes, In the "Land of Blood and Honey."
Deputy White House Press Secretary Jamie Smith told CNN that Obama spoke with Jolie "about her work to raise the profile of preventing mass atrocities and combating sexual violence against women."
January 11th, 2012
04:20 PM ET
While on vacation in Hawaii this past month President Obama and his family stopped by The East-West Center to view an exhibit of his mother's life and work in Indonesia.   The exhibit of jewelry, textiles, metal work and photographs collected by Obama's mother Ann Dunham closed earlier this month but here you have a chance to see what the president saw when he stopped by.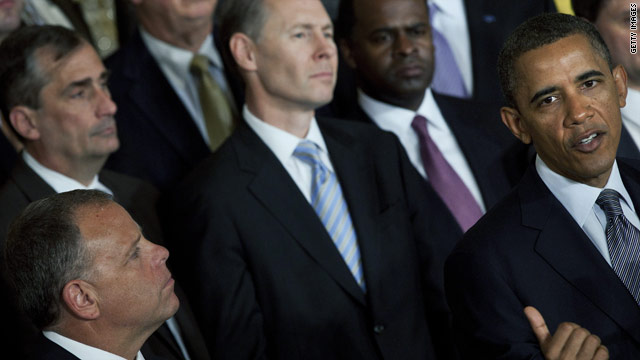 January 11th, 2012
04:10 PM ET
(CNN) – A White House official says President Obama's speech Wednesday proposing tax breaks to businesses that keep jobs in the United States has been in the works for weeks.
But politically, the timing couldn't have been better.
Just as Democrats and Republican opponents to Mitt Romney heighten their lines of attack against Tuesday's big New Hampshire primary winner as a onetime "vulture capitalist" who destroyed many more jobs than he created while growing wealthy at Bain Capital, the president subtly weighed in.
Flanking himself with more than a dozen business executives, he pledged to unveil tax incentives for companies to bring back jobs to the United States and create more products in America
"I don't want America to be a nation that's primarily known for financial speculation," the president said during the event in the East Room. "I want us to be known for making and selling products all over the world stamped with three proud words: "Made in America."
To be sure, the president made no mention of Romney directly, but he has been critical of Wall Street before and the tenor of his remarks neatly complimented Vice President Biden's assail on the former Massachusetts governor Tuesday, when he told New Hampshire Democrats via teleconference that Romney cares more about stockholders than employees.
"He thinks it's more important for the stockholders and the shareholders and the investors and the venture capital guys to do well than for those employees to be part of the bargain," Biden said.
FULL POST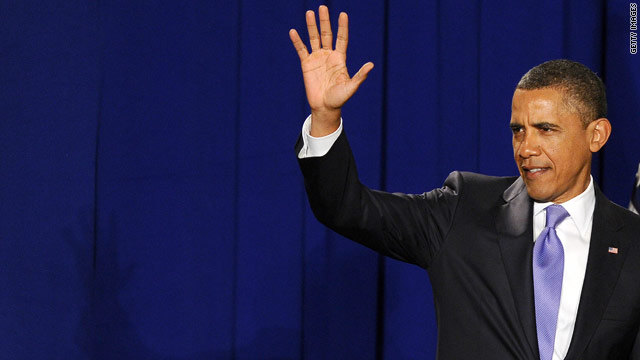 January 11th, 2012
12:22 PM ET
Washington (CNN) - A day after the GOP's New Hampshire primary, President Obama focuses on his re-election campaign, returning to his hometown Chicago to raise some hefty campaign cash. But pundits will be watching closely to see if he directly takes on Republican GOP front-runner Mitt Romney when the president speaks at a campaign event Wednesday evening.
Tuesday evening, as Romney celebrated his New Hampshire victory by attacking the president, Vice President Joe Biden unleashed the Obama camp's harshest attack yet on Romney, saying, "He thinks it's more important for the stockholders and the shareholders and the investors and the venture capital guys to do well for those employees to be part of the bargain."
The Biden attack came in the wake of Romney's rivals seizing on his saying "I like being able to fire people," which Biden also said "was probably taken out of context."
Speaking to Democratic supporters in New Hampshire via video teleconference, the vice president appeared to characterize Republicans as "brush" that Democrats need to clear aside before they can move the country forward.
President Obama will speak at one of tonight's three fundraisers in Chicago, an event geared to the president's younger, grassroots supporters. At a concert and fundraiser sponsored by Gen 44 - the group that bills itself as the under 40 working professional arm of the Obama campaign– supporters will pay from $44 for a general admission ticket to $1000 for VIP status entry. The president and guests will be entertained by Grammy-nominated R&B soul musician Janelle Monáe. The event, at the University of Illinois Chicago campus, is hosted by actor Hill Harper, famous for his work on the popular television drama CSI: NY.
FULL POST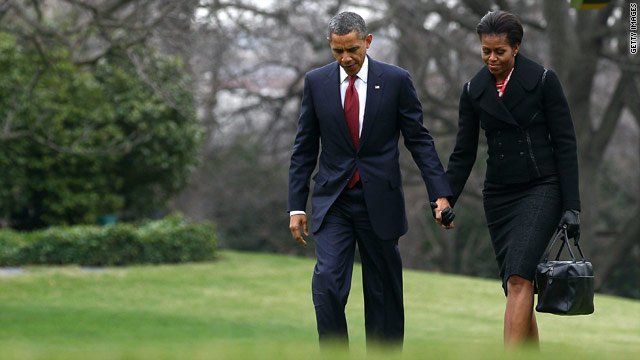 January 11th, 2012
11:31 AM ET
Michelle Obama denied reports that there has ever been any friction between the first lady and her husband's top advisors.  In an interview conducted by Gayle King for CBS This Morning, Mrs. Obama refuted claim of conflict with White House staff but acknowledged she speaks her mind.  "I mean, one thing is true that I talk very candidly to my husband about how I feel, but that's the kind of relationship we have," she said.
The newly published book, "The Obamas," by New York Times reporter Jodi Kantor, portrays the relationship between Mrs. Obama and her husband's former Chief of Staff Rahm Emmanuel as difficult and tense.  Mrs. Obama disagreed with that assessment, "Rahm and I have never had a cross word…I don't have conversations with my husband's staff,"
Acknowledging that she is not a policy expert and that her husband has plenty of smart advisors, she added, "That's not to say that we don't have discussions and conversations.  That's not to say that my husband doesn't know how I feel."
The interview, which was taped in Mrs. Obama's East Wing office, also included questions about life in the White House.  The first lady told King it was a privilege to live in the White House but worries about her daughters, "If there's any anxiety that I feel, it's because I want to make sure that my girls come out of this on the other end whole."
The first lady, who is expected to campaign extensively for her husband during the upcoming campaign, ruled out ever running for office herself.  "Never. I don't have an interest in political life, in that way. Never have, never will," she said.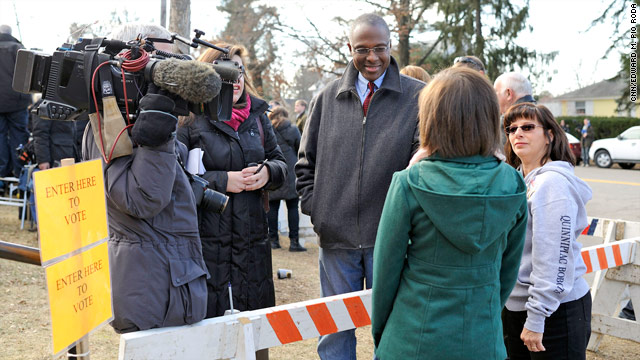 January 11th, 2012
10:21 AM ET
I've been covering New Hampshire primaries since 2004. It's a political process that puts the candidates up close with independent minded voters. They need more than one handshake and a chance meeting at the corner of Main Street to seal the deal.
But this time around voters were looking for much more and struggling to make a choice.
As we found out in the final hours on Tuesday some voters only made up their minds in the last week, the last day or the last minute.
At the hottest polling places in Manchester, New Hampshire, the candidates made one final pitch amid a crush of supporters and the media.

And walking the gauntlet was first time voter, 19 year-old Melissa Rose and her mother Donna. Both were still trying to find clear skies in what has been a murky political process.

Donna Rose finally settled on a choice but Melissa walked into the polling place still undecided. She said she would make her decision when she walked in and pulled the curtain.

Inside Ward One, as voters streamed in to pick their candidate, moderator Dianne Beaton saw signs of uncertainly. "Even as they're walking up, they're saying I still don't know who I'm going to vote for."

Some voters blamed their indecision on the Republican field itself, saying the candidates failed to inspire them in a convincing way.

Mia Langley, a Ron Paul Supporter, said, "I think Mitt Romney has the best chance against Obama however I agree more with Ron Paul where he stands on the issues."

Back at the voting booth, Donna Rose was in and out quickly. Her daughter Melissa stayed behind the curtain for almost a minute and a half.

Emerging from her first voting experience no longer undecided, Melissa declared, "I ended up voting for Ron Paul.

Melissa's mother declined to say who she voted for but seemed convinced her choice was the right one and certain that her mystery candidate has what it takes to beat President Obama in November.
In the end the "anything but Mitt Romney" candidate ended up being Mitt Romney himself. The polls that had him way out front moved very little once the final votes were casts.
January 11th, 2012
09:51 AM ET
WASHINGTON (CNNMoney) - With budget chief Jack Lew stepping up to be President Obama's new chief of staff, Washington is abuzz over who - if anyone - will be tapped as the president's new budget director.
The White House's director of the Office of Management and Budget (OMB) has been playing an increasingly high profile role when it comes to sparring with Congress, thanks to ongoing debates over budget deficits and keeping the federal government funded.
For now, the White House appears to be suggesting it's not in a rush to fill the job, saying Lew will continue to oversee the president's release of the 2013 budget.
Read the complete story at CNN Money.com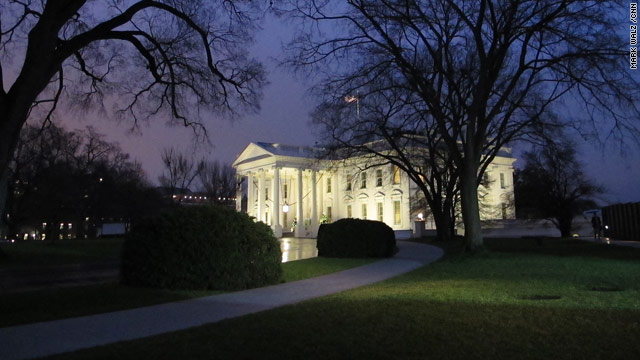 While the focus will be on the aftermath of the New Hampshire primary, President Obama will keep the White House's focus on jobs on Wednesday by hosting the "Insourcing American Jobs" forum at the White House.  He and Vice President Biden will host business leaders and other experts influence companies to choose to do business in the US and not to outsource to other countries.  According to guidance from the White House, the president will "discuss why it's competitive to locate in the United States and what more can be done to work with companies to take similar steps to insource American jobs."  The president will make remarks and then the business leaders are expected to come to the stakeout following the event.
Later on Wednesday evening, President Obama does some campaigning of his own when he travels to his hometown of Chicago to hold several campaign events.  First he will speak to a Gen 44 rally at the University of Illinois Chicago forum.  This is a concert and fundraiser sponsored by Gen 44, hosted by actor Hill Harper, with a performance by Grammy-nominated recording artist Janelle Monáe.  President Obama will deliver remarks live at 6:50pm EST.  He will have two other fundraisers at private homes in Chicago which are closed to the press.
full schedule after the jump