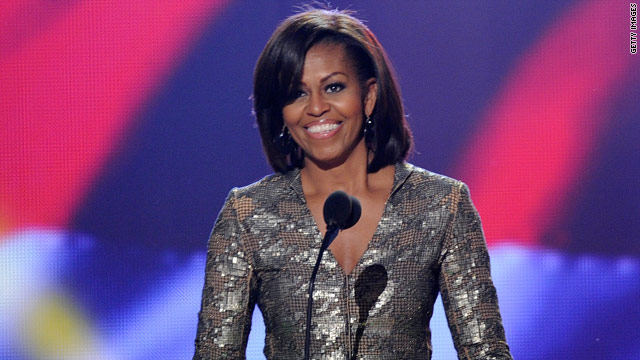 March 31st, 2012
11:48 AM ET
First lady Michelle Obama continues to take Hollywood by storm. She's appeared with David Letterman, Jay Leno and Ellen DeGeneres in recent months - and Saturday she made her first-ever live appearance on Nickelodeon's Kids' Choice Awards in Los Angeles.
Mrs. Obama presented "The Big Help Award" to country pop singer Taylor Swift for Swift's work helping tornado and flood victims.
"I'm here because I've always felt an obligation to give back; to lift up others the way my parents, my teachers and mentors lifted me. And that's something that our next honoree believes, too," Obama said at the awards ceremony. "Taylor Swift may be in the news most often for her award-winning songs and multi-platinum records, but every step of the way she has always made it a point to give back."
Last year, Swift raised nearly $1 million to help victims of devastating tornadoes in the Southeast. Swift opened the final dress rehearsal of her Speak Now tour to a paying audience of 13,000 people, donating all the proceeds to tornado victims.
The first lady won the same award herself two years ago for her work with Let's Move, her initiative designed to combat childhood obesity and encourage healthy habits.
Mrs. Obama has teamed up with Nickelodeon in the past for the network's Worldwide Day of Play, an effort to get kids involved in healthy activities and away from the TV for at least three hours a day. She also appeared on the network's hit show "iCarly" as part of her Joining Forces initiative to recognize and honor military families. The lead character in iCarly is the daughter of an Air Force colonel serving overseas.
Saturday's Kids' Choice Awards appearance is the first lady's first "in person" appearance on the awards show. She received "The Big Help Award" in 2010 via videotape.
–CNN's Greg Clary contributed to this report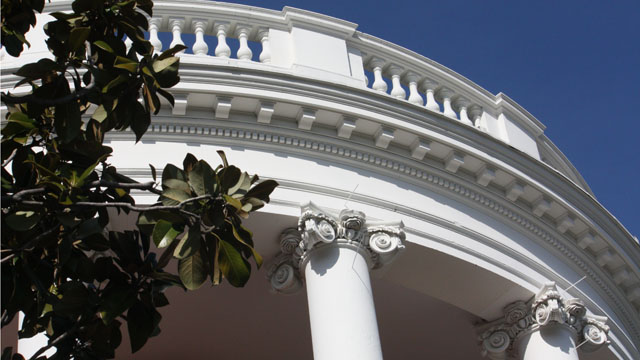 March 31st, 2012
11:20 AM ET
(CNN) – Democrats and Republicans addressed struggles facing middle-class families during their weekly addresses Saturday following a busy week dominated by Supreme Court judges' arguments on health care.
President Barack Obama and House Speaker John Boehner, a Republican from Ohio, spoke about proposals to help middle-class families, urging the opposing party to join theirs to find solutions.
Obama boosted the "Buffet Rule," a proposal to end Bush-era tax cuts for wealthy individuals, or, as Democrats describe it, would "ask some of the wealthiest Americans to pay their fair share."
"Now, if this were a perfect world, we'd have unlimited resources. No one would ever have to pay any taxes, and we could spend as much as we wanted," Obama said.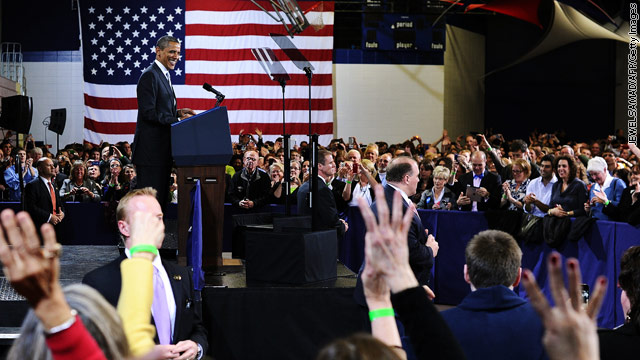 March 30th, 2012
06:27 PM ET
Portland, Maine (CNN) – President Barack Obama wrapped up an afternoon fundraising swing through the northeast Friday, declaring his Republican opponents have a go-it-alone attitude that threatens to permanently stifle the country's middle class.
"They would gut things that we've always believed is at the core of making America great – education, science, caring for the most vulnerable." the president to chants of "four more years" in a packed Portland, Maine gymnasium. "They are wrong."
"The idea that you would keep doing the same thing over and over, even after it's proven not to work, that's the sign of madness," he also said of Republican-backed economic policies.
Obama listed the accomplishments his campaign intends to emphasize between now and November, including the bailout of the auto industry, equal pay for women, and drawing down the war in Iraq. The president also praised his most controversial action just days after it was contended before the Supreme Court, the institution of universal health care.
"Change is the health care reform act we passed after a century of trying," he said without noting it's in danger of being declared unconstitutional by the high court. "We believe that in America, nobody should go bankrupt just because they got sick."
Read the whole post over at the Political Ticker.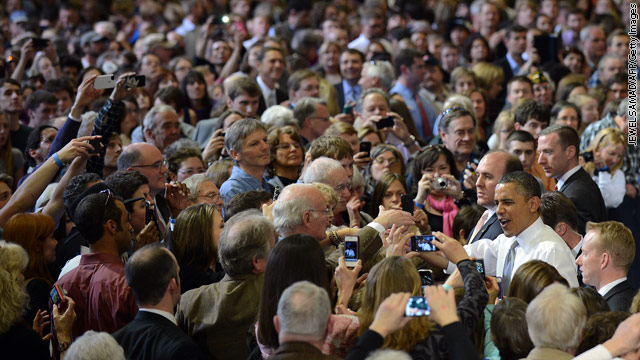 March 30th, 2012
06:10 PM ET
It may have been a tough week for the president at the Supreme Court, but you wouldn't have known that Friday: thousands of students at the University of Vermont couldn't get enough of Obama during a campaign speech.
You knew things would go well for him when his opening comment: "I'm here..." was interrupted by applause. Huge cheers erupted when the president talked about withdrawing from Iraq, health care reform, and affordable education.
In a swipe at Republicans, the president said hard work is a value, but so is "looking out for one another...I'm my brother's keeper. I'm my sister's keeper. That's a value. " Wild applause.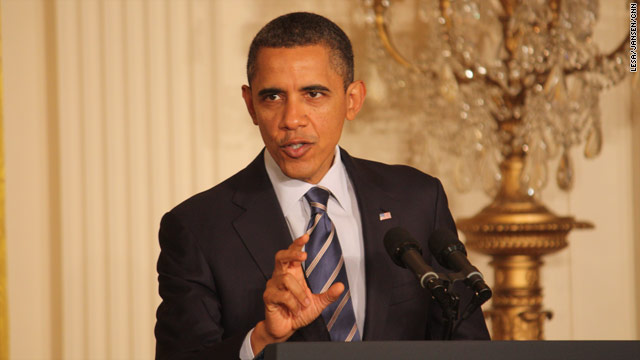 March 30th, 2012
02:58 PM ET
NEW YORK (CNNMoney) - President Obama ratcheted up the pressure on Iran Friday, deciding to implement previously announced sanctions that will be the toughest to date.
The decision declares that world oil markets can be adequately supplied even if a significant portion of Iran's 2.2 million barrels a day in oil exports is taken off the table.
"There is a sufficient supply of petroleum and petroleum products from countries other than Iran to permit a significant reduction in the volume of petroleum and petroleum products purchased from Iran by or through foreign financial institutions," Obama said in a statement.
The sanctions, announced late last year, are aimed at getting Iran to give up its nuclear program - a program Iran says is for peaceful purposes but many suspect is intended to produce a bomb.
The decision was widely expected.
"It's hard to imagine the White House would have invited the political ramifications of stalling on Iran," said Kevin Book, managing director at ClearView Energy Partners. That could have been "devastating for key voter blocs in battleground states."
The sanctions target Iran's central bank, which the country uses to facilitate its oil trade. They subject any bank, company or government that does business with Iran's central bank to U.S. sanctions.
In effect, it forces people to choose between doing business with Iran and doing business with the United States.
The sanctions are slated to take full effect June 28, and a full embargo of Iranian oil from the European Union is set for July 1.
The sanctions had already begun ramping up, and analysts estimate Iranian's exports dropped by about 300,000 barrels a day over the last few months.
Read more over at CNN Money.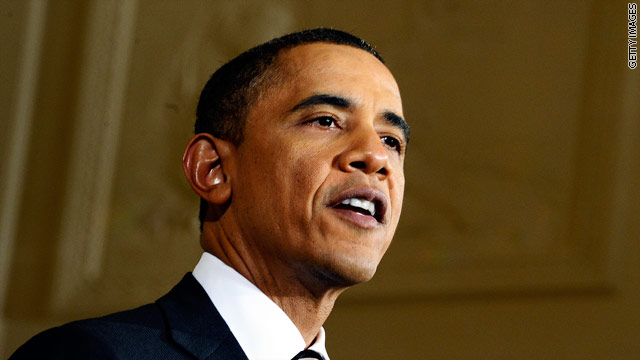 March 30th, 2012
01:52 PM ET
(CNN) – President Barack Obama heads to Vermont and Maine Friday to help bring in campaign cash for his re-election bid.
The president will be the main attraction at two events in Vermont, one of the most Democratic states in the country, and at two more in Maine, a state then-presidential candidate Obama won by 18 points in the 2008 election.
The four events are the last fundraisers the president's scheduled to attend by Saturday, the last day of fundraising in the first quarter. The numbers are bound to be scrutinized by pundits and political operatives as the 2012 election heats up.
The Obama Victory Fund, which is shared by the Obama re-election campaign and the Democratic National Committee, brought in around $45 million in February.
Read more on the Ticker.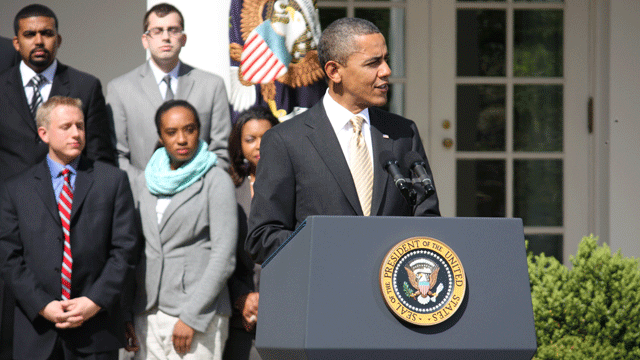 March 29th, 2012
12:08 PM ET
Speaking from the White House Rose Garden, President Obama called on Congress to cut subsidies to the oil industry:
Right now, the biggest oil companies are raking in record profits –- profits that go up every time folks pull up into a gas station. But on top of these record profits, oil companies are also getting billions a year - billions a year in taxpayer subsidies -– a subsidy that they've enjoyed year after year for the last century
The Senate is expected to vote on a measure that cuts certain subsidies later Thursday. While it's future remains uncertain, the president has increasingly discussed the issue of energy as gas prices rise at the pump:
It's not as if these companies can't stand on their own. Last year, the three biggest U.S. oil companies took home more than $80 billion in profits. Exxon pocketed nearly $4.7 million every hour. And when the price of oil goes up, prices at the pump go up, and so do these companies' profits. In fact, one analysis shows that every time gas goes up by a penny, these companies usually pocket another $200 million in quarterly profits. Meanwhile, these companies pay a lower tax rate than most other companies on their investments, partly because we're giving them billions in tax giveaways every year.
Obama's full remarks after the jump: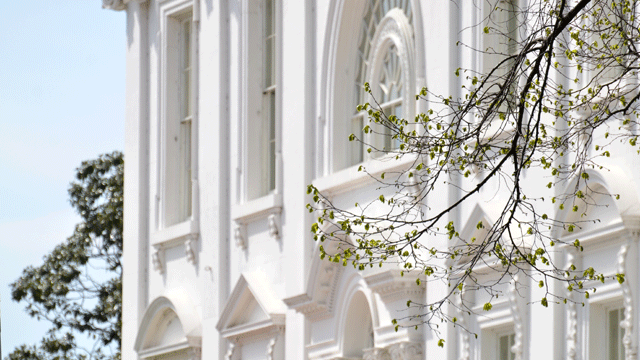 March 29th, 2012
07:58 AM ET
The president is back in front of cameras today when he delivers a statement in the Rose Garden at 10:45 urging Congress to end subsidies to the oil industry.
The Senate is expected to take up the measure later Thursday, though its future looks uncertain. Still, the move is the latest from the president to get ahead of the Republican Party on the issue of energy as gas prices continue to spike at the pump.
The statement might also help the White House pivot away from the health care story that has dogged the administration all week.
Full schedule:
FULL POST
March 28th, 2012
12:13 PM ET
(CNN) – As the spring commencement season draws near, the White House announced Friday that first lady Michelle Obama will be among the keynote speakers at three universities.
Mrs. Obama will address graduating seniors at the Virginia Tech (May 11), North Carolina Agricultural and Technical State University (May 12), and Oregon State University (June 17).
Mrs. Obama has a particular connection to Oregon State – her brother, Craig Robinson, is the head basketball coach there. Meanwhile, the White House says Virginia Tech was chosen because Mrs. Obama is "inspired by the resilience" of the school's student body since the shootings there. North Carolina A&T made the list because it is "part of the rich legacy of historically black colleges and universities," the White House said.
Of course, that Virginia Tech and North Carolina A&T happen to be in presidential battleground states may not have escaped the thoughts of Mrs. Obama's schedulers.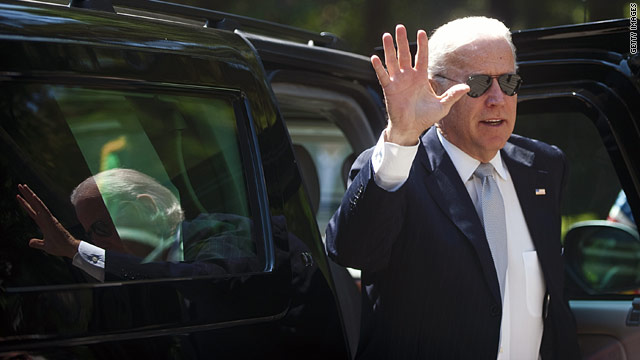 March 28th, 2012
09:07 AM ET
(CNN) – Vice President Joe Biden returns to the campaign trail Wednesday, slated to deliver a stinging critique of leading Republican presidential candidate Mitt Romney before an audience of manufacturing workers in Iowa.
"Mitt Romney has been remarkably consistent - as an individual investor, a businessman, as governor of Massachusetts, and now as a candidate for president ... consistently wrong," the vice president plans to say, according to prepared remarks distributed by the Obama campaign.
The event, to be held at an engineering plant in Davenport, is the third in a series of speeches the vice president is delivering in key battleground states as the president's re-election effort shifts into a more publicly combative phase seven months before Election Day.
The vice president will also meet with a private gathering of grassroots supporters in Sioux City Wednesday, according the campaign.
FULL POST