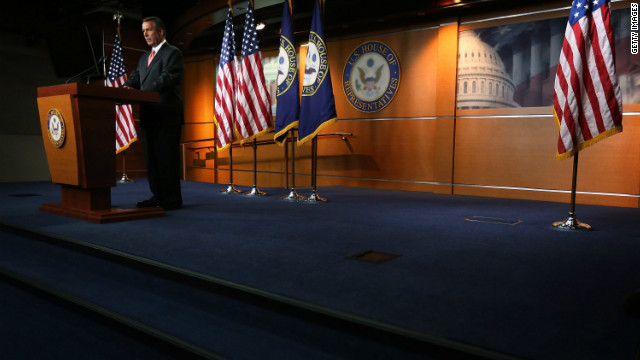 November 30th, 2012
08:42 AM ET
Washington (CNN) – The White House and Congressional Republicans are squaring off in negotiations to avert the fiscal cliff, with each side accusing the other of blocking a deal.
For the first time we're getting a look at what the White House is offering to break the stalemate. Republicans consider it an overreach. Democrats make clear it's a first offer, to get specific on the numbers.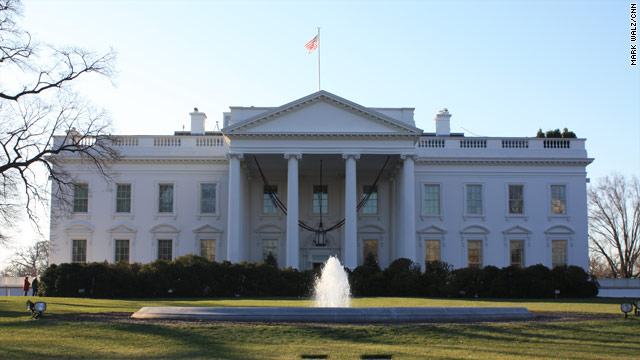 November 30th, 2012
07:38 AM ET
There will be no Obama 2012 signage or a campaign playlist, but the president's trip to a Philadelphia suburb Friday might feel a bit like late October again. Obama will hit the road to promote his position on freezing tax rates for households making under $250,000 while increasing those of the wealthiest wage-earners. The midday trip to Hatfiled, PA has already been criticized by Senate Minority Leader Mitch McConnell, who said earlier this week the president "is back on the campaign trail presumably with the same old talking points that we are all quite familiar with."
Obama will tour The Rodon Group manufacturing facility, a toy manufacturer whose products include Tinkertoy, K'NEX Building Sets and Angry Bird Building Sets. The tour will be followed by formal remarks at 12:05 PM.  He returns to the South Lawn at 2:55 PM.
Full schedule after the jump:
FULL POST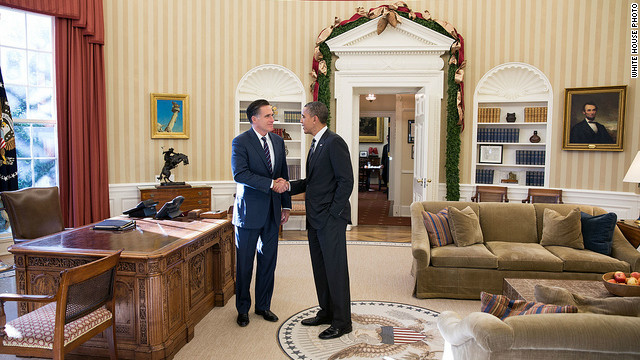 November 29th, 2012
03:37 PM ET
Washington (CNN) – Mitt Romney's lunch at the White House Thursday was not how the former GOP nominee would have imagined it a month ago, but it did provide a postscript to this year's punishing presidential battle.
The former candidate, whose motorcade during the campaign could shut down streets and stretch entire city blocks, arrived at a side entrance of the executive mansion in a single black Lincoln SUV. He sat in the front passenger seat.
November 29th, 2012
01:38 PM ET
As he pulled into the White House driveway Wednesday, former Republican Presidential Candidate Mitt Romney received an unwarm welcome from a heckler. The Secret Service told CNN the man was later arrested "for assault of a police officer and unlawful entrance."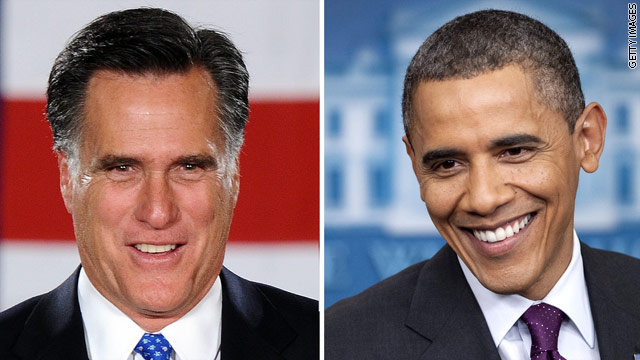 November 29th, 2012
08:17 AM ET
President Obama welcomes his opponent in the 2012 campaign, Governor Mitt Romney, to the White House today for lunch. The much-anticipated meeting will happen today at 12:30p as the two men sit down in the private dining room of the White House. Unfortunately, there is no coverage of the event so we hope that the White House will release a photo.  Beyond that meeting, the only other meeting on the president's schedule is a meeting with American Nobel prize winners. That, too, is not open to the press. Presumably, the remainder of Obama's day will be spent behind closed doors, working on a solution to the impending fiscal cliff crisis. White House Press Secretary Jay Carney will brief reporters while Romney and Obama are eating lunch.
For the full guidance released by the White House, click below. FULL POST
November 28th, 2012
09:09 PM ET
Washington (CNN) – First lady Michelle Obama welcomed the holiday season at the White House Wednesday with a viewing of decorations throughout the house.
She celebrated her fourth Christmas in Washington with military families, including Gold Star and Blue Star parents, spouses and children.
FULL POST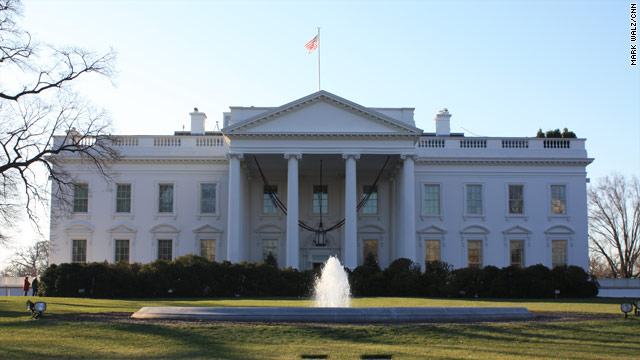 November 28th, 2012
08:01 AM ET
Today, President Obama will continue to be focused on the impending fiscal cliff and he takes a page from his campaign and participates in two events where he hopes to sway public opinion in his favor and strengthen his negotiating position with Republicans. He hosts what the White House describes as "middle class Americans" at an event where the president will deliver remarks pressing Congress to extend middle class tax cuts.  The White House will use the event to launch a push on social media called #My2K online push to pass the middle class tax cuts. After the President's event, the White House will call on Americans across the country to share on Twitter what #My2K means to them, as well as on other social media channels, and on WhiteHouse.gov. They plan to highlight the #My2K stories received on WhiteHouse.gov and through social media to show the impact of inaction for middle class families. Later the president and VP meet behind closed doors with corporate CEO's designed to show his "outreach" to the business community.
He'll also have his first cabinet meeting since his re-election. We'll get a quick glimpse of the group at the beginning of their meeting. Also, First Lady Michelle Obama unveils the White House Christmas decorations in an event this afternoon where she has invited children of military families to participate in holiday crafts and treats.
Jay Carney will brief reporters at 12:30p.
For the full White House schedule, click below. FULL POST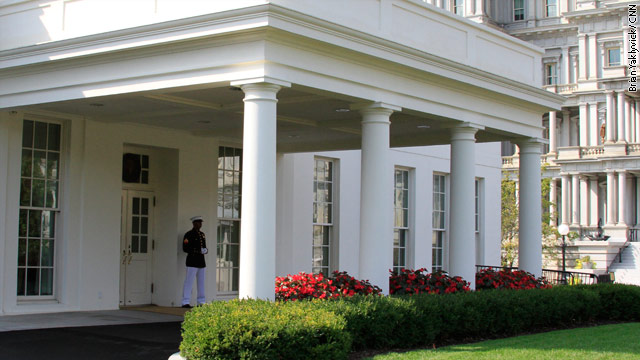 November 27th, 2012
07:55 AM ET
The President is working the "fiscal cliff" from all sides. A group of small business owners is invited to a White House meeting today to discuss the impact of President Obama's tax policies on small business.
We are still waiting on a time and coverage of the meeting.
A list released by the White House of the small business owners invited to today's meeting
· Nikhil Arora, Co-Founder, Back to the Roots, West Oakland, CA
· David Bolotsky, CEO, Uncommon Goods, New York, NY
· Mandy Cabot, Co-Founder, Dansko, West Grove, PA
· Deb Carey, Co-Founder, New Glarus Brewing Company, New Glarus, WI
· Lisa Goodbee, CEO, Goodbee and Associates, Centennial, CO
· Andy Harold, Owner, A. Harold + Associates, Jacksonville, FL
· Julia Hu, Founder, Lark, Mountain View, CA
· David Ickert, Founder, Air Tractor, Inc., Olney, TX
· Samanta Joseph, Founder, Samanta Shoes, New York, NY
· Lewis Prince, Co-Founder, Vintage Vinyl, Inc., St. Louis, MO
· Andra Rush, Founder, Rush Trucking, Wayne, MI
· Keith Tillage, President and CEO, Tillage Construction, Baton Rouge, LO
· Arnulfo Ventura, Co-Founder and CEO, Coba, Los Angeles, CA
· Daniella Yacobovsky, Co-Founder, BaubleBar, New York, NY
· Chris Yura, Founder, SustainU, Morgantown, WV
The president's schedule released last night
10:30AM THE PRESIDENT and THE VICE PRESIDENT receive the Presidential Daily Briefing. Oval Office Closed Press
12:30PM THE PRESIDENT and THE VICE PRESIDENT meet for lunch. Private Dining Room Closed Press
3:40PM THE PRESIDENT and THE VICE PRESIDENT meet with President-elect Enrique Peña Nieto of Mexico. Oval Office. Pool Spray at the Top
4:30PM THE PRESIDENT and THE VICE PRESIDENT meet with Secretary of Defense Panetta. Oval Office Closed Press
Briefing Schedule
12:30PM Press Briefing by Press Secretary Jay Carney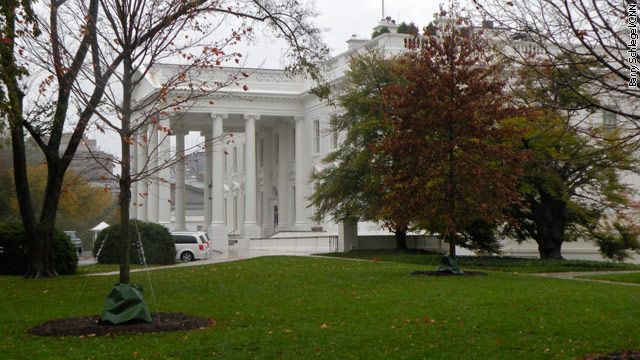 November 26th, 2012
07:17 AM ET
Good morning from the White House. After a long holiday weekend, the president is back to work at the White House and out of view from the public eye. On the schedule today is his usual daily briefing and then a meeting with senior advisors. As is normally the case, those meetings are not open to the press.
Jay Carney will brief reporters at 1:30 pm.
Full schedule:
FULL POST