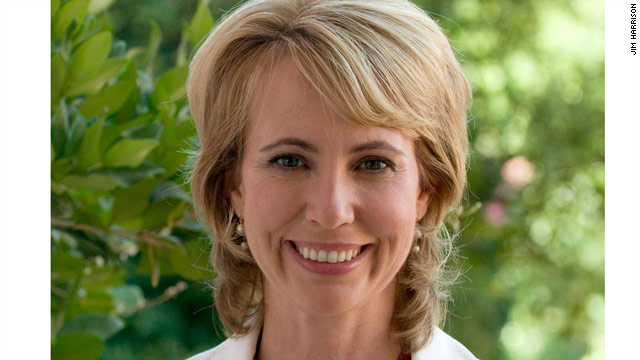 April 21st, 2011
10:53 AM ET
WASHINGTON (CNN)–Injured Arizona congresswoman Gabrielle Giffords is among the one hundred people selected by TIME magazine for its annual list of the 100 most influential people in the world for 2011.  President Barack Obama, who also made that list, wrote the tribute to her for the magazine. 
"Gabrielle Giffords may not have been a household name. But the reason she has long been admired by people of all political stripes is that she embodies the best of what public service should be: hard work and fair play, hope and resilience, a willingness to listen and a determination to do your best in a busy world," Mr. Obama wrote.  FULL POST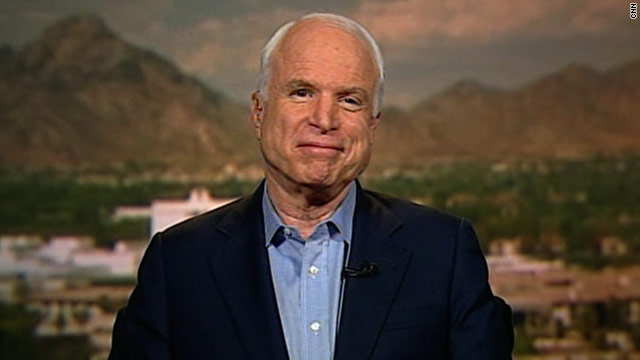 February 2nd, 2011
11:43 AM ET
WASHINGTON (CNN) -  President Obama initiated his planned one-on-one meeting with Sen. John McCain after the Arizona senator authored an op-ed on political civility following the Tucson shootings, according to a senior administration official. The meeting is scheduled to take place in the Oval Office Wednesday afternoon.
See more on the CNN political ticker.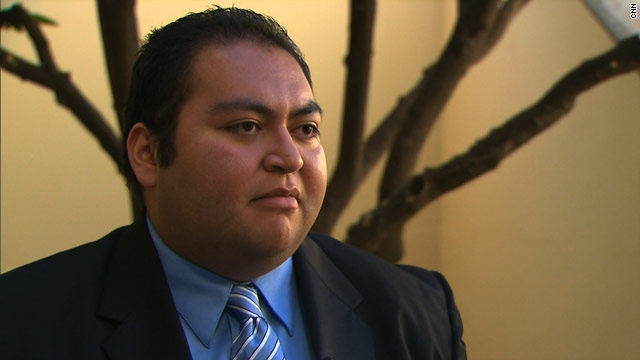 January 24th, 2011
08:23 AM ET
Washington (CNN) – It is a Washington ritual at the State of the Union address. The president honors special guests by inviting them to sit alongside the first lady in her reserved box in the House chamber.
This year the special guests will include at least one of the heroes from the tragic Tucson shooting.  White House spokesman Nick Shapiro tells CNN Daniel Hernandez, the intern who assisted Rep. Gabrielle Giffords after she was shot in the Safeway parking lot, will join first lady Michelle Obama for the speech.
According to a senior White House official, Capt. Mark Kelly, husband of Rep. Giffords, was also invited but is unlikely to attend because of the Congresswoman's ongoing treatment and rehabilitation at a Houston, Texas hospital.  The rest of the guest list has not yet been announced.
Traditionally, the special guest list can include about two dozen people, ranging from guests who exemplify extreme valor and courage to those who represent the president's political agenda.
Check out the complete story on CNN's Political Ticker.
January 13th, 2011
03:26 PM ET
WASHINGTON (CNN) –It was what diplomats might call a "frank exchange of views," as White House spokesman Robert Gibbs got into a Cold War-style tiff with a Russian reporter Thursday about whether American freedoms go too far and may have led to the tragic shooting in Tucson.
In one of the most surreal moments I have ever seen in nearly seven years covering the beat, Andrei Sitov of the Itar-Tass News Agency pressed Gibbs at his daily briefing about whether "the quote, unquote 'freedom' of a deranged mind to react in a violent way is also American" like the freedom of speech and the right to assembly.
Gibbs, clearly ticked off by what appeared to some reporters in the briefing room to be a lecture by the Russian reporter just days after the horrific massacre in Tucson, bluntly declared that the tragedy was caused by the "deranged actions of a madman."
FULL POST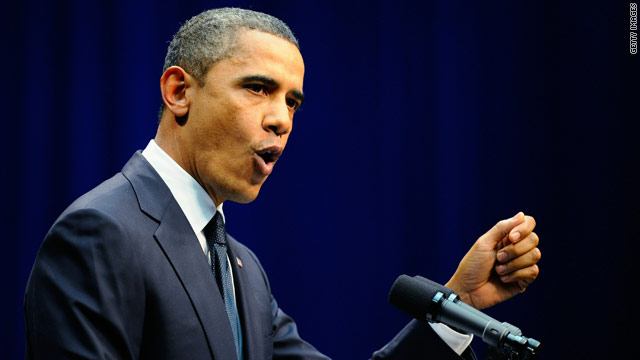 January 13th, 2011
03:02 PM ET
By CNN Wires Staff
TUCSON, Arizona (CNN) –In between consoling those touched by Saturday's Arizona shooting and warning the nation against politicizing the tragedy, President Barack Obama delivered some good news in his address at a Tuscon memorial event on Wednesday.
Rep. Gabrielle Giffords of Arizona has opened her eyes for the first time since being shot four days ago.
"There is nothing I can say that will fill the sudden hole torn in your hearts," Obama said. "But know this: The hopes of a nation are here tonight."
The attack killed six and left Giffords fighting for her life.
Obama told a crowd of thousands that he visited Giffords earlier on Wednesday and that her husband told him that shortly after the president left her room, "Gabby opened her eyes for the first time."
"Gabby opened her eyes so I can tell you know she knows we are here, she knows that we love her and she knows that we are rooting for her through what will undoubtedly be a difficult journey," Obama said.
FULL POST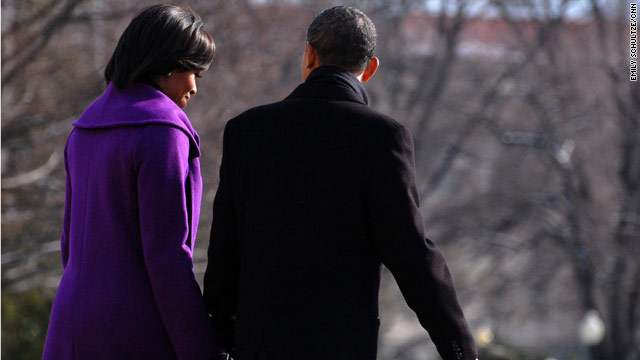 January 12th, 2011
01:28 PM ET
WASHINGTON (CNN) - President Obama and First Lady Michelle Obama have left the White House to head to Tucson for this evening's memorial service.
Among those expected to travel with the president to Arizona aboard Air Force One are Attorney General Eric Holder, Secretary Janet Napolitano, Supreme Court Justice Anthony Kennedy, Senator Gillibrand, and Representatives Pelosi, Flake, Wasserman Schultz, Gosar, Franks, Quayle, Schweikert, and Clyburn.
In addition to adressing the memorial service, Senior White House Correspondent Ed Henry reports the president will also meet with families of the victims in last Saturday's shooting rampage.
The preliminary agenda for tonight's program is as follows:
FULL POST
January 12th, 2011
10:55 AM ET
WASHINGTON (CNN) - With President Obama set to address a memorial service this evening in Tucson, his speechwriters are certainly hard at work crafting a message that will set the right tone. But if the president is looking for any suggestions from outside the White House, he need only look at social media sites buzzing with ideas today.
Under the hash tag #Obamashouldsay, Twitter is offering a forum for its users to offer their own suggestions of what they think they think the president should say. There is a wide array of opinion already.
@benpershing, said Obama "should just give the same speech Pres. (Bartlett) did after the school bombing," referring to the fictional President Bartlett played by Martin Sheen on "The West Wing."
FULL POST
January 11th, 2011
08:40 PM ET
By CNN National Correspondent Kate Bolduan
WASHINGTON (CNN) -  President Barack Obama began working Monday night on the speech he will deliver during a memorial service Wednesday for the victims of Saturday's mass shooting in Tucson, Arizona.
White House officials say Obama has determined the broad idea of what he wants to say and is working with his team of speechwriters on drafting his remarks.
According to one White House official, the president will likely continue tweaking the speech throughout the day before his scheduled Wednesday evening remarks.
While the details, tone and length of the speech have not been released, Obama "will devote most of his remarks to memorializing the victims," a White House official said.
FULL POST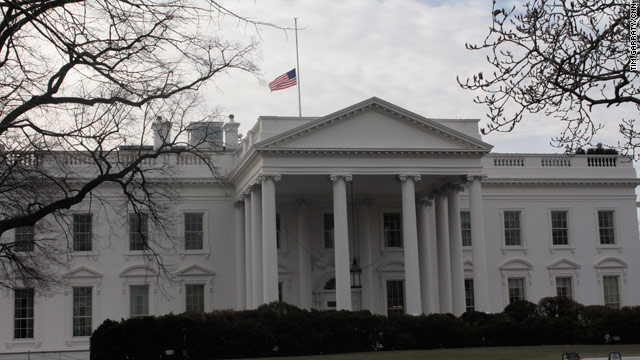 January 11th, 2011
09:08 AM ET
WASHINGTON (CNN) - President Barack Obama will travel to Arizona on Wednesday in the wake of the weekend shooting there that left six people dead and 14 wounded, including a member of Congress, two senior administration officials told CNN Monday.
"The President thought it was important to visit the Tucson community since this tragedy touched everyone there as well as throughout the entire country in some way," White House spokesman Nick Shapiro said in a written statement. "The President believes that right now, the main thing we should be doing is offering our thoughts and prayers to those who've been impacted and making sure that we're joining together and pulling together as a country."
The president will likely attend a memorial service and visit with victims' families in Tucson, the sources said. He has already spoken to many of the family members by phone.
Earlier Monday, Obama led the nation in a moment of silence as flags across the country flew at half-staff to honor the victims. Rep. Gabrielle Giffords was shot in the head during in the attack and remains in critical condition.
FULL POST