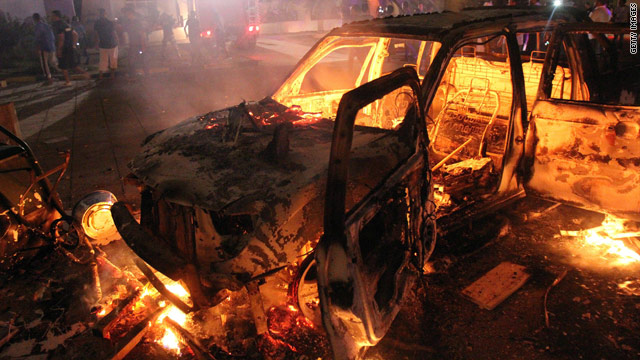 September 26th, 2012
03:35 PM ET
Both the Romney campaign and the Republican National Committee released statements Wednesday criticizing President Obama for not explicitly classifying the attacks on the U.S. consulate in Libya as "terrorist attacks" in public appearances over the past two weeks.
At the UN General Assembly on Tuesday, Obama called the violence, "attacks on America," but stopped short of labeling the perpetrators as terrorists.
"There should be no doubt that we will be relentless in tracking down the killers and bringing them to justice," the president said.
When specifically asked whether the strikes were terrorist attacks during a television appearance on ABC's The View on Monday, Obama wouldn't say. FULL POST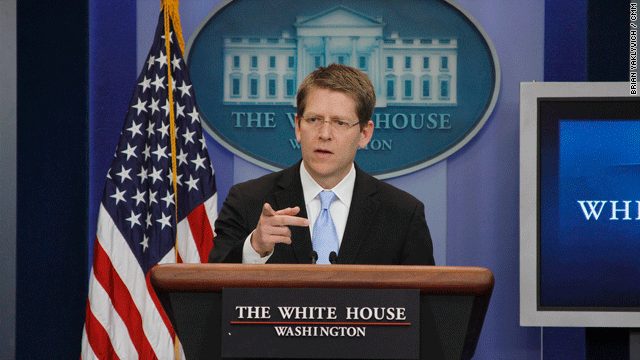 June 11th, 2012
03:41 PM ET
White House Correspondent Brianna Keilar has been on TV all morning reporting on the situation surrounding Commerce Secretary John Bryson. Here's the latest from her and the team at CNN Wires on what happened to Bryson in California on Saturday:
WASHINGTON (CNN) - U.S. Secretary of Commerce John Bryson, who is under investigation for possible felony hit-and-run after allegedly causing two weekend car accidents in California, suffered a seizure, a Commerce Department spokeswoman said Monday.

Police said Bryson was found unconscious at the wheel of his car on Saturday after the two accidents.

Bryson, 68, was issued a citation at an area hospital where he received treatment, said Lt. Ariel Duran of the San Gabriel Police Department. Authorities must still decide whether to formally file any charges.

Bryson voluntarily took a breathalyzer test that detected no alcohol use, the Los Angeles Sheriff's Department confirmed Monday. Results from a separate blood alcohol test were pending, Duran said.

A police statement Sunday said the investigation was in "its preliminary stages," and that there was no indication of alcohol or drugs playing a role.
You can read the full story about Saturday's incident here.
At Monday's White House briefing, Press Secretary Jay Carney provided some limited updates on the situation. While he did link the secretary's health to the accidents, mostly Carney chose to refer members of the media to the Commerce Department for additional comments. FULL POST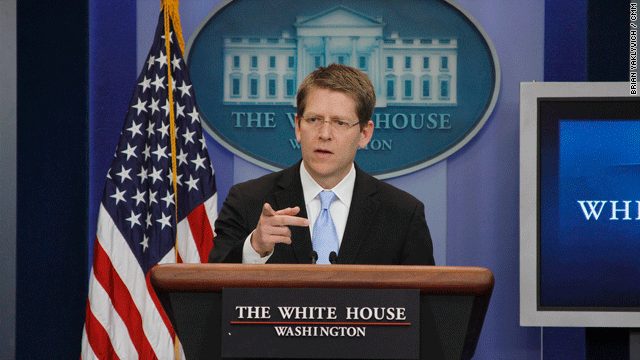 February 21st, 2012
02:48 PM ET
At the beginning of Tuesday's briefing, Press Secretary Jay Carney announced that President Obama will address the American Israel Public Affairs Committee's policy conference on Sunday March 4th in Washington D.C. The next day, Obama is scheduled to hold a bilateral meeting with Israeli Prime Minister Benjamin Netanyahu at the White House.
For much of the rest of the briefing, Carney was asked to respond to comments made on television and on the campaign trail.
Early Tuesday on MSNBC's "Morning Joe", Rev. Franklin Graham questioned the president's commitment to Christianity, saying he "can't say categorically" that the president is not a Muslim.
"Under Islamic law, Sharia law, Islam sees him as a son of Islam," Graham said. "Because his father was a Muslim. Grandfather was a Muslim. That's just the way it works. That's the way they see it. He says he didn't grow up that way and he believes in Jesus Christ. So the Muslim world, Islam sees him as a son of Islam."
Graham also said "Islam has had a pass under Obama," and the president "seems more concerned about them than the Christians that are being murdered in the Muslim countries."
Carney was asked specifically about Graham's comments but passed on the opportunity to take the issue up directly:
I did meet with the president this morning for about 45 minutes and amazingly he didn't bring this up because he was actually talking about policy issues that he believes are the most important things he can do and he can focus on as president. And that they are the most important things for the vast majority of the American people who are concerned about paying the rent or the mortgage, sending their kids to school, making ends meet. You heard him speak earlier today at the payroll tax cut extension event where he firmly believes that getting an extra forty dollars in every pay check is of vastly greater significance to most Americans than someone's opinion expressed on cable television about his personal faith which again he has spoken about explicitly as recently as a few weeks ago at the national prayer service.
Earlier Carney was asked about other criticisms of the president's faith made last week by GOP candidate Rick Santorum, and he was a bit more expansive in his response: FULL POST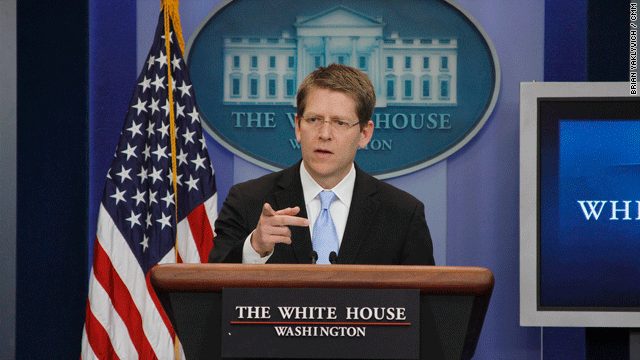 November 7th, 2011
03:46 PM ET
Today's briefing by White House Press Secretary Jay Carney spanned many topics, everything from the impending release of the IAEA's report on Iran's nuclear program to the actions of the Congressional 'super committee' to the proposed Keystone natural gas pipeline.
On the Iranian nuclear report, Carney's common refrain was that he wouldn't comment on a report that hasn't been released yet, but he did expound a little bit on what the Obama administration expects to see when the IAEA releases its report this week:
We certainly expect it to echo and reinforce what we've been saying about Iran's behavior and it's failure to live up to its international obligations and it will, I'm sure, echo our concern about Iran's nuclear program. What I can also say, because of the leadership of this president, we have mobilized the international community in a way that has never existed before to take action to pressure Iran, to isolate Iran. We now have in place the most aggressive, isolating and debilitating sanctions regime ever. And that regime has had an impact, as the Iranian president himself recently noted. We continue to focus on a diplomatic channel and it is because of the kind of consensus that we've achieved at the international level among our partners and allies in dealing with Iran that we're able to continue to isolate and put pressure on Iran and to insist that Iran get right with the world and live up to its international obligations.
Just a day after a large anti-pipeline protest literally surrounded the White House, Carney was asked again about how involved the president will be in the final decision on the controversial Keystone XL pipeline project: FULL POST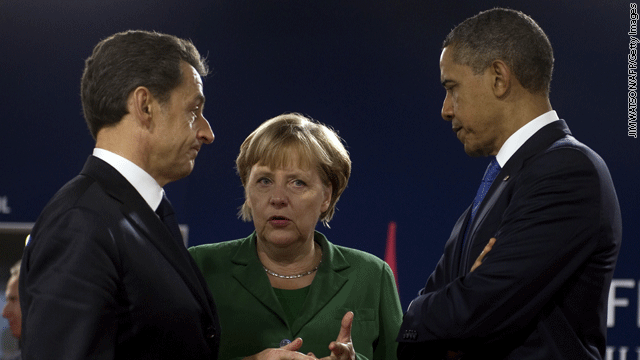 November 3rd, 2011
05:36 PM ET
Today's G-20-themed briefing came in from Cannes, France and was brought to you by Press Secretary Jay Carney with special guests Deputy National Security Advisor for Strategic Communication Ben Rhodes and Deputy National Security Advisor for International Economic Affairs Mike Froman.
Much of the briefing was spent explaining that President Obama will be focusing throughout the G-20 meetings on the global economic climate and the European economic crisis more specifically. The big question on Americans' minds is how a possible economic default in Greece might spread to other European countries and how much it might impact the U.S. recovery. Here's what the deputies had to say:
Q    Answer this question as it relates to Greece, since that's the country that's in crisis right now, and if they go, are you worried about the contagion effect?

MR. FROMAN:  I think right now the highest priority in Greece is stabilizing the situation.  But the program that Greece has is also about reforming its system and engaging in structural reforms so that it could become more competitive and therefore grow as part of the euro area.

MR. RHODES:  I just want to make one very quick point, which is that you've seen at these other G-20s often this discussion of growth and fiscal consolidation.  I think what's represented at this G-20 is a broad understanding that you need both; that there are going to have to be steps to promote growth and job creation in the global economy, and there's going to have be, again, that kind of deficit reduction over the medium and long-term that many of the leaders have worked on.

And similarly, in the United States, President Obama is pursuing an approach where we have an immediate growth package represented in the jobs act, and the other steps that we're taking to promote growth and job creation at home.  And we have a plan for significant deficit reduction in the medium and long-term as well.
On other matters, the two deputies were asked about the impending International Atomic Energy Agency report on the Iranian nuclear program and the significance of the president's comments on it during this morning's bilateral meeting with French President Nicolas Sarkozy. Here's what the president said: FULL POST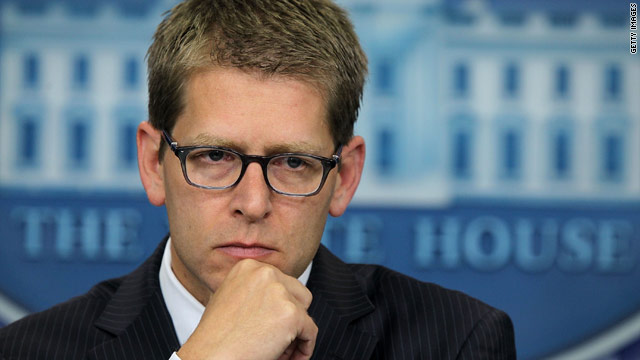 October 28th, 2011
01:45 PM ET
From Bill Daley to congressional Republicans, here's the best sound from Carney's end of the week briefing:
On Chief of Staff Bill Daley, during an interview with POLTICO, calling conditions during the first three years of the Obama presidency "ungodly":
Bill, as all of you who know him, can be very candid and clear in his language. There is no question that when this president took office in January 2009 we were in an ungodly, bad situation economically. The economy was in free fall.
On Bill Dailey's apparent suggestion that Democrats have also made things difficult for the president:
Bill was speaking, I think, broadly about presidents and Congress, but there's no question that Democrats haven't agreed, or some Democrats haven't agreed… on everything.
And Carney's latest slap against congressional Republicans:
What's remarkable about the situation in the Republican obstructionism when it comes to the measures to create jobs and grow the economy is they're alone. Even within their own party. They're the outliers. The Republicans in Congress because Republicans out in the country support building roads, and bridges and schools. They support putting police officers and teachers back to work. They support tax cuts for everyone who receives a paycheck. They support tax incentives for businesses of all kinds to hire veterans. They support a tax cut, a payroll tax cut, for employers for small businesses to help them grow and expand and hire. And significantly, because this is the problem according to the Republicans, they support the pay for.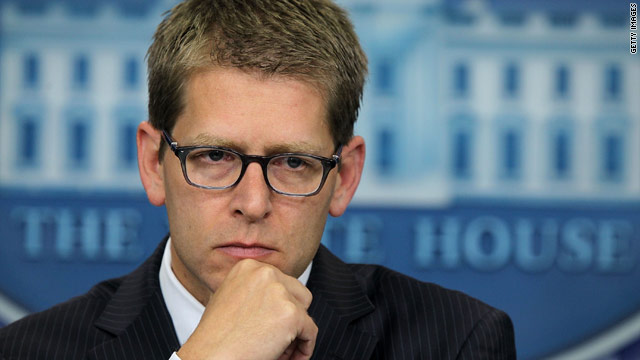 October 27th, 2011
03:30 PM ET
Jay Carney briefed reporters Thursday – his first of the week given the president's trip out west. The hot topics included Congress' low approval rating, the latest violence surrounding the "Occupy" protesters, and Europe's latest plan for Greece. Here's the key sound:
On a new CBS poll indicating Congress has a 9 percent approval rating:
I think another poll that shows how out of sync Republicans in Congress are with the mainstream is the recent one that showed a historic low 9% approval rating for Congress. I mean, I know 9 is a popular number in the Republican party, but this can't possibly be the kind of 9 that they want. 9-9-9... 9
On news the GDP grew by 2.5 percent over the summer:
2.5 per cent growth may be better than it was the previous quarter, but it is not good enough. Absolutely not good enough. You know we all speak enough frequently with economists to know that 2.5 per cent growth is not – while it is positive, is not enough to significantly affect employment. We need to take action to ensure that the economy grows faster, and to ensure that more people get on the job and go back to work.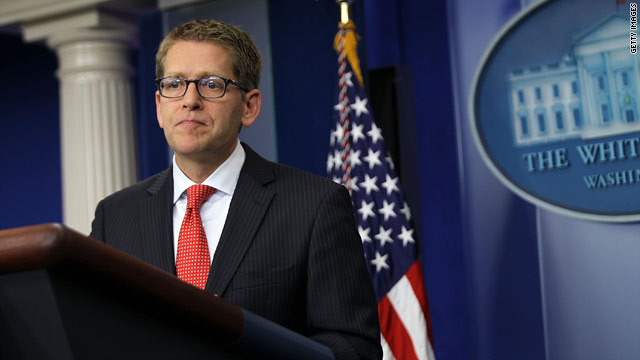 Ahead of the president's major jobs speech tomorrow to a joint session of Congress, White House Press Secretary Jay Carney offered few specific details at today's briefing. Carney also spoke about the upcoming 9/11 10th anniversary saying there are "no specific threats" but the White House remains "vigilent". 
On the president's jobs speech tomorrow:
(CARNEY) "As part of his proposal, the president will identify specific, scorable measures that will ensure that the jobs and growth measures are paid for."
(CARNEY) "...he will put forward, both in his speech and in supporting material, a very detailed series of proposals to grow the economy and create jobs.
...how the process moves forward, in terms of engaging Congress and working with Congress to pass those measures, I will leave for a later date. But you can be sure that they will be specific, they will be measurable, they will be paid for. And they will be, by any objective standard, the kinds of measures that have enjoyed bipartisan support in the past."
(CARNEY) "I am not going to get into specific numbers about the cost of the proposals he puts forward.
I will say, as I've said before, that they will be paid for...The important factor here is not the top-line number. It is the substance underneath the number."
(CARNEY) "He will tomorrow night put forward a jobs and growth package that he is quite certain responds to what the American people are demanding and is responsive to what the American economy demands."
On the 9/11 anniversary:
(CARNEY) "[T]here are no specific threats to which we are responding. But we are obviously very vigilant and are taking all the precautionary measures, both seen and unseen, that we believe are necessary around this anniversary."
(CARNEY) "[Y]esterday the president convened a meeting in the Situation Room with senior members of his homeland security team to ensure that all necessary homeland security measures, precautions are being taken in advance of the upcoming 10th anniversary of 9/11."
On the Pentagon raising the threat level at military bases in advance of the 9/11 anniversary:
"...[Y]ou've seen the report about the Department of Defense. I think they've spoken to that and the measures they're taking regarding military installations in the United States. This is a precautionary measure, and we don't have any specific credible threats. But obviously this is a significant anniversary. Al Qaida and others have expressed interest in anniversaries in the past. So we remain ever vigilant through the anniversary and beyond."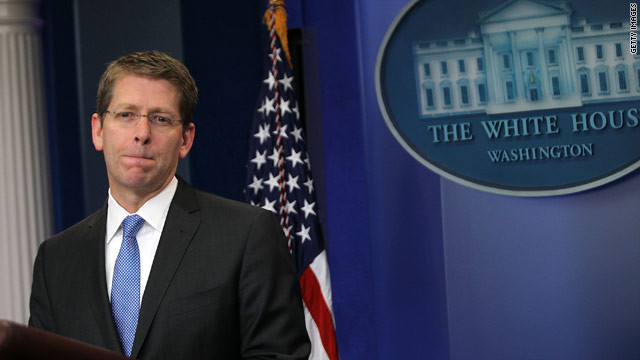 August 1st, 2011
03:21 PM ET
A day after the White House and Congress announced a late night compromise to avert the United States going into default, Vice President Joe Biden headed to the Hill to win over Democratic votes. Press Secretary Jay Carney fielded questions at Monday's White House briefing:
Question: [What is the message] for liberal Democrats who are saying...that the president gave up too much in this agreement?
"...the deal negotiated with leaders of Congress is a victory for the American people. This agreement ensures that the debt ceiling will be extended through 2012, removing that cloud of uncertainty from the economy.
[T]he agreement ensures that there is an initial round of spending cuts that protect vital investments, that will ensure that the economy can continue to grow, protect vital things like Pell Grants, that are a high priority for the president, and, significantly, ensure that there's a fire wall in the discretionary spending cuts between defense and non-defense spending which, again, is a kind of protection we haven't seen in a long time that is essential to making this a fair and balanced deal.
[T]here is a committee set up... that will be bicameral and bipartisan, with equal representation between Republicans and Democrats. And that committee will be charged with finding ways to ensure - finding ways to reduce the deficit even further - $1.5 trillion further.
And everything is on the table for that committee, everything including both entitlement reform and tax reform."
Question: [W]hat's the message to Democrats who see this as a capitulation, who see it as a bill that reflects more of the Republican priorities than the Democratic priorities?
"It is not a perfect agreement. It is not the one that the president or Democrats would have crafted if only they controlled all levers of government themselves, obviously. But it does accomplish some significant things..." FULL POST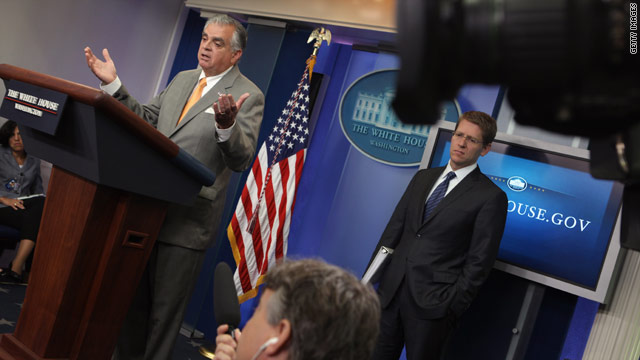 July 28th, 2011
12:51 PM ET
Update from Thursday's White House briefing:
Press Secretary Jay Carney says White House "optimistic" Congress will reach a debt compromise:
We continue to believe and remain optimistic that Congress will come to its senses, that cooler heads will prevail and that a compromise will be achieved. As I just spelled out, it really isn't that complicated at this point. What we need to do is get beyond voting on dead on arrival measures that aren't going to become law when we have so few days left to reach a compromise. We need to get that kind of political theater out of our system and get to work on something that can actually pass both Houses with bipartisan support and be signed by the president.
White House Press Secretary Jay Carney on the chances for a "grand bargain" on the debt ceiling:
All I'm saying is the president was at the table, the potential agreement was on the table, the grand bargain, and the speaker walked away from the table over an issue that can be resolved quite easily.
If the political will is there, we can move back to those negotiations. If that isn't possible in the next five days, then there are ways that we can resolve this issue in a fair compromise that does the key things, which is lock in significant cuts and lift the cloud over our economy and ensure that we're not, you know, playing in this three-ring circus for the next six months.
...I think I've indicated, and I will say it explicitly, that the chances aren't great that we end up between now and August 2nd with a sweeping, grand compromise between the Republicans and Democrats that reduces the deficit $3 trillion to $4 trillion over 10 years, includes balance between entitlement reform and tax reform. That's not likely, but it's available if the political will is there.
Ray LaHood, Secretary of Transportation and former Republican congressman advice to his former Republican colleagues on dealing with the debt ceiling:
This is a time that I think most of us that have watched politics have never seen before. Because there are people in Congress who don't like the word compromise, who don't believe in it.
We need for people to come together, to set aside their own egos and a certain part of their own agenda for the American people to make sure we maintain the strongest economy in the world to send a signal to the world that we can get big things done.
Secretary LaHood urged Congress to pass bill to fund Federal Aviation Administration:
Since Congress failed to pass an FAA bill, nearly 4000 FAA employees have been furloughed and as many as 70,000 construction workers across America are out of work. Important airport modernization projects have been shut down in every state in the country.