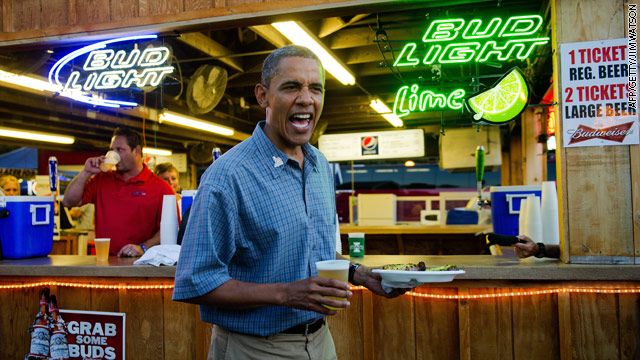 August 14th, 2012
09:15 AM ET
WHITE HOUSE (CNN) - President Obama made a somewhat unannounced stop at the Iowa State Fair on Monday evening, just hours after Republican Vice Presidential candidate Paul Ryan gave a speech there.
The president gave no formal remarks but he did buy a round of beers as he greeted many fair-goers.
"Bud lights all around on me!" Obama declared to those gathered in the Mike's Tavern beer tent on the Iowa State Fairgrounds. He clarified that the offer was only good for those 21 years old and older.
To the chants of "Four more beers!", he looked into his wallet and then amended his offer and promised 10 beers for 10 people. FULL POST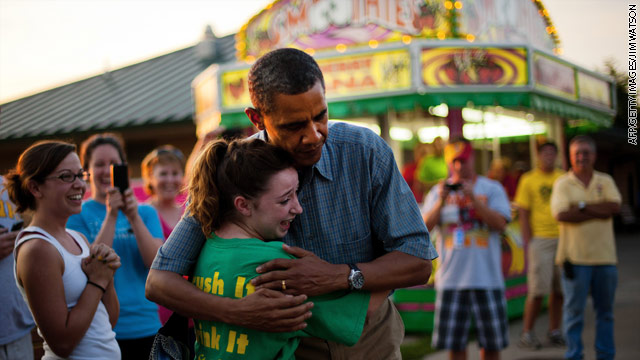 August 14th, 2012
08:00 AM ET
After an evening at the Iowa State Fair, President Obama continues his trek across the state with day two of his campaign bus tour. Today's stops include events in Oskaloosa, Marshalltown, and Waterloo and we expect several unexpected stops in between. We expect he'll continue to hit Republican Vice Presidential candidate Paul Ryan like he did yesterday when he repeated his claim that Ryan is the "ideological leader of the Republicans in Congress". And of course, he'll continue to talk about what he calls the "fundamental difference in visions" between he and Republican Mitt Romney.
For the full guidance released by the White House, click below. FULL POST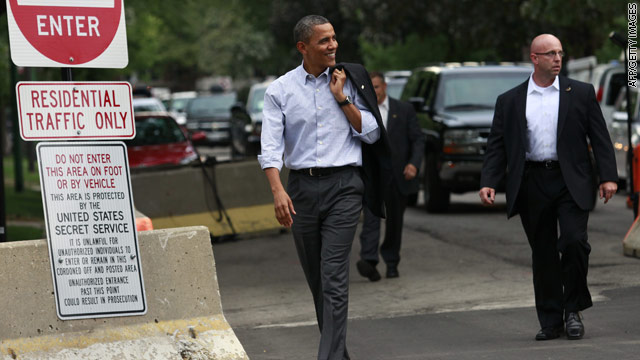 August 13th, 2012
08:03 AM ET
After holding five fundraisers in his hometown of Chicago, President Obama kicks off a three-day bus tour of Iowa today.  Later this morning, he'll head to Iowa by way of Omaha. He'll board Ground Force One, by no means the official name of the bus, and make his way to Council Bluffs, Iowa. Along the way, we expect him to stop for meet and greets with locals in some other towns. He's been known to stop at diners for breakfast or country stores or farmers' markets. Later this evening, he has another campaign event in Boone, Iowa.
For the official guidance released by the White House, click below. FULL POST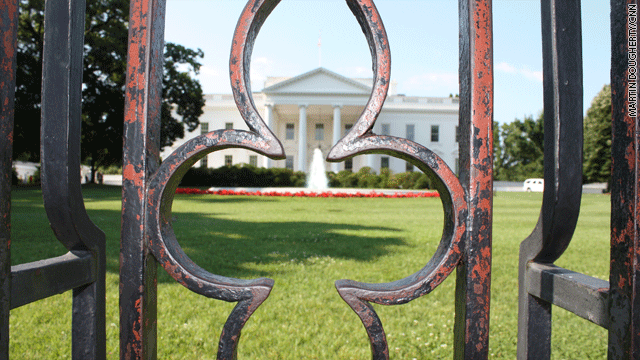 July 5th, 2012
07:45 AM ET
President Obama kicks off his first campaign bus trip- the Obama campaign calls it the "Betting on America" tour – with two days through Ohio and Pennsylvania. He'll spend the majority of time in the battleground state of Ohio and will wrap the trip up with a stop in Pittsburgh at Carnegie Mellon University.
On Thursday, he'll start the trip off by flying to Toledo, OH, where he will load his special bus (some have called it "Ground Force One" but that is not the official name) that he's used in two other bus trips in the past year. All stops on this trip are completely campaign events. His first stop will be in Maumee, OH at 11:15a, just a few miles outside Toledo. He'll speak at the historic Wolcott Museum complex which is a group of mid-19th century homes that demonstrate the lives of early Ohio pioneers. Approximately 500 supporters will attend this campaign event. He then gets back on the bus and heads to Sandusky, OH. Along the way, we shouldn't be surprised if he makes unannounced stops at random diners, shops, schools, day camps, like he has previously done. In Sandusky, we expect him to stop by Washington Park where he'll attend an ice cream social at 3:40p. Ice cream will be a good thing considering the temps at all of his stops will be at least 90 degrees Thursday and Friday. His next official stop is in Parma, Ohio where he'll speak at another campaign event- this time in James Day Park. He'll make remarks at 7:15p to a "smallish" crowd in a picnic area. Tickets to the event are free and were handed out by local Obama for America offices. After the event, he'll get back on the bus and roll to Akron, OH where he will spend the night.
For the full guidance as released by the White House, click below. FULL POST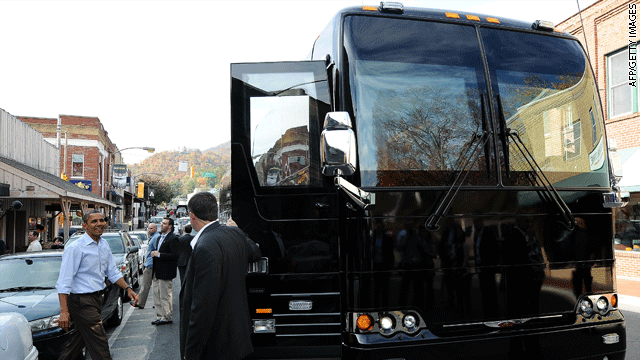 July 5th, 2012
06:00 AM ET
(CNN) –– President Obama kicks off his two-day "Betting on America" campaign bus tour on Thursday heading to Toledo, Ohio. He'll spend the day in the battleground state campaigning on his commitment to economic growth and job creation.
He'll make three stops on Thursday in small towns in Ohio: Maumee, Sandusky, and Parma where he will speak with voters about his accomplishments in his three years in office, including the bailout of the auto industry.
"The President will also talk with voters in their communities about the choice in this election – whether we want to grow our economy from the middle out, not the top town," the Obama campaign released in a statement. "The President is rebuilding an economy meant to last – one that restores middle class security by investing in education, energy, innovation and infrastructure and reforms the tax code - steps which will create American jobs, responsibly pay down our debt and ensure everyone – from Wall Street to Main Street – plays by the same rules and pays their fair share."
He'll continue to hammer his Republican opponent Mitt Romney on his economic record and criticize him for outsourcing jobs.
FULL POST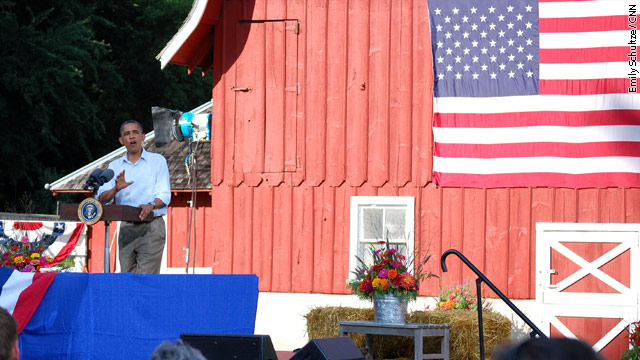 June 27th, 2012
09:16 AM ET
A campaign official confirms the President will be doing a 2 day bus trip next week in Pennsylvania and Ohio. The trip will begin on Thursday July 5 and is expected to hit northern Ohio and western Pennsylvania.
The campaign will start to include a wider variety of public events which will give the president more expsoure to voters but fundraisers will still be a key part of the schedule as Team Obama has to fight to stay even financially with the Republicans.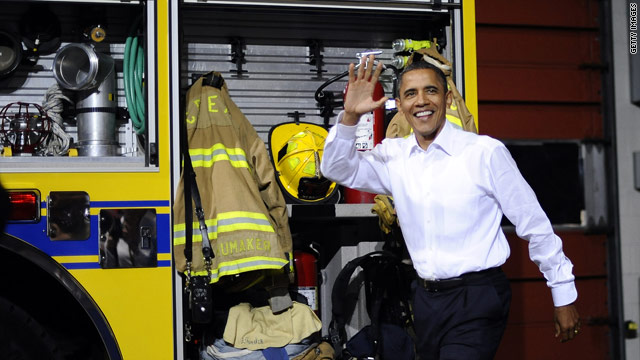 October 19th, 2011
06:17 PM ET
President Obama ended his bus tour at Fire Station #9 in North Chesterfield, Virginia where he talked about his keeping firefighters on the job.
"So the first vote we're going to ask Congress to take this week would put hundreds of thousands of firefighters back on the job, police officers back on the street, teachers back in the classroom. 

Now, Chesterfield has been lucky.  It isn't facing layoffs right now.  But a lot of these guys have seen their pay frozen.  You've got cities and states like Michigan and New Jersey that have had to lay off big chunks of their forces.  That means that firefighters can't always get to fires before they become major fires.  And that makes their job more dangerous.  It means police officers can't respond to every crime.  And when giving our children the best education possible we know is the ingredient for success in this new information and technology-rich economy, how can we be laying off teachers - when other countries are hiring teachers in droves?  It's unfair to our kids.  It undermines our future.

So this week Congress is going to get to vote on whether or not hundreds of thousands of police officers and teachers and firefighters get back on the job.  And I don't know if these members of Congress - maybe they haven't met some of these firefighters.  I don't think they want to tell them that their jobs aren't worth saving.  Some of these guys are pretty big.  Captain Kemp is an ex-Marine - which means he's still a Marine.  And these guys are risking their lives every day on our behalf.  These jobs are worth fighting for. 

Folks in Congress are also going to get a chance to decide  - later in the month - whether our construction workers should sit around doing nothing while China builds the best railroads, the best schools, the best airports in the world."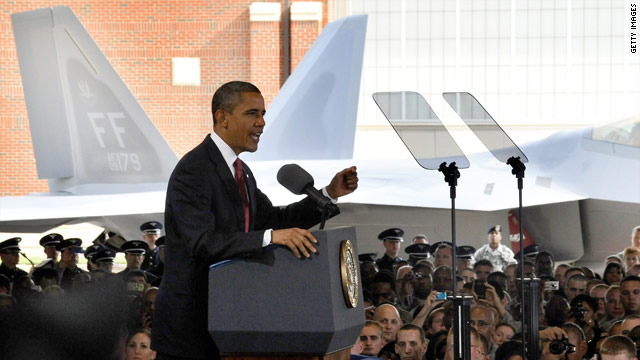 October 19th, 2011
11:37 AM ET
President Obama delivered remarks at Joint Base Langley-Eustis in Hampton, VA calling on Congress to pass key provisions of the American Jobs Act that support veterans, particularly the Returning Heroes Tax Credit.  The First Lady joined him at the event to announce a major Joining Forces private sector commitment from the American Logistics Association to hire 25,000 veterans and military spouses.  This commitment will fulfill a quarter of the President's challenge to the private sector to hire or train 100,000 veterans and military spouses by the end of 2013.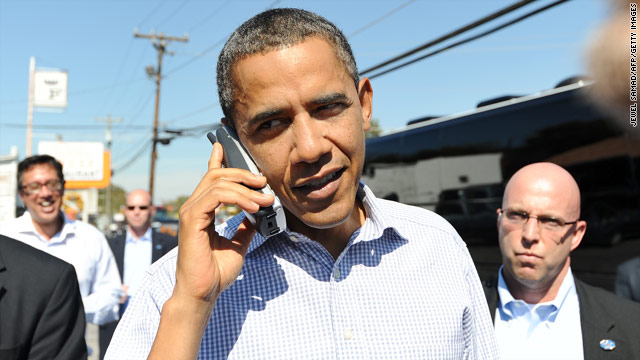 October 18th, 2011
02:31 PM ET
Wireless phone companies may have a new spokesman, at least when he's not busy with his day job.
President Obama, continuing his bus trip Tuesday through North Carolina knows outdated technology when he sees it.  The president greeted well wishers in at an unscheduled stop in Reidsville, NC.
Spotting a young woman in the crowd on her cell phone, the president admonished, "You need a new phone!" According to pool reports the woman handed her "clunky, cordless" phone to Mr. Obama asking him to speak to her grandmother.  The president affably asked, "How you been doing?"
But then also put in a plug for better technology saying, "Your granddaughter needs a new cell phone."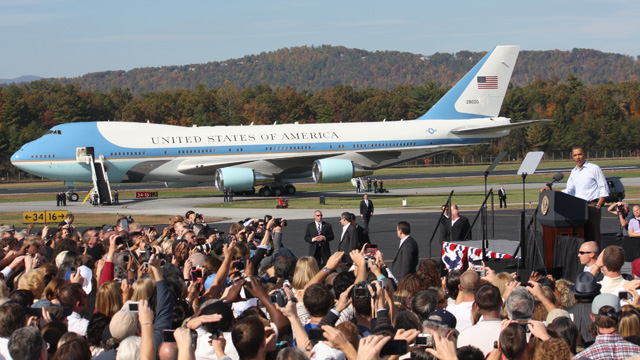 October 18th, 2011
11:18 AM ET
Today President Obama continues on day two what the White House is calling the "American Jobs Act Bus Tour" of North Carolina and Virginia. After failing in his efforts to convince Congress to pass his jobs bill in its entirety, the president has now shifted his focus to specific pieces of the bill, beginning with $35 billion to help states avoid laying-off teachers, firefighters and police officers.
According to the White House, that money comes in the form of $30 billion in "teach stabilization funds, which will support state and local efforts to retain, rehire, and hire educators as well as $5 billion for first responders."
The president's first event today will be in Jamestown, NC at Guilford Technical Community College Children's Center. He'll participate in a roundtable with teachers and students and highlight the potential benefits his jobs bill might have on that community.
According to the White House, here are the participants in the roundtable:
Mary Skrabec, Department Chair, GTCC Early Childhood Education Program
Craig Babcock, Elementary School Teacher, Millis Road Elementary School
Linda Phillips, Reading and Communications Teacher, Ragsdale High School
Shelby Kroh, Student at GTCC in the Early Childhood Education Program
Tyresse Wade, Student in the Learning Assistance Center at GTCC
After the roundtable, the president will deliver remarks at the Jamestown YMCA, where he will be introduced by Linda Phillips. According to the White House, Phillips is "a reading and communications teacher at Ragsdale High School who may be laid off next year if the school does not receive additional funding."
In the afternoon, the president will visit two high schools in Virginia. First he will tour a computer lab and watch a robotics demonstration before traveling to Greensville High School in Emporia, VA to deliver remarks on his jobs act.
Here is the official schedule, which is sure to be supplemented as the day goes on with plenty of roadside stops: FULL POST