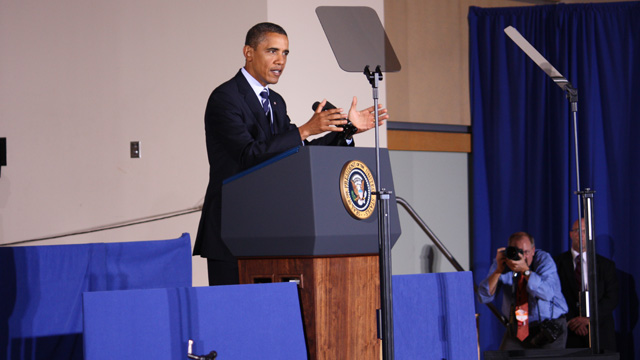 October 18th, 2011
10:46 AM ET
Central Virginia's WWBT-TV is reporting that a van belonging to President Obama's advance staff was stolen outside the Virginia Center Commons Courtyard Marriott in Henrico, VA just days before the president's scheduled visit to Chesterfield on Wednesday.
The van contained about $200,000 worth of audio equipment, podiums and presidential seals. On Monday, officials confirmed to WWBT that the van had been recovered outside a Holiday Inn Express near the Richmond Airport. Here's the original story.
CNN has obtained this statement from the Defense Information Systems Agency on the reports of a stolen van and presidential equipment:
"A government vehicle was stolen and has been recovered. No classified or sensitive information was in the vehicle.  We take incidents such as this very seriously, and a formal investigation is continuing in coordination with relevant law enforcement agencies."
The original story from WWBT can be found here.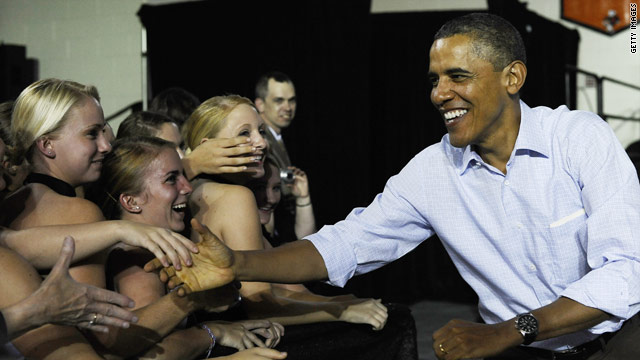 October 17th, 2011
05:59 PM ET
From the bus tour pool report:
President Obama delivered remarks at West Wilkes High School in Millers Creek, North Carolina calling on Congress to pass every element of the American Jobs Act, piece-by-piece, starting with the proposal to prevent teacher layoffs, keep police officers on the beat and keep firefighters on the job.

North Carolina could receive more than $900 million in teacher stabilization funds under the American Jobs Act which would support 13,400 jobs across the state. West Wilkes High School is located in Wilkes County, whose school district would receive an estimated $6.9 million of these funds for teacher jobs.

West Wilkes, a small, rural high school with approximately 700 students and 50 faculty, could benefit from this funding. The school has experienced large increases in class size in core subjects due to the loss of seven teaching positions in the past three years when state and local budgets were cut and educational spending was drastically reduced.  These cuts were part of the 121 classroom and administrative positions the Wilkes County School District lost over the past four years due to budget cuts.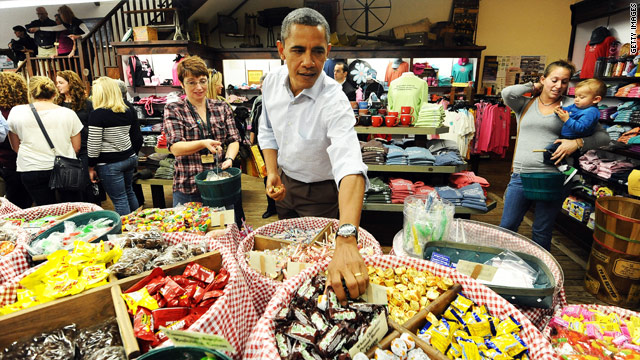 October 17th, 2011
04:19 PM ET
From the pool report on the way to Boone, North Carolina:
The president's bus "pulled off the Interstate and began rolling north through small towns on a four-lane state highway. Curious onlookers lined the roadside in front of gas stations, churches, auto dealerships, and schools, waving and snapping pictures on their phones. Several hundred people gathered in front of Caldwell Community College. A few people waved US flags and held up Obama-Biden campaign signs. But there was more evidence of curiosity than excitement in the crowds. Later, the motorcade began climbing back into the mountains, going for long stretches on a serpentine road with no onlookers at all. In a resort area high in the mountains, lined with hotels and vacation homes, the crowds grew again, though some people held their thumbs down as the motorcade passed. A woman held up a cardboard sign that said, "We Believe, We Voted. Now What?" Next to her was a woman holding an Obama collectible plate."
Upon arrival in Boone, the president dropped into the Mast General Store for some Halloween candy and shook hands with supports at Our Daily Bread Deli and Cafe near Appalachian State University.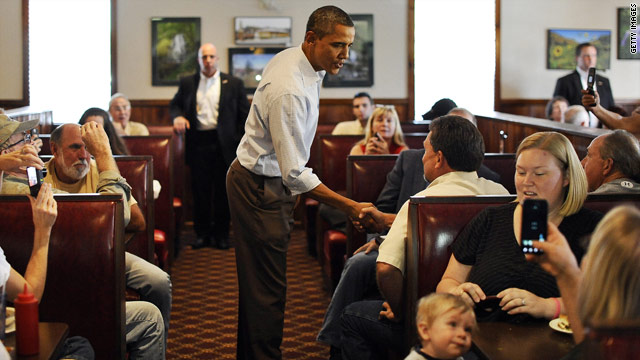 October 17th, 2011
02:24 PM ET
President Obama stopped by Countryside BBQ Chicken in Marion North Carolina where he visited with locals and posed for pictures. While in the restaurant he met an elementary aged boy who told Obama his name was Jack Nicholson. The president replied, "you look older in the movies, man!"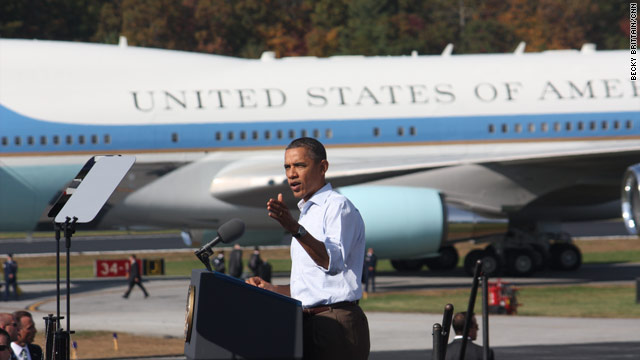 October 17th, 2011
02:23 PM ET
President Obama kicked off his three-day American Jobs Act at the Asheville Regional Airport in Fletcher, North Carolina where he rallied support for his plan.
"We should be talking about jobs.  When you hear what's going on out in the country, when you take the time to listen, you understand that a lot of folks are hurting out there.  Too many people are looking for work.  Too many families are looking for that sense of security that's been slipping away for the past decade, now.

Here in North Carolina, you've got thousands of construction workers who lost their jobs when the housing bubble  burst.  Some of those construction workers are here today.  They've got experience.  They've got skills.  All they want is to be back on the job site doing what they do best.

And there is plenty of work to go around.  In this airport right here in Asheville, you've got a runway that needs to be widened and repaired.  You've got a taxiway that's in the wrong spot –- which means that planes sometimes get too close together.  So we could be doing some work right here at the Asheville Airport that would help boost tourism, help to boost the economy here, put people to work right now.

But it's not just here in Asheville.  All across the state, you've got highways that need to be built.  You've got bridges that need to be fixed.  You've got schools that need to be modernized.  And that's what America used to do best.  We used to build things - built the Transcontinental Railroad; built the Golden Gate Bridge; the Hoover Dam; the Grand Central Station.  There's no reason why we should sit here and watch the best highways and the newest airports being built in China.  We should be building them right here in the United States of America.  Right here in North Carolina. 

Now, our problems were a long time in the making –- we're not going to solve them overnight.  But there are things we can do right now to put people back to work - right now.  There are things we should do right now to give the economy the jolt that it needs.  So that's why I sent Congress the American Jobs Act."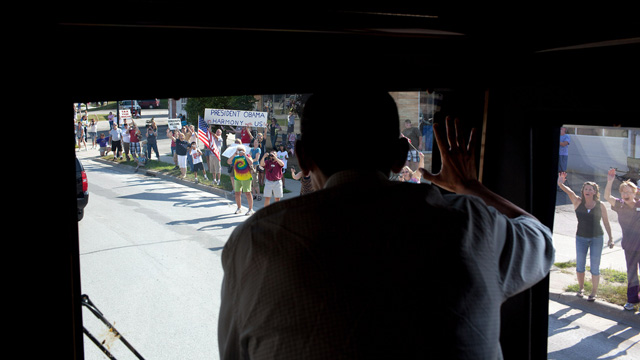 October 5th, 2011
02:15 PM ET
President Barack Obama is headed out on another bus tour, according to new information from a White House official. The president's second such tour since taking office will bring him through North Carolina and Virginia – two states he won in 2008 that promise to be crucial states on any path to victory in 2012.
Although the specific stops are still unknown, the official confirmed that the tour will take place from October 17 to 19, and will primarily focus on urging congress to pass the president's jobs proposal, the American Jobs Act. If the itinerary of this trip is anything similar to the president's August bus tour through the Midwest, it will likely be chock-full of "off the record" retail campaign stops, informal meetings with small groups of voters, as well as larger campaign-style rallies and town hall meetings.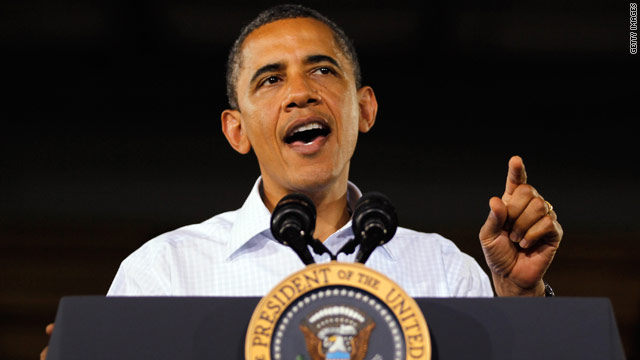 (CNN) – President Barack Obama and Ohio Gov. John Kasich passed along what they saw as lessons from the Midwest Saturday during their weekly addresses.
The president taped his weekly address from Alpha, Illinois-a town he visited during a three-day bus tour through the region used to engage small town citizens in dialogue about jobs and the economy.
Washington can take a lesson from people in towns like Atkinson, Illinois; Peosta, Iowa; and Cannon Falls, Minnesota, Obama said. "Our country would be a whole lot better off if our elected leaders showed the same kind of discipline and integrity and responsibility that most Americans demonstrate in their lives every day."
Obama recounted the obstacles in the economy, including the aftermath of a "terrible recession," persistent unemployment, and "smaller paychecks or less money in the cash register" to highlight the need for elected officials to "put aside their differences to get things done."
And he proposed ways to take immediate action that will "mean more customers for businesses and more jobs across the country."
For the full article, click here.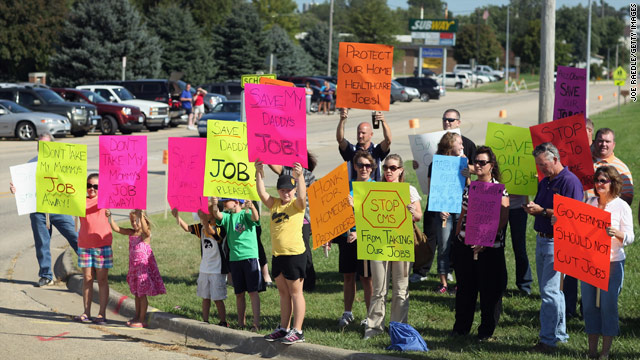 August 18th, 2011
09:00 AM ET
People hold signs as they wait for the arrival of President Obama at the Rural Economic Forum  on August 16th in Peosta, Iowa.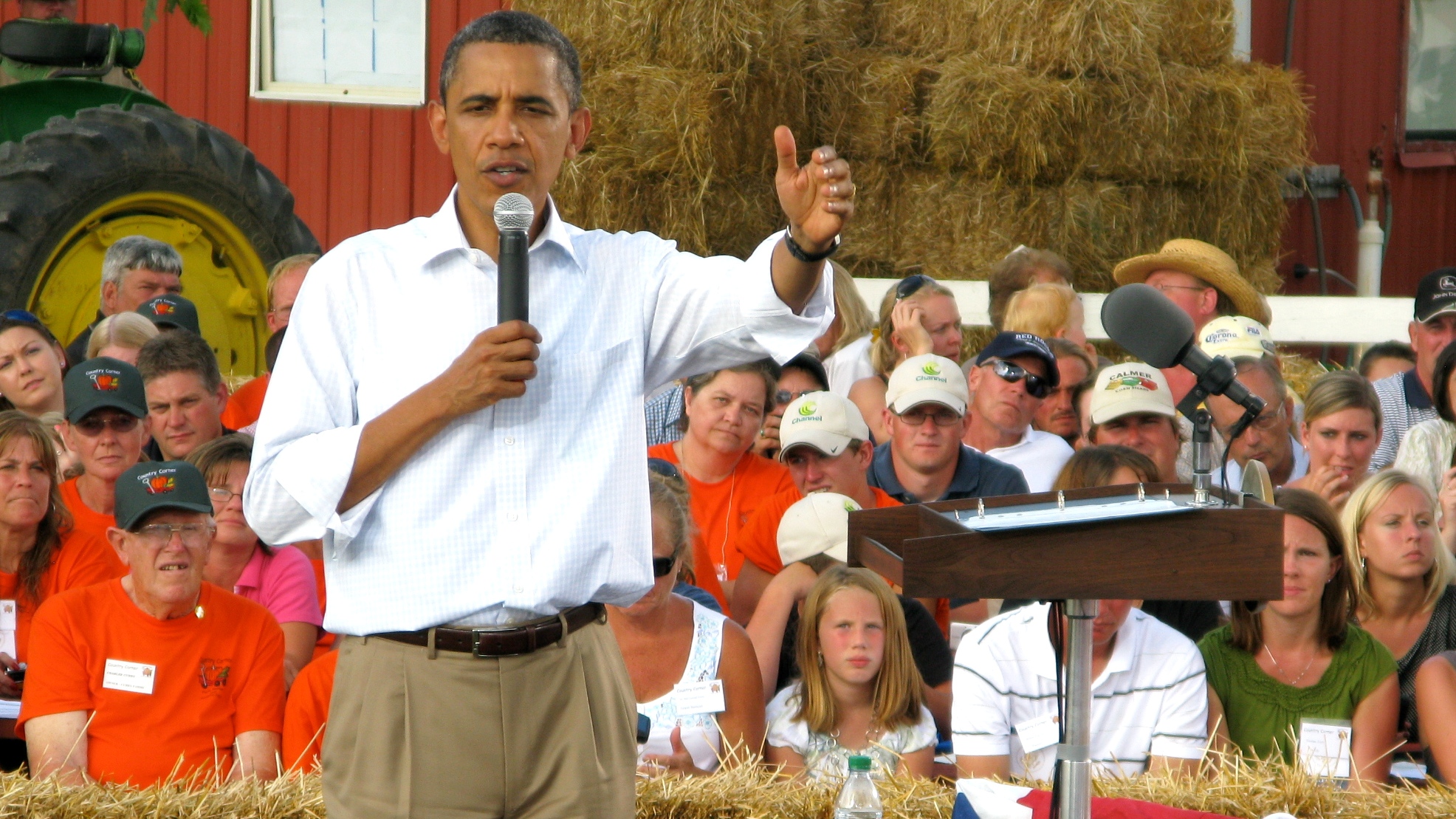 August 17th, 2011
09:04 PM ET
The final stop on President Obama's three-state Midwest bus tour was at the Country Corner Farm Market in the small town of Alpha, Illinois. The president was roughly an hour behind schedule due mostly to a visit with the Galesburg High School football team, and although the crowd showed some signs of fatigue from waiting in the hot sun, most left the event saying it was worth the wait.
Although his opening remarks didn't change too much, the president did field one interesting question about the future of the estate tax that is worth looking at. I think it's the only question the president got on this topic the whole trip. Here's the exchange as per a transcript provided by the White House:
QUESTION: Thank you, Mr. President, for being here today in Henry County. My name is Karen Urich (ph). I'm a multigenerational farmer, member of the Henry County Board and Henry County Farm Bureau. My question that I have today is I have a concern over estate taxes.

In 2013, if the Senate and the Congress fails to act, we will have our estate taxes go back to the 2001 level. We have family farms that are experiencing having to sell their land in order to pay the property taxes. And I was wondering what you see for the future of the estate tax. Thank you.

THE PRESIDENT: Well, there's no reason why we have to go all the way back to the 2001 level. There is a compromise that has been discussed where you'd essentially have a $7 million exemption per family. There are some folks who just want to eliminate the estate tax all together. There are others who want to hike it up back to 2001. FULL POST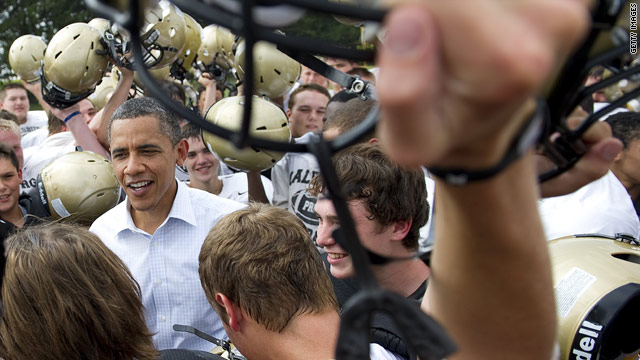 August 17th, 2011
05:43 PM ET
On the way to his second town hall of the day, the president stopped by Galesburg High School, home of the Silver Streaks, in Galesburg, Illinois.  He shook hands with the women's tennis and men's football teams.  Before leaving he told the players that football is important "but I hope you're hitting the books too. Education is important."