October 8th, 2012
08:27 AM ET
LOS ANGELES (CNN) –President Obama is tapping his California ATM with a combination of star studded concerts and intimate high dollar dinners.
He's expected to raise nearly $9.5 million dollars for the Obama Victory Fund over two days.
The West Coast swing kicks off with a big concert at the Nokia Theatre in Los Angeles, featuring musical acts Jennifer Hudson, Stevie Wonder, Katy Perry, Jon Bon Jovi, and Earth Wind and Fire. Actor George Clooney is slatted to deliver remarks.
A campaign official tells CNN an estimated six thousand people are expected at the Sunday evening event with tickets starting at $250.
Mr. Obama will also meet privately with a dozen so called high dollar donors along with former president Bill Clinton, and attend a dinner with 150 guests at $20,000 per person.
On Monday, the president heads to San Francisco where he'll attend three fundraisers.
**A $40,000 per person event at the intercontinental Hotel.
**A $20,000 per ticket dinner at the Bill Graham Civic Auditorium.
**And another concert featuring John Legend and Michael Franti that's expected to draw about six thousand people, with tickets starting at $200.
In a separate event at a private residence on Monday in Los Angeles, President Clinton is expected to raise an additional $160 thousand.
Campaign officials say this big fundraising push will help them compete in key battleground states where polls still show a tight race.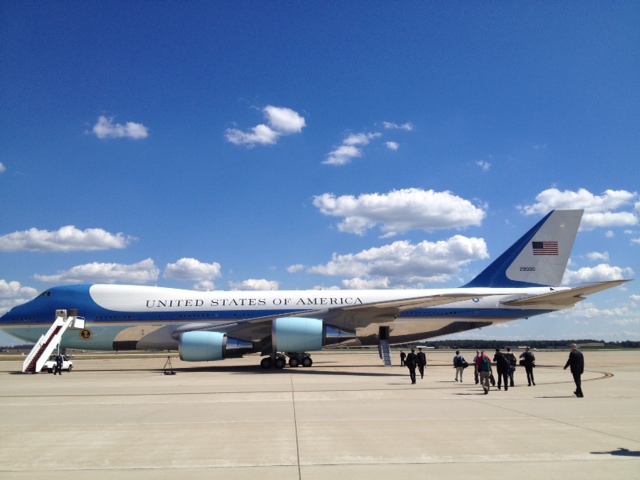 September 27th, 2012
09:09 AM ET
PRESIDENT OBAMA'S SCHEDULE:
9:30AM THE PRESIDENT and THE VICE PRESIDENT receive the Presidential Daily Briefing/ Oval Office/ Closed Press
10:00AM THE PRESIDENT departs the White House en route Joint Base Andrews / South Lawn/ Open Press
10:15AM THE PRESIDENT departs Joint Base Andrews
11:05AM THE PRESIDENT arrives Virginia Beach, VA/Naval Air Station Oceana/ Open Press FULL POST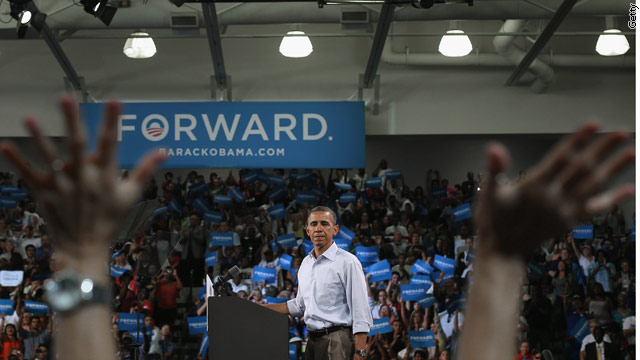 September 9th, 2012
02:31 PM ET
Melbourne, Florida (CNN) – In the senior-heavy coastal city of Melbourne on Sunday, President Barack Obama, armed with a new study, continued to hammer the Republican plan to reform Medicare.
He highlighted a Harvard analysis, conducted by a former Obama adviser, that found seniors would pay more under the "Romney-Ryan plan," compared to his plan, which he said will strengthen the entitlement program.
Obama said GOP nominee Mitt Romney wants to "give money back to insurance companies and put them in charge of Medicare."
"Their voucher plan for Medicare would bankrupt Medicare. Our plan strengthens Medicare," Obama told a crowd of 3,050 gathered at a sports and recreation center. "No American should have to spend their golden years at the mercy of insurance companies."
The focus on Medicare on Sunday was the latest effort by the president and his campaign to turn up the noise around the program and throw Romney off his message on jobs and the economy, especially important as the president continues to make a play for the senior vote ahead of the November election.
Read the full story on CNN's Political Ticker.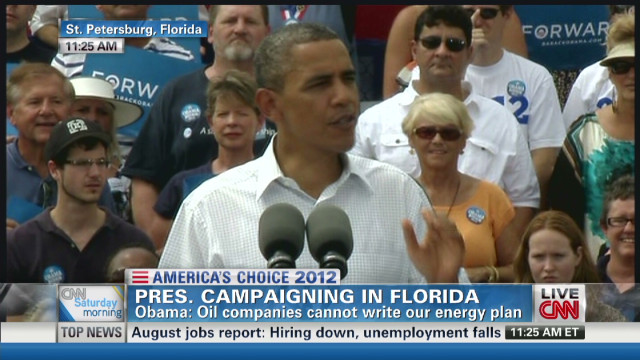 September 8th, 2012
12:52 PM ET
Seminole, Florida (CNN) – President Barack Obama took his "ready to go forward" message to Florida voters in his first stop Saturday on a bus tour through the swing state.
The president was introduced by former Florida Gov. Charlie Crist, who was once a Republican but is now an independent and an Obama supporter. Obama said Crist backing proves "the values we are fighting for aren't just Democratic values or Republican values, they're American values."
The president reiterated the proposals on display at this week's Democratic National Convention, including plans to create more jobs, expand energy production and improve educational opportunities in the United States.
Read the full story on CNN's Political Ticker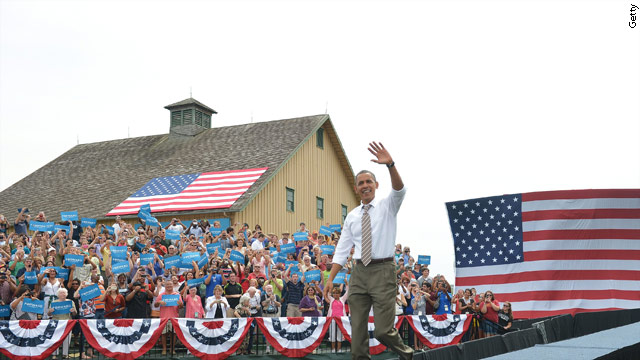 September 1st, 2012
06:07 PM ET
Urbandale, Iowa (CNN) - President Obama began his "Road to Charlotte" tour before 10,000 people here on Saturday, kicking off a string of events that will bring him right up to his acceptance speech at the Democratic National Convention on Thursday night.
"There's a reason for me to begin the journey here in Iowa, where it first began more than four years ago," Obama said, reminding Iowans that it was a victory at the state's caucuses in 2008 that set him on his path to the presidency. "And it will be you, Iowa, who choose the path we take from here."
Beginning what will surely be several days spent rebutting the messages of last week's Republican National Convention in Tampa, Florida, the president took his opponent to task for offering "rerun" policies "better suited for the last century."
"If you didn't DVR it, let me recap it for you," Obama said of the Republican's convention. "Everything's bad. It's Obama's fault, and Governor Romney is the only one who knows the secret to creating jobs and growing the economy. That was the pitch. There was a lot of talk about hard truths and bold choices, but nobody ever actually bothered to tell you what they were."
Read the full story on the CNN Political Ticker.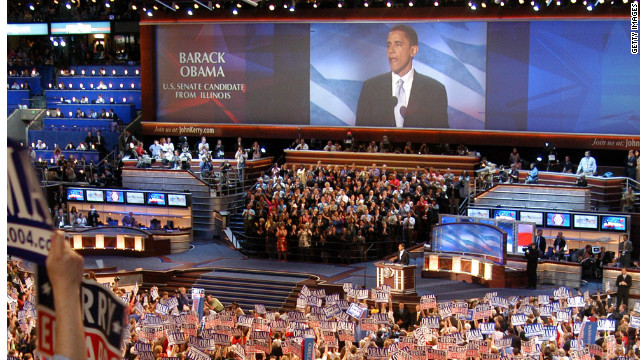 August 23rd, 2012
04:45 PM ET
(CNN) – Senior Obama campaign officials said Mitt Romney will likely get a boost from the Republican National Convention in Tampa, Florida next week–but it won't last long.
With the Democratic convention following the GOP gathering one week later in Charlotte, North Carolina, the Obama campaign feels confident the attention surrounding their convention will halt any momentum Romney may gain as the new nominee.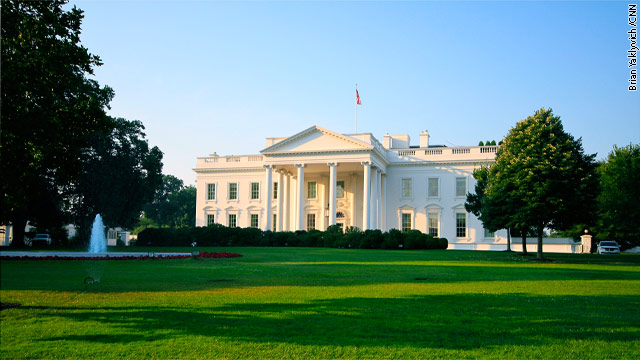 August 23rd, 2012
03:21 PM ET
Washington (CNN) – With 75 days left until Election Day, Team Obama's top ranks said Thursday they're encouraged by the campaign's standing among key voting constituencies, including women, African Americans, Latinos and younger members of the electorate.
At a briefing for reporters, senior campaign officials pointed to a consistent lead in national polling as well as a sufficiently favorable view of the president among undecided voters to argue the real story of the general race is one of consistency, not volatility.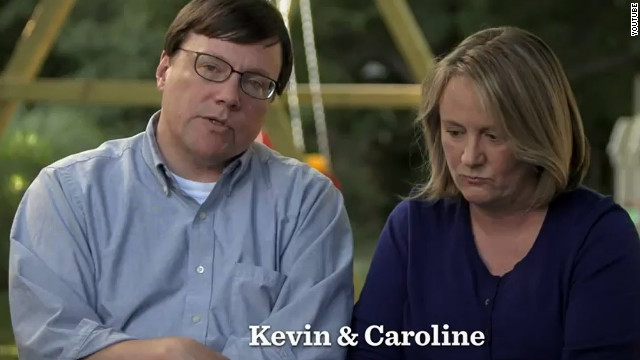 August 22nd, 2012
04:49 PM ET
(CNN) – Mitt Romney's stance on class sizes in public schools came under fire Wednesday from President Barack Obama's campaign, which released a television spot featuring parents who say their children benefit from lower student-to-teacher ratios.
The ad, called "Children," will air in Ohio and Virginia on Thursday, the campaign said. Those states are key battlegrounds where Paul Ryan, the Wisconsin congressman running as Romney's vice presidential pick, has campaigned this week.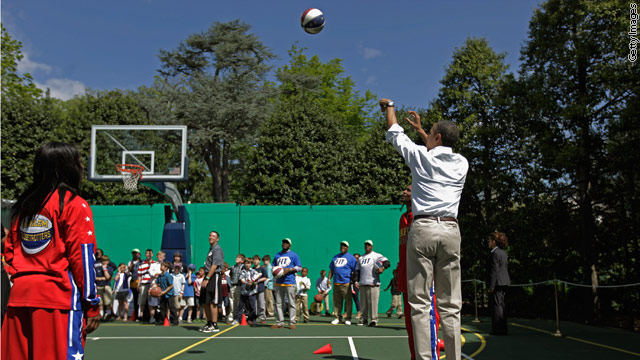 August 22nd, 2012
04:11 PM ET
President Obama heads to New York City on Wednesday night to participate in the long-awaited Obama Classic,  a basketball fundraiser with current and former NBA and WNBA stars. Originally scheduled during the 2011 NBA lockout when basketball fans had nowhere to see their favorite players play, the event was canceled after the lockout was resolved and rescheduled for this summer.
As part of the event, the Obama campaign raffled off a dinner with President Obama hosted by basketball legend Michael Jordan. The two will be joined by other participants in the evening's basketball game including Carmelo Anthony, Patrick Ewing, Sheryl Swoopes, Kyrie Irving, and Alonzo Mourning. Including the winners of the campaign's fundraising raffle, approximately 120 people will attend the dinner and tickets cost $20,000 per person. After the dinner the president will join in what the campaign is calling a "casual" shoot around with some of the players.
Earlier in the day there will be two separate fundraising events with some of the players that will not include the president. The first is an autograph signing where approximately 400 people paid $250 for a chance to meet some basketball legends, and the second is a skills camp where about 100 people paid $5,000 per couple to get lessons from professional ball players.
All told the campaign is expecting to raise close to $3 million.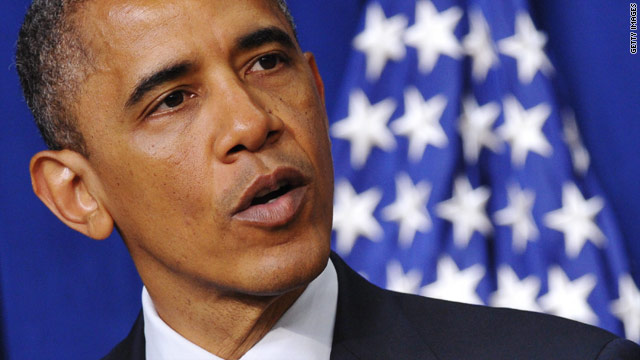 August 20th, 2012
05:03 PM ET
Washington (CNN) – The ongoing battle over Mitt Romney's personal income tax returns isn't personal, President Barack Obama said Monday, saying instead it was essential for voters to understand a presidential candidate's financial background.
Speaking in the White House Briefing Room, Obama pointed to a precedent on releasing tax returns that extended back to Romney's father, George, who ran for the GOP presidential nomination ahead of the 1968 election.