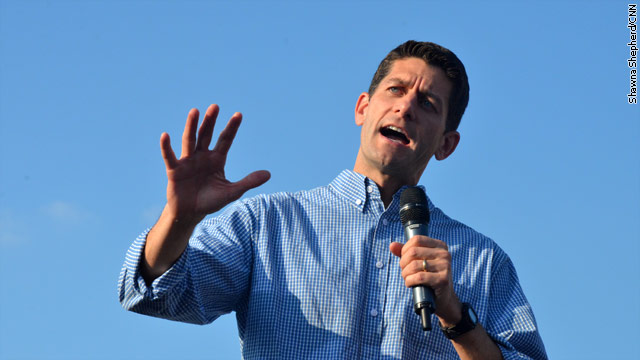 August 16th, 2012
05:39 PM ET
Washington (CNN) - In a polling memo released by campaign pollster Joel Benenson on Thursday, Team Obama tried to paint Rep. Paul Ryan as one of the worst vice presidential selections in recent history.
"This reflects something about Mitt Romney's decision making priorities and what he did was he tapped as a running mate the person who's been dubbed the leader of the most extreme wing of the Congressional Republicans," Benenson said on a conference call accompanying the memo.
The historically low public approval ratings of Congress combined with the public's opinion of Ryan's readiness to be commander in chief "are all factors that go into this being a very uninspiring choice and reflecting that it's not a boost to the ticket, if anything it's a drag on the ticket," Benenson argued. FULL POST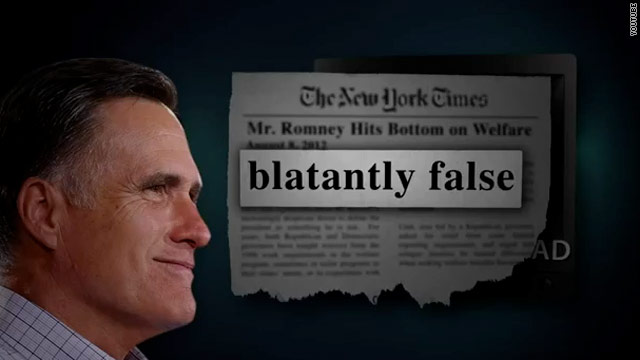 August 10th, 2012
02:53 PM ET
(CNN) – President Barack Obama's re-election campaign countered Mitt Romney's controversial television ad about welfare with the release of its own commercial on Friday.
The new Obama ad, "Blatant," points to news media reports that debunk Romney's welfare-based attacks, labeling them inaccurate or "blatantly false."
August 9th, 2012
06:14 PM ET
A television ad by Priorities USA Action, the main super PAC backing President Obama, linking Mitt Romney to a woman's death continues to dog the Obama campaign.
For the third day in a row, reporters peppered the White House and Obama campaign about the new ad, which CNN fact-checked Tuesday and found to be inaccurate.
The ad features Joe Soptic, a steelworker who was laid off from his job at a Kansas City, Missouri steel plant in 2001 after the plant was taken over and eventually shut down by Bain Capital, Romney's former company.
The campaign has not endorsed the claims in the ad, but it also has not denounced the impression the ad gives, that if Soptic had not been laid off by Bain Capital perhaps his wife might not have died from cancer.
"We had nothing to do with the ad," Obama campaign spokeswoman Jen Psaki said Thursday. "We can't speak to what they were trying to convey by the ad or communicate." FULL POST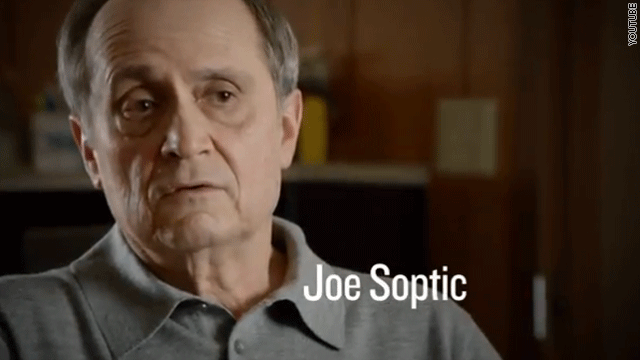 August 8th, 2012
07:01 PM ET
Representatives from the Obama campaign tried to distance themselves on Wednesday from a new ad released by the pro-Obama Super PAC Priorities USA that links actions taken by Bain Capital to the death of former steelworker Joe Soptic's wife.
Aboard Air Force One, campaign spokesperson Jen Psaki told reporters that the campaign had "no involvement with any ads that are done by Priorities USA."
"We don't have any knowledge of the story of the family," Psaki said when asked about Soptic's story.
On CNN's Early Start Wednesday morning, Obama for America Deputy Campaign Manager Stephanie Cutter also denied that she knew the details of Soptic's story.
"Well, you do know that we don't have anything to do with Priorities USA," Cutter told CNN's John Berman. "That by law, we're not allowed to coordinate with them, and by law we don't have anything to do with their ads. I don't know the facts of when Joe Soptic's wife got sick or when she died."
But in an interview with CNN on Tuesday, Soptic said that the campaign had asked him to appear at events on behalf of the president to talk about his experiences with Bain. FULL POST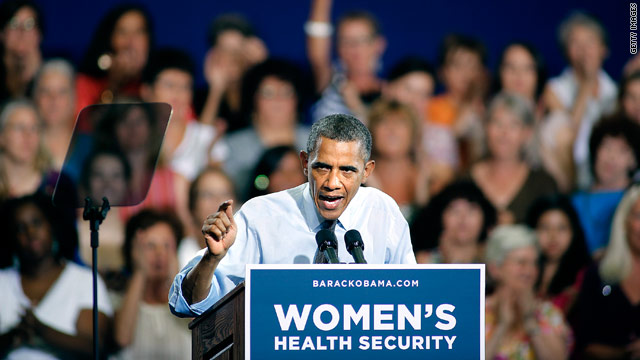 August 8th, 2012
06:29 PM ET
Denver (CNN) – At the first stop of a two-day campaign trip through Colorado, President Obama made his pitch to female voters, telling a crowd here that on women's health issues his opponents "want to take us back to the policies more suited to the 1950's than the 21st century."
"The decisions that affect a woman's health, they're not up to politicians, they're not up to insurance companies. They're up to you," Obama said. "And you deserve a President who will fight to keep it that way. That's the President I've been. That's the President I will be if I get a second term as President of the United States, to keep moving this country forward."
August 8th, 2012
04:44 PM ET
One day after refusing to answer questions about a television ad put out by pro-Obama Super PAC Priorities USA, on Wednesday both the White House and the Obama campaign distanced themselves from the new attacks on Mitt Romney's record.
The ad ties the actions of Romney's old financial firm Bain Capital to the 2006 death of factory worker Joe Soptic's wife. Soptic, an employee of GST Steel in Missouri for nearly 30 years, was laid off in 2001 when Bain closed the factory where he worked. This caused him to lose his health insurance, which also covered his wife Ilyona.
Years later Ilyona died rather suddenly from stage-four lung cancer that had gone undiagnosed, a situation that Soptic told CNN was caused by Bain's decision to shutter the Kansas City steel mill where he had worked.
White House Press Secretary Jay Carney told reporters traveling with the president aboard Air Force One on Wednesday that he had not seen the ad, quickly brushing aside repeated questions about whether or not its allegations are appropriate.
"I still haven't seen the ad," Carney said. "I've read about it. I don't speak for a third-party group. I speak for the President and the administration, and I explain and defend his policies."
Traveling campaign spokesperson Jen Psaki was even blunter.
"We have nothing - no involvement with any ads that are done by Priorities USA," Psaki said. "We don't have any knowledge of the story of the family. As you know, campaign finance rules in that regard are in place for a reason. At the same time, while we're talking about this ad, which we all know we had no involvement in, Mitt Romney's team is running a dishonest ad, an ad that is a big, bold-faced lie that even President Clinton has said was disappointing and inaccurate. And that's an ad that they should be held accountable for and on the facts, because right now they're out there running it across the country as if this is a true policy when in fact it's not. So that's a conversation we feel like we should be having."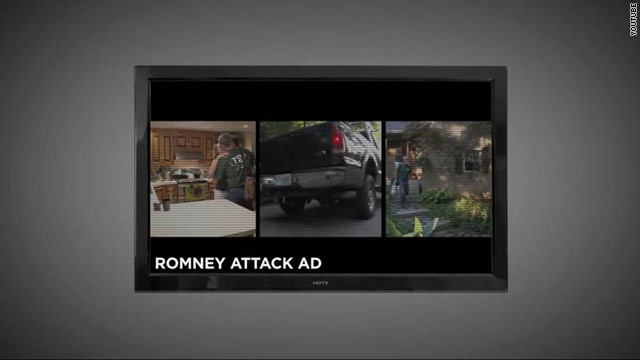 July 24th, 2012
11:43 AM ET
(CNN) – As Mitt Romney and fellow Republicans ramp up their attacks on President Barack Obama for his remarks on small business, the president's operation is pushing back with a duo of web videos arguing the comments are out on context.
The battle stems back two weeks, when Obama told a crowd in Roanoke, Virginia, that successful small businesses got that way with the help of governmental support like roads and educators.
"If you are successful, somebody along the line gave you some help," Obama said. "There was a great teacher somewhere in your life. Somebody helped to create this unbelievable American system that we have that allowed you to thrive. Somebody invested in roads and bridges. If you've got a business, you didn't build that. Somebody else made that happen. The Internet didn't get invented on its own. Government research created the Internet so that all the companies could make money off the Internet."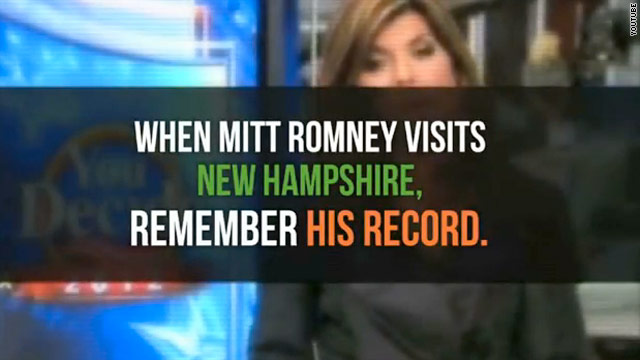 June 14th, 2012
10:58 AM ET
(CNN) – Mitt Romney's return to New Hampshire isn't going unnoticed by the super PAC supporting President Barack Obama, which will air a television spot in the state slamming the Republican presidential candidate for his tenure as a venture capitalist.
Priorities USA Action will air the spot Friday as Romney returns to New Hampshire to kick off his six-state, five-day bus tour. Romney's first stop will be at the farm in Stratham where he officially declared his presidential bid last June.
The Priorities USA Action spot highlights the New Hampshire-based company Holson Burnes, which was acquired by Romney's firm Bain Capital and later shut down.
"When Mitt Romney visits New Hampshire, remember his record," text in the ad declares.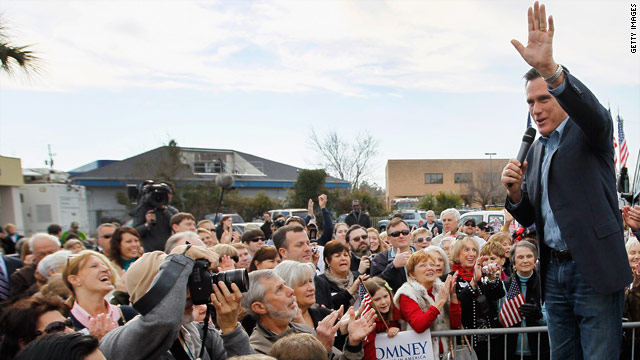 June 12th, 2012
07:34 AM ET
Washington (CNN) – For the second straight week, President Barack Obama's re-election team is attacking Republican challenger Mitt Romney's Massachusetts record with a new television commercial.
The Obama campaign announced Tuesday a new ad titled "Number One" will run in the battleground states of Colorado, Florida, Iowa, North Carolina, New Hampshire, Nevada, Ohio, Pennsylvania, and Virginia. The campaign describes the ad buy as "significant."
"When Mitt Romney was governor, Massachusetts was number one. Number one in state debt. $18 billion in debt. More debt per person than any other state in the country. At the same time Massachusetts fell to 47th in job creation. One of the worst economic records in the country," says the narrator in the spot. "First in debt, 47th in job creation. That's Romney economics. It didn't work then. It won't work now."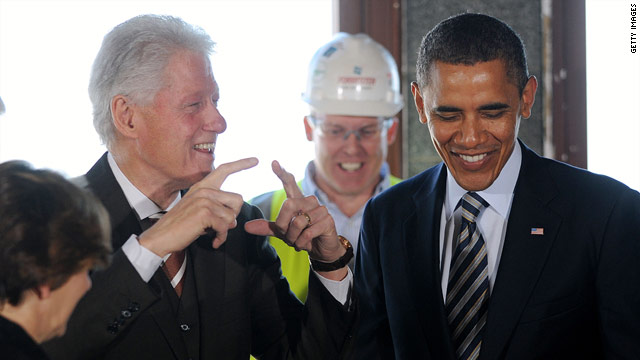 June 4th, 2012
02:02 PM ET
(CNN)–Joining forces with Hollywood and Broadway starpower, President Barack Obama and former President Bill Clinton are looking to add more than three and a half million dollars to the Obama campaign coffers and that of the Democratic Party Monday during a whirlwind seven hour trip to New York City.
The evening begins with a high ticket reception for fifty people at a private residence in the city. The price for face time with both the president and former president doesn't come cheap. A Democratic campaign official tells CNN the tickets are $40,000 each.
The presidents then move on to a big gala at the tony Waldorf Astoria where rocker Jon Bon Jovi will entertain the 500 invited guests who each paid at least $2500 a ticket. FULL POST