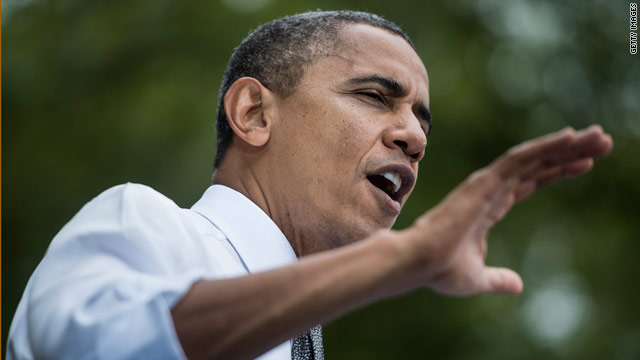 September 17th, 2012
02:32 PM ET
Cincinnati, OH (CNN) - The presidential campaign took on an international tone on Monday with both sides criticizing the other's record on trade relations with China.
Just hours after the Romney campaign released a new ad promising to "crack down on cheaters like China," President Obama announced at an outdoor rally here that his administration is launching a new enforcement action against China with the World Trade Organization (WTO) for providing illegal subsidies on automotive exports.
FULL POST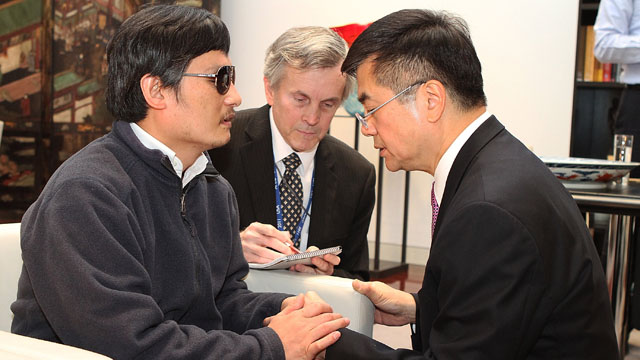 May 4th, 2012
08:33 AM ET
CNN White House correspondent Dan Lothian reports a senior administration official answers criticism that officials initially rushed Chinese dissident Chen Guangcheng out of the U.S. Embassy and didn't stay in touch.
Below is a timeline provided by the official.
Wednesday, May 2nd
-U.S. Officials meet with Chen's wife and family at train station and then accompany them to hospital.
-US officials connect them with Chen twice by phone.
-3pm: Ambassador Locke accompanies Chen to the hospital then departs.
-Other US officials remain with him at the hospital until 6:30pm.
-US officials (several but no exact number) speak with him twice more that evening by phone.
-In all they spend 3.5 hours with him.

Thursday, May 3rd
-US officials speak with Chen twice in the morning by phone.
-Calls happened before 9:45am.
-At 9:45am US officials go to the hospital and meet with wife and family for 1 1/2 hours.
-Chen's lawyer speaks with Chen's wife on phone for 20 minutes.
-That afternoon Embassy Doctor discusses health issues with Chen's doctor.
-US officials depart at 7:15pm.
-They try to speak with Chen by phone later that night but are unable to reach him.
May 3rd, 2012
04:46 PM ET
WASHINGTON (CNN) - The "mission impossible" style case of Chinese activist Chen Guangcheng is yet another wrinkle in a complicated relationship between the U.S. and China.
While issues of trade and differences on Syria are being debated, human rights is becoming the flashpoint.
White House spokesman Jay Carney sidestepped most questions on Chen's case, like whether the administration supported asylum for the activist. Instead he directed reporters to the State Department for more details.
But pushed to answer concerns about Chen's change of heart and his desire to leave the country, Carney defended the U.S. handling of the case.
"At no point during his time in the embassy did Mr. Chen ever request political asylum in the U.S. And at every opportunity he expressed his desire to stay in China, reunify with this family, continue his education and work for reform in his country," Carney said. "All of our diplomacy was directed at putting him in the best possible position to achieve his objectives."
Carney downplayed any long term fallout from this incident citing a multifaceted relationship that is built on economic, trade, security and regional concerns.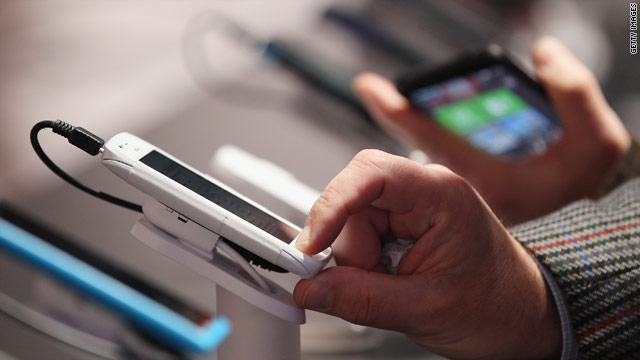 March 13th, 2012
11:47 AM ET
Washington (CNN) - The United States plans to announce Tuesday that it is filing a trade case over China's export restrictions on minerals that are crucial for the production of many high tech devices, a senior Obama administration official said.
The European Union and Japan will join the United States in the case, which aims to pressure China to lift export limits on certain minerals known as rare earths, the official said Monday.
China produces about 95% of all rare earths, which are used to make products like flat-screen televisions, smart phones and hybrid cars.
The United States will ask the World Trade Organization, the organization tasked with monitoring trade between nations, to serve as a facilitator in talks with China, according to the U.S. official.
The United States accuses China of hoarding the valuable minerals for its own use. But China disputes that, saying the restrictions are motivated by environmental concerns.
FULL POST
February 14th, 2012
12:56 PM ET
Washington (CNN) - President Barack Obama welcomed China's presumptive premier at the White House Tuesday but also set the tone for future relations between the two world powers.
Obama said that with China's meteoric rise as an economic powerhouse came a responsibility to ensure balanced trade flows. He also raised the delicate issue of human rights as a critical area of concern for the United States.
"We've tried to emphasize that because of China's extraordinary development over the last two decades, that with expanding power and prosperity also comes increased responsibilities," Obama said after an Oval Office meting with Chinese Vice President Xi Jinping.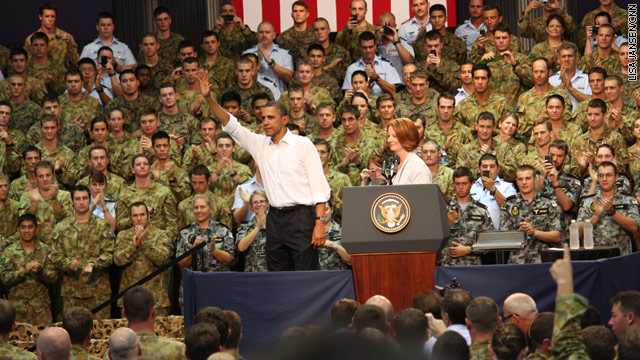 November 17th, 2011
05:51 AM ET
Darwin, Australia (CNN)–President Obama, accompanied by Australian Prime Minister Julia Gillard, spoke to troops at a military base in Darwin, Australia on Thursday. The President announced earlier this week an enhanced military partnership with close ally Australia. The United States will deploy up to 250 Marines to Australia next year, steadily increasing that number to 2500 in the coming years.
"[O]ur alliance is rooted in the bonds between our people, and the democratic values that we share and our commitment to stand with each other through thick and through thin, no matter what," the president told the crowd of 2000 on the remote base in northern Australia.
"This region has some of the busiest sea lanes in the world, which are critical to all our economies. And in times of crisis - from the Bali bombings to East Timor to relief after a tsunami - Darwin has been a hub, moving out aid, caring for victims, making sure that we do right by the people of this region. And that's what we're going to keep doing, together," said Mr. Obama.
The president heads to Bali, Indonesia, to meet with Asian world leaders in a region which has become a priority for the United States as it seeks to improve trade and create jobs at home, as well as strengthening alliances to serve as a counter balance to an increasing Chinese influence in the region.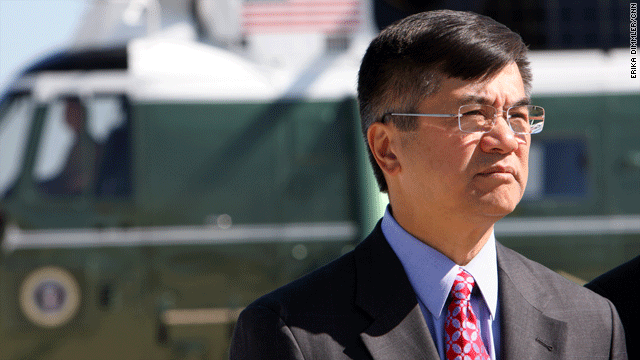 March 7th, 2011
07:08 PM ET
WASHINGTON (CNN) - President Obama intends to nominate Commerce Secretary Gary Locke as the next U.S. Ambassador to China, a senior administration official confirms to CNN's Jill Dougherty.
If confirmed by the Senate, Locke, the first Chinese-American to hold the post at Commerce, and a former governor of Washington, would replace current Ambassador Jon Huntsman.
Huntsman, a former governor of Utah, has announced he will leave his post at the end of April. There is heavy speculation that he may eventually seek the 2012 Republican presidential nomination.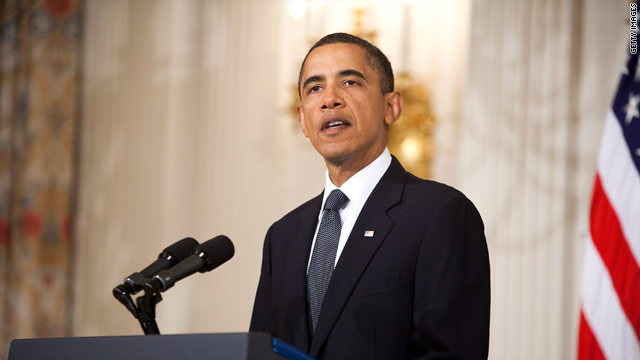 January 22nd, 2011
05:07 PM ET
(CNN) – Three days after hosting Chinese President Hu Jintao in talks defined largely by economic issues, President Obama championed plans to make America more competitive during his weekly radio address Saturday. 
White House aides have said increasing American competitiveness will be a theme of the president's State of the Union speech to Congress on Tuesday.
January 21st, 2011
01:05 PM ET
71,000 of you viewed our post of the state dinner guest list so we thought you might also be interested in who wore what to the black tie gala.  Let us know your votes for best and worst dressed.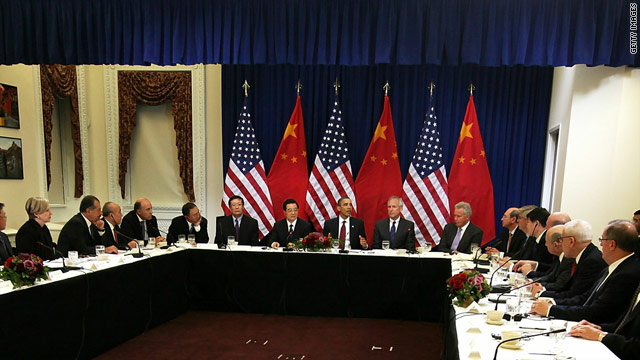 January 21st, 2011
12:50 PM ET
WASHINGTON (CNN) - Trying to reverse the perception that his administration has not been friendly to business, President Obama is going out of his way to involve corporate America in the effort to turn the ailing economy around.
In the latest move, Mr. Obama has named General Electric CEO Jeffrey Immelt to chair the President's Council on Jobs and Competitiveness. The panel, which will replace the President's Economic Recovery Board, will be charged with finding new ways to grow private-sector jobs.
'We still have a long way to go," the president said in a written statement, "and my number one priority is to ensure we are doing everything we can to get the American people back to work."
The business community has been warming up to this new strategy that has been coming together piece by piece in recent weeks: