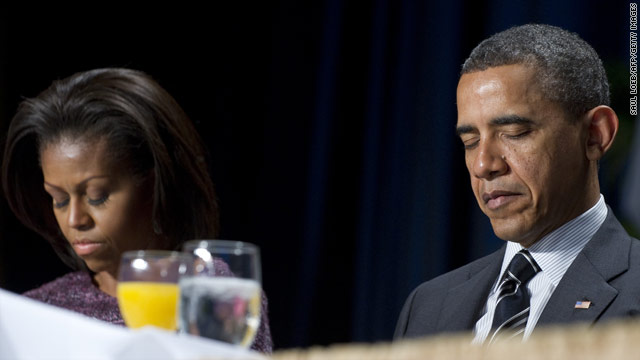 February 2nd, 2012
12:18 PM ET
Washington (CNN)–President Barack Obama called on lawmakers to allow their faith and values to guide them as they seek to solve the country's "most urgent problems" including the sluggish economy and continuing involvements overseas, such as the war in Afghanistan.  
Speaking at the 60th annual National Prayer Breakfast in Washington on Thursday, the president said, "We know that part of living in a pluralistic society means that our personal religious beliefs alone can't dictate our response to every challenge we face. But in my moments of prayer, I'm reminded that faith and values play an enormous role in motivating us to solve some of our most urgent problems, in keeping us going when we suffer setbacks, and opening our minds and our hearts to the needs of others."
Addressing the divisive partisanship in Congress and relations between the White House and the GOP leadership, the president cautioned leaders should not "get caught up in the noise and rancor that too often passes as politics today, these moments of prayer slow us down. They humble us."
The president spoke about how his values continue to influence and "motivate" his leadership when addressing one of the most divisive issues between Democrats and Republicans, the elimination of some tax breaks for wealthy Americans. 
"[W]hen I talk about shared responsibility, it's because I genuinely believe that in a time when many folks are struggling, at a time when we have enormous deficits, it's hard for me to ask seniors on a fixed income, or young people with student loans, or middle-class families who can barely pay the bills to shoulder the burden alone," he told the audience. 
But he later continued, "[W]e can earnestly seek to see these values lived out in our politics and our policies, and we can earnestly disagree on the best way to achieve these values." 
The president also reminded the audience of his deep faith as he spoke of beginning each day with a prayer and how he spends "a little time in scripture and devotion" each morning. 
He recounted a meeting he had as president with religious leader Rev. Billy Graham who counseled many previous presidents.  A letter from the ailing Graham was read at Thursday's prayer breakfast.
Obama talked about the humbling experience he had with Rev. Graham who said a prayer for him and how he wanted to say a prayer for Graham.
"What do you pray for when it comes to the man who has prayed for so many?" the president asked his audience.
"And so I prayed - briefly, but I prayed from the heart...saying a prayer for Billy Graham - a man whose faith had changed the world."
"I have fallen on my knees with great regularity since that moment - asking God for guidance not just in my personal life and my Christian walk, but in the life of this nation and in the values that hold us together and keep us strong," he said.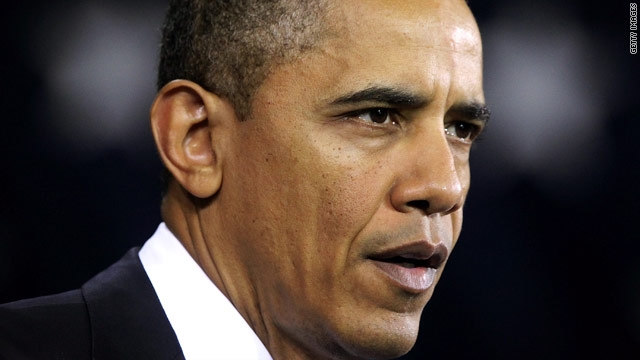 February 1st, 2012
02:16 PM ET
Washington (CNN) - The president will not oppose a Republican-proposed change to the STOCK Act (Stop Trading on Congressional Knowledge), a senior administration official tells CNN. The bill would make clear that insider trading of stocks and other securities by members of Congress, their spouses and staffs are illegal.
Republicans like Sen. Rand Paul (R-KY) and House Majority Leader Eric Cantor (R-VA) are pushing for the bill to apply to the executive branch as well.
"Insider trading by members of Congress is unacceptable, and the public needs to know that the same rules apply to elected officials as everyone else," Cantor said Monday after the STOCK Act cleared a procedural hurdle in the Senate with a vote of 93 to 2.
The senior administration official voiced skepticism that Cantor's backing is anything but cover for his putting the brakes on the bill in December, arguing that the executive branch is already covered by current law to prevent insider trading by government officials.
House Financial Services Committee chairman Spencer Bachus (R-AL), who was featured in a CBS News 60 Minutes segment about stock trading by members of Congress, acted to move the bill quickly through his committee in December but Cantor asked him to postpone the process known as a mark-up, according to multiple sources, citing bipartisan concerns about the bill.
As the White House questions the need for including oversight of the executive branch in the STOCK Act, the top Democrat in the Senate thinks the change should be made. "I also think it's important that the executive branch of government play by the same rules so what we do here the executive branch of government should do also," Senate Majority Leader Harry Reid (D-NV) said Tuesday, echoing what Republicans are saying.
"Send me a bill that bans insider trading by members of Congress; I will sign it tomorrow," President Obama, who has made a practice in recent months of taking shots at congress, said last week in his State of the Union address. "Let's limit any elected official from owning stocks in industries they impact."
While Republicans and Democrats agree the executive branch should also be scrutinized, Senate Minority Leader Mitch McConnell suggested the likelihood of wrongdoing was greater among administration officials than members of Congress.
"Most of our members believe that if there is any insider trading going on in the government, most likely that would be in the executive branch and we want to make sure that this new law applies equally to both," McConnell said Tuesday.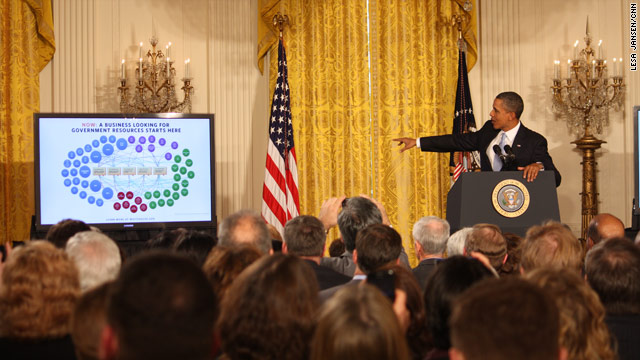 January 13th, 2012
01:02 PM ET
President Barack Obama asked Congress on Friday for more power to streamline and reorganize the federal government, a move designed to claim the political middle ground in an election likely to be dominated by questions aboutWashington's role in the economy.
The president asked legislators to grant him "consolidation authority" to merge agencies that perform similar functions. If that authority is granted, Congress would be required to hold an up-or-down vote on the president's streamlining plan within 90 days of its submission.
Among other things, the president's plan would combine several agencies that focus on commerce and trade, including the Small Business Administration, the Office of the U.S. Trade Representative, the Export-Import Bank, the Overseas Private Investment Corp. and the Trade and Development Agency. (read more on CNN /com)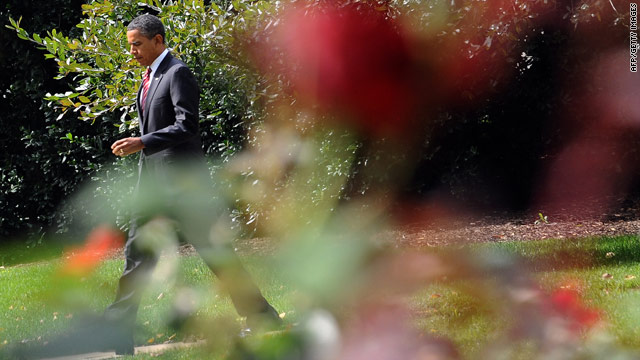 January 13th, 2012
09:11 AM ET
In an election year where voters are focused on a sputtering economy and making cuts within their own budgets, President Barack Obama will ask Congress to give him the power to make government "leaner, smarter and more consumer-friendly," according to a White House official. 
The president will speak at the White House Friday morning to announce he is asking Congress to give him "consolidation authority" –power for him to propose mergers of agencies which have duplicative services or duties, a White House official confirms to CNN.
If that authority is granted it would also require Congress to give an up or down vote on the president's streamlining proposals with in 90 days of being submitted. 
The official says the move will keep a promise the president made at last year's State of the Union address to streamline government. 
The first agency targeted for consolidation would be within the Commerce Department.  The proposal would eventually cut one to two thousand jobs but not through firing but through attrition–by not replacing employees who leave their positions.  The administration says this could save $3 billion over ten years.
The president needs Congressional approval to exercise such power and essentially puts the ball in Congress' court.  For the past several months, the president has used his executive power to put into place various initiatives which the administration says had been delayed because of partisan gridlock in Congress.
January 4th, 2012
05:57 PM ET
From CNN's Ted Barrett and Kate Bolduan:
Congressional Republicans were furious Wednesday after President Obama's recess appointment of Richard Cordray to head the Consumer Financial Protection Bureau, arguing the move was unconstitutional because the Senate has met every three or four days over the holiday period and therefore was not on a recess.
"This is an extraordinary and entirely unprecedented power grab by President Obama," complained House Speaker John Boehner, R-Ohio, in a statement, saying it "would have a devastating effect on the checks and balances that are enshrined in our constitution."
"This recess appointment represents a sharp departure from a long-standing precedent that has limited the President to recess appointments only when the Senate is in a recess of 10 days or longer," said Senate Minority Leader Mitch McConnell, R-Kentucky.
The intense GOP reaction to Cordray came before Obama also recess-appointed three members to the National Labor Relations Board, an agency under fire from Republicans who believe it is tilted in favor of labor unions.
FULL POST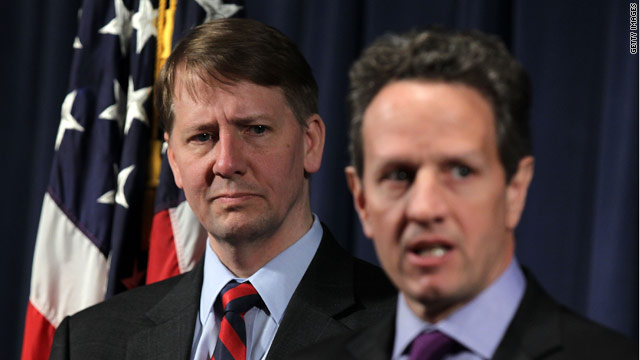 January 4th, 2012
11:55 AM ET
WASHINGTON (CNNMoney) - In a move that has angered Republicans, President Obama is expected on Wednesday to make a recess appointment of Richard Cordray to be the first director of the Consumer Financial Protection Bureau, sidestepping the Senate confirmation process, a senior administration official tells CNN.
The president is expected to make the official announcement at a 1:15 p.m. ET speech in Ohio, where Cordray served as attorney general.
Last month, the Senate failed to muster enough votes to take up confirmation of Cordray to run the consumer bureau, with all but one Republican voting against the move. At the time, President Obama hinted that was considering such a recess appointment.
News of the impending recess appointment spurred a flurry of angry statements from GOP leaders who have been trying to block a recess appointment for more than seven months.
"President Obama, in an unprecedented move, has arrogantly circumvented the American people by 'recess' appointing Richard Cordray as director of the new CFPB," said Senate Minority Leader Mitch McConnell in a statement. FULL POST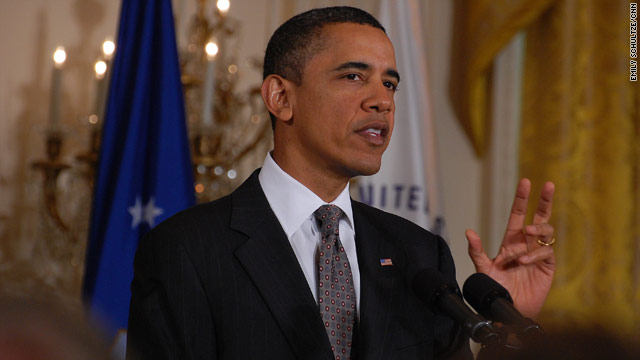 January 3rd, 2012
02:23 PM ET
The White House Tuesday denied reports that President Obama will be taking a go-it-alone approach, governing without Congress.
"He'll pursue all tracks," White House spokesman Jay Carney told reporters, "but it is not accurate to suggest that he doesn't want to engage with Congress and that he won't engage with Congress. In fact, he wants to continue to work with Congress."
Carney's comments appeared to be aimed at putting in context statements from Deputy Press Secretary Joshua Earnest, quoted in the New York Times and the Washington Post, that "in terms of the president's relationship with Congress in 2012 the president is no longer tied to Washington."
That sparked criticism from Republican presidential candidate Newt Gingrich who said in Independence, Iowa said Monday, "Having gone off to Hawaii for awhile he has now concluded, at least as I understand the news reports, they have decided they are going to govern with out Congress. Now, I don't know what country he thinks he is in but it is constitutionally impossible to govern without Congress."
Republican House Speaker John Boehner accused Mr. Obama of having an "Absentee Presidency,"  posting on Twitter that "POTUS' "shrunken" legislative agenda ignores need for Senate action on House-passed #jobs  http://twitter.com/#!/search?q=%23jobs bills."
Earnest, in his year-end briefing,  did not close the door completely to working with Congress, noting "You will see the President focus a little bit more on some of the things that he can - now that he's sort of free from having to put out these fires, the president will have a larger playing field, as it were.  And if that playing field includes working with Congress, all the better."
In his Tuesday briefing Jay Carney also took that tack, telling reporters, "this is not an either/or.  It's a both/and situation.  He will work with Congress.  And we believe, actually, that there will be opportunities to work with Congress, beginning with expanding - extending the payroll tax cut for the full calendar year. "
But, in a delicate balancing act, Carney added, "We can't wait for Congress to act.  And when Congress refuses to act, when Republicans choose the path of obstruction rather than cooperation, then the president's not going to sit here.  Gridlock in Washington is not an excuse for inaction."
A senior administration official, speaking on background with reporters Tuesday, said he believes there will be pressure on Republicans to cooperate with the president and pointed to House Republicans who broke ranks on the issue of the payroll tax cut extension. The official predicted there will be more defections as members of Congress head into the elections. If they are willing to work with the President, the official said, then Mr. Obama and his administration would be eager to respond but the administration also will be looking for actions they can take on their own, including helping homeowners refinance and helping students with loans.
The official claimed it was the president who, in the fall, by intensively campaigning for the tax cut extension, changed the political dynamic and, as a result, brought some Republicans sensitive to public opinion on board. The official denied, however, that campaigning was tantamount to campaigning for re-election, adding that Mr. Obama still has a lot of governing to do and it will be a while before the president engages in his own re-election campaign.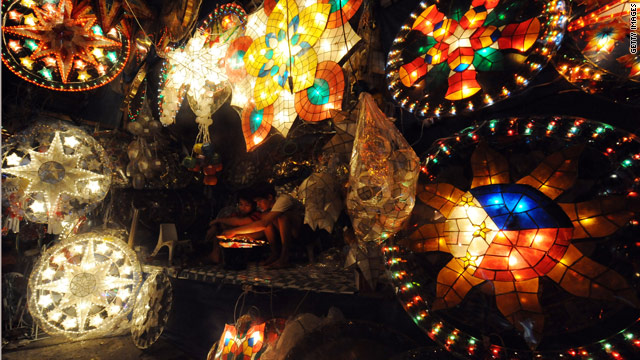 December 21st, 2011
06:29 PM ET
The mad dash to buy last minute Christmas presents is about at its peak. Shoppers rush around, their eyes glaze over. No words are exchanged but the message is clear, what can I find? What will it cost? Will they like this?
The president of the United States joined the throngs just days before Christmas with an unannounced stop at a local Best Buy to purchase Just Dance 3, a Wii game. "This is for the girls," he said.
Retailers are banking on the holiday season to polish an otherwise dismal year in an economy that is struggling at best.
President Obama, who has delayed his Christmas getaway to Hawaii to join his family, is fighting with Congress to create jobs and ease the pressure on the unemployed, but there's a lot of partisan bickering.
However, take a step away from all the political noise and listen.
Do you hear what I hear?
FULL POST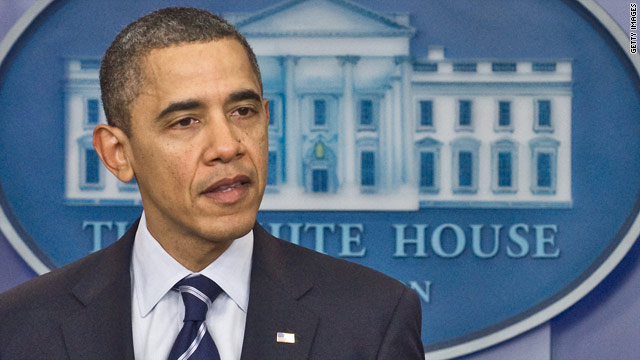 December 17th, 2011
04:54 PM ET
WASHINGTON (CNN) - President Obama hailed Senate passage of a bill to extend for two months the payroll tax cut and unemployment insurance - two key provisions of his jobs bill - saying the money would provide a lifeline to struggling families and make "a real difference" in the lives of people trying to buy groceries and pay the bills.
The president's comments came just hours after the Senate voted 89-10 to pass the measure, which also included a provision that prevents a drop in Medicare payments to doctors. But the House must still pass the bill, and it's not yet clear it has the support it needs to pass there. The president plans to delay his annual holiday trip to Hawaii until the House votes, senior administration officials said.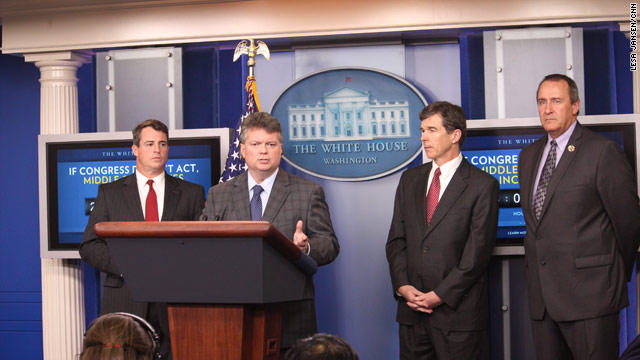 December 7th, 2011
04:04 PM ET
The White House (CNN)–The showdown between the White House and Senate Republicans over a new consumer protection bureau continued Wednesday as attorneys general from four states came to the White House to press for a vote on the nominee to head the agency. 
Republicans have said they will prevent a vote on Richard Cordray's nomination to lead the Consumer Financial Protection Bureau not because they oppose Cordray, but because they want changes made to strengthen congressional oversight of the new panel.
President Obama Tuesday threatened to veto any effort by congressional Republicans to "delay, defund or dismantle" the new consumer protection panel by blocking the confirmation of Cordray.   FULL POST