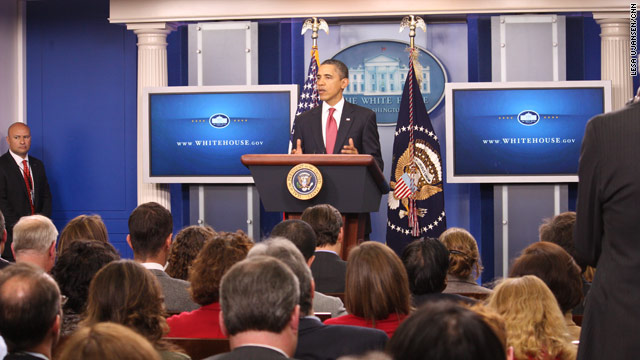 December 5th, 2011
02:23 PM ET
President Obama warned Congressional Republicans Monday that it would hurt all Americans if the payroll tax cut set to expire at the end of this year is not extended. The president made a statement in the White House briefing room saying it would be a terrible "mistake" for Congress to leave for the holidays without extending the payroll tax cut.  (read more here)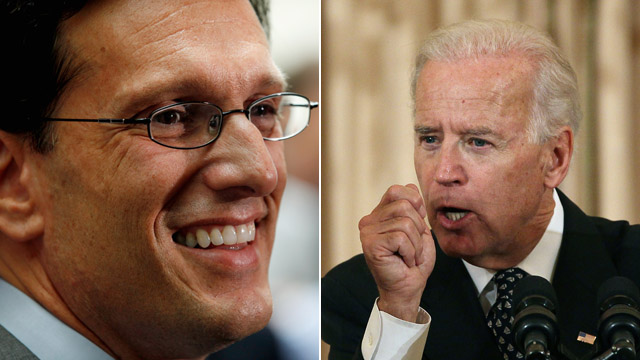 November 2nd, 2011
11:40 AM ET
Vice President Joe Biden and his wife, Jill, are hosting House Majority Leader Eric Cantor (R-VA) and his wife, Diana, for dinner tonight.
It may seem like an unusual double date.  Cantor has often been a thorn in the White House's side, pulling out of "the Biden talks" on deficit reduction in June to leave negotiations on raising the debt ceiling to President Obama and House Speaker John Boehner.  Those negotiations ultimately failed to reach a "grand bargain" to reduce the deficit by several trillion dollars over ten years.
But the two have genuine affection for each other, Democratic and Republican sources say, much to the bewilderment of some White House aides I've spoken to.
"The Vice President and Congressman Cantor have developed a close relationship while working together over the past year," an official in the Vice President's Office says. "This dinner with their wives is a personal occasion."
"Leader Cantor has a great respect for and built a friendship with Vice President Biden from their work together this year," a source in Cantor's office says. "This social dinner is a continuation of that friendship with their wives.  They've been trying to get together for some time."
The four will dine at the Vice President's official residence on the grounds of the U.S. Naval Observatory.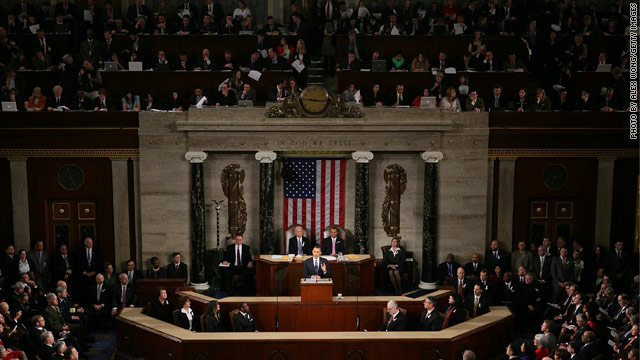 September 8th, 2011
02:00 PM ET
Ahead of the president's major speech tonight to a joint session of Congress to lay out his jobs program both sides (The President and House Speaker) have released the lists of who they have invited to their boxes to watch.  (any tea leaves to read here?)
Guests invited by the White House to listen to the speech from the First Lady's box in the House: (as released by the White House)
Jeffrey Immelt
Jeffrey R. Immelt is the ninth chairman and CEO of GE, a post he has held since September 7, 2001. Immelt currently serves as the chairman of the President's Council on Jobs and Competitiveness.  Immelt has held several global leadership positions since coming to GE in 1982, including roles in GE's Plastics, Appliance, and Medical businesses. In 1989 he became an officer of GE and joined the GE Capital Board in 1997. In 2000, Immelt was appointed president and chief executive officer.  Immelt has been named one of the "World's Best CEOs" three times by Barron's, and since he began serving as chief executive officer, GE has been named "America's Most Admired Company" in a poll conducted by Fortune magazine and one of "The World's Most Respected Companies" in polls by Barron's and the Financial Times.  Immelt is also a member of The Business Council, and he is on the board of the New York Federal Reserve Bank.  Mr. Immelt earned a B.A. degree in applied mathematics fromDartmouthCollegein 1978 and an M.B.A. fromHarvardUniversityin 1982. He and his wife have one daughter.
Steve Case
Steve Case, currently chairman & CEO of Revolution LLC and chairman of the Startup America Partnership, is one ofAmerica's most accomplished entrepreneurs and philanthropists. Steve co-founded America Online in 1985, and under his leadership, AOL became the world's largest and most valuable Internet company. In 2005, Steve founded Revolution LLC, focused on investing in and building disruptive, innovative, consumer-facing companies such as Zipcar, LivingSocial and Exclusive Resorts.  Earlier this year at the White House, Case helped launch the Startup America Partnership, an independent private-sector coalition delivering strategic and substantive resources to help entrepreneurs start and scale companies across theU.S., in response to the President's call to action.  Case also serves as a co-chair of the National Advisory Council on Innovation and Entrepreneurship, and is a member of the President's Council on Jobs and Competitiveness, where he co-chairs the working group on high-growth companies. In addition, Steve chairs the Case Foundation, which seeks to tap new technologies and entrepreneurial approaches to help strengthen the social sector.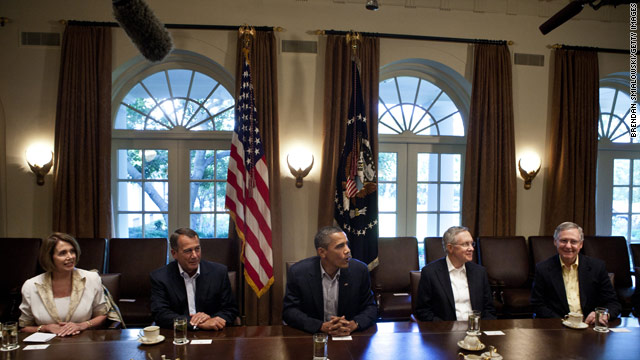 July 10th, 2011
01:55 PM ET
By CNN's Deirdre Walsh and Jessica Yellin
Washington (CNN) - A day after a 75-minute session, talks will resume Monday to try to reach a deficit-reduction deal and pave the way for a hike in the nation's $14.3 trillion debt ceiling, a White House spokesman said Sunday.
White House communications director Dan Pfeiffer said on his Twitter account on Sunday night that congressional leaders will return to the White House for further negotiations on Monday. At 11 a.m. that same morning, President Barack Obama will hold a press conference in the White House briefing room, according to his official schedule.
These announcements are the first formal fall-out of Sunday's night talks on the subject, led by the president and involving top politicians from the House and Senate.
When asked before the meeting's start if a deal could be reached within 10 days, Obama told reporters, "We need to."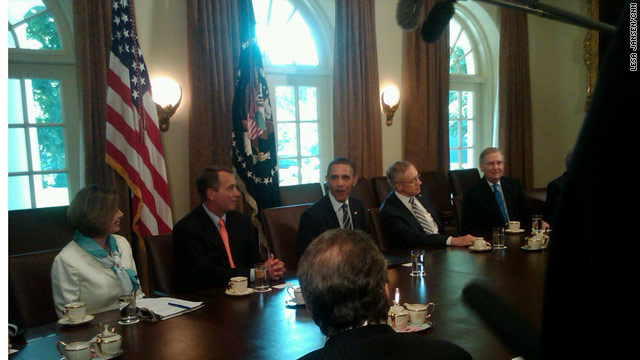 July 7th, 2011
11:49 AM ET
The latest meeting between the White House and Congressional leaders has officially begun and for the first time, cameras were let in. Well, they were let in at the top of the meeting and for only 37 seconds while the president and Sen. Jon Kyl (R-AZ) and other leaders engaged in small talk over the sandstorms in Arizona. We'll have to wait until this afternoon for the White House briefing to hopefully get an official readout of the talks.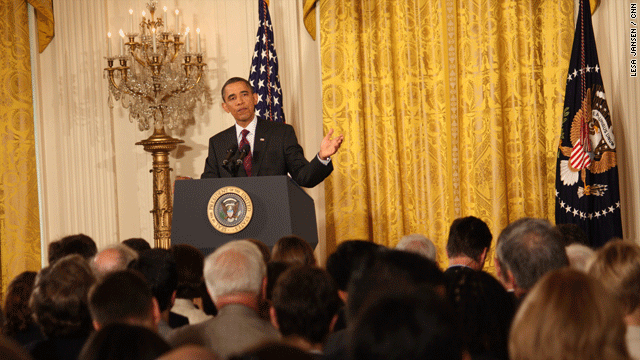 June 29th, 2011
03:07 PM ET
By Tom Cohen and Alan Silverleib
Washington (CNN) - President Barack Obama called on lawmakers Wednesday to overcome the "selfish" norms of politics and "do their job" to strike a deal on raising the federal government's current $14.3 trillion debt ceiling by the start of August.
People shouldn't get "spooked," but "the yellow light (is) flashing," he warned. "This is urgent."
Top economic analysts have warned of potentially catastrophic repercussions if the ceiling is not raised by August 2, including skyrocketing interest rates and a plummeting U.S. dollar.
The president blasted congressional Republicans for refusing to consider raising taxes on the wealthiest Americans as part of any deal. Congress needs to be willing to "take on their sacred cows and do tough things" while moving away from "maximalist positions," he said.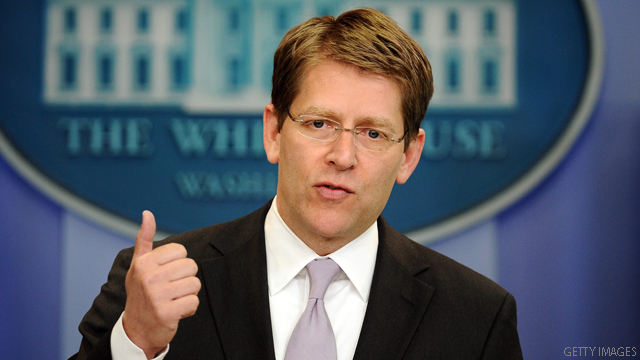 June 27th, 2011
02:09 PM ET
WASHINGTON (CNN) - President Barack Obama said after his meeting Monday with the Senate majority leader that they believe "a significant deal remains possible" on deficit reduction this year, White House press secretary Jay Carney told reporters.
Obama met with Sen. Harry Reid, D-Nevada, in the morning and was to later talk with Senate Minority Leader Mitch McConnell, R-Kentucky, to keep the negotiations going on a possible deficit reduction deal.
The sessions come after talks led by Vice President Joe Biden concluded last week without an agreement and as congressional leaders hardened their positions, making a possible compromise more difficult. FULL POST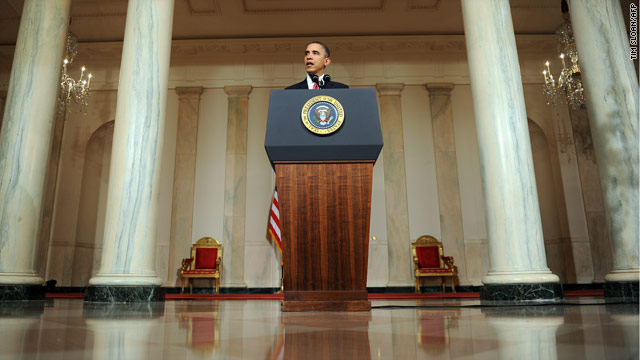 June 24th, 2011
02:21 PM ET
The House of Representatives Friday rejected a bill that would have sharply restricted funding for U.S. military actions in Libya.  Earlier today, the House voted against a resolution expressing support for the U.S.role in the NATO-led military campaign in Libya.
White House Press Secretary Jay Carney spoke to reporters on Air Force One as the president traveled back to Washington, DC from Pittsburgh.  "We think now is not the time to send the kind of mixed message that it sends when we are working with our allies to achieve the goals that we believe that are widely shared in Congress," Carney said.  But he insisted the move would not halt the U.S.involvement in the NATO-led effort.  "This is one vote," he said.  "[T]he writing is on the wall for Colonel Qaddafi, and now is not the time to let up.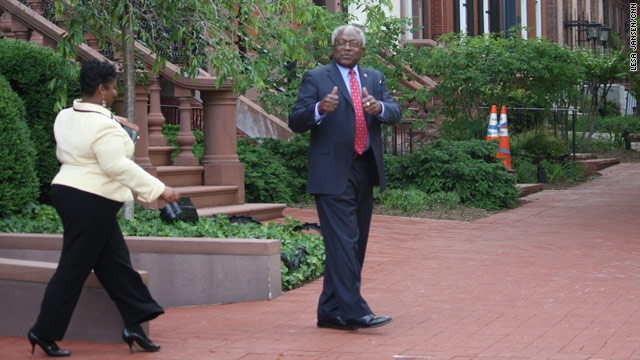 May 12th, 2011
07:47 PM ET
WASHINGTON (CNN) - He gave it a "two thumbs up."  No that's not the latest take on the newest summer movie release.  This is Washington, a land where reporters try to read the tea leaves and politicians try their darndest to prevent us from doing so.  The reviewer in question is Rep. James Clyburn (D) SC and one member of a bi-partisan congressional group lead by Vice President Joe Biden tasked with somehow hammering out a compromise that would allow Congress to vote to raise this nation's borrowing limit.  The deadline: this summer or the United States could default on some of its loans.
Republicans Rep. Eric Cantor (R) VA and Sen. Jon Kyl (R) AZ left smiling. They answered no questions but they waved.  Hmmm.
But it was Vice President Joe Biden, never one to shy away from a microphone, who came over to reporters to dissect the two hour meeting.  "Nothing is agreed to until everything is agreed to," he said solemnly adding, "[W]hat we agreed to is tentative."   He did repeat the mantra of the Democrats, "[E]verything is on the table."  But he also gave a glimpse inside the negotiations including that yes tax revenues, the bane of Republicans and long-term Medicare costs, something Democrats dismiss are all being discussed.
The bottom line from the vice president: "It is premature to be optimistic but I am clearly not pessimistic."  Oh and no more meetings until the week after next since the House is on break next week back in their home districts.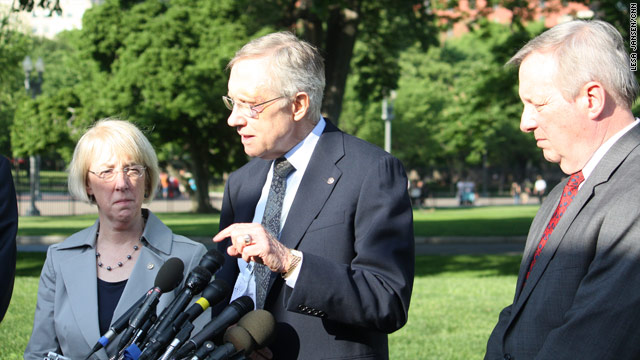 May 11th, 2011
07:51 PM ET
WASHINGTON (CNN)–President Obama is laying down the law to his Democratic colleagues as they begin negotiations to raise the nation's borrowing limit. The president's message: you have no choice but to work this out.  Wednesday, Mr. Obama met with Democratic senators at the White House as Congress continued to try to reach a compromise by this summer to raise the nation's borrowing limit which is now $14.2 trillion.  If the debt ceiling, as it is called, is not raised the government could default on its loans.
Wednesday, in the first of what will likely be many meetings between both parties in Congress, Mr. Obama told Democratic senators not to "draw any lines in the sand" according to Democratic Majority Leader Harry Reid.  Reid told reporters the caucus' meeting with the president ended on a "high note" and Democrats and the president stand united, "without any question, we're together," he said. 
Just last month, Mr. Obama took the lead in negotiations between congressional Republicans and Democrats when it looked like they might not reach a compromise to avert a federal government shutdown.  There was grumbling among some in his own party that the president gave too much.  But Wednesday, Reid said there is no division between democrats as they head into negotiations over raising the nation's debt limit.  "We are singing from the same hymn book, on the same page" he said. 
The majority leader conceded deciding what to cut in the budget will not be easy but he maintained "all options are open." FULL POST