September 7th, 2012
01:28 PM ET
From Desperate Housewives to Olympic gold medalists, celebrities were out in force in Charlotte to support the Democratic Party. CNN's Brianna Keilar caught up with some of them behind the scenes.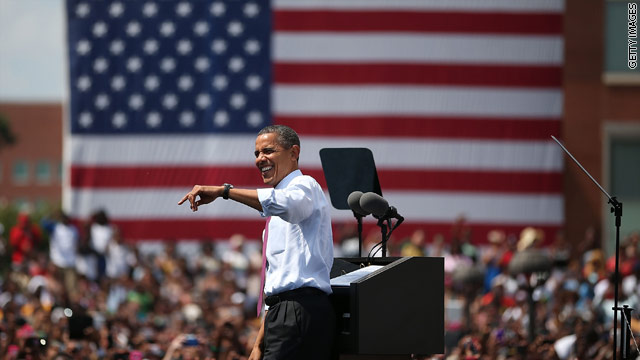 September 4th, 2012
03:04 PM ET
(CNN) – Two days before he will take the stage at the Democratic National Convention, President Barack Obama rallied supporters in the key battleground state of Virginia while giving a hat tip to the first lady.
"You'll hear tonight from the star of the Obama family," Obama told a large crowd at Norfolk State University. "This is just like a relay, where you start out with the fastest person."
First lady Michelle Obama is among the prime time speakers who will kick off the first night of the Democratic Convention Tuesday.
"I'm going to be at home, watching it with my girls and I'm going to try not to let them see their daddy cry," Obama added. "Because when Michelle starts talking I get all misty."
FULL POST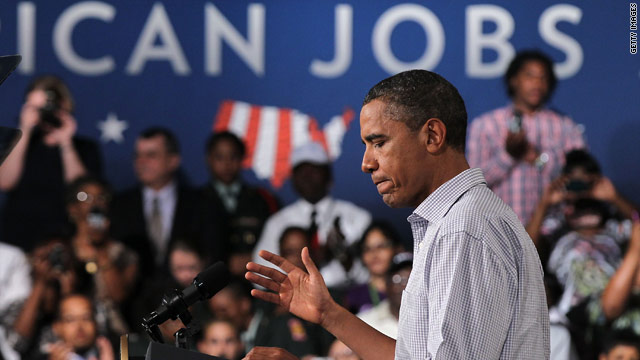 August 30th, 2012
08:40 AM ET
Tampa, Florida (CNN) – Democratic National Convention officials have been anxiously watching the weather for next week when President Obama will deliver his convention speech from an outdoor stadium in Charlotte, North Carolina, a convention official told CNN. Another source said officials have readied a "contingency plan" which would be announced "closer to the convention" should extreme weather strike.
On Tuesday and Wednesday of next week, the DNC will hold events at the indoor Time Warner Cable Arena in Charlotte. On Thursday, President Obama – and Vice President Biden – are slated to deliver acceptance speeches at the outdoor Bank of America Stadium. The stadium seats just over 73,000.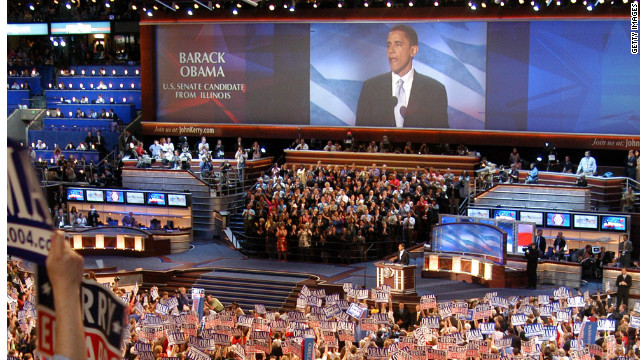 August 23rd, 2012
04:45 PM ET
(CNN) – Senior Obama campaign officials said Mitt Romney will likely get a boost from the Republican National Convention in Tampa, Florida next week–but it won't last long.
With the Democratic convention following the GOP gathering one week later in Charlotte, North Carolina, the Obama campaign feels confident the attention surrounding their convention will halt any momentum Romney may gain as the new nominee.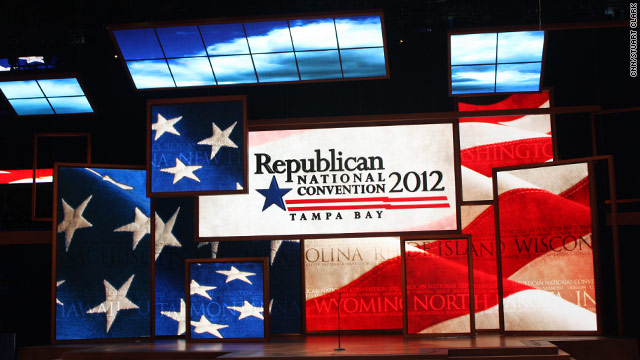 August 21st, 2012
03:05 PM ET
(CNN) – Top Democrats on Tuesday pounced on news that Republicans adopted as part of their party platform a call for a constitutional ban on abortion and sought to tie the controversial policy plank to Mitt Romney's campaign.
In a conference call with reporters, Democratic National Committee Chairwoman Debbie Wasserman Schultz asserted that the measure, which does not provide an exception for pregnancies that result from rape and incest, "was written at the direction of the Romney campaign."
"This is just another example of a Republican Party led by Mitt Romney and Paul Ryan whose policies on women's health are dangerously wrong," Wasserman Schultz said.
FULL POST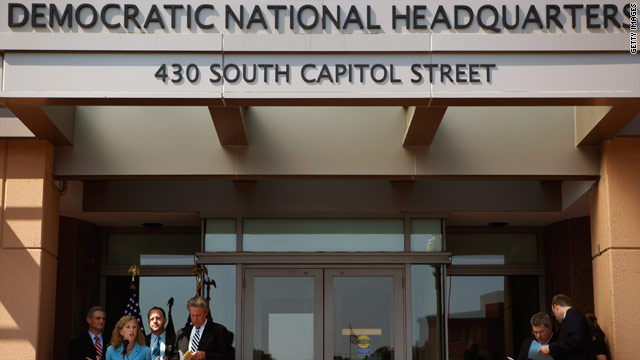 August 16th, 2012
01:45 PM ET
(CNN) – President Barack Obama made the brief drive to the headquarters of the Democratic National Committee in Washington Thursday to thank staff members there for their work on his re-election effort.
Obama – who has no campaign events scheduled for Thursday – just finished a three-day swing through Iowa, where he hammered his Republican opponent Mitt Romney for everything from his stance on wind energy to his position on Medicare.
January 10th, 2012
08:34 PM ET
"He's deliberately bankrupted companies, dismantled them, shipped jobs overseas, fired people for profit." Can you guess who lodged that attack against Mitt Romney? Was it DNC Chair Debbie Wasserman Schultz or Republican Presidential Candidate Newt Gingrich?
Maybe this one's easier. "We know of one case for sure where they put in $30 million, they took out $180 million, six times as much, and the company went broke. Now what was the judgment and the character?….I think that is a legitimate question to ask somebody who wants to be President of the United States."
Hard to tell? The first is indeed from Debbie Wasserman Schultz, the head of the Democratic National Committee. The DNC, which expects Mitt Romney to become the Republican nominee, is working overtime to define him as a job killing Wall Street downsizer.
The second is from free market Republican Newt Gingrich appearing on John King USA.
When Democrats make such an attack they're often accused by the GOP of being anti-business. But now it looks like they'll have ground cover from the GOP – because Gingrich isn't alone.
FULL POST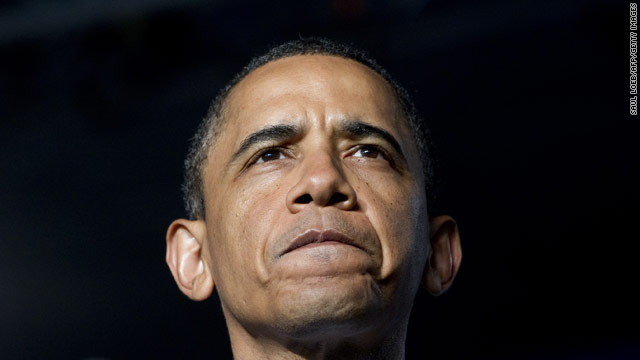 June 13th, 2011
06:20 PM ET
MIAMI  (CNN) –President Obama will tap into big money donors and small contributors when he headlines three DNC fundraisers in Miami, Florida Monday night. 
He's expected to haul in an estimated $2.3-million based on CNN's tally of numbers provided by  a democratic official.  FULL POST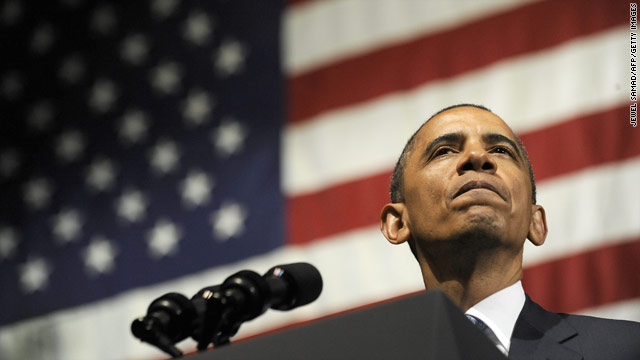 May 16th, 2011
11:11 AM ET
From CNN's Paul Steinhauser and Mark Preston
WASHINGTON (CNN) - After a travel-filled day, President Barack Obama ends his day with some pure politics.
The president will headline two fundraisers in the nation's capitol Monday night. The first is a dinner at the St. Regis hotel in downtown Washington, with the second a reception at the Capitol Hilton, which is located across the street from the St. Regis.
A Democratic source with knowledge of the events says approximately 650 people will attend the two events, and adds that Rep. Debbie Wasserman Schultz, the new chair of the Democratic National Committee, will introduce the president at the reception.
Also helping to introduce Obama is Ernie Green, a member of the "Little Rock Nine," a group of African-Americans who in 1957 were the first black students ever to attend classes  at Little Rock Central High School in Little Rock, Arkansas. 
For the full story, click here.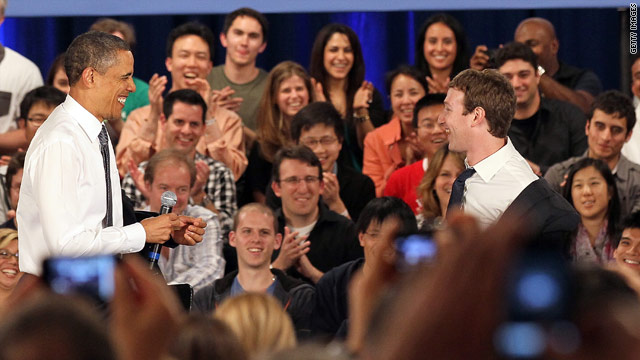 April 21st, 2011
08:20 AM ET
SAN FRANCISCO (CNN) – With his re-election campaign officially up and running, President Obama offered supporters in San Francisco a robust defense of accomplishments thus far in his first term, while asking them to step up their efforts to help him win a second.
"Our work is not finished," he told a largely enthusiastic crowd at a 'Gen 44' fundraiser at the Nob Hill Masonic Center, even as he cited his administration's efforts to battle a deep recession, reform the education system, and passage of health care reform legislation.  His remarks were met with loud applause by the crowd when he mentioned the repeal of 'Don't Ask Don't Tell' as well as his appointment of two women to the Supreme Court.
"I believe in an America where government lives within its means," Obama said as he focused on his day job and spoke of the need to confront the deficit and called for cuts in defense spending, as well as reforming the tax code.  "We all need to share in the sacrifice," the president said while saying that sacrifice should not extend to investments in education, infrastructure, and technology for the jobs of America's future.
"We knew this wasn't going to be easy," Obama told the crowd of the setbacks and disappointments that have followed since his election, but that it was the unfinished business they needed to pick up on going forward.  The sentiment of unfinished business was echoed periodically throughout the remarks by audience members asking more to be done in certain areas such as same sex marriage, and a single payer health care system. FULL POST