June 8th, 2012
06:57 PM ET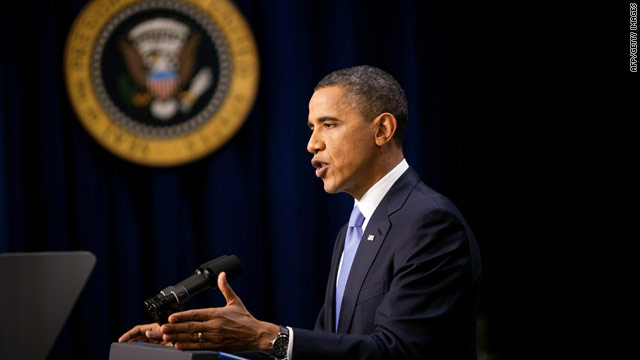 May 31st, 2012
12:47 PM ET
(CNN) - President Obama will focus on jobs Friday continuing to press Congress on his so-called "to do" list. Friday's item: pushing for the establishment of a Veterans Job Corps. At a Honeywell International plant in a Minneapolis suburb, he will make his case that the country needs to "honor our commitment to returning veterans," according to a White House release.
Friday's event coincides with the release of the May unemployment numbers. Economists will be closely watching the jobs numbers after two months of slowdown in the sputtering U.S. economy.
Mr. Obama announced his plan to establish a jobs program for veterans from the Iraq and Afghanistan Wars earlier this year. Currently the unemployment rate for veterans is 9.2%, more than a full percentage point higher than the overall unemployment rate which stands at 8.1% for April. The so-called Veterans Jobs Corps would be similar to a 1930's government program, the Civilian Conservation Corps. It is designed to put veterans to work building infrastructure like roads and bridges. FULL POST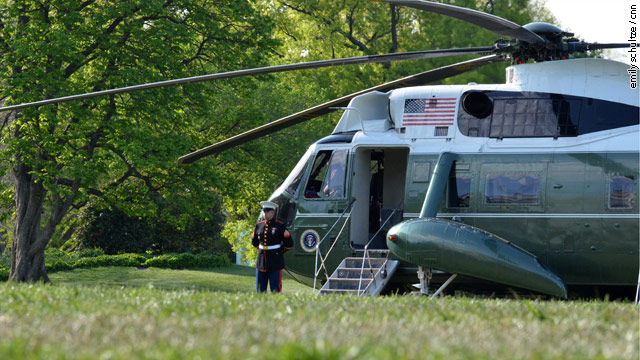 April 10th, 2012
08:13 AM ET
President Obama heads to Florida to tout the Buffett rule, a concept that he's been promoting since before the State of the Union. He'll head to Florida Atlantic University in Boca Raton to give a speech about the economy where he'll continue to push a tax increase for people making over a million dollars a year.
The vote in the Senate is in less than a week and while some say the bill won't make it very far, White House Press Secretary Jay Carney says the vote will put senators on the record, "[T]hat's what votes do, they put Senators on record and we will see how senators handle that,....maybe those on the side of the fence, perhaps those who have been opposed to it in the past, will rethink their position, consider the fundamental fairness of the legislation and vote yes."
He'll also attend three different fundraisers while in Florida.
Full schedule after the jump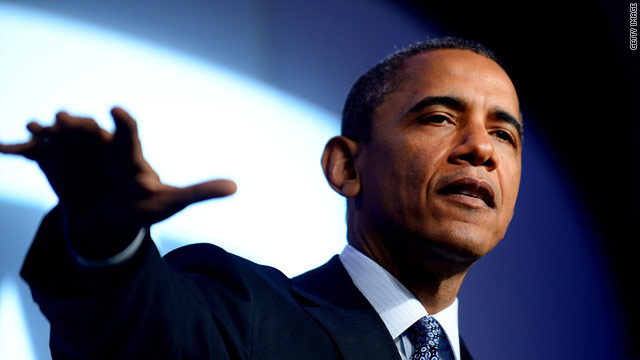 April 3rd, 2012
03:39 PM ET
NEW YORK (CNNMoney) - President Obama thoroughly denounced the budget plan favored by House Republicans on Tuesday, calling it "thinly veiled social Darwinism" that will only exacerbate income inequality in America.
The president's address, delivered to the American Society of Newspaper Editors, also marked the first time that he has called out Mitt Romney, his likely challenger, by name.
That passing reference, in which Obama linked the former governor of Massachusetts to the budget written by Rep. Paul Ryan and adopted by his House colleagues, marks an opening volley in a bitter campaign that will stretch until November.
FULL STORY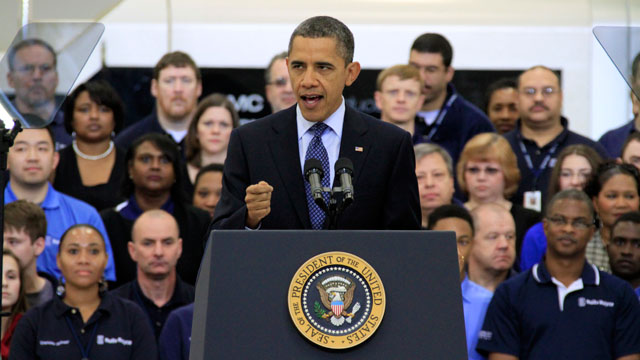 March 10th, 2012
10:13 AM ET
(CNN) – Jobs and energy prices dominated weekly addresses by Democrats and Republicans on Saturday, a day after government numbers showed the creation of 227,000 new jobs last month.
Despite the jobs, the unemployment rate remained unchanged, according to the numbers.
With unemployment hovering at 8.3%, Republicans put forth Gov. Jack Dalrymple of North   Dakota, whose state boasts the lowest unemployment rate, according to the most recent state level data, from December.
"These are big reasons why North Dakotais doing so well compared to the rest of the nation," he said. "We have created a friendly business climate inNorth Dakota, where taxes and insurance rates are low, the regulatory environment is very reasonable, and we have the most responsive state government anywhere."
He said his state offers major incentives.
"Companies want to expand inNorth Dakota because of the ease of doing business and because of our well educated, well trained work force," Dalrymple said.
His state's economy, he said, is thriving because of both high-tech manufacturing near the state's capital and oil drilling in the northwestern region.
The U.S. could learn from North Dakota's model and expand domestic oil production, he said, criticizing President Barack Obama for blocking the Keystone oil pipeline, which would run through his state.
"It is now within our reach to become energy independent in North America if we simply develop the resources we already have available in places like the Gulf of Mexico, nonsensitive public lands across America, and in our friendly bordering countries," he said.
The president also spoke on energy, making his case that theU.S."can't just drill our way to lower gas prices – not when we consume 20% of the world's oil."
"The recent spike in gas prices has been another painful reminder of why we have to invest in this technology. As usual, politicians have been rolling out their three-point plans for $2 gas: drill, drill and drill some more," he said. "Under my Administration, oil production inAmericais at an eight-year high. We've quadrupled the number of operating oil rigs, and opened up millions of acres for drilling." FULL POST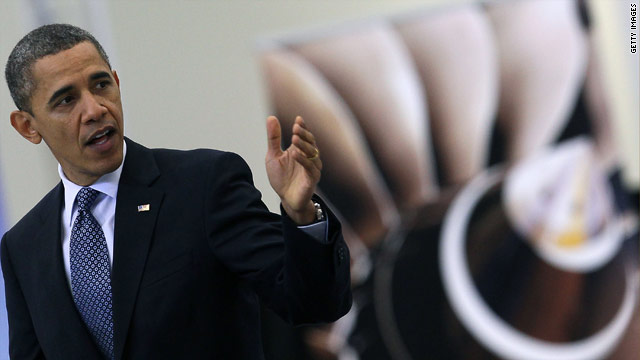 March 9th, 2012
02:57 PM ET
At the Rolls Royce jet engine facility in Prince George, VA on Friday, President Obama announced a new proposal to create a National Manufacturing Innovation Network meant to link industry stakeholders in a national conversation about best manufacturing practices. The cost of the president's new proposal is $1 billion, but the White House is committed to creating a pilot program using appropriated funds from various departments rather than waiting for Congress to approve funds requested in the president's budget.
"Think of this as a place where companies can share access to cutting edge capabilities," Obama told a crowd of nearly 1,500 about the proposed manufacturing institute. "At the same time students and workers are picking up new skills. They're training on state of the art equipment. They're solving some of the most important challenges facing our manufacturers. You've just got all this brain power and skill and experience coming together in this hub."
According to the White House, the location of the proposed pilot program will be decided based on a competitive process and will cost $45 million. Funding will come primarily from the Departments of Defense, Energy and Commerce with some additional money provided by the National Science Foundation.
Obama's visit came on the same day the Bureau of Labor Statistics announced overall job creation for the month of February had exceeded analysts' expectations. The manufacturing sector alone added 31,000 jobs in February, a feat Obama lauded.
FULL POST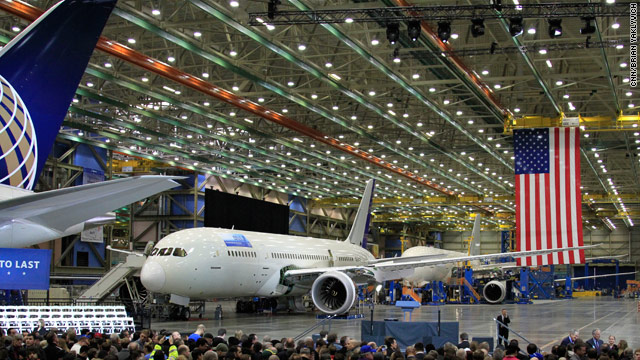 February 17th, 2012
06:06 PM ET
Everett, WA (CNN) -– On the last day of a three-day fundraising swing, President Obama stopped by Boeing's Dreamliner assembly facility in Everett, Washington, to tout his administration's record on expanding U.S. manufacturing.
Speaking in the largest working building in the world, Obama first commended Congress for coming to an agreement on an extension to the payroll tax cut, announcing he intends to sign the bill as soon as he gets back to Washington D.C.
"Congress did the right thing, and voted to make sure that taxes would not go up on middle-class families at the end of this month," the president said. "Congress also agreed to extend unemployment insurance for millions of Americans, maybe some of your family members who are still out there looking for a job, and I'm going to sign this bill right away when I get back home."
Congratulating those gathered in the hanger and those watching his remarks from home, Obama pointed to public pressure as the deciding factor in forcing Congress to pass the extension.
"It is amazing what happens when Congress focuses on doing the right thing, instead of just playing politics," Obama said.
FULL POST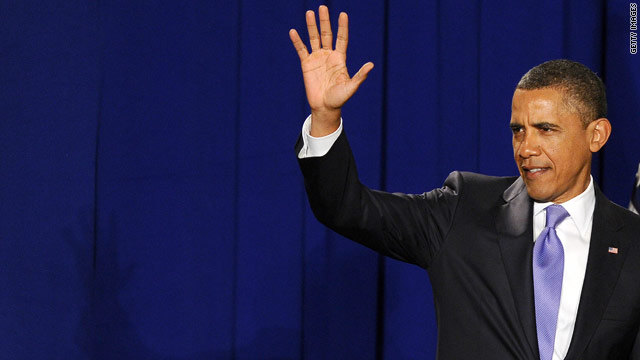 February 17th, 2012
04:16 PM ET
NEW YORK (CNNMoney) - The United States economy is on the road to recovery, the White House said Friday, with stronger job growth expected this year.
But income inequality, Europe's debt crisis, and continued weakness in the housing market could still pose challenges, according to a report released by President Obama's Council of Economic Advisers.
Before Obama even took office, America had lost 4.4 million jobs. Track his progress since then.
"While actions taken to prevent a deeper recession and to strengthen the recovery have made a difference, the nation is still recovering from that profound crisis and the problems that led to it," the Economic Report of the President said.
The document, which totals 454 pages, is the administration's blueprint for the economy, which outlines a plan to "recover, rebalance and rebuild." Much like Obama's recent State of the Union address, it focuses heavily on income inequality, and building an America where "everyone gets a fair shot."
Read the entire story at CNNMoney.com
February 3rd, 2012
10:16 AM ET
The better-than-expected jobs numbers caught congressional Republicans, as well as economists, off guard.  They were poised to send out pre-written press releases about the 'disappointing' numbers.  But some offices had to take time to adjust those email blasts, two congressional Republican sources told CNN, prompting a noticeable delay.
House Speaker John Boehner and House Majority Leader Eric Cantor emailed out statements 40 minutes after The Labor Department announced the unemployment rate had dipped to 8.3% and the economy had added 243,000 jobs.  They normally send out emails almost immediately.
Republicans leaders certainly had a common refrain of welcoming the lower than expected unemployment numbers, but House Speaker John Boehner in a release also warned, "[W]e must do better."
Majority Leader Cantor sounded a more positive note in a statement saying, "[W]e are finally seeing some good news in today's jobs report."  Cantor added, "These numbers are encouraging, especially for those millions of Americans out of work, but we should aim even higher."
Republican National Committee Chairman Reince Priebus released a statement welcoming the news of lower unemployment but added, "[F]ar too many Americans are still without work.  Our economy remains unacceptably weak, and families across the country are still struggling to make ends meet."  Priebus's statement sent out to media about an hour and a half after the government released the January jobs numbers also called for President Obama to be a one-term president.  He usually sends out a statement just minutes after The Labor Department's monthly jobs report.
February 1st, 2012
07:59 AM ET
President Obama will speak  in Falls Church, Virginia on the economy. He'll be speaking at the James Lee Community Center and he'll touch on parts of his new housing plan.  In Tuesday's briefing, White House Press Secretary wouldn't get ahead of the president's remarks but said Mr. Obama would talk about his proposal "to make universal the potential for homeowners who are responsible and making their mortgage payments to be able to refinance their loans and save on average I believe $3,000 annually."
9:30AM          Pool Call Time     
10:00AM        THE PRESIDENT receives the Presidential Daily Briefing Oval Office   Closed Press
11:00AM        THE PRESIDENT delivers remarks on the economy at the James Lee Community Center   Falls Church, Virginia  Open Press
12:00PM        THE PRESIDENT meets with senior advisors  Oval Office  Closed Press    
TBA Carney Briefing