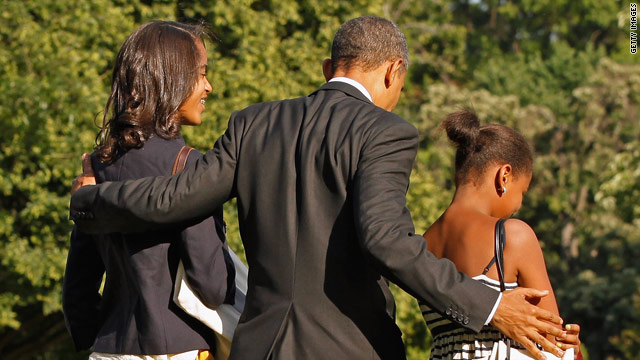 June 23rd, 2012
01:59 PM ET
President Barack Obama used his daughter Sasha as an example of the success of Title IX, a law that prohibits discrimination of women in sports and education, in a Newsweek op-ed that honors its 40th anniversary.
Obama, who helps coach his daughter's basketball team, wrote that while there are "few things more fulfilling than watching your child discover a passion for something," prior to Title IX, "something like pursuing varsity sports was an unlikely dream for young women in America."
"Today, thanks in no small part to the confidence and determination they developed through competitive sports and the work ethic they learned with their teammates, girls who play sports are more likely to excel in school," wrote Obama. "In fact, more women as a whole now graduate from college than men. This is a great accomplishment — not just for one sport or one college or even just for women but for America. And this is what Title IX is all about."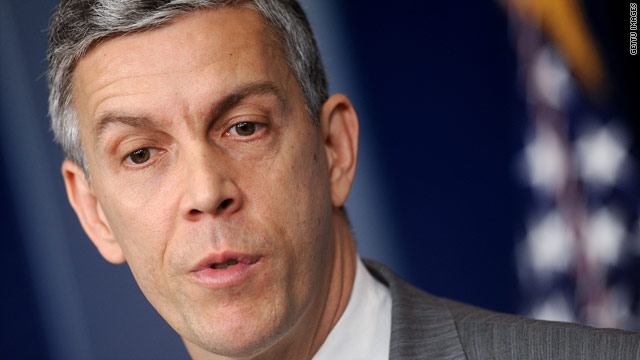 June 5th, 2012
02:05 PM ET
NEW YORK (CNNMoney) - The Obama administration announced a push to have colleges make better disclosures to students about the true cost of loans, as well as graduation and loan default rates at each school.
Vice President Joseph Biden, Education Secretary Arne Duncan and Richard Cordray, director of the Consumer Financial Protection Bureau, were set to meet Tuesday with presidents of 10 colleges that have committed to providing more detailed disclosure information to incoming students at the start of next school year.
The Obama administration officials at the meeting will later call on all colleges and universities to make the same disclosures.
The information to be provided by the 10 schools includes how much one year of college will cost, financial aid options to pay this cost, and net costs after grants and scholarships are taken into account.
They will also give students estimated monthly payments for the federal student loans the student would likely owe after graduation; and comparative information about the rates at which students enroll from one year to the next, graduate, and repay their loans without defaulting.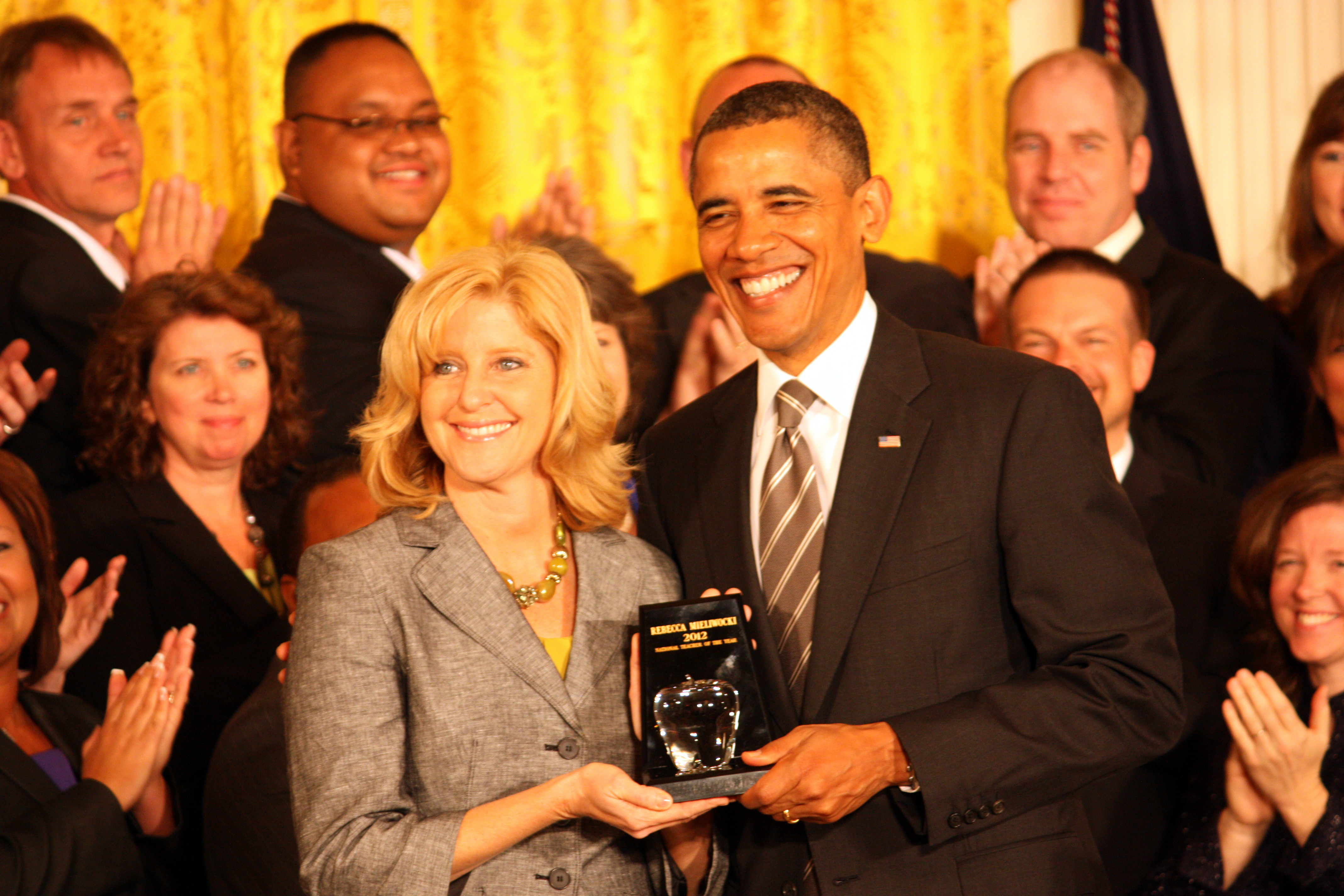 April 24th, 2012
12:55 PM ET
Honoring the nation's teachers at the White House Tuesday, President Barack Obama said teachers are "helping to preserve the basic promise of America."
Winners of the 2012 Teacher of the Year awards from all fifty states and territories and the national Teacher of the Year, California educator Rebecca Mieliwocki, gathered in the East Room of the White House Tuesday.
"These are the kind of teachers who change lives forever. I wouldn't be here today if it were not for teachers like these who challenged me, and pushed me, and put up with me, and inspired me - and set me straight when they had to. And I think everybody here can say the exact same thing.
Teachers matter. That's why I often tell young people: If you want a guarantee that you're making a difference every single day, become a teacher. A teacher is the key to a child reaching their potential," the president said.
Rebecca Mieliwocki, who has been an English teacher for the past 14 years, is a faculty member at California's Luther Burbank High School.
The annual competition is organized by Council of Chief State School Officers.
February 27th, 2012
05:26 PM ET
Washington (CNN) - After attending a noon-time speech by President Obama that focused primarily on education reform, many of the nation's most conservative governors spoke to reporters outside the White House on Monday and said that they'd heard some things they liked in the president's message.
"We absolutely have to have the best educational system in the entire world, so I do agree with the need for educational reform," Louisiana's Republican Governor Bobby Jindal told reporters.
Perhaps indicating why the president chose the topic, Jindal quickly went on to outline his disagreements with the Obama administration's approach to almost every other issue other than education.
"I walked into the meetings this morning believing that we need to have a conservative in the White House. I left the meetings continuing to believe that," Jindal said.
Jindal's reaction was not unique. Visiting the White House as part of the National Governors Association Winter Meeting, several often-critical governors reacted positively to the president's call for a redoubled focus on education.
"There was a lot of broad agreement on education today," said Virginia Governor Bob McDonnell, a widely-rumored top contender for the vice presidential spot on the GOP ticket in November.
McDonnell went on to call the president "very gutsy" in his approach to education reform, praising both Obama and Secretary of Education Arne Duncan for their actions to force policy changes in public schools.
"I mean he's been very outspoken on that and we certainly agree with him on that," McDonnell said. "I think there's broad room for support on those issues."
FULL POST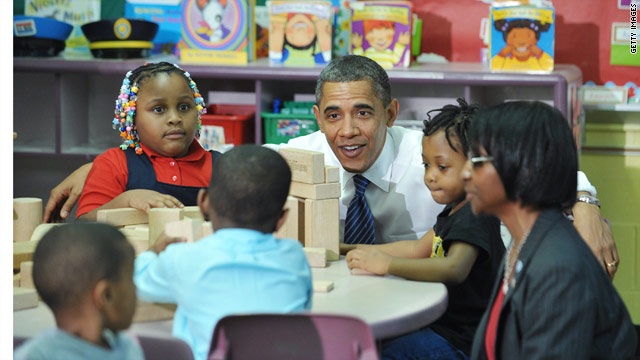 November 8th, 2011
02:39 PM ET
YEADON, PA (CNN) - While visiting a Head Start program in a suburb of Philadelphia today, President Obama took yet another step in his ongoing efforts to bypass what he views as a do-nothing Congress. As part of what he is calling the "We Can't Wait" campaign, Obama announced new benchmarks for evaluating the effectiveness of Head Start programs and a new plan to force all low-performing Head Start programs to re-compete for their federal funding.
"We know that three-and four-year-olds who go to high-quality preschools – including our best Head Start programs – are less likely to repeat a grade; they're less likely to need special education; they're more likely to graduate from high school than the peers who did not get these services," the president said. "And so this makes early education one of our best investments in America's future."
FULL POST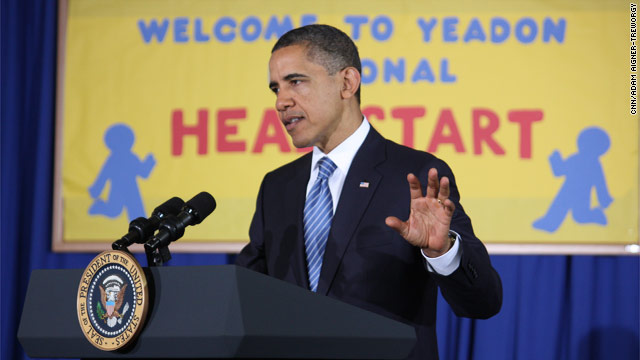 November 8th, 2011
09:38 AM ET
YEADON, PA (CNN) -President Obama is not easing up on taking executive actions to install new plans where he believes Congress won't act.
As he heads to a state-of-the-art preschool facility in Yeadon, PA to tour and visit a classroom of 3-5 year olds, a senior administration official confirmed he'll be announcing new steps to strengthen the nations education system.
Highlights of plan:
-Low-performing Head Start programs for preschool children will be required to compete for federal funds And HHS will review performance to determine eligibility.
-New rule is designed "to promote accountability and improve the quality of Head Start programs,"
-A third of Head Start grantees will be required to compete for funds.(Admin estimates)
President Obama has gone around Congress recently with highly touted executive actions to help underwater homeowners and college students drowning in debt.
Republicans who continue to criticize the presidents "we can't wait" campaign have repeatedly pointed to House bills stuck in the Senate that they believe if acted on will bolster the economy.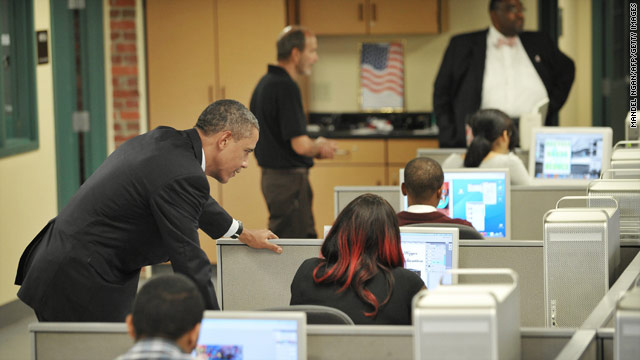 September 22nd, 2011
06:25 PM ET
Ten years after the Bush administration's landmark attempt to revamp the nation's education system with the No Child Left Behind law, President Obama is poised to allow states to opt out of the heavily criticized guidelines.
Friday, President Obama will announce that his administration will begin reviewing states' applications to waive the No Child Left Behind requirements in return for tangible commitments to close achievement gaps.
The law, which passed with broad bipartisan support in 2001, required public schools to meet targets aimed at making all students proficient in reading and math by 2014 or face stiff penalties.  As that deadline looms, the Department of Education has predicted up to 82% of the nation's schools could miss the target and face those penalties including the possibility of losing federal education dollars.
"Today the law is hurting children by denying the children most at risk the resources they really need," a senior administration official told reporters on a conference call Thursday. FULL POST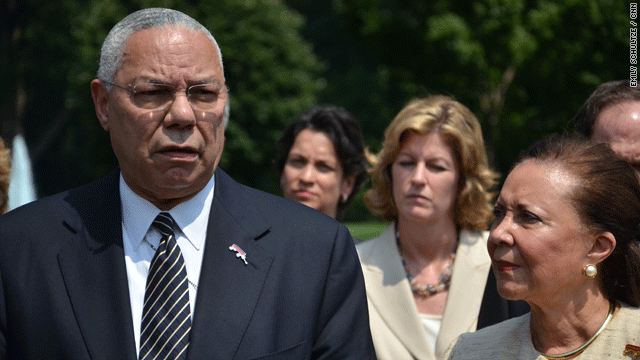 July 18th, 2011
04:06 PM ET
General Colin Powell and his wife Alma were at the White House today to talk about education with business leaders and administration officials.    The topic of the roundtable discussion was how to build on government and business partnerships aimed at improving the American education system.  
After the meeting General Powell explained why the education system needs help now,  " A quarter of our kids don't finish high school, but a more troubling statistic is that 50 percent, roughly, of our minority kids are not finishing high school. And in one generation our minorities in America. African-Americans, Hispanic, Asians and Indian Americans will be over 50 percent of the population. "  "So we have a challenge in front of us, and all of America has to come together to work on that challenge"  he added.
a list of attendees after the jump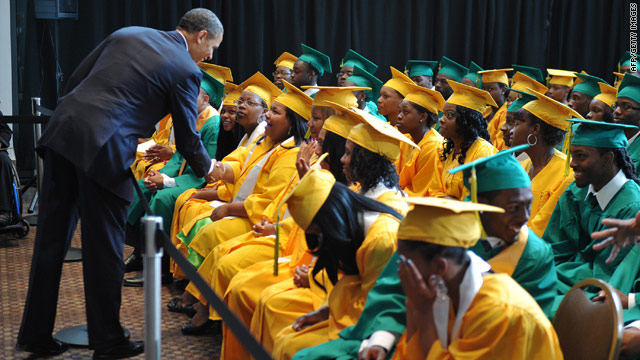 May 16th, 2011
03:39 PM ET
From CNN's Sally Holland
MEMPHIS (CNN) – A hundred and fifty-five Warriors from Booker T. Washington received a high school diploma and a handshake from President Obama in Memphis today.
"Just a couple of years ago, this was a school where only about half the students made it to graduation.  For a long time, just a handful headed to college each year," the President pointed out in his address to the students.
The schools graduation rate is one reason the President came to Memphis on this cool spring day.  Booker T. Washington High School is credited with a jump in graduation rate from 55% to 82 % in just four years through the use of gender based classrooms and increasing teacher effectiveness by moving teachers that seem to get more than a years growth out of their students to the core classes of English and mathematics.
"Because you created this culture of caring and learning, today we are standing in a very different Booker T. Washington High School.  Today, this is a place where more than four out of five students are earning a diploma – a place where 70 percent of the graduates will continue their education."
The President has set a goal of having the largest percentage of college graduates in the world by the year 2020.  Booker T. Washington is an inner city school, is a low-income neighborhood with high incidents of teenage pregnancy and violence. FULL POST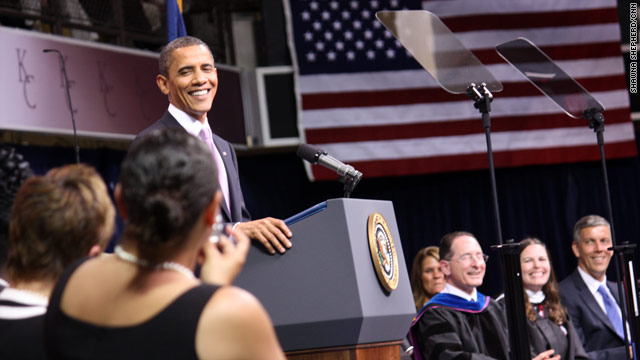 May 10th, 2011
03:34 PM ET
WASHINGTON (CNN) - As the Mississippi River rises in Memphis, one group of students and teachers are distracted by some good news.
Their school, Booker T. Washington High School in inner-city Memphis, has won the White House's Race to the Top Commencement Challenge, the White House announced on Tuesday.
Vice President Joe Biden called the school's principal on Tuesday to announce their selection. The school beat out five other public high schools who were finalists in the competition to showcase the best ways to prepare students for college and their future careers.
"Booker T. Washington High School proves what can be accomplished when students, teachers, parents and administrators come together to support achievement in the classroom," President Obama said.  "I'm looking forward to delivering the commencement address at this extraordinary school soon."