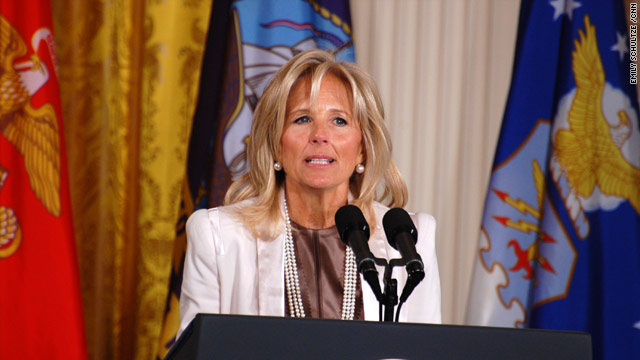 April 19th, 2011
05:18 PM ET
WASHINGTON (CNN) - Dr. Jill Biden, the vice president's wife, will be the commencement speaker for two college graduations next month.
She will be giving advice to graduating students at both Salve Regina University in Newport, Rhode Island and Montgomery County Community College in King of Prussia, PA during commencement ceremonies. Salve Regina is a small Catholic liberal arts school with 2,500 students. Montgomery County Community College has close to 34,000 students on two campuses in Central Pennsylvania.  
Dr. Biden teaches English at Northern Virginia Community College in Annandale, Virginia, the same campus where President Obama hosted a town-hall meeting with students and faculty on Tuesday morning.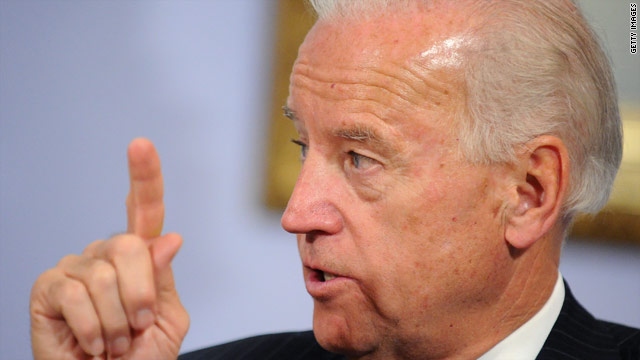 April 5th, 2011
11:26 AM ET
By CNN White House Producer Becky Brittain
WASHINGTON (CNN) – "Rape is rape is rape," declared Vice President Joe Biden Monday at the University of New Hampshire, "And the sooner universities make that clear, the sooner we'll begin to make progress on campuses," he said, announcing new guidance that will go to all K-12 schools, colleges and universities to address the growing number of sexual assaults.
Ayanna Pressley attended the event – and praised Vice President Biden and the Obama administration for speaking out.
It's an issue the Boston City Councilwoman knows all too well. Pressley, 37, was a victim of sexual assault while she was a 19-year old college student at Boston University. FULL POST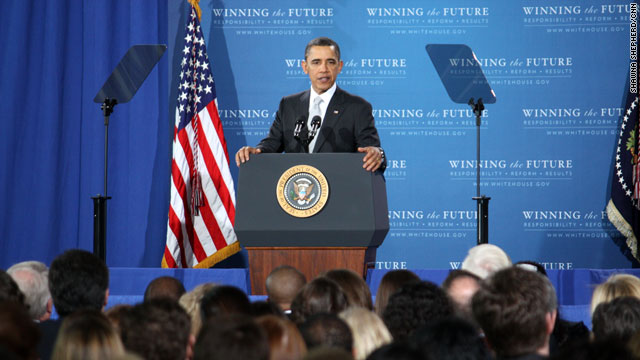 WASHINGTON (CNN) - President Obama took to the Spanish-language network airwaves to discuss challenges in educating Hispanics students. 
    In a Univision-sponsored town hall meeting with Hispanic students and educators at Bell Multicultural High School in Washington, the president said in order to out-educate and out-innovate the global competition, the Latino community plays a key role in the future.
    "Our workforce is going to be more diverse; it is going to be, to a large percentage, Latino.  And if our young people are not getting the kind of education they need, we won't succeed as a nation," Obama said.
    With several students and parents asking questions about immigration and deportations, President Obama said the answer wouldn't be overnight. He hoped the DREAM Act, which gives kids who have grown up in America to earn citizenship despite their family's immigration status, would be passed soon.
    "We didn't get it passed this time, but I don't want young people to be giving up because if people in the past had given up, we probably wouldn't have women's rights, we wouldn't have civil rights.  So many changes that we've made had to do with young people being willing to struggle and fight to make sure that their voices are heard," said Mr. Obama. FULL POST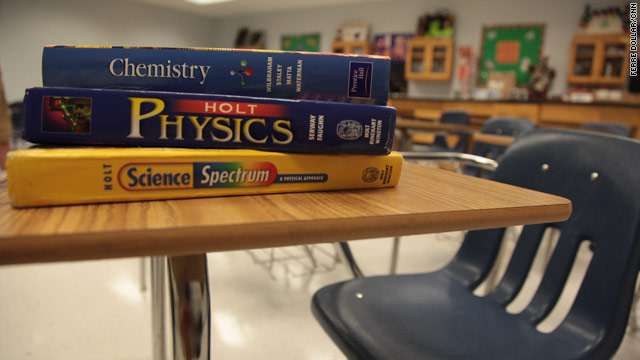 WASHINGTON (CNN) -  President Barack Obama called Monday for Congress to pass education reforms by the time students return to school next fall, telling a Virginia middle school that fixing problems in the Elementary and Secondary Education Act - more commonly known as "No Child Left Behind" - should be a top priority.
"In the 21st century, it's not enough to leave no child behind. We need to help every child get ahead," Obama said, urging Congress "to send me an education reform bill I can sign into law before the next school year begins."
Mindful of the budget debate currently enveloping Washington , Obama insisted that education funding must remain robust because it was vital to the nation's future success.
"We cannot cut education," Obama said, noting that families facing tough times cut back on vacation or movies or eating out, rather than dipping into savings for a child's college tuition. "A budget that sacrifices our children's education will be a budget that sacrifices our country's future." FULL POST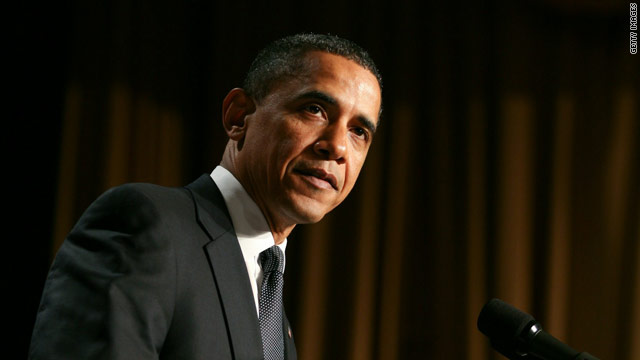 March 8th, 2011
06:00 AM ET
BOSTON, Massachusetts (CNN) - It's like many schools in heavily urban areas: there are metal detectors, the neighborhood is poorer than many and 90 percent of the students qualify for free or subsidized lunches.
But there's a real difference at TechBoston Academy in the Dorchester neighborhood of Boston, Massachusetts. At this school an average of 95 percent of the students are routinely accepted into college.
Headmaster Mary Skipper has overseen this pilot model public school since it was opened back in 2002 as a partnership between the public school system, private business and philanthropy.
"It's a total team effort," Skipper told CNN. "It starts with having quality teachers who are committed and hard-working."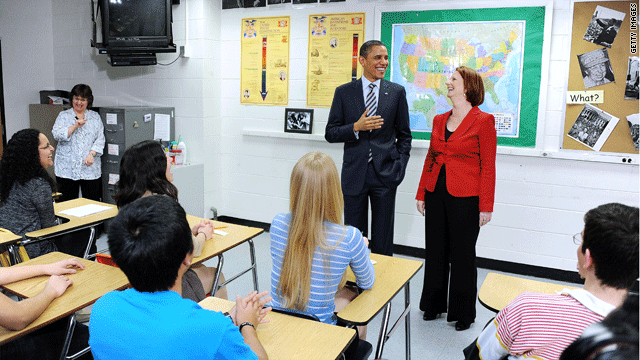 March 7th, 2011
02:58 PM ET
WASHINGTON (CNN) - The often separate worlds of U.S. foreign and domestic policy merged for a few minutes in Arlington, Virginia Monday afternoon when President Obama and visiting Australian Prime Minister Julia Gillard mad an unannounced visit to an 11th grade history class.
Gillard, a former education minister in Australia, made the trip across the Potomac with Obama to Wakefield High School where the two spoke with students in Collette Fraley's class. They took questions from the students with topics ranging from the recent floods in Australia, the state of basketball there, to establishing what Vegemite tastes like. Gillard also gave the students a "kind of pop quiz" about Australia.
Education Secretary Arne Duncan, who once played semi-professional basketball in Australia, accompanied the two as well.
FULL POST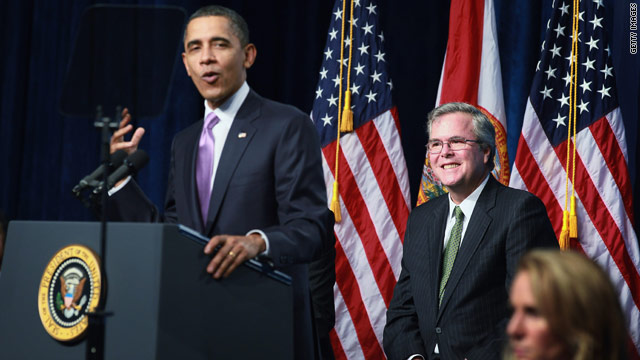 March 4th, 2011
10:57 AM ET
MIAMI (CNN) - The old adage that politics makes strange bedfellows will be alive and well Friday when President Obama and former Florida Governor Jeb Bush make a joint appearance in the sunshine state. The two are joining forces to discuss education as the president begins a month-long public push for the country to "out-educate" the world.
Both men will appear at Central High School in Miami to tout the school's turnaround in performance. For Bush it's an opportunity to highlight an issue he championed in office, and continues to do so in private life. For Obama, he gets a picture of bi-partisan support for an issue he has repeatedly stressed is in desperate need of reform if the country wants to lead the 21st century.
The image of the two together may seem somewhat unlikely with Bush once assailing Obama's stance toward business as "a way to attack capitalism," and for Obama who spent his presidential campaign verbally excoriating the record of Bush's brother, and is in the midst of attempting a re-write of "No Child Left Behind," the centerpiece of the Bush administrations education agenda.
Political differences aside, both camps maintain the appearance is a natural fit. Bush "has a record of being engaged in and committed to education reform. Obviously, this is a high priority for the President and he believes very strongly that education reform is neither a Democratic, nor a Republican issue. And I think his pursuit of reform has demonstrated that," White House Press Secretary Jay Carney said in a recent briefing announcing the appearance. "His reforms already have generated a great deal of bipartisan support, and I think that's reflective of the fact that Americans believe it ought to be a priority," Carney went on to say.
FULL POST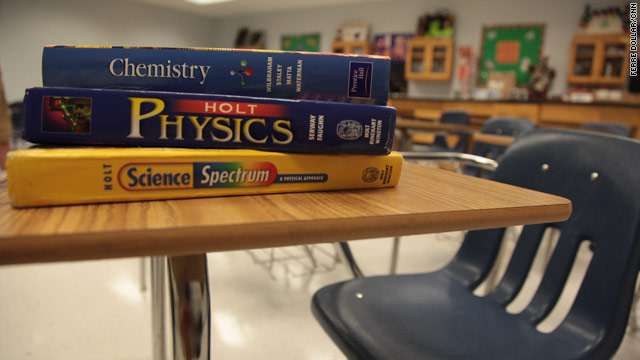 March 1st, 2011
05:45 PM ET
WASHINGTON (CNN) – While the situation in Libya and the Middle East will likely keep the White House busy for the next few weeks, the Obama administration is staying focused on domestic issues including improving education.
President Obama will kick off his education initiative Friday with a trip to Florida where he will visit Miami Central Senior High School to give remarks to highlight overcoming education challenges.
In a conference call with reporters, Secretary of Education Arne Duncan said the school was chosen because it's a good example of how a school has taken on the challenges of reform and become a success story. FULL POST
February 19th, 2011
12:01 PM ET
WASHINGTON (CNN) - Budget battles in Wisconsin between the new governor, and teachers unions are reverberating all the way back to the White House.
Senior White House Correspondent Ed Henry takes a look at how the protests in Wisconsin also carry national implications.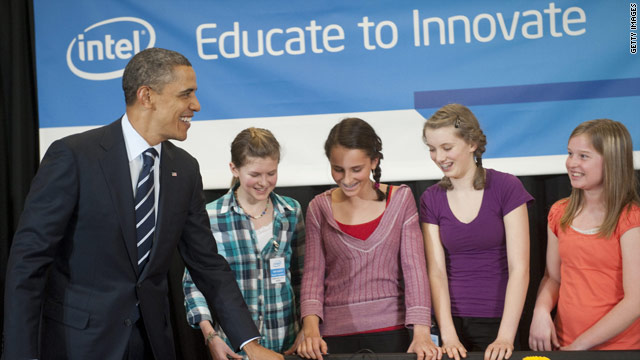 (CNN)–President Obama turned his attention to education during his weekly address as he discussed another aspect of how he believes the nation can "win the future." Obama acknowledged that "Over the next ten years, nearly half of all new jobs will require education beyond high school."
He delivered the address from outside Portland, Oregon, while visiting Intel, a company that he said models how "instead of just being a nation that buys what's made overseas, we can make things in America and sell them around the globe.
Check out the full story on the political ticker.