August 14th, 2012
03:07 PM ET
Oskaloosa, Iowa (CNN) - Kicking off the second day of his three-day bus tour across Iowa, President Obama shifted his message from drought relief to renewable energy, and even found a way to connect wind power to Mitt Romney's now-infamous dog Seamus.
Speaking in a state that gets 20 percent of its electricity from wind power, Obama on Tuesday criticized his Republican rival Mitt Romney for opposing tax credits for renewable energy companies.
"During a speech a few months ago Governor Romney even explained his new energy policy this way, I'm quoting here: 'You can't drive a car with a windmill on it,'" Obama said. "That's what he said about wind power: 'You can't drive a car with a windmill on it.' I don't know if he's actually tried that. I know he's had other things on his car."
FULL POST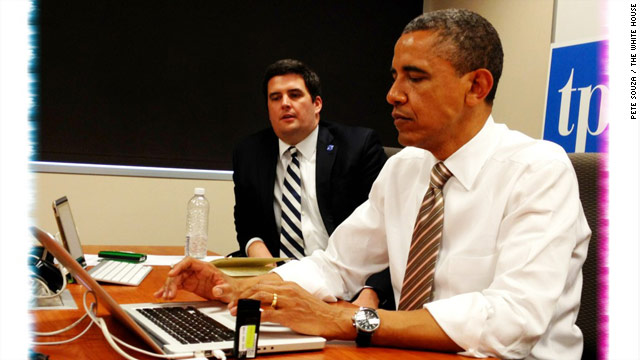 May 24th, 2012
08:43 PM ET
DES MOINES, IOWA (CNN) - It was a mini Twitter town hall.
After delivering remarks on his clean energy policy in Newton, Iowa, President Obama sat down at a laptop and answered a handful of questions on Twitter that had been submitted hours earlier by the tweeting public.
"This is barack-let's get this started!" Mr. Obama typed.
In 40 characters or less questions ranged from help for homeowners stuck in  under water mortgages, energy independence,  to assistance for small businesses.
" What plans do u have to keep us & our fellow smlbiz afloat?" one person wrote.
FULL POST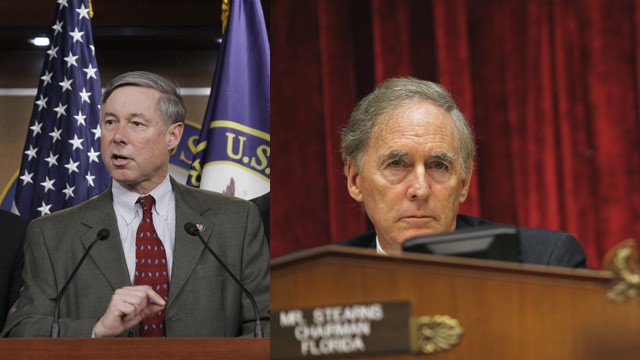 March 23rd, 2012
10:07 PM ET
WASHINGTON (CNN) - The Obama administration turned over 432 pages of e-mail communications and other documents Friday to congressional Republicans investigating the collapse of the solar energy firm Solyndra, the White House said.
The hard-copy and electronic documents include e-mail communications from the offices of the president and vice president, the White House said in a letter to Reps. Fred Upton of Michigan and Cliff Stearns of Florida.
"These documents, like the over 187,000 pages previously provided by Executive Branch agencies, demonstrate what we have said throughout the course of this investigation: decisions on the Solyndra loan guarantee were made on the merits by the Department of Energy," wrote Kathryn H. Ruemmler and Cynthia C. Hogan, counsels to the president and vice president, respectively.
"None of the documents support the committee's allegations about favoritism to campaign contributors or improper White House involvement in the decision-making process," the counsels wrote.
The House Energy and Commerce Committee, chaired by Upton, and its investigating subcommittee, chaired by Stearns, are investigating the failure of Solyndra, which received an Energy Department loan in 2010.
Solyndra used the loan to build a factory in Fremont, California, that produced state-of-the-art solar panels. President Barack Obama touted the company in a widely publicized visit after the loan guarantee came through. FULL POST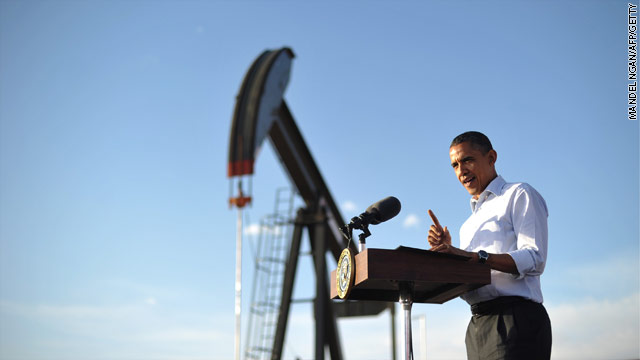 March 22nd, 2012
08:00 AM ET
Day two of President Obama's energy tour will bring him to Cushing, Oklahoma a major trading hub for crude oil and the site where a key portion of the controversial Keystone XL pipeline would begin. As our White House correspondent Brianna Keilar reported this week, the president Thursday will announce a new executive order to streamline the permit process for infrastructure projects and a specific memorandum addressing what the administration now calls the "Cushing pipeline" or the southern part of the Keystone pipeline. Republicans have been critical calling the move purely political since this portion of the Keystone pipeline does not require presidential approval. In January the administration denied approval for the pipeline that would bring oil from the Canada's oil sands to the Texas coast.
Mr. Obama then returns to Ohio for his 19th trip as president to this critical election battleground state as he speaks at Ohio State University in Columbus.  He will highlight the university's energy related research and development. The president will return to the White House Thursday evening.
For the full schedule released by the White House, click below. FULL POST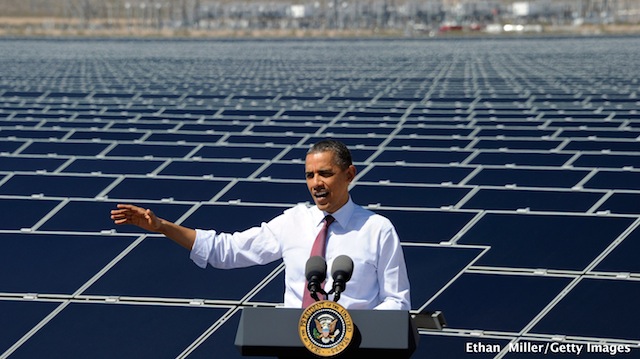 March 21st, 2012
08:41 PM ET
BOULDER CITY, Nevada (CNN) - President Barack Obama kicked off a two-day energy tour on Wednesday with a stop here at the largest photovoltaic - producing voltage from energy sources such as light - solar facility in the United States, Copper Mountain Solar 1.
Speaking just 30 miles south of the Las Vegas strip, Obama reaffirmed his administration's commitment to an "all of the above" approach to domestic energy production, and called the solar sector an "industry on the rise."
But the president also derided opponents who have dismissed green energy as a viable job creator and aimed sharp words at those who instead call on his administration to take a more aggressive approach towards domestic oil production.
"One member of Congress who shall remain unnamed called these jobs 'phony,' called them phony jobs," Obama said of positions created at facilities like Copper 1. "I mean, think about that mindset, that attitude that says because something is new, it must not be real. If these guys were around when Columbus set sail, they'd be charter members of the Flat Earth Society." FULL POST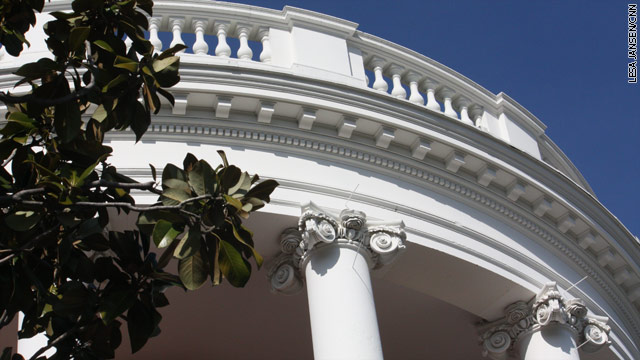 March 21st, 2012
08:03 AM ET
President Obama heads out for his four state/two day trip to tout his administration's energy plan and talk to the American people about what his administration is doing to combat rising gas prices. He'll be visiting Nevada, New Mexico, Oklahoma, and Ohio and three out of four states just so happen to be key battleground states.  He'll start out his energy trip out Wednesday with a stop in Boulder City, Nevada (battleground state #1) where he'll visit the Cooper Mountain Solar 1 Facility, which is the largest photovoltaic plant in the U.S. In understandable terms, it makes solar panels, and lots of them. According to the Las Vegas Sun, "The panels at Solar 1 produce 58 megawatts of power, enough for more than 17,000 average homes and the recent 48-megawatt expansion of the site, completed in 2010, cost about $141 million and created 350 temporary construction jobs. However, only five people are currently employed there full time." The White House tells us that the facility operates nearly one million solar panels. In his remarks at this stop, he will talk about "his Administration's focus on diversifying our energy portfolio, including expanding renewable energy from sources like wind and solar, which thanks in part to investments made by this Administration is set to double in the President's first term." 
He then travels to Carlsbad, New Mexico (battleground state #2) where he will tour federal lands with active drilling rigs. While there, he will give remarks where he will reiterate his message over the last few weeks that domestic oil production is at an eight-year high and his administration has a plan to continue to expand production. White House Press Secretary Jay Carney addressed why this is important in Monday's WH briefing: "Because an all-of-the-above energy approach requires and necessitates that we aggressively expand domestic oil and gas production in a safe and responsible way."
For the full schedule released by the White House, please click below. FULL POST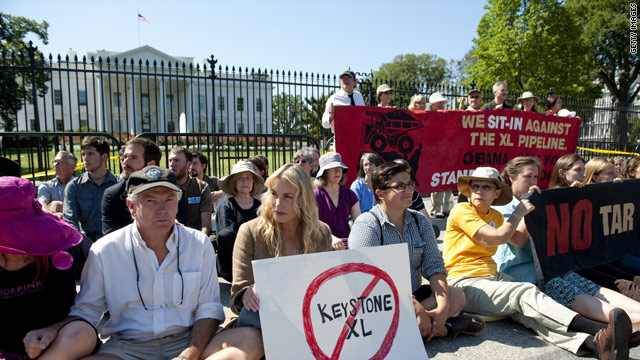 March 20th, 2012
05:00 PM ET
President Barack Obama plans to announce in Cushing, Oklahoma, on Thursday that his administration will expedite the permit for the southern half of the Keystone XL pipeline, a source familiar with the president's announcement told CNN.
In January, the Obama administration denied a permit for the 1,700-mile-long Keystone XL oil pipeline, which would stretch from Canada's tar sands development to the U.S. Gulf Coast. That decision was met by persistent Republican criticism that the president has not been doing everything possible to create jobs and combat high gas prices.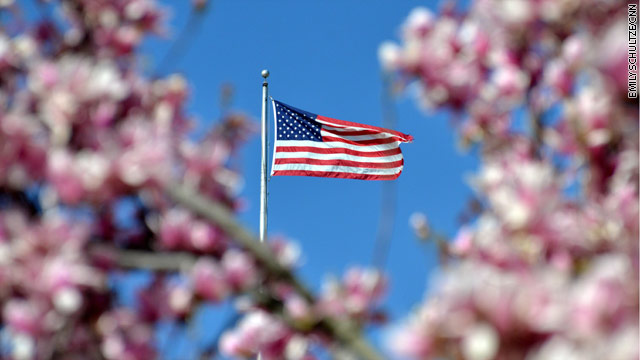 It's the day after the grand affairs of the official visit of British Prime Minister David Cameron and things are much less hectic around the White House than yesterday. The president has only one public event on his schedule- some remarks about energy at a DC-area community college. Clearly, gas prices are one of the things at the top of his agenda and we'll hear more about the Obama administration's plan to combat rising prices.
The other interesting things in camp Obama are happening away from the White House. His re-election campaign will release their 17-minute long documentary about Obama's first term in office this evening. And Vice President Biden hits the road to campaign for the pair's re-election. We expect him to go on the offensive today against Republican candidates during his remarks in Toledo, Ohio. His remarks are actually scheduled for the same time as the president's speech on energy.
Today's White House briefing is at 12:30p. Oh, and we also hear that George Clooney will be back at the White House today, following being at last night's state dinner, to meet with the president. So we'll be keeping our eyes open for him as well.
For the full White House schedule, click below. FULL POST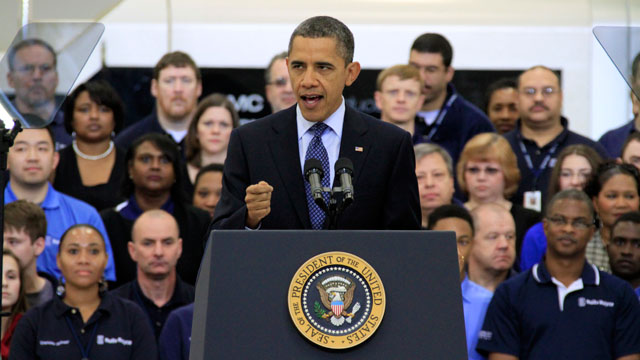 March 10th, 2012
10:13 AM ET
(CNN) – Jobs and energy prices dominated weekly addresses by Democrats and Republicans on Saturday, a day after government numbers showed the creation of 227,000 new jobs last month.
Despite the jobs, the unemployment rate remained unchanged, according to the numbers.
With unemployment hovering at 8.3%, Republicans put forth Gov. Jack Dalrymple of North   Dakota, whose state boasts the lowest unemployment rate, according to the most recent state level data, from December.
"These are big reasons why North Dakotais doing so well compared to the rest of the nation," he said. "We have created a friendly business climate inNorth Dakota, where taxes and insurance rates are low, the regulatory environment is very reasonable, and we have the most responsive state government anywhere."
He said his state offers major incentives.
"Companies want to expand inNorth Dakota because of the ease of doing business and because of our well educated, well trained work force," Dalrymple said.
His state's economy, he said, is thriving because of both high-tech manufacturing near the state's capital and oil drilling in the northwestern region.
The U.S. could learn from North Dakota's model and expand domestic oil production, he said, criticizing President Barack Obama for blocking the Keystone oil pipeline, which would run through his state.
"It is now within our reach to become energy independent in North America if we simply develop the resources we already have available in places like the Gulf of Mexico, nonsensitive public lands across America, and in our friendly bordering countries," he said.
The president also spoke on energy, making his case that theU.S."can't just drill our way to lower gas prices – not when we consume 20% of the world's oil."
"The recent spike in gas prices has been another painful reminder of why we have to invest in this technology. As usual, politicians have been rolling out their three-point plans for $2 gas: drill, drill and drill some more," he said. "Under my Administration, oil production inAmericais at an eight-year high. We've quadrupled the number of operating oil rigs, and opened up millions of acres for drilling." FULL POST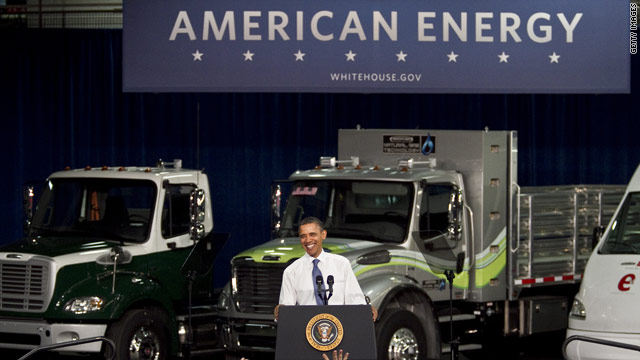 March 7th, 2012
04:56 PM ET
Mt. Holly, NC (CNN) – President Obama visited the politically important state of North Carolina to release the latest initiative in his strategy to lessen America's dependence on foreign oil.
.
In a visit to a Daimler Trucks manufacturing plant in Mt. Holly, North Carolina, he used in clean energy vehicles. The program, the National Community Deployment Challenge, is similar to the administration's efforts in education called "Race to the Top."
The initiative is aimed at increasing alternatives to oil and improving fuel efficiency in vehicles. It includes accelerating production of alternative-fuel vehicles and offering a $10,000 discount in the form of a tax credit for purchasers of cars with clean and advanced technology.
"We've got to develop every source of American energy - not just oil and gas, but wind power and solar power, nuclear power, biofuels," he explained. "We need to invest in the technology that will help us use less oil in our cars and our trucks, in our buildings, in our factories. That's the only solution to the challenge."
North Carolina, which Mr. Obama narrowly won in his 2008 bid for the presidency, is a key battleground state. It faces an unemployment rate of 10.4%, higher than the national average of 8.3%.
FULL POST