March 1st, 2012
05:18 PM ET
During a visit to Nashua Community College in New Hampshire today, President Obama used visual aids to make a point about the progress his administration has made on the quest for energy independence. Tom Cohen over at CNN Wires has a good write-up of the president's remarks, and check out the chart above that he showed during his speech.
(CNN) - A day after Republicans signaled possible compromise with the White House on energy issues, President Barack Obama called Thursday for Congress to vote in the coming weeks on ending billions of dollars in subsidies for the oil industry.

"Eliminate this oil industry giveaway right away. I want them to vote on this in the next few weeks," Obama told students at Nashua Community College in New Hampshire. "Let's put every single member of Congress on record: You can stand with oil companies, or you can stand with the American people. You can keep subsidizing a fossil fuel that's been getting taxpayer dollars for a century, or you can place your bets on a clean energy future."

Framing the issue as a major challenge for the students' generation, Obama said developing a broad-based energy policy incorporating all sources - oil, gas, nuclear, solar, wind and alternatives such as algae - would take years but was essential for the nation's future economic well-being.

His speech came as gas prices continued to soar around the nation, prompting criticism from Republicans that Obama's policies failed to fully exploit U.S. resources that would help bring down energy costs.

Senate Republican leader Mitch McConnell of Kentucky rejected Obama's call to end the oil subsidies.
Click here for the rest of the story.
March 1st, 2012
11:07 AM ET
Nashua, NH (CNN) - With the price of a gallon of gas in snowy Nashua, New Hampshire hovering around $3.75 a gallon, President Barack Obama brings his energy message to this battle ground state Thursday.
A White House official tells CNN the president will lay out the importance to the economy of his "all of the above" approach to energy including drilling, increasing vehicle fuel efficiency and investments in alternative fuels in a speech at the Nashua Community College.
But as Republicans attack the administration's energy policy, blaming it in part for soaring gas prices, Mr. Obama is expected to counter those attacks by highlighting what the White House calls his "strong record of developing new domestic energy sources" and to explain that domestic oil and gas production is now at its highest point since 2003.
But high gas prices are hitting hard at Americans' budgets and could affect a sputtering economy and in turn voting patterns especially in this battleground state, which the president won in 2008.
The administration has refused to speculate if it will consider releasing oil from the Strategic Petroleum Reserve to combat the high gas prices.
The president will also renew his call to repeal subsidies for big oil companies, totaling some $4 billion, while urging Congress to vote on it in the coming weeks, according to a White House official.

With additional reporting from Chief White House correspondent Jessica Yellin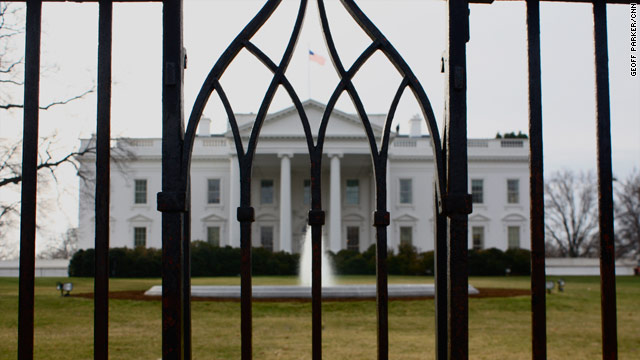 March 1st, 2012
07:58 AM ET
Thursday looks to be another day focused on energy and raising money for President Obama. In the late morning the president will travel to Nashua,NH where he will tour Nashua Community College and deliver remarks that the White House says will "focus on American Energy."
Thursday evening, President Obama will attend four fundraisers in New York.  A Democratic campaign official tells CNN Ralph Schlosstein, president and CEO of Evercore Partners, the big Wall Street investment firm is in fact a host of Thursday's dinner in Manhattan that itself will net the campaign and party at least 2.8 million dollars. In total, the evening's events in New York City will further fill the president's campaign war chest and that of the Democratic National Committee by adding about five and a half million dollars.
full schedule after the jump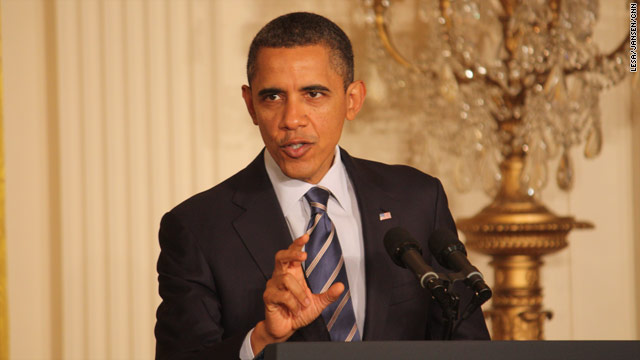 February 23rd, 2012
08:07 AM ET
(CNN) - President Barack Obama will talk about ways to expand oil and gas production and how to decrease the dependence on foreign oil in a speech at the University of Miami Thursday afternoon, the White House said.
      Obama's speech in Florida comes at a time when gas prices are soaring around the nation. Gas prices rose 3.3 cents nationwide overnight to $3.61 a gallon, according to AAA.
      "The president clearly understands the impact that high gas prices have on middle class families, but unlike some, he isn't interested in engaging in false debates and phony promises," a senior administration official said. "On Thursday, the president will make clear that while domestic oil and gas production has increased under his watch, (and is) currently higher than any time since 2003, the solution requires more than increased drilling, it requires an all-of-the-above approach that leverages technologies."
   Press Secretary Jay Carney spoke about the issue of rising gas prices to reporters Tuesday.
      "There are no magic solutions to rising oil prices and the pain that Americans feel at the pump," Carney said. "The fact is that the president is very aware of the impact that the global price of oil has on families and this is not something that this administration discovered or rediscovers every spring as some politicians do. Oil production in the United Stateshas increased every year that this president has been in office."
      Before the speech, Obama is scheduled to tour the school's Industrial Assessment Center, a place where students learn how to help manufacturers reduce energy costs, the White House said.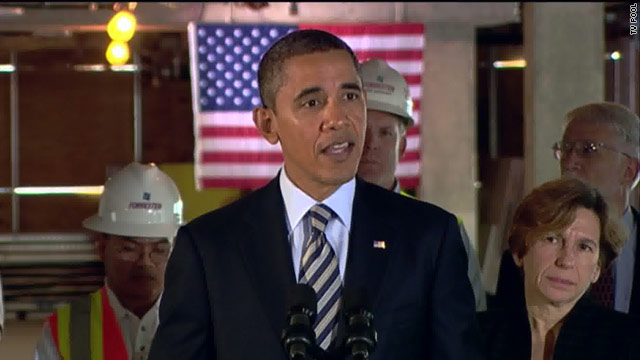 December 2nd, 2011
12:16 PM ET
(CNN) – President Obama announced Friday the federal government and private sector partners will invest $4 billion over the next two years in energy upgrades to buildings across the country, an initiative the White House says will create several thousand new construction jobs.
The president made the announcement on the top floor of a building currently under renovation and only steps from the White House with former President Bill Clinton at his side. The collaboration is part of the White House's "We Can't Wait" campaign – a series of executive orders Obama has issued over the last two months without congressional involvement.
"Making our buildings more energy-efficient is one of the fastest and cheapest ways for us to create jobs, save money, and cut down on harmful pollution. It is a trifecta," the president said. "It could save our businesses up to $40 billion a year on our energy bills."
Obama also called on Congress to provide added incentives to private sector businesses that agree to undergo energy upgrades.
Half of the $4 billion commitment is the result of a presidential memorandum to upgrade federal buildings nationwide. The White House says the up-front costs will be completely defrayed by the long-term savings that the more energy-efficient upgrades will produce.
The other $2 billion investment pledge comes from a partnership of 60 mayors, university presidents, business CEOs, and labor leaders. The goal is to achieve a 20 percent upgrade in energy performance by the year 2020 in 1.6 billion square feet of office space.
"Over the past decades we've seen what happens if we don't make investments like these - wages flat line, incomes fall, and employment stall. But we've also seen what happens if we do what's right," Obama also said.
The new partnership builds on one already forged by the Clinton Global Initiative, which has secured commitments from 14 private sector partners to make a $500 million investment in energy upgrades.
The announcement won quick plaudits from the U.S. Chamber of Commerce, an organization that often spars with the Obama administration over economic policy.
In a statement, U.S. Chamber of Commerce president Thomas Donahue, who was also at the event, said the new initiative has "tremendous potential."
"It is a surefire way to create jobs and make our nation's federal buildings more energy-efficient, all without using a penny of taxpayer money," he said.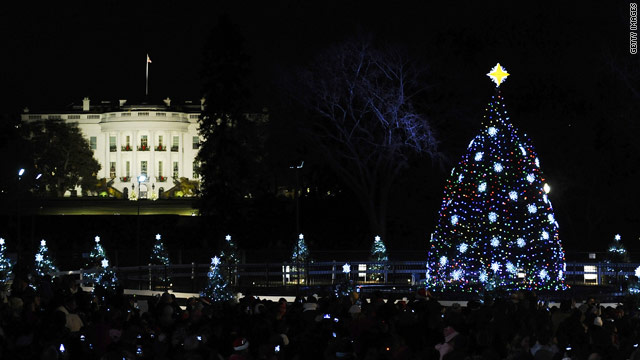 December 2nd, 2011
08:48 AM ET
President Obama will visit the Transwestern building in NW Washington, DC to take a tour and make remarks about his next executive action as part of his overall theme on jobs. The White House will announce a $4 billion commitment for energy upgrades in federal and private sector buildings over the next two years. According to the White House, "The $4 billion investment announced today includes a $2 billion commitment, made through the issuance of a Presidential Memorandum, to energy upgrades of federal buildings using long term energy savings to pay for up-front costs, at no cost to taxpayers." Former President Clinton will be with President Obama for the announcement because he led the effort to get support among the private sector for the initiative that was launched back in February. President Obama will take a tour a property managed by commercial real estate company, Transwestern, which is one of the more than 60 corporations that are a part of this project.
Also on Friday, the White House hosts the White House Tribal Nations Conference which will be held at the Department of Interior. In guidance from the White House, "As part of President Obama's ongoing outreach to the American people, this conference will provide leaders from the 565 federally recognized tribes the opportunity to interact directly with the President and representatives from his Administration." The president will make remarks at the closing session in the afternoon.
 FULL SCHEDULE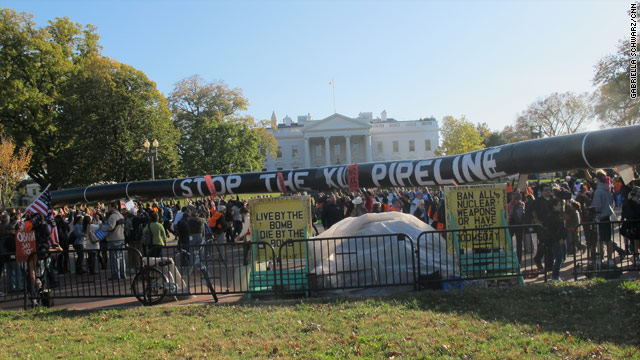 November 10th, 2011
04:40 PM ET
The State Department Thursday authorized an extension to study the routing of a controversial oil pipeline in order to study the environmental sensitivities, a move that will delay a final decision until after the next presidential election.
The Keystone XL Pipeline, a project that planed to transport oil from tar sands in Alberta, Canada to the Texas Gulf Coast was thought to be in the final stages of review following a summer of State Department sponsored town hall meetings in communities where the pipeline planned to cross.
In a written statement supporting the State Department's announcement, President Obama said: "Because this permit decision could affect the health and safety of the American people as well as the environment, and because a number of concerns have been raised through a public process, we should take the time to ensure that all questions are properly addressed and all the potential impacts are properly understood."
"The final decision should be guided by an open, transparent process that is informed by the best available science and the voices of the American people," Obama said in his statement.
With the announcement, the State Department said it was necessary to study alternative routes that may be less environmentally harmful. FULL POST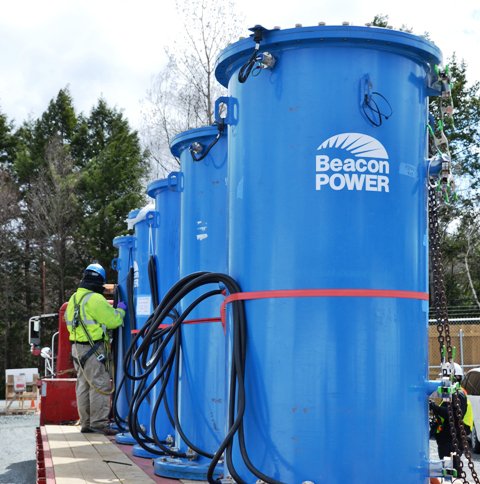 October 31st, 2011
04:13 PM ET
A second clean energy company that received a loan guarantee from the Department of Energy has filed for bankruptcy. According to their website, Beacon Power received $43 million loan guarantee from the Department of Energy. The company was working on a new technology that would allow the nation's electricity grid to store energy by constructing what, on the company's website, they call "a state of the art energy storage facility in Stephentown, New York".
The company also received $26 million in stimulus grants from the Department of Energy.
A White House official says Beacon's finances protections will be part of the outside review of all the administration's clean energy loan guarantees, which was ordered by White House Chief of Staff on Friday.
FULL POST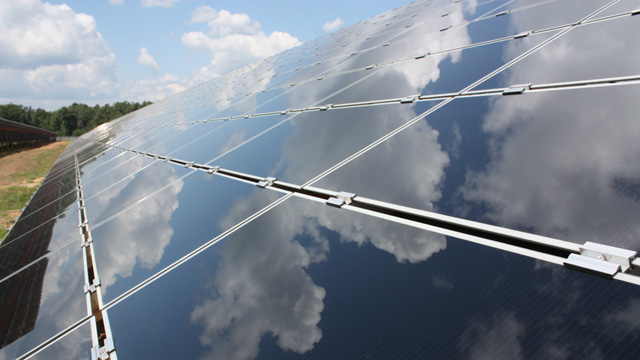 October 14th, 2011
03:38 PM ET
On October 5, 2010 Energy Secretary Steven Chu and Council of Environmental Quality Chairwoman Nancy Sutley announced a plan to install solar panels and a solar water heater on the roof of the White House. In a statement, the two called the installation a "demonstration project showing that American solar technologies are available, reliable, and ready for installation in homes throughout the country. "
"This project reflects President Obama's strong commitment to U.S. leadership in solar energy and the jobs it will create here at home," Secretary Chu said in the statement.
Sutley said, "By installing solar panels on arguably the most famous house in the country, his residence, the President is underscoring that commitment to lead and the promise and importance of renewable energy in the United States."
But over a year later, the projects are still in the works. According to a Department of Energy spokesperson, the department is "still working through the procurement process, which has taken longer than expected given the nature of the project.  We hope to have the project completed as soon as possible."
It's unclear what exactly is slowing the procurement process down, but the length of the installation process surely doesn't inspire confidence that "solar technologies are available, reliable, and ready for installation in homes throughout the country."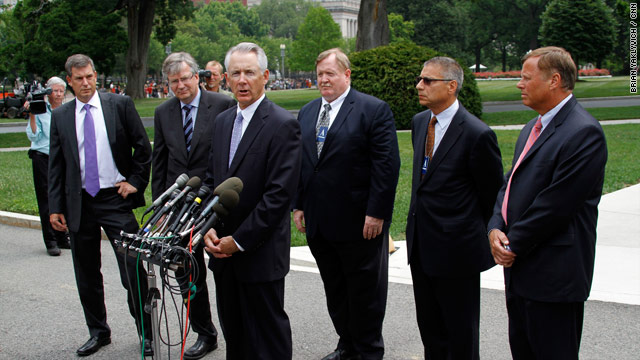 August 9th, 2011
01:14 PM ET
This morning President Obama held a closed-door meeting at the White House with officials from the heavy-vehicle industry as a way to announce new fuel efficiency standards for trucks, buses and other heavy-duty vehicles built in model years 2014 through 2018. Representatives from the trucking industry, as well as truck and engine manufacturers were in attendance.
The private meeting was set up after the White House hastily canceled a more public announcement scheduled to take place today at a moving company in Springfield, Virginia.
While the specific fuel targets differ depending on vehicle type, all new models will be required to reduce fuel consumption by at least 10 percent and in some cases as much as 20 percent. The White House estimates that over the course of the program these reductions will reduce overall oil consumption by a projected 530 million barrels and greenhouse gas emissions by roughly 270 million metric tons.
Designed in consultation with industry representatives, the new rules are also expected to generate significant cost savings for heavy-vehicle operators.