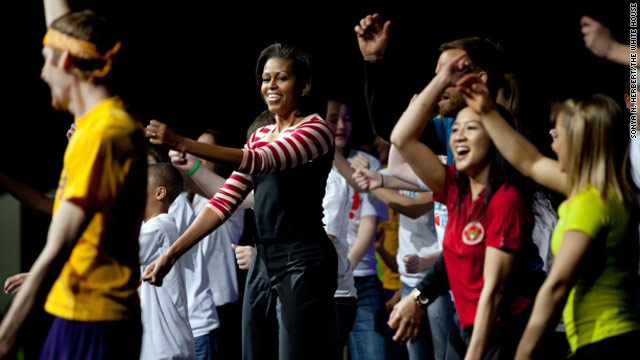 March 4th, 2012
05:26 PM ET
WASHINGTON (CNN) - Headlining Black Entertainment Television's Sunday morning line-up was first lady Michelle Obama on the network's popular program, "Lift Every Voice."
Replete with high-energy inspirational sermons and gospel music, BET programming crescendoed into a half-hour special, catching up with the first lady while she was on tour promoting the second anniversary of her "Let's Move" health campaign.
"For so many of us, food is more than just nourishment to our bodies, it's how we knit our families and our communities together," Obama said as she addressed an audience on her nationwide tour.
And, particularly true in the African-American community, faith and food go together; Sunday worship is often followed by feasting.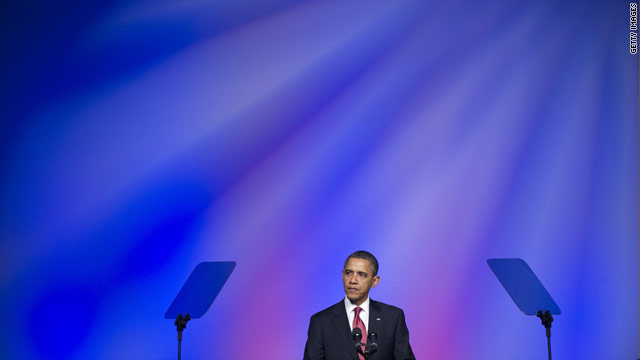 February 29th, 2012
09:18 AM ET
(CNN) – The Rev. Franklin Graham on Tuesday apologized for publicly raising questions about President Barack Obama's Christian faith, saying "I regret any comments I have ever made which may have cast any doubt on the personal faith of our president, Mr. Obama."
The statement from Graham came in response to a letter from faith leaders associated with the NAACP that said Graham's statements "have enormous negative effects for America and are especially harmful to the Christian witness."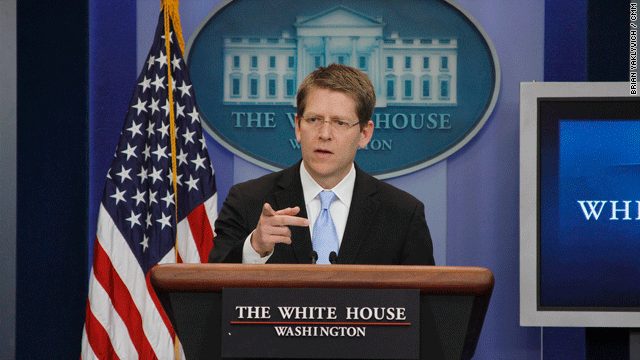 February 21st, 2012
02:48 PM ET
At the beginning of Tuesday's briefing, Press Secretary Jay Carney announced that President Obama will address the American Israel Public Affairs Committee's policy conference on Sunday March 4th in Washington D.C. The next day, Obama is scheduled to hold a bilateral meeting with Israeli Prime Minister Benjamin Netanyahu at the White House.
For much of the rest of the briefing, Carney was asked to respond to comments made on television and on the campaign trail.
Early Tuesday on MSNBC's "Morning Joe", Rev. Franklin Graham questioned the president's commitment to Christianity, saying he "can't say categorically" that the president is not a Muslim.
"Under Islamic law, Sharia law, Islam sees him as a son of Islam," Graham said. "Because his father was a Muslim. Grandfather was a Muslim. That's just the way it works. That's the way they see it. He says he didn't grow up that way and he believes in Jesus Christ. So the Muslim world, Islam sees him as a son of Islam."
Graham also said "Islam has had a pass under Obama," and the president "seems more concerned about them than the Christians that are being murdered in the Muslim countries."
Carney was asked specifically about Graham's comments but passed on the opportunity to take the issue up directly:
I did meet with the president this morning for about 45 minutes and amazingly he didn't bring this up because he was actually talking about policy issues that he believes are the most important things he can do and he can focus on as president. And that they are the most important things for the vast majority of the American people who are concerned about paying the rent or the mortgage, sending their kids to school, making ends meet. You heard him speak earlier today at the payroll tax cut extension event where he firmly believes that getting an extra forty dollars in every pay check is of vastly greater significance to most Americans than someone's opinion expressed on cable television about his personal faith which again he has spoken about explicitly as recently as a few weeks ago at the national prayer service.
Earlier Carney was asked about other criticisms of the president's faith made last week by GOP candidate Rick Santorum, and he was a bit more expansive in his response: FULL POST
February 2nd, 2012
04:56 PM ET
NEW YORK(CNNMoney) - What Would Jesus ... Deduct?
President Obama offered a new line of reasoning for hiking taxes on the rich on Thursday, saying at the National Prayer Breakfast that his policy proposals are shaped by his religious beliefs.
Obama said that as a person who has been "extraordinarily blessed," he is willing to give up some of the tax breaks he enjoys because doing so makes economic, and religious sense.
"For me as a Christian, it also coincides with Jesus's teaching that for unto whom much is given, much shall be required," Obama said, quoting the Gospel of Luke.
Obama wants to allow the Bush tax cuts to expire for the richest Americans, and he has embraced the idea that wealthy Americans should not be paying a lower effective tax rate than those in the middle or lower classes.
He has argued that those policies offer Americans a "fair shot" and increased equality, while implying that the policies favored by Republicans do not.
But the overt connection between religious beliefs and political policies is new.
"I know that far too many neighbors in our country have been hurt and treated unfairly over the last few years," Obama said. "And I believe in God's command to love thy neighbor as thyself. I know a version of that golden rule is found in every major religion and every set of beliefs."
An administration official speaking on background told CNN that Obama viewed the speech as chance to explain his personal faith practices and to show "his desire to step in the gap for those who are vulnerable."
So what does the Bible say about taxes?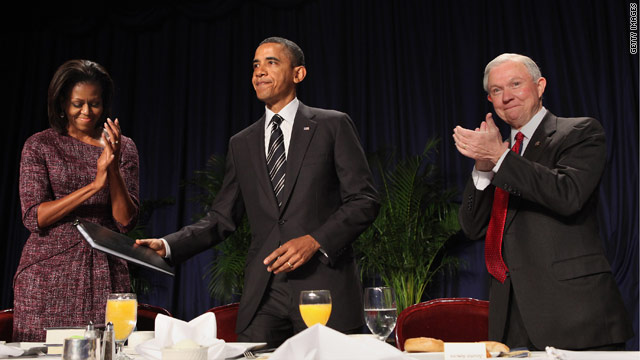 February 2nd, 2012
03:16 PM ET
Washington (CNN) - President Barack Obama spoke of his personal faith Thursday as he delivered remarks for the third year in a row at the National Prayer Breakfast.
In addition, Obama used the platform in front of religious dignitaries and politicians to express his vision of how faith and government intersect and can work together.
After his remarks, the president received a standing ovation from the crowd at the Washington Hilton, the White House pool reporter said. Journalists are barred from attending the breakfast with the exception of the White House pool, which follows the president. CNN requested and was denied access to the event.
The breakfast has hosted every president since Eisenhower.
Obama, who, as one administration official said, identifies as a "committed Christian who spends a lot of time working on his Christian walk," noted in the speech that he prays daily.
"I wake up each morning and I say a brief prayer, and I spend a little time in scripture and devotion," he said.
Since he has been inWashington, Obama has not formally joined a church. For nearly 20 years he was a member of Trinity United Church of Christ inChicago. The president and his staff have noted the logistical difficulties of a sitting president attending services, but he has visited several churches inWashington  and worshiped privately with his family atCamp David.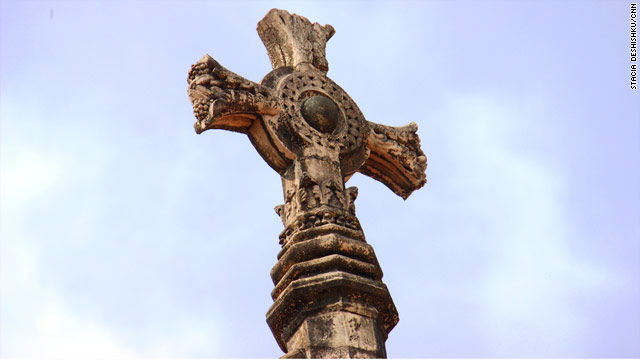 October 14th, 2011
04:13 PM ET
As the election engine picks up steam, the GOP presidential candidates are prepping to have every detail of their lives publicized and scrutinized. Most recently, Mitt Romney's faith has become a key issue among debaters: Supporters say to give the topic a rest, while some critics accuse him of not being a Christian and others have gone as far as to call Mormonism a cult.
However, Dr. Dewey Wallace, a professor who specializes in "Christianity and religion in America" at the George Washington University in Washington D.C., says the term "cult" is subjective.
"They even use the term 'Cult' for the Mormons, which is a tricky word to use," says Wallace. "In my classes, I define a cult as 'Someone else's religion.' No one ever invites you to 'Join me in my cult on Sunday morning,'" Wallace adds with a laugh.
It's important to note that Romney isn't the first candidate to be criticized for his religious beliefs, nor will he be the last. But one might assume that because of separation of church and state, presidential religious belief shouldn't be a political issue. As history tells us though, that's just not the case.
Thomas Jefferson, credited by most Americans as the founder of the church vs. state ideology in American politics, was "accused of being an anti-Christian Deist," says Wallace, which hindered his election campaign.
FULL POST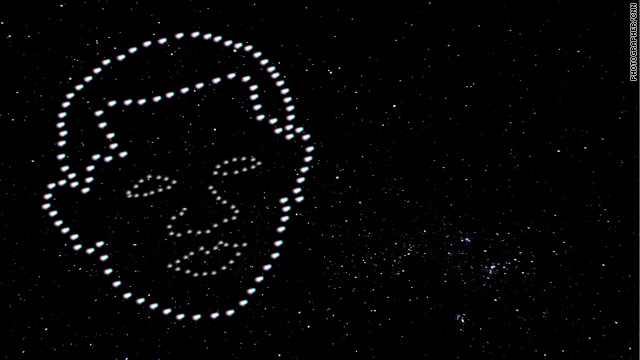 September 9th, 2011
05:04 PM ET
We all have guilty pleasures – some of us prefer curling up on the couch with tabloid magazines, while the rest of us are content with kicking back and catching the latest episode of our favorite reality show. There is one shameful indulgence that unites us all, however, and it goes by the name of astrology.
And though some followers of the "science" are more, shall we say, invested in its words than those that simply read it in jest, there's no denying that every person has heard of astrology, even if they don't know their sign (but we're betting you know yours!) What's more, each of the 12 – or 13 if you've been reading recent news – zodiac signs carry weights and meanings to their names, and more often than not, the personality traits of the signs match up with their respective owners.
This is all fine and dandy if you're an average joe. But what if you're the president of the United States? How close does your astrology sign meet your personality? Are more presidents likely to be Leos, which makes sense as the lion sign is born to lead? Or does the commander-in-chief tend to be more like a Taurus, known for their financial security? Let's find out.
FULL POST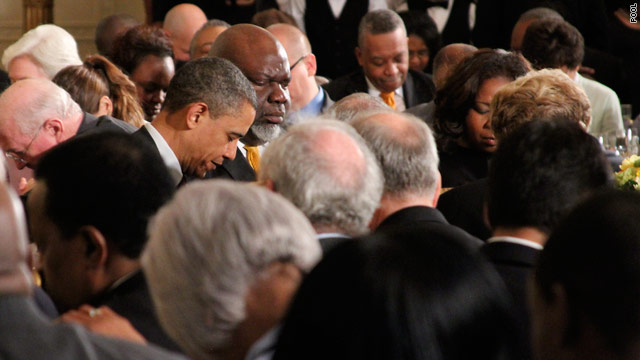 April 19th, 2011
10:18 AM ET
WASHINGTON (CNN) – President Obama held a prayer breakfast this morning at the White House, where he spoke about faith this Easter week. 130 clergy and faith leaders from a wide range of Christian backgrounds including Protestant, Catholic and Orthodox clergy attended the breakfast.
"I wanted to host this breakfast for a simple reason – because as busy as we are, as many tasks that pile up, during this season we are reminded that there is something about the resurrection, something about the resurrection of our Savior, Jesus Christ, that puts everything else in perspective," he said.
The president spoke for just five minutes, and did not bring up the debt or the deficit – a subject he will address later this morning at a town hall meeting in Virginia.
Rather, the focus was solely on Holy Week, and his belief in Jesus.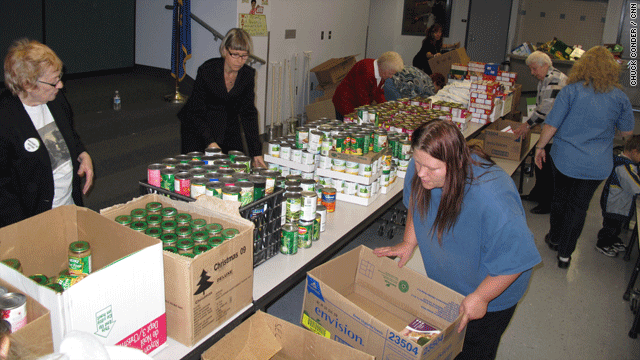 March 17th, 2011
07:16 PM ET
WASHINGTON (CNN) – The White House is challenging college students of all faiths to come together to focus on helping others in their community for the next year.
The initiative, called the Interfaith and Community Service Campus Challenge, urges community colleges, colleges, universities, and seminaries, to spend the next year working on an inter-faith basis to address issues and projects within their communities.
The challenge, announced on Thursday, is a joint effort of the White House Office of Faith Based and Neighborhood Partnerships and the Corporation for National and Community Service (CNCS) where colleges and university groups will submit a year-long plan on the projects they decide to focus on. FULL POST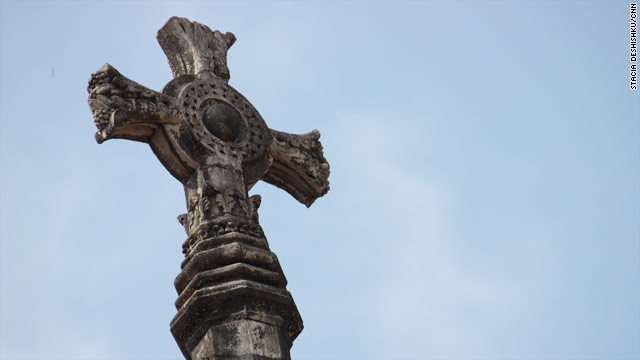 February 8th, 2011
07:26 PM ET
WASHINGTON (CNN) – The Obama administration is turning to faith to figure out how to better protect consumers.
The Consumer Financial Protection Bureau hosted a roundtable on Tuesday with ministers, rabbis and other spiritual leaders to get their input on how the financial crisis has affected their congregations.
Elizabeth Warren, who last year was tapped by President Obama to oversee the creation of the bureau, said consumer protection is rooted in religious and moral traditions.
"The laws have changed, but the basic notion that lending should not be used as an instrument of advantage-taking is deeply embedded in our collective consciousness," she wrote on the bureau's blog prior to the meeting.
FULL POST