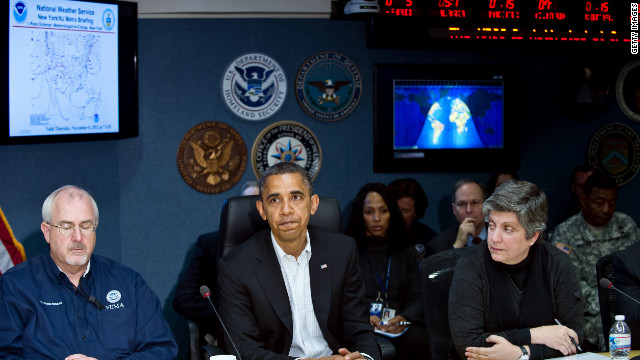 November 3rd, 2012
11:03 AM ET
(CNN) – Meeting with Cabinet officials at the headquarters of FEMA before a long day of campaigning, President Barack Obama said his government was singularly focused on improving conditions for people still living without power and amenities after Superstorm Sandy devastated areas of the East Coast.
"There is nothing more important than us getting this right," Obama said to a group of reporters. He was flanked by Homeland Security Secretary Janet Napolitano and FEMA administrator Craig Fugate. Also present were the secretaries of defense, energy, HUD, health and human services, education and transportation.
The president listed a series of items still on the federal government's punch list, including restoring power to parts of New York City and New Jersey. The president said crews from as far away as California were being deployed to help restore electricity as temperatures drop in the East. About 2.7 million customers remained without power Saturday across 15 states and the District of Columbia, and some may be in the dark for another week, according to utility officials.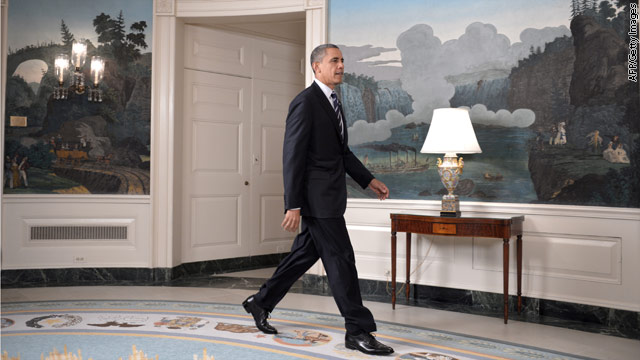 August 28th, 2012
11:12 AM ET
President Obama delivered a statement from the Diplomatic Room of the White House Tuesday morning, warning residents of the Gulf Coast to "listen to your local officials and follow their directions" in preparation for Tropical Storm Isaac to make landfall Tuesday evening. On Monday, the president signed a disaster declaration for the state of Louisiana, ensuring that avenues of federal funding and support from the Federal Emergency Management Agency were open.
"We're dealing with a big storm and there could be significant flooding and other damage across a large area," the president said. "Now is not the time to tempt fate. Now is not the time to dismiss official warnings. You need to take this seriously."
Here are the president's full remarks: FULL POST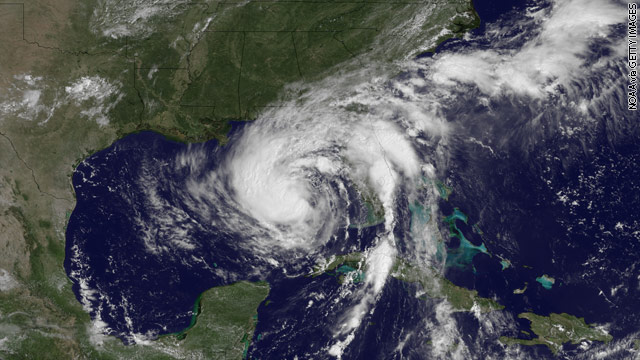 August 27th, 2012
05:11 PM ET
WHITE HOUSE (CNN) - President Obama has continued to get updates on Tropical Storm Isaac as it bears down on the Gulf Coast. The storm is expected to become a Category 1 hurricane and take much of the same path as Hurricane Katrina did exactly seven years ago.
FEMA Administrator Craig Fugate and National Hurricane Center Director Dr. Rick Knabb updated the president with reports of where FEMA has prepositioned resources around the Gulf Coast ahead of the storm. FEMA response teams are working with the Defense Department to set up bases in Jacksonville, Florida and Montgomery, AL to stage disaster supplies for affected areas. Also teams are in four states- Alabama, Florida, Louisiana, and Mississippi- in anticipation of the storm's landfall.
President Obama also called several state and local officials to express the federal government's support. He spoke with Alabama Governor Robert Bentley, Louisiana Governor Bobby Jindal, Mississippi Governor Phil Bryant, and New Orleans Mayor Mitch Landrieu.
The White House also released a federal emergency disaster declaration for Louisiana ahead of Tropical Storm Isaac which makes federal funding available for preparing and responding to the storm.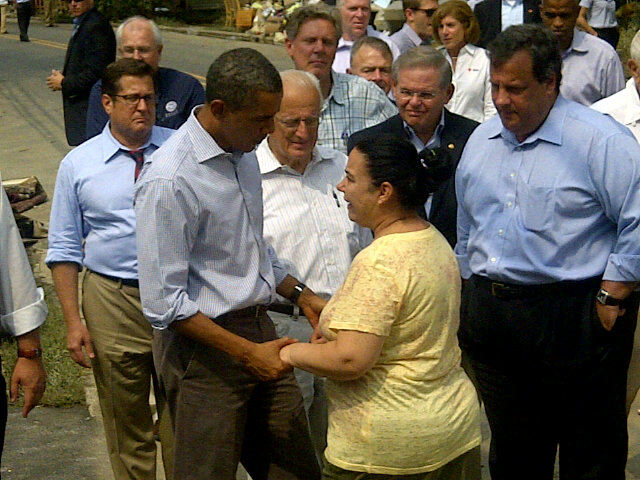 September 4th, 2011
03:56 PM ET
By the CNN Wire Staff
PATERSON, New Jersey (CNN) - President Barack Obama reviewed damage inflicted by Hurricane Irene in northern New Jersey on Sunday, promising residents, "We'll be there to help."
Obama visited the towns of Paterson and Wayne, where residents showed the high-water marks from the flooding spawned by last week's hurricane. The Passaic River and one of its tributaries, the Pompton, overflowed their banks through the area after Irene dumped heavy rains across the Northeast.
"I know it's a tough time right now," Obama told people whose homes had flooded in Wayne, on the banks of the Pompton. "You guys hang in there. We're going to do everything we can to help."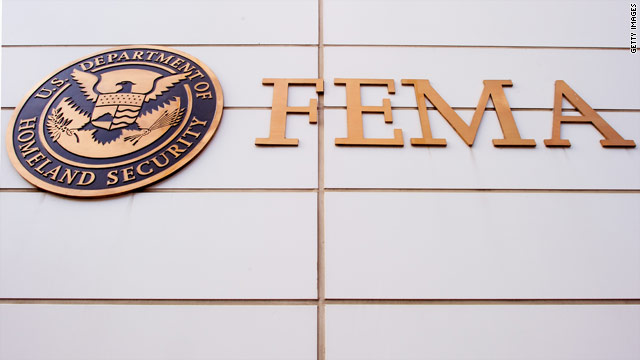 August 27th, 2011
12:38 PM ET
(CNN) - President Barack Obama toured FEMA headquarters in Washington Saturday as Hurricane Irene continued up the east coast of the U.S.
On a conference call with emergency officials, Secretary of Homeland Security Janet Napolitano and FEMA administrator Craig Fugate, while at the command center, Obama warned of the worsening conditions, saying "it's going to be a long 72 hours."
FULL POST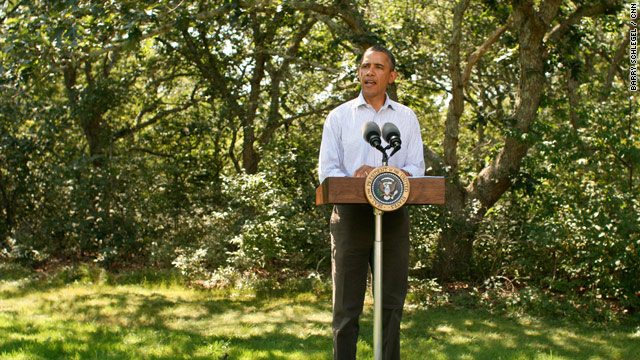 August 26th, 2011
12:50 PM ET
On his last full day of vacation, President Obama spoke to the traveling press pool and warned east coast residences to be prepared for hurricane Irene.  This is part of what he had to say.
I cannot stress this highly enough:  If you are in the projected path of this hurricane, you have to take precautions now.  Don't wait.  Don't delay.  We all hope for the best, but we have to be prepared for the worst.  All of us have to take this storm seriously.  You need to listen to your state and local officials, and if you are given an evacuation order, please follow it.  Just to underscore this point:  We ordered an aircraft carrier group out to sea to avoid this storm yesterday. So if you're in the way of this hurricane, you should be preparing now.

If you aren't sure how to prepare your families or your home or your business for a hurricane or any other emergency, then you can visit Ready.gov - that's Ready.gov - or Listo.gov.  That's Listo.gov.

Now, since last weekend, FEMA has been deploying its Incident Management Assistance Teams to staging areas in communities up and down the coast.  FEMA has millions of liters of water, millions of meals, and tens of thousands of cots and blankets, along with other supplies, pre-positioned along the Eastern Seaboard.  And the American Red Cross has already begun preparing shelters inNorth Carolinaand other states.

These resources are all being coordinated with our state and local partners, and they stand ready to be deployed as necessary. But, again, if you are instructed to evacuate, please do so.  It's going to take time for first responders to begin rescue operations and to get the resources we've pre-positioned to people in need.  So the more you can do to be prepared now - making a plan, make a supply kit, know your evacuation route, follow instructions of your local officials - the quicker we can focus our resources after the storm on those who need help the most.

To sum up, all indications point to this being a historic hurricane.  Although we can't predict with perfect certainty the impact of Irene over the next few days, the federal government has spent the better part of last week working closely with officials in communities that could be affected by this storm to see to it that we are prepared.  So now is the time for residents of these communities - in the hours that remain - to do the same.  And FEMA and Craig Fugate, the director of FEMA, will be keeping people closely posted in the next 24, 48 hours.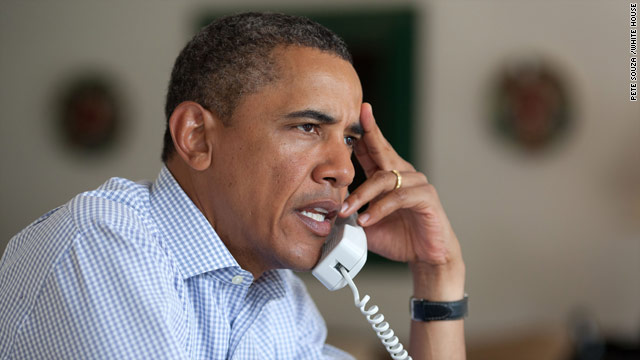 August 26th, 2011
11:03 AM ET
From White House Principal Deputy Press Secretary Josh Earnest:
 
"The President convened a conference call and was briefed once again this morning by DHS Secretary Janet Napolitano, FEMA Administrator Craig Fugate, White House Chief of Staff Bill Daley and other senior White House officials about preparations being made for Hurricane Irene."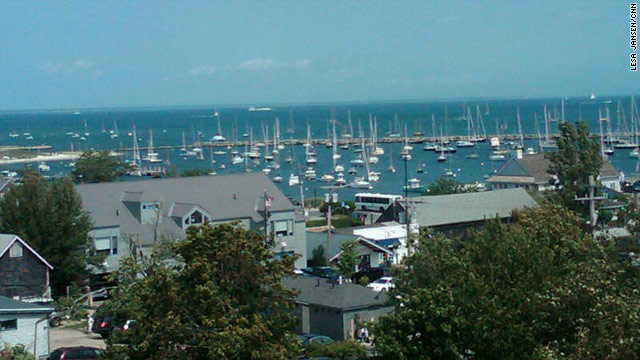 August 25th, 2011
12:45 PM ET
(CNN) Martha's Vineyard, MA–President Obama held a conference call Thursday morning with FEMA administrator Craig Fugate, Homeland Security Secretary Janet Napolitano and White House chief of staff Bill Daley about the current track of Hurricane Irene, its potential impact and the government's preparations according to White House Deputy Press Secretary Josh Earnest.
FEMA Administrator Craig Fugate said his agency is deploying teams from the Carolinas to Maine along the east coast of the United States.
"[O]ur briefing to the president was to update him on that status. And his direction back to us was to make sure we had what we need, keep him up to speed and he wants to make sure you know that we are stay in close contact with the governors and the metropolitan areas that are along the path of this storm," said Fugate.
The White House spokesman said they have no plans "at this point" for changes in the president's schedule for his vacation on Martha's Vineyard due to Hurricane Irene. "The President of the United States is responsible for fulfilling his responsibilities as the President of the United States regardless of where he is and regardless of where he goes," said spokesman Josh Earnest. "I think as the briefing call that he did with Administrator Fugate and Secretary Napolitano and others this morning demonstrates...the president is fulfilling those responsibilities and is committed to ensuring that everything that needs to be done from the federal government to prepare for this is being done," said Earnest. FULL POST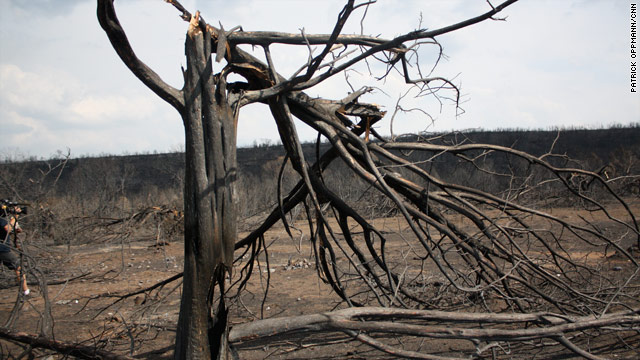 May 10th, 2011
02:59 PM ET
WASHINGTON (CNN) - As the president made his way to El Paso Tuesday, smoke from the Texas wildfires could be seen outside the windows of Air Force One.
In the back of the plane, White House Press Secretary Jay Carney was asked about the White House decision not to issue a disaster declaration in the state of Texas, after fires have devastated an estimated 2.2 million acres in the state.
"I would love to answer that," Carney began, stating that the administration has been "extremely responsive" by giving the state 25 wildfire management assistance grants to the state so far.
"The federal taxpayer is paying 75% of the costs of fighting these fires of Texas - 75%.  So there is plenty, considerable federal assistance flowing to Texas to deal with these serious wildfires.  We take this very seriously," he added.
But Republican Governor Rick Perry has complained that the administration "has denied Texans the much needed assistance they deserve," and the state's Republican U.S. senators have made hay over FEMA's decision, claiming the Lone Star State is being treated unfairly for political reasons.
May 9th, 2011
05:51 PM ET
Washington (CNN) - The White House has declared a disaster in 26 states so far this year, and the Lone Star State's U.S. senators are miffed that Texas isn't one of them.
GOP Senators John Cornyn and Kay Bailey Hutchison teamed up last week and sent President Obama a letter inviting him to tour the state's extensive wildfire damage when he visits El Paso Tuesday to talk immigration.
Their goal: convince Obama to change his mind and declare a disaster in Texas, in order to secure federal funds through FEMA.
"We are hopeful that after seeing this devastation first hand, you will reconsider your recent denial," the senators wrote to Obama.