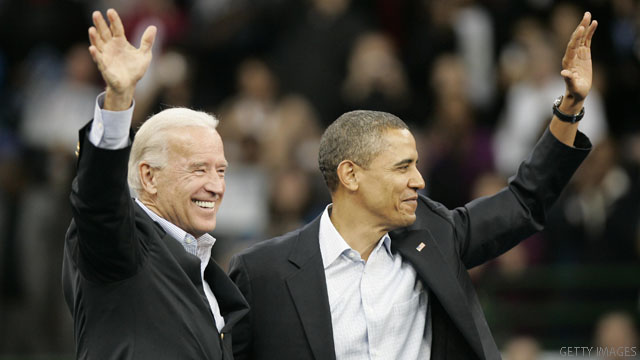 June 25th, 2012
02:09 PM ET
Durham, New Hampshire (CNN) – While political observers focused on the Supreme Court Monday in anticipation of news on the future of President Obama's health care reform legislation, both the president and Vice President Joe Biden prepared to hit the road to drum up some campaign cash.
The president embarks on a two-day trip where he's expected to raise more than $5 million for his reelection efforts, according to a campaign official. The trip starts with a rally at a high school in Durham, New Hampshire before taking the president to Boston in the evening for three fundraisers worth a total of more than $3 million.
The first fundraiser will be at Hamersley's Bistro where 25 people will each pay $40,000 to attend a roundtable with the president. This event will be closed to the media. Then Obama will head to Boston's Symphony Hall where 1,800 people will pay between $144 and $250 to hear the president deliver an on-camera campaign speech.
Finally, Obama heads to a private residence in Weston, Massachusetts where 100 people will pay $17,900 each for the chance to eat dinner with the president.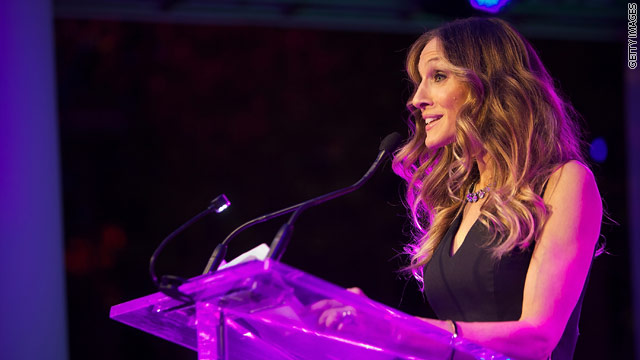 June 15th, 2012
09:05 AM ET
(CNN) – President Barack Obama used a pair of fund-raisers in New York Thursday to further the message he laid out in a speech earlier in the day in Ohio, painting the November election as a choice between two starkly different visions for the United States.
"What we're going to have to do is present the choice," Obama told a group of supporters at the home of actress Sarah Jessica Parker, according to a pool report. "You're the tie-breaker, you're the ultimate arbiter."
Obama warned, as he did in Ohio, that Mitt Romney and Republicans will largely blame him for the current economy and say it's "the other guy's fault."
"It's an elegant message. It happens to be wrong, but it's crisp. You can fit it on a bumper sticker," Obama said, noting the GOP will spend "$500 million" on ads.
The president delivered a similar message of caution during the speech in Ohio, the battleground state he and Romney visited on the same day.
For the full story, click here.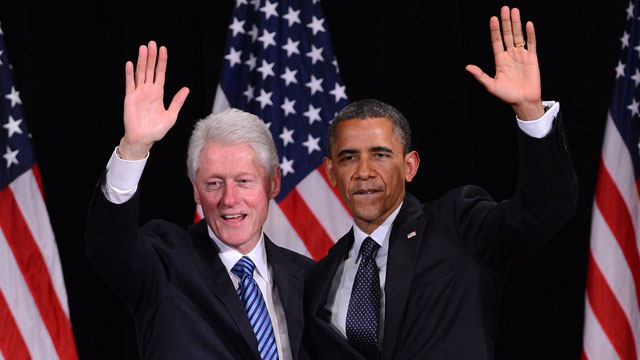 June 5th, 2012
09:08 AM ET
Appearing together at three high dollar, star-studded fundraisers in New York City Monday evening, President Barack Obama and former President Bill Clinton raised millions for Obama's campaign. They're on the same team but are they always reading from the same playbook? CNN White House correspondent Brianna Keilar has more on the curious relationship.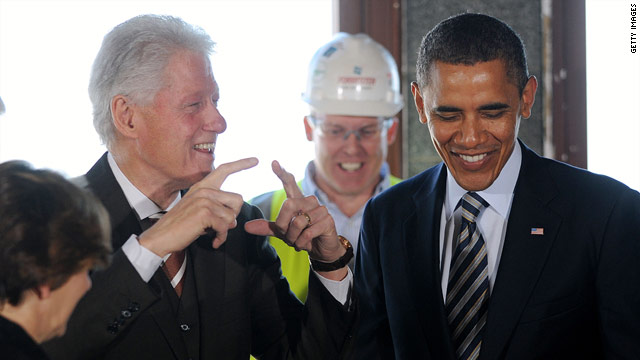 June 4th, 2012
02:02 PM ET
(CNN)–Joining forces with Hollywood and Broadway starpower, President Barack Obama and former President Bill Clinton are looking to add more than three and a half million dollars to the Obama campaign coffers and that of the Democratic Party Monday during a whirlwind seven hour trip to New York City.
The evening begins with a high ticket reception for fifty people at a private residence in the city. The price for face time with both the president and former president doesn't come cheap. A Democratic campaign official tells CNN the tickets are $40,000 each.
The presidents then move on to a big gala at the tony Waldorf Astoria where rocker Jon Bon Jovi will entertain the 500 invited guests who each paid at least $2500 a ticket. FULL POST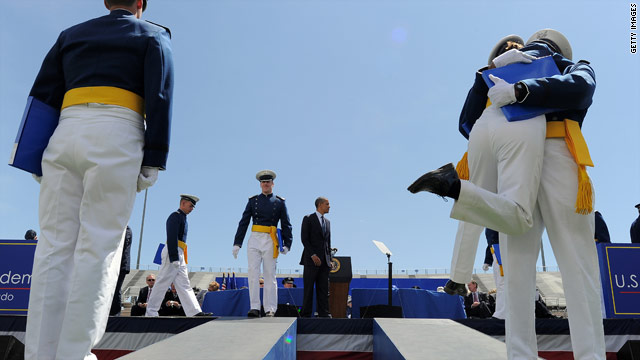 May 23rd, 2012
04:04 PM ET
COLORADO SPRINGS, Colorado (CNN) – In the race to collect campaign cash President Obama is expected to raise nearly $3.5 million dollars during his visit to Colorado and California this week.
After delivering the commencement address at the United States Air Force Academy in Colorado Springs, Wednesday, the president travels to Denver where he'll attend a reception at the Hyatt Regency. Seven hundred people are expected to attend, paying up to $500 each, according to a campaign official.
It's a much more upscale event when the president heads to Atherton, California for a fundraising dinner at a private residence Wednesday evening. About 60 people paid $35,800 each to get up close with the president and take in a performance by David Crosby and Graham Nash of Crosby, Stills and Nash, the official said.
The president wraps up the evening with a much larger event at the Fox Theatre in Redwood City, California where 1,100 supporters are expected. Tickets start at $250 dollars each.
Before flying to Iowa on Thursday to headline a campaign event and push clean energy, the president will attend one more fundraiser in San Jose, California, where a campaign official said tickets for the 20 attendees cost $35,800 per person.
All of the money raised goes to the Obama Victory Fund, which is a joint effort of the campaign, the Democratic National Committee and various state Democratic parties.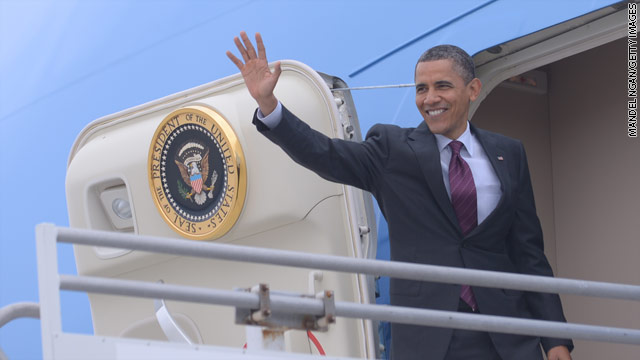 May 14th, 2012
08:00 AM ET
President Obama heads up to New York City to start out his week. The first thing on his agenda is speaking at the commencement for Barnard College. While there, he'll receive the school's top honor, the Barnard Medal of Distinction. Another recipient of the medal is Evan Wolfson, a longtime advocate for gay rights and same-sex marriage. So the topic will likely find its way once again to the forefront of issues today. Later this evening, Obama will remain in the Big Apple long enough to raise more money for his campaign in two fundraisers. According to a democratic source, the first is targeting the LGBT community and will be hosted by singer Ricky Martin. There will be about 200 people in attendance and tickets start out at $5000. The second event is at a private residence with about 60 people attending. Tickets for that dinner are the election standard $35,800.
For the full schedule, click below. FULL POST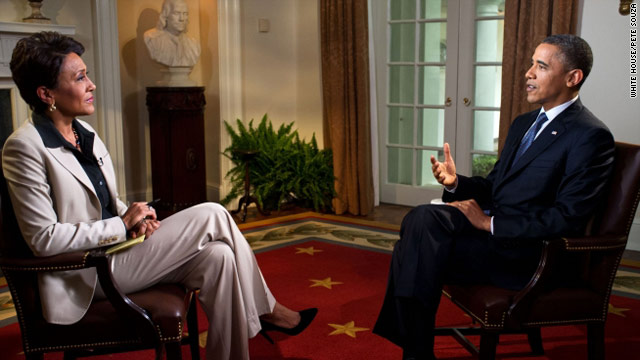 May 11th, 2012
02:06 PM ET
It's been a bonanza money week for the Obama campaign. A Democratic source tells CNN the campaign raised $2 million dollars in donations in the 24 hours following the President's announcement he personally support's same-sex marriage.
On Friday, the president left on a campaign swing to Seattle and Los Angeles to pick up even more donations. The president dropped into Seattle where he collected roughly $3 million at two events. But the big haul came at the star-studded George Clooney blockbuster, where a Democratic official tells CNN, the reelection effort brought in $15 million.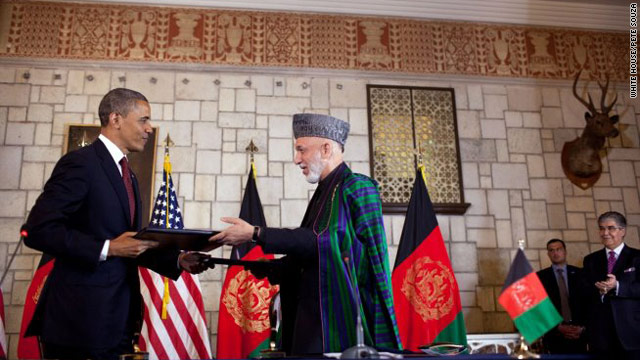 May 2nd, 2012
06:33 AM ET
In the afternoon, the President will return to Washington, D.C. from his whirlwind trip to Afghanistan.
President Obama will participate in an Ambassador Credentialing Ceremony late in the afternoon in the Oval Office . The traditional ceremony marks the beginning of an Ambassador's service in Washington.
FULL POST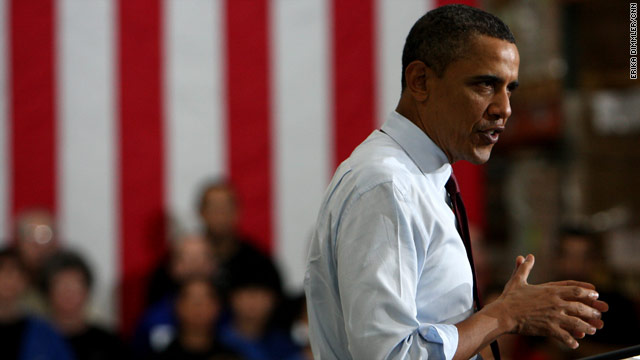 April 11th, 2012
07:06 PM ET
After raising just under $2 million at three fundraisers in Florida on Tuesday, President Obama was at it again with a fundraiser in Washington DC on Wednesday evening. The closed-press event was held at the W Hotel across from the White House. A campaign official confirmed that approximately 20 supporters attended the event, each paying $40,000 for a ticket, meaning the president raised at least $800,000.
The maximum an individual is allowed to contribute to the Obama Victory Fund – a joint fundraising committee of Obama for America and the Democratic National Committee – is $35,800. This is due to donation limits set by the Federal Election Commission allowing a maximum individual donation of $30,800 to a political party committee per year and a $2,500 maximum individual donation to a candidate per election. The president is allowed to collect money for both the general election and his uncontested run for the Democratic nomination.
According to the campaign, any money that the president raises at the W on Wednesday above the legal limits would go to several state Democratic parties.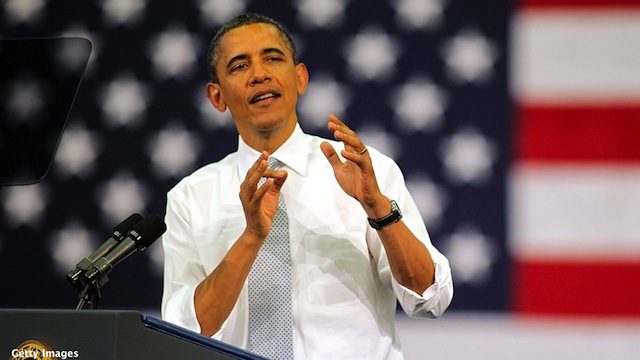 April 10th, 2012
10:33 PM ET
West Palm Beach, Florida (CNN) – In his first big trip of the second fund-raising quarter, President Barack Obama hauled in at least $1.75 million at three fund-raisers in Florida on Tuesday.
At all three campaign events – and during his one official event at Florida Atlantic University – the president told supporters that this election will feature one of the starkest contrasts in history between any two candidates running for president.

At a lunchtime event, the president spoke at the private residence of former Raytheon Aircraft CEO Hansel Tookes in Palm Beach Gardens. Roughly 60 guests paid at least $10,000 a person to attend the event, and the president stuck mainly to familiar campaign themes.
"Our goal has not just been to make sure we didn't go into a depression, our goal is how do we build on the successes that are necessary for us to compete in this 21st century economy that's going to be tougher than ever," Obama said, after going through a list of his administration's accomplishments.
Read the full article over at the Ticker.