June 19th, 2012
06:58 PM ET
Los Cabos, Mexico (CNN) - European leaders at the G-20 Summit discussed their desire for a "fiscal union" that will support their banks, U.S. Treasury Secretary Timothy Geithner said Tuesday.
Geithner said European leaders, meeting again late next week, want to design a long-term framework for stability and take immediate steps to back financial systems.
"What this means is a framework of reforms so they can stand behind their banks, provide capital to the banks that need it, make sure they're protecting the safety of their depositors," Geithner said.
Read the entire story here.
June 19th, 2012
06:48 PM ET
CNN's Dan Lothian reports from Mexico on the G-20 summit and President Obama's meeting with President Putin about Syria.
June 18th, 2012
08:38 PM ET
LOS CABOS, MEXICO – Call it a case of appearances over substance. During brief remarks after President Obama's bilateral meeting with Russian President Vladimir Putin on Monday morning, the two leaders' body language seemed to indicate the meeting had not gone well. They rarely looked at each other, never smiled and ended their meeting with a perfunctory handshake.
Reporters pounced on such a dramatic visual representation of what has recently been a somewhat troubled relationship. Russia has refused to go along with the United States and other nations in calling for Syrian President Bashar al-Assad to step aside, and has blocked two U.N. Security Council Resolutions sanctioning the Syrian government.
At a briefing after the morning meeting, top White House aides warned reporters against reading into what one called the leaders' "businesslike" meeting.
"Go back and look at the tape when he met with Obama the last time," U.S. Ambassador to Russia Michael McFaul told reporters. "You'll see exactly the same body language. I have. That's just his style and I really would encourage you not to over-read how somebody is sitting as an indication of where the relationship is."
FULL POST
June 18th, 2012
03:51 PM ET
Los Cabos, Mexico (CNN) - U.S. President Barack Obama on Monday welcomed the results of the Greek election as he prepared to join other world leaders at a summit aimed at boosting a sluggish global economic recovery.
Officially, the G-20 Summit in Los Cabos, Mexico, will largely focus on one of the primary causes of the recovery's lethargy - the threat of a European currency collapse that would roil the already fragile economies of most of the 17 countries that use the euro.
"The world is concerned about the slowing of growth that has taken place," Obama said Monday before the start of the summit, following one-on-one-talks with host President Felipe Calderon of Mexico. " A lot of attention has been centered on Europe. Now is the time, as we've discussed, to make sure that all of us join to do what's necessary to stabilize the world financial system, to avoid protectionism, to ensure that we are working hand-in-hand to both grow the economy and create jobs while taking a responsible approach long term and medium term towards our fiscal structures."
However, the summit was not expected to produce concrete commitments, and European Union President Jose Manuel Barroso made clear Monday that European nations were not there to be lectured on how to proceed.
"This crisis was not originated in Europe. .... This crisis was originated in North America," Barroso said. "And many of our financial sector were contaminated by - how can I put it - unorthodox practice from some sectors of the financial market. But we are not putting the blame on our partners. What we are saying is let's work together when we have a global problem like the one we have today. "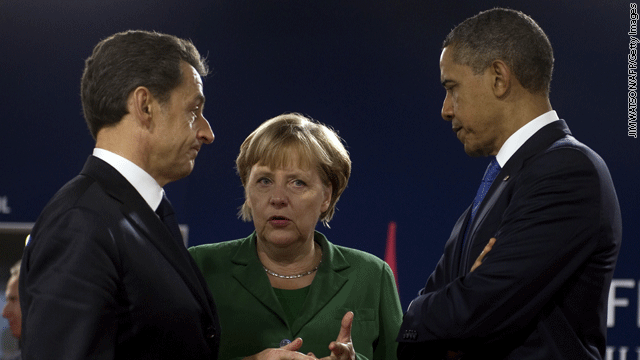 November 3rd, 2011
05:36 PM ET
Today's G-20-themed briefing came in from Cannes, France and was brought to you by Press Secretary Jay Carney with special guests Deputy National Security Advisor for Strategic Communication Ben Rhodes and Deputy National Security Advisor for International Economic Affairs Mike Froman.
Much of the briefing was spent explaining that President Obama will be focusing throughout the G-20 meetings on the global economic climate and the European economic crisis more specifically. The big question on Americans' minds is how a possible economic default in Greece might spread to other European countries and how much it might impact the U.S. recovery. Here's what the deputies had to say:
Q    Answer this question as it relates to Greece, since that's the country that's in crisis right now, and if they go, are you worried about the contagion effect?

MR. FROMAN:  I think right now the highest priority in Greece is stabilizing the situation.  But the program that Greece has is also about reforming its system and engaging in structural reforms so that it could become more competitive and therefore grow as part of the euro area.

MR. RHODES:  I just want to make one very quick point, which is that you've seen at these other G-20s often this discussion of growth and fiscal consolidation.  I think what's represented at this G-20 is a broad understanding that you need both; that there are going to have to be steps to promote growth and job creation in the global economy, and there's going to have be, again, that kind of deficit reduction over the medium and long-term that many of the leaders have worked on.

And similarly, in the United States, President Obama is pursuing an approach where we have an immediate growth package represented in the jobs act, and the other steps that we're taking to promote growth and job creation at home.  And we have a plan for significant deficit reduction in the medium and long-term as well.
On other matters, the two deputies were asked about the impending International Atomic Energy Agency report on the Iranian nuclear program and the significance of the president's comments on it during this morning's bilateral meeting with French President Nicolas Sarkozy. Here's what the president said: FULL POST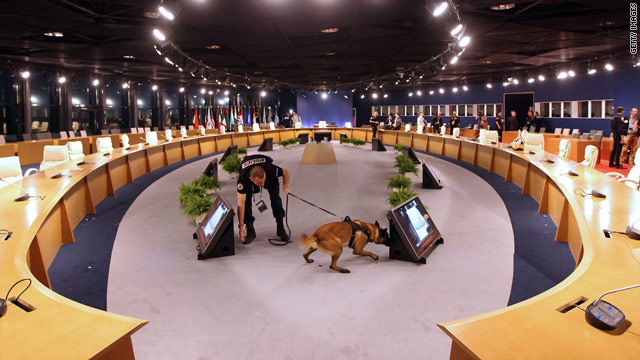 November 2nd, 2011
12:27 PM ET
The Group of 5 originated in the early 1970's as a term used to describe the world's five leading economies: the United States of America, the United Kingdom, Japan, Germany and France.
The concept of a forum for the world's major industrialized democracies emerged following the 1973 oil crisis. In 1974, a series of meetings in the library of the White House in Washington, D.C. was known as the "Library Group". This was an informal gathering of senior financial officials from the five leading industrialized nations.
In 1975, French President Valéry Giscard d'Estaing invited the leaders of Germany, Japan, the United Kingdom, the United States and Italy to a meeting at a chateau of Rambouillet near Paris. The idea was to discuss world issues of the day in an informal setting. The group took on the moniker the G6 with the addition of Italy.
After the '75 meeting in France, the G5 leaders decided to make it an annual event and invited Canada to join them to form the G7 in 1976.
FULL POST
November 12th, 2010
06:15 AM ET
SEOUL, South Korea (CNN)  - President Obama declared Friday that his "number one priority" is preserving tax cuts for the middle class, and sharply denied that comments by his senior adviser David Axelrod suggest that his administration is about to cave in to Republicans who also want to extend the Bush tax cuts for the wealthy.
FULL POST
November 12th, 2010
06:13 AM ET
Delivered at the Coex Center in Seoul, Republic of Korea
PRESIDENT OBAMA: Good afternoon, everybody. Before I discuss the G20, I want to briefly comment on the agreement in Iraq that's taken place on the framework for a new government. There's still challenges to overcome, but all indications are that the government will be representative, inclusive, and reflect the will of the Iraqi people who cast their ballots in the last election.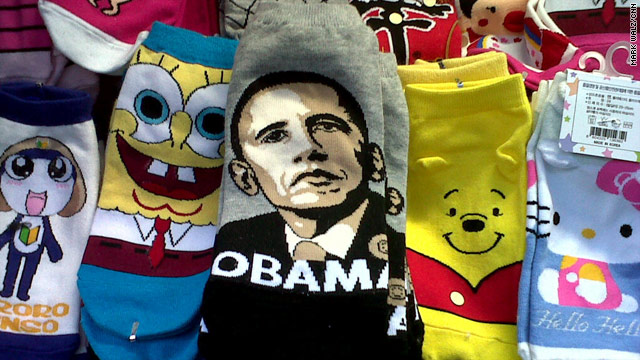 November 12th, 2010
06:13 AM ET
Found in the Itaewon shopping district in Seoul...Obama socks.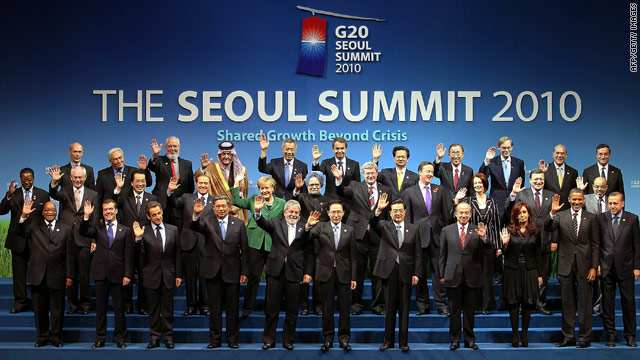 In 2009, President Obama was smack dab in the middle of the G-20 class photo.  In 2008, former President George W. Bush was front and center.  Should we read anything into this year's placement of Obama?