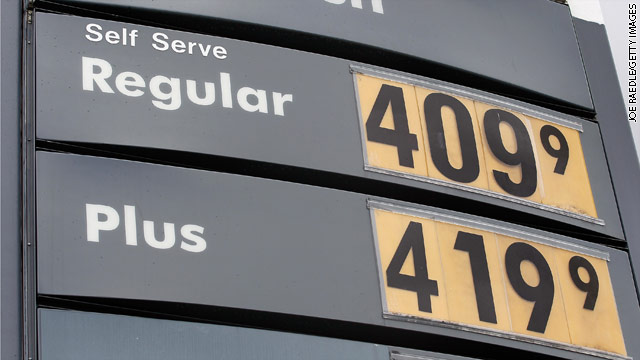 April 17th, 2012
10:37 AM ET
WASHINGTON (CNN) – Under pressure to bring down the high price of gas, today President Obama and Attorney General Eric Holder will outline a proposal to increase federal supervision of the oil markets in an effort to clip the wings of speculators who are profiting off the volatility of the oil market.
The Presidents $52 million plan would let regulators force energy traders to put more of their own money into trades and also boost the penalties on manipulators who are found to be speculating unlawfully, according to a senior administration source who would not comment on the record in advance of the president's remarks.
The President will call on Congress to:
– Boost spending on technology to improve better oversight and surveillance of energy markets.
– Increase by six times the money spent on surveillance and enforcement staff of the Commodity Futures Trading Commission to better deter oil market manipulation.
– Increase from $1 million to $10 million civil and criminal penalties against firms that engage in market manipulation.
– In an effort designed to limit energy market disruptions, give the Commodity Futures Trading Commission authority to increase the amount of money that a trader must put up to back a trading position.
The Obama administration plans to increase access to the commission's data so the White House Council of Economic Advisers can examine and analyze trading information, which the administration can do on its own.
This effort is likely to be seen as a political move designed to draw contrasts with the Republican party and especially presumptive nominee Mitt Romney on energy issues. House Republicans are unlikely to pass a measure that seeks to impose more limits on Wall Street at a time when they are seeking to limit regulations on the finance industry. At the same time Republican leaders are calling on the White House to open up more domestic land for oil and gas exploration.
The White House is pinpointing Wall Street for the high price of gas which could afford the President an opening to criticize Romney and his ties to the world of high finance.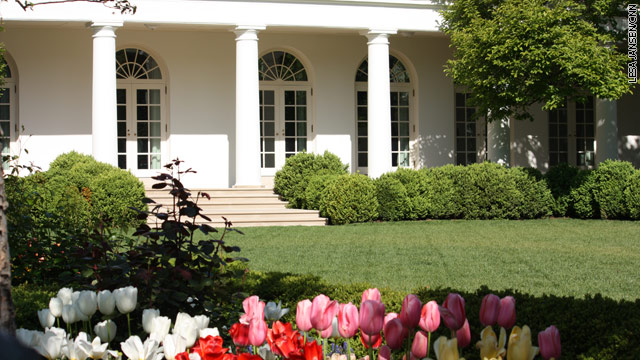 While things were quiet around the White House grounds yesterday, today we might hear the roar of NASCAR engines pulling into the complex. This afternoon, President Obama welcomes NASCAR Sprint Cup Series champion Tony Stewart to the White House South Lawn. We'll have to see if his number 14 car comes along with him. This is the third time he's won the Sprint Cup Series.
But the White House has also added a morning statement in the Rose Garden about gas prices and more oversight in the oil markets. The politics of oil prices is still a major issue on the president's plate. He and Attorney General Eric Holder will outline the administration's newest proposal on how to combat those who are profiting from the volatile markets.
White House Press Secretary Jay Carney will hold a briefing at 12:30p.
For the full White House schedule, click below. FULL POST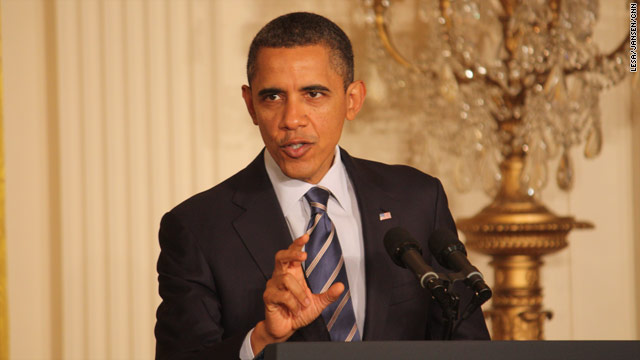 March 30th, 2012
02:58 PM ET
NEW YORK (CNNMoney) - President Obama ratcheted up the pressure on Iran Friday, deciding to implement previously announced sanctions that will be the toughest to date.
The decision declares that world oil markets can be adequately supplied even if a significant portion of Iran's 2.2 million barrels a day in oil exports is taken off the table.
"There is a sufficient supply of petroleum and petroleum products from countries other than Iran to permit a significant reduction in the volume of petroleum and petroleum products purchased from Iran by or through foreign financial institutions," Obama said in a statement.
The sanctions, announced late last year, are aimed at getting Iran to give up its nuclear program - a program Iran says is for peaceful purposes but many suspect is intended to produce a bomb.
The decision was widely expected.
"It's hard to imagine the White House would have invited the political ramifications of stalling on Iran," said Kevin Book, managing director at ClearView Energy Partners. That could have been "devastating for key voter blocs in battleground states."
The sanctions target Iran's central bank, which the country uses to facilitate its oil trade. They subject any bank, company or government that does business with Iran's central bank to U.S. sanctions.
In effect, it forces people to choose between doing business with Iran and doing business with the United States.
The sanctions are slated to take full effect June 28, and a full embargo of Iranian oil from the European Union is set for July 1.
The sanctions had already begun ramping up, and analysts estimate Iranian's exports dropped by about 300,000 barrels a day over the last few months.
Read more over at CNN Money.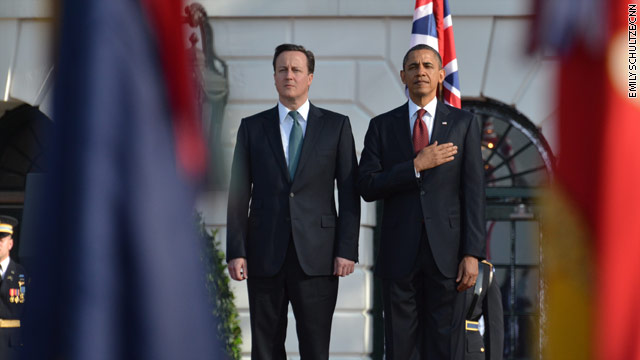 March 16th, 2012
12:11 PM ET
The price of crude oil took a nosedive on Thursday after Reuters reported that President Obama and his British counterpart David Cameron had agreed to a release of strategic oil reserves that would take place within months.
The White House later denied that such an agreement exists, but did say that Obama and Cameron had discussed rising crude prices.
For the United States, such an agreement would mean tapping the Strategic Petroleum Reserve, a strategy that has been used only a handful of times since 1975, when the 727 million barrel safeguard against oil supply shocks was established.
What would the United States get out of the deal? Crude prices could fall, especially as speculators are driven from the market. A reduction in crude prices would translate to lower prices at the gasoline pump.
And, naturally, lower gasoline prices would be nice for Obama as Election Day approaches.
Should the administration release reserves, as some have suggested, it would have a difficult time arguing that the move was not politically motivated.
For the complete story from our friends at CNNMoney, click here.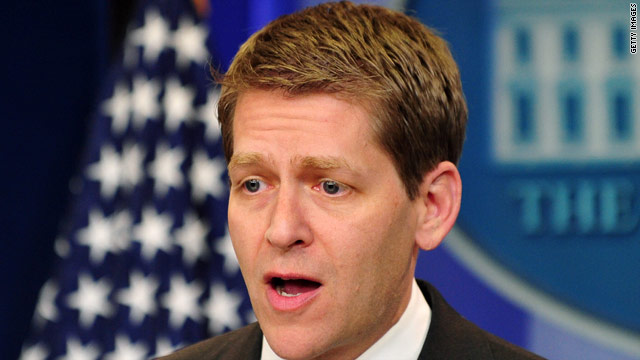 March 13th, 2012
04:57 PM ET
Washington (CNN) – Monday White House Press Secretary Jay Carney said any politician who claimed they could guarantee $2.50 a gallon gasoline would be "lying." There is only one candidate – Newt Gingrich – who has made headlines calling for exactly that.
On Tuesday, the president's spokesman had to walk back such impolitic language.
"It is a fallacy, as I said yesterday, to suggest that there's some three-point plan or five-point plan out there that could magically, if you wave a wand, reduce the price that Americans are paying per gallon of gas," Carney told reporters today. "I said yesterday that anybody who said that would be a liar. And I shouldn't have gone on motivations. I should have said that anybody who says that doesn't know what he's talking about."
On Monday, Carney had said: "What he [Obama] is not willing to do is to look the American people in the eye and claim that there is a strategy by which he can guarantee the price of gas will be $2.50 at the pump. Any politician who does that is lying, because it just - that strategy does not exist. It is a simple fact that there is no such plan that can guarantee the price of oil or the price at the pump."
FULL POST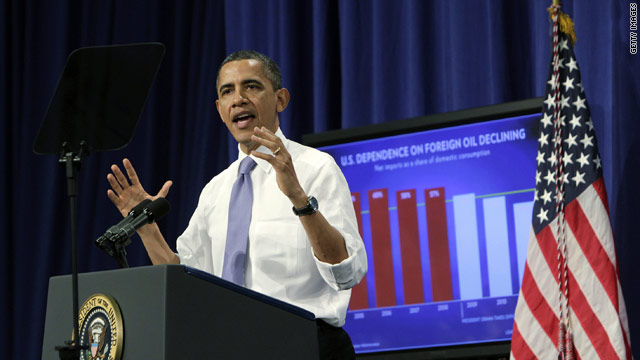 March 1st, 2012
06:08 PM ET
Nashua, NH (CNN) - As gas prices climb to near $4 a gallon in some areas of the country, President Barack Obama Thursday warned there is "no silver bullet" to relieve the pain at the pump.
The president traveled to Nashua, New Hampshire, in the midst of a snowstorm, to lay out his administration's broad energy objectives. "[T]he key part of this strategy over the last three years has been to increase safe, responsible oil production here at home while also pursuing clean energy for the future.  We don't have to choose between one or the other, we've got to do both," Obama told the audience.
Highlighting his "all of the above" approach, President Obama pushed for Congress to take $4 billion in tax breaks from big oil companies. "[T]hese companies are making record profits right now - tens of billions of dollars a year," said Mr. Obama. "Every time you go to the gas tank or fill up your gas tank, they're making money."
FULL POST
March 1st, 2012
05:18 PM ET
During a visit to Nashua Community College in New Hampshire today, President Obama used visual aids to make a point about the progress his administration has made on the quest for energy independence. Tom Cohen over at CNN Wires has a good write-up of the president's remarks, and check out the chart above that he showed during his speech.
(CNN) - A day after Republicans signaled possible compromise with the White House on energy issues, President Barack Obama called Thursday for Congress to vote in the coming weeks on ending billions of dollars in subsidies for the oil industry.

"Eliminate this oil industry giveaway right away. I want them to vote on this in the next few weeks," Obama told students at Nashua Community College in New Hampshire. "Let's put every single member of Congress on record: You can stand with oil companies, or you can stand with the American people. You can keep subsidizing a fossil fuel that's been getting taxpayer dollars for a century, or you can place your bets on a clean energy future."

Framing the issue as a major challenge for the students' generation, Obama said developing a broad-based energy policy incorporating all sources - oil, gas, nuclear, solar, wind and alternatives such as algae - would take years but was essential for the nation's future economic well-being.

His speech came as gas prices continued to soar around the nation, prompting criticism from Republicans that Obama's policies failed to fully exploit U.S. resources that would help bring down energy costs.

Senate Republican leader Mitch McConnell of Kentucky rejected Obama's call to end the oil subsidies.
Click here for the rest of the story.
March 1st, 2012
11:07 AM ET
Nashua, NH (CNN) - With the price of a gallon of gas in snowy Nashua, New Hampshire hovering around $3.75 a gallon, President Barack Obama brings his energy message to this battle ground state Thursday.
A White House official tells CNN the president will lay out the importance to the economy of his "all of the above" approach to energy including drilling, increasing vehicle fuel efficiency and investments in alternative fuels in a speech at the Nashua Community College.
But as Republicans attack the administration's energy policy, blaming it in part for soaring gas prices, Mr. Obama is expected to counter those attacks by highlighting what the White House calls his "strong record of developing new domestic energy sources" and to explain that domestic oil and gas production is now at its highest point since 2003.
But high gas prices are hitting hard at Americans' budgets and could affect a sputtering economy and in turn voting patterns especially in this battleground state, which the president won in 2008.
The administration has refused to speculate if it will consider releasing oil from the Strategic Petroleum Reserve to combat the high gas prices.
The president will also renew his call to repeal subsidies for big oil companies, totaling some $4 billion, while urging Congress to vote on it in the coming weeks, according to a White House official.

With additional reporting from Chief White House correspondent Jessica Yellin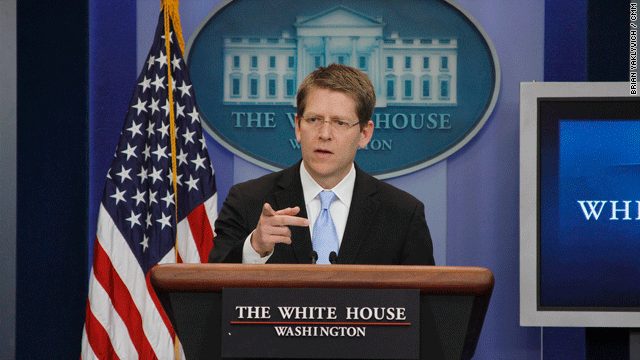 February 21st, 2012
02:48 PM ET
At the beginning of Tuesday's briefing, Press Secretary Jay Carney announced that President Obama will address the American Israel Public Affairs Committee's policy conference on Sunday March 4th in Washington D.C. The next day, Obama is scheduled to hold a bilateral meeting with Israeli Prime Minister Benjamin Netanyahu at the White House.
For much of the rest of the briefing, Carney was asked to respond to comments made on television and on the campaign trail.
Early Tuesday on MSNBC's "Morning Joe", Rev. Franklin Graham questioned the president's commitment to Christianity, saying he "can't say categorically" that the president is not a Muslim.
"Under Islamic law, Sharia law, Islam sees him as a son of Islam," Graham said. "Because his father was a Muslim. Grandfather was a Muslim. That's just the way it works. That's the way they see it. He says he didn't grow up that way and he believes in Jesus Christ. So the Muslim world, Islam sees him as a son of Islam."
Graham also said "Islam has had a pass under Obama," and the president "seems more concerned about them than the Christians that are being murdered in the Muslim countries."
Carney was asked specifically about Graham's comments but passed on the opportunity to take the issue up directly:
I did meet with the president this morning for about 45 minutes and amazingly he didn't bring this up because he was actually talking about policy issues that he believes are the most important things he can do and he can focus on as president. And that they are the most important things for the vast majority of the American people who are concerned about paying the rent or the mortgage, sending their kids to school, making ends meet. You heard him speak earlier today at the payroll tax cut extension event where he firmly believes that getting an extra forty dollars in every pay check is of vastly greater significance to most Americans than someone's opinion expressed on cable television about his personal faith which again he has spoken about explicitly as recently as a few weeks ago at the national prayer service.
Earlier Carney was asked about other criticisms of the president's faith made last week by GOP candidate Rick Santorum, and he was a bit more expansive in his response: FULL POST