September 7th, 2012
12:08 PM ET
CNN's Brianna Keilar takes a look at the impact of President Obama's support for same-sex marriage in North Carolina.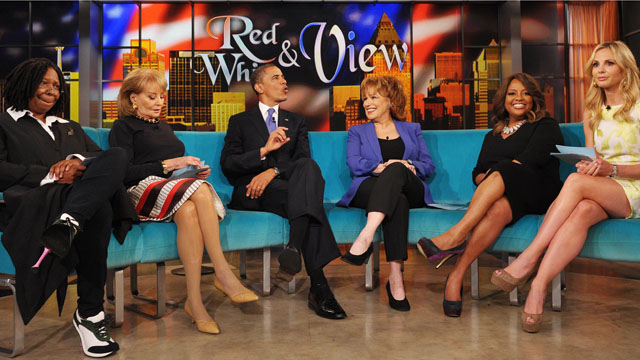 May 14th, 2012
08:42 PM ET
Washington (CNN)-Less than a week after President Barack Obama made history by endorsing same-sex marriage, the president would not commit to fighting to have the Defense of Marriage Act, commonly known as DOMA, be repealed.  In an interview on ABC's "The View" Mr. Obama reiterated his administration's decision to stop defending the law in the courts.  "My justice department has said to the courts we don't think the defense of marriage act is constitutional this is something that historically had been determined at the state level, and part of my believing ultimately that civil unions weren't sufficient."  But pressed further if he would fight to repeal DOMA, Mr. Obama would only say, "Congress is clearly on notice that I think it's a bad idea."
And in the wake of the stunning news that JP Morgan Chase lost $2 billion dollars in risky derivatives trading, Mr. Obama called the bank's CEO one of the nation's smartest bankers but also pressed the need for Wall Street reform.
"First of all JP Morgan is one of the best managed banks there is. Jamie Dimon the head of it is one of the best banker's we've got and they still lost two billion dollars and counting precisely because they were making bets in these derivative markets." he said.
"This is why we passed Wall Street reform. This is the best or one of the best managed banks. You can have a bank that isn't as strong isn't as profitable and we might have had to step in and that's exactly why Wall Street reform is so important."
May 14th, 2012
04:39 PM ET
In a speech tailored to target issues close to the hearts of a key voter demographic- women, President Barack Obama Monday encouraged the 2012 graduating class at the all-female Barnard College in New York to shape their destiny.
"After decades of slow, steady, extraordinary progress, you are now poised to make this the century where women shape not only their own destiny but the destiny of this nation and of this world," Mr. Obama said in his first commencement address of the season.
"Don't just get involved, fight for your seat at the table," he told the 600 graduates. "Better yet, fight for a seat at the head of the table."
Less than a week after declaring his support for same-sex marriage, Mr. Obama touched only briefly on the hot button issue.
"If you are ready to fight for that brilliant, radically simple idea of America that no matter who you are or what you look like, no matter who you love or what God you worship, you can still pursue your own happiness, I will join you every step of the way," the president told the graduates.
Mr. Obama received the Barnard Medal of Distinction. Among the other recipients of the medal Monday was gay rights advocate Evan Wolfson, founder and president of Freedom to Marry. Wolfson had been outspoken in urging the president to endorse marriage equality. FULL POST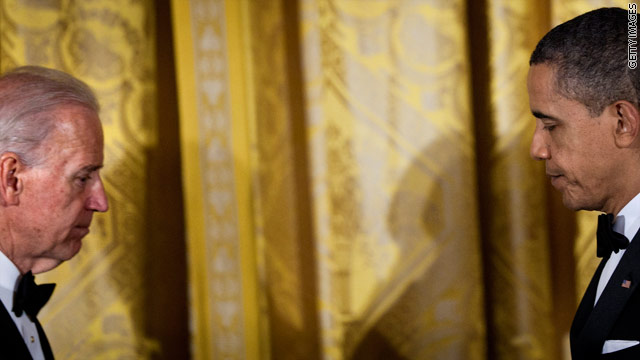 May 10th, 2012
05:53 PM ET
A senior administration official says the Vice President Biden met with President Obama in the Oval Office Wednesday morning and apologized for putting the president in a tough position. The president responded by saying that he knows the vice president is speaking from the heart.
President Obama's announcement that he now supports same-sex marriage came sooner than planned as a result of comments made by Vice President Joe Biden, he said in an interview broadcast Thursday.
Also a spokeswoman for the vice president Kendra Barkoff has issued a statement:
"The president has been the leader on this issue from day one. And the vice president never intended to distract from that."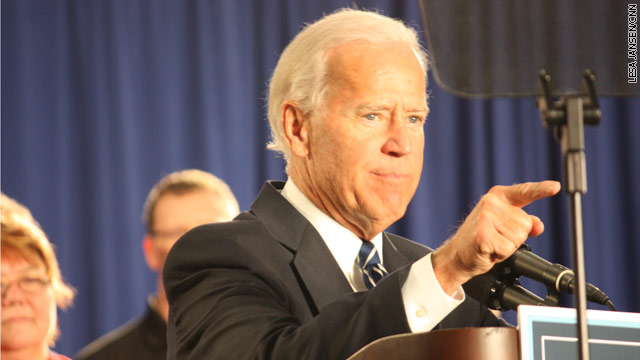 May 10th, 2012
04:11 PM ET
Washington (CNN) - Vice President Joe Biden gave no indication the White House was planning to change its position on same sex marriage when he was asked about just weeks ago at an LGBT fundraiser in Los Angeles April 19, two attendees tells CNN. Because it was an off the record event these participants did not want to be named, but tell CNN when Biden was asked about gay marriage he talked about his comfort with gay and lesbian couples raising families but added that the president sets the policy and offered no indication that there would be a shift in policy.
On the "CBS This Morning", the co-creator of the television series "Will and Grace," who also attended that fundraiser, said that he believed the vice president's remarks were "choreographed" because his remarks at the fund-raiser were recorded by the White House and were so similar to his comments on NBC's "Meet the Press" this past Sunday. White House officials confirm to CNN that it's standard to record every event the president and vice president attend as a record, whether they're public or private events.
That fund-raiser has taken on unexpected significance –in part because that's where the vice president met the two young children he referenced in his comments to David Gregory on NBC Sunday. In explaining his change of heart in support of gay marriage, he said it was partly seeing the happy children, ages 7 and 5, of the gay couple who hosted that fundraiser. Sources say Biden met with the hosts and their children privately before the larger fund-raiser began – it was an impromptu meeting. And the vice president told Gregory the kids gave him flowers and he told THEIR fathers: "I wish every American could see the look of love those kids had in their eyes for you guys, and they wouldn't have any doubt about what this is about."
One source tells CNN the Vice President gave a nearly five minute answer and never explicitly states his support for gay marriage but left the clear impression he supported it. Another confirms the vice president did say "Will and Grace" helped him come to a greater acceptance of gay and lesbian same-sex partners. But the majority of his remarks focused on the president's work overturning the Don't Ask Don't Tell policy and extending some federal benefits to same sex couples as well as repeatedly drawing a contrast with Mitt Romney on gay and lesbian rights. FULL POST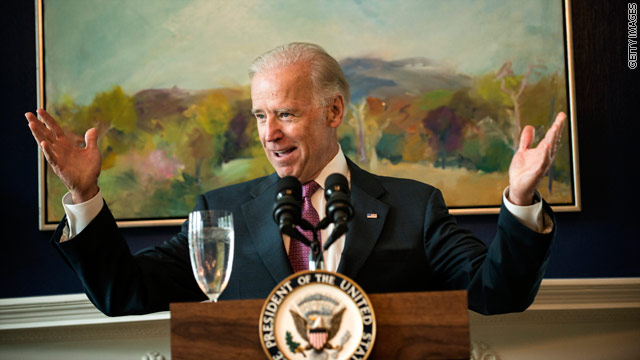 May 10th, 2012
03:43 PM ET
Washington (CNN) – Multiple top Democrats said Thursday the president's senior aides are deeply annoyed with Vice President Joe Biden for forcing the conversation on same-sex marriage.   One source said Biden has, in the past, counseled the president against announcing support for same-sex marriage – making the circumstances that much more frustrating. Although other sources said they have not heard Biden make that point in recent years.   Biden made comments supporting such unions during an appearance on NBC's "Meet the Press" that aired Sunday, seemingly forcing the issue to the forefront of public debate.
Another source said the recent events gave renewed life to old jokes and flippant remarks like, "Hello? Does he know this is the Obama presidency not the Biden presidency?"
None of these sources said they believed it would create a lasting rift between the West Wing and the vice president's office – because Biden has gone off script before and will do it again.
The president's team said they were aware of the risk when they tapped Biden for the ticket. One source added that the president has a close personal relationship with the former senator and that trumps his advisers' frustrations. But there is a great deal of interest in keeping the vice president "on script."   These top Democrats said they are not concerned that Biden will "get credit" for the same-sex marriage announcement. They said history will show it's the president who did this and they believe most people thought the president already supported same-sex marriage.   Sources also said the vice president feels bad about putting the president in a tough position.   As evidence he is not in the dog house, Biden hosted a student loan event at the White House Thursday and will make a two-day campaign swing in Ohio next week.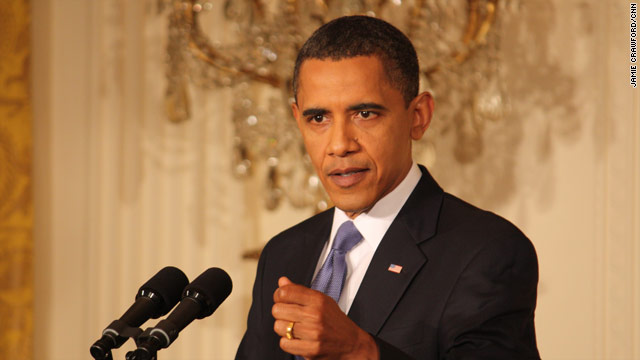 May 9th, 2012
07:15 PM ET
(CNN) – Was the president planning on publicly expressing support for same-sex marriage before the election? It depends who you ask.
One senior administration official tells CNN President Obama's advisors were deeply divided over whether it was prudent to make a public statement on the matter before voters weigh in next November.
That administration official added the president's advisors did not feel he needed to make public remarks on the issue until Vice President Joe Biden expressed support of same-sex marriage over the weekend, touching off a renewed focus on the president's continued hedging on the matter. Before today, the president has long maintained he believes in equal rights for same-sex couples but was continuing to 'evolve' on whether full marriage rights should be extended to them.
But other senior administration officials contend the president came to support same-sex marriage a few months ago and was planning to speak out in support of it before the Democratic National Convention in late summer and it was just a matter of when the right time would be. These officials say Biden's comments simply expedited that timeline.
A top Democratic source told CNN one factor that tipped the decision in favor of speaking out: there was going to be a fight over whether same-sex marriage should be adopted among the party's planks at the convention and Biden's remarks added early fuel to the fire.
Senior administration officials also tell CNN same-sex marriage will by no means be a cornerstone of his campaign in part because he is not pushing any legislation. In his comments with ABC Wednesday, the president said that he continues to believe the issue of same-sex marriage should be dealt with at the state level. He emphasized that he was sharing his personal views.
A senior administration official tells CNN First Lady Michelle Obama was deeply influential in this decision. The official said the president discussed his decision with Mrs. Obama who shared the view he should speak out in support of same sex marriage. FULL POST
May 9th, 2012
06:48 PM ET
The gay and lesbian community has been a big contributor to President Obama's 2012 campaign.
The non-partisan, non-profit research group The Center for Responsive Politics found that a dozen gay rights activists had "bundled" at least $2.7 million in contributions for the Obama campaign by late 2011. Bundlers are mega fundraisers who solicit donations from friends, colleagues and like-minded supporters to raise even more money than the bundlers themselves could legally donate to one candidate.
Wednesday, after Mr. Obama's announcement that he now supports same sex marriage, the Center found updated numbers showing another half million dollars donated to the Obama campaign in 2012 from two prominent Denver Colorado LGBT activists.
Below is a list of prominent LGBT bundlers who contributed to the Obama campaign:
• Tim Gill, a former tech executive and LGBT activist, and his husband, Scott Miller, of Denver, Colo., who bundled at least $500,000
• Charles Myers, of Evercore Partners, who has bundled at least $500,000
• Eugene Sepulveda, of Austin, Texas, who bundled at least $500,000
• Andrew Tobias, a writer and treasurer of the DNC, who bundled at least $500,000
• Dana Perlman and Barry Karas, of Los Angeles, who bundled at least $500,000
• Wally Brewster and Bob Satawake, of Chicago, who bundled at least $100,000
• Terry Bean, of Portland, Ore., who bundled at least $200,000
• Kathy Levinson, former president and CEO of E-trade, who bundled at least $200,000
• Laura Ricketts, of Ecotravel LLC in Chicago, who bundled at least $100,000
• Jeff Soref, of New York, who bundled at least $100,000
• Fred Eychaner, of Chicago, who bundled at least $50,000
• Paul Horning, of Atlanta, who bundled at least $50,000
• Kevin Jennings, the former Department of Education official, who bundled at least 50,000
Source: The Center for Responsive Politics