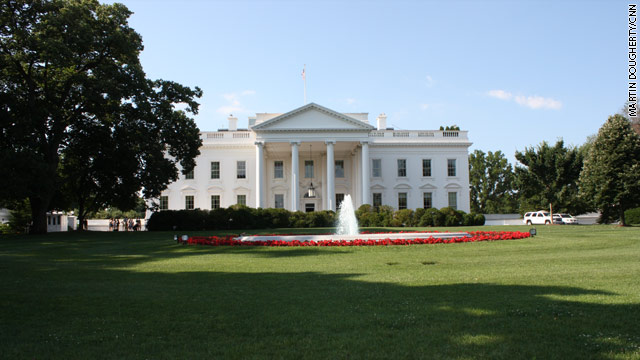 October 10th, 2012
08:44 AM ET
President Obama takes a little time off the campaign trail and spends the day at the White House on Wednesday. The only things on his public schedule are his usual presidential daily briefing and an afternoon meeting with Secretary Clinton. Perhaps in between, he could take some time to start preparing for the next debate but that is purely speculation. Meanwhile, we'll have the first briefing in well over a week today when Jay Carney briefs reporters at 12:30p.
The guidance released last night by the White House:
10:00AM Pool Call Time
10:45AM THE PRESIDENT receives the Presidential Daily Briefing
Oval Office (Closed Press)
2:00PM THE PRESIDENT meets with Secretary of State Clinton
Oval Office  (Closed Press)
Briefing Schedule
12:30PM Press Briefing by Press Secretary Jay Carney
##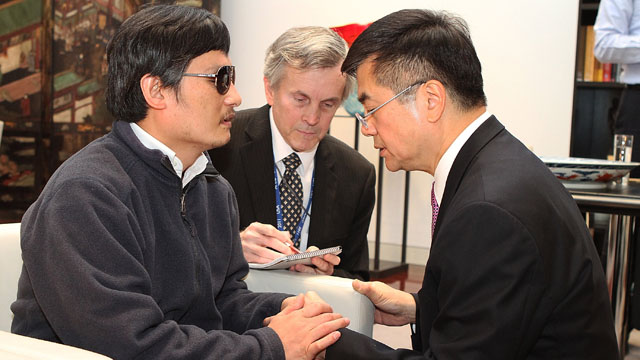 May 4th, 2012
08:33 AM ET
CNN White House correspondent Dan Lothian reports a senior administration official answers criticism that officials initially rushed Chinese dissident Chen Guangcheng out of the U.S. Embassy and didn't stay in touch.
Below is a timeline provided by the official.
Wednesday, May 2nd
-U.S. Officials meet with Chen's wife and family at train station and then accompany them to hospital.
-US officials connect them with Chen twice by phone.
-3pm: Ambassador Locke accompanies Chen to the hospital then departs.
-Other US officials remain with him at the hospital until 6:30pm.
-US officials (several but no exact number) speak with him twice more that evening by phone.
-In all they spend 3.5 hours with him.

Thursday, May 3rd
-US officials speak with Chen twice in the morning by phone.
-Calls happened before 9:45am.
-At 9:45am US officials go to the hospital and meet with wife and family for 1 1/2 hours.
-Chen's lawyer speaks with Chen's wife on phone for 20 minutes.
-That afternoon Embassy Doctor discusses health issues with Chen's doctor.
-US officials depart at 7:15pm.
-They try to speak with Chen by phone later that night but are unable to reach him.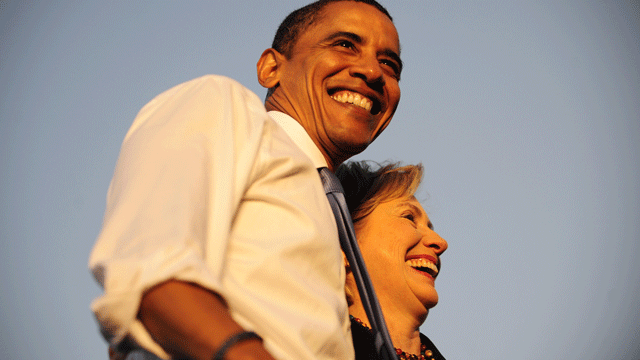 April 2nd, 2012
01:16 PM ET
(CNN) – She proved to be an important ally for President Obama on the campaign trail in 2008, but don't bet on Secretary of State Hillary Clinton making a return appearance to the stump this time around.
A senior administration official said Monday Clinton would be sitting out the 2012 election, as has been customary for past secretary of states during the campaign season. The position is an apolitical one, the senior administration official explained, and dispatching Clinton on the campaign trail would compromise that.
After their bitter primary battle simmered in 2008, Clinton and Obama appeared jointly at several events, fueling speculation the president would choose his former rival as his running mate. The former New York senator remains extremely popular with women voters – a demographic the president won by a healthy 13-point margin in 2008 and one he will need to fare equally well with next November.
But the entire Clinton family won't be absent from 2012 politics entirely. Former President Bill Clinton told MSNBC Monday he and the president have three fundraisers planned in the coming months.
November 1st, 2011
03:25 PM ET
President Obama called Dorothy Rodham a strong, determined and gifted person" Tuesday and said his thoughts are with the "entire Clinton family."
The comments came during a signing ceremony in the Oval Office.
From the White House transcript:
Ms. Rodham was a remarkable person. Anybody who knows her history knows what a strong, determined and gifted person she was. For her to have been able to live the life that she did and to see her daughter succeed at the pinnacle of public service in this country, I'm sure was deeply satisfying to her.

My thoughts, Michelle's thoughts, the entire White House's thoughts go out to the entire Clinton family. And I know that she will be remembered as somebody who helped make a difference in this country and this world.
March 13th, 2011
02:19 PM ET
WASHINGTON (CNN) - P.J. Crowley abruptly resigned Sunday as State Department spokesman over controversial comments he made about the Bradley Manning case.
Sources close to the matter the resignation, first reported by CNN, came under pressure from the White House, where officials were furious about his suggestion that the Obama administration is mistreating Manning, the Army private who is being held in solitary confinement in Quantico, Virginia, under suspicion that he leaked highly classified State Department cables to the website Wikileaks.
Read the full story on the political ticker.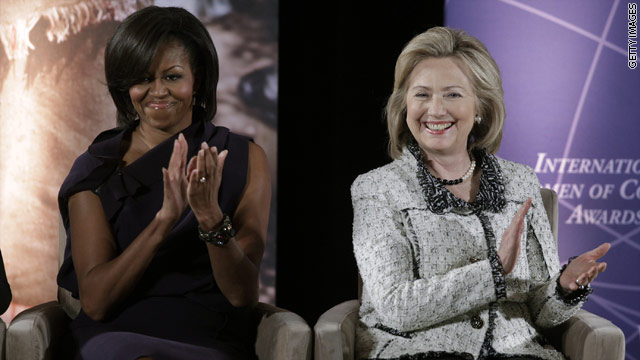 March 8th, 2011
02:33 PM ET
By: CNN Associate Producer Gabriella Schwarz
Washington (CNN) – Secretary of State Hillary Clinton used an event commemorating the 100th anniversary of International Women's Day to stress the importance of female valor around the world and specifically in countries experiencing social unrest.
"Women in Egypt and Tunisia and other nations have just as much right as the men to remake their governments, to make them responsive, accountable, transparent," Clinton said Monday at the State Department. "We will certainly be watching and the world will watch."
Clinton said women deserve to be at the table as countries in Africa and the Middle East rebuild, "making those choices that will affect their lives and the lives of their daughters and their sons no matter what government emerges."
Check out the complete story on CNN's Political Ticker.
February 28th, 2011
03:30 PM ET
Washington (CNN) - The United States has frozen at least $30 billion in Libyan government assets, a U.S. Treasury official announced Monday - one of a series of steps being taken by international leaders designed to break strongman Moammar Gadhafi's grip on power.
For the complete story, go to CNN.com
February 28th, 2011
01:05 PM ET
WASHINGTON (CNN)–Secretary of State Hillary Clinton Monday speaking in Geneva, Switzerland said  "nothing is off the table" as the United States works with allies to stop the bloodshed in Libya where embattled leader Moammar Gadhafi struggles to remain in power.  But as the Pentagon confirms that the United States is "repositioning" naval and air forces to be prepared for any option with Libya, Secretary Clinton said there is no pending U.S. naval actions planned against Libya. "We do believe that there will be the need for support for humanitarian intervention," she said when asked about the reports.
Clinton called again for Gadhafi's ouster and said she is in "intense discussions" with friends and allies of the United States and that the world will hold the Libyan leader and his regime accountable for human rights abuses.
Clinton's remarks come as she meets with European Union ministers.  Monday the EU agreed to impose economic sanctions on Libya, including an arms embargo, freezing Ghadaffi's assets and banning travel to Libya. This is the latest action after the United States announced similar sanctions Friday.
Speaking to reporters, Clinton said that U.S. humanitarian teams have been sent to Libya's borders of Tunisia and Egypt.   Clinton said USAID has set aside an additional $10 million for humanitarian aid including much needed medical supplies.  Saying the United States is very concerned about the humanitarian situation in Libya.  FULL POST
February 28th, 2011
09:12 AM ET
WASHINGTON (CNN)–Secretary of State Hillary Clinton is in Geneva, Switzerland Monday to meet with European Union foreign ministers.  Clinton is expected to press them to approve tough sanctions on Libya in response to its crackdown on an anti-government protesters.
Clinton will address the U.N. Human Rights Council in Geneva ans later hold a press conference.
Libyan leader Moammar Gadhafi seemed increasingly cornered as security forces defected to the opposition in a town near the capital and the United Nations Security Council voted for tough restrictions and possible war crimes charges against the Libyan regime.
On Sunday, Gadhafi criticized the Security Council resolution, passed over the weekend, telling private Serbian station Pink TV by phone that council members "took a decision based on media reports that are based abroad." He added, "If the Security Council wants to know about something, they should have sent a fact-finding committee."
The Security Council measures - which include an arms embargo, asset freeze and travel bans for Gadhafi and members of his family and associates - also refer the situation unfolding in Libya to the International Criminal Court.
Secretary Clinton said the Security Council measures form "one of the speediest international responses to a government targeting its own people."
"We recognize the killings are ongoing," Clinton told reporters en route to a meeting of the U.N. Human Rights Council in Switzerland. "We recognize we need to advance the humanitarian, the military, judicial, and even forensic planning already under way."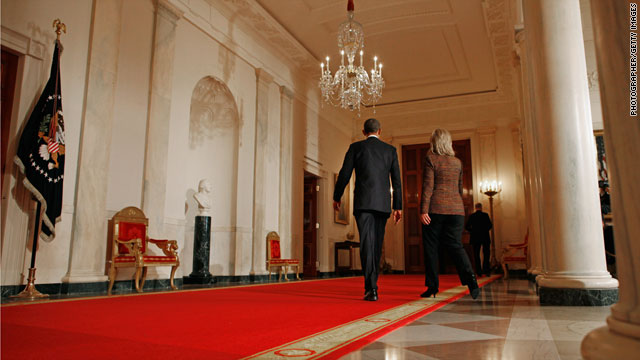 February 24th, 2011
01:26 PM ET
President Obama departs the Grand Foyer of the White House with Secretary of State Clinton, after making his first public statement on Libya.