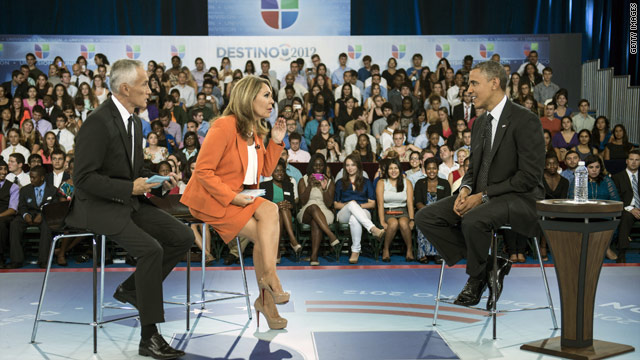 September 20th, 2012
08:51 PM ET
Miami, FL (CNN) - President Barack Obama flew to Miami on Thursday to try to shore up Latino support in a town hall forum broadcast by the Spanish language network Univision.
Before an audience of 700 Spanish speakers – half college students - at the "Meet the Candidates" forum, Obama defended his record on immigration and tried to explain why his administration did not fulfill a 2008 campaign promise to tackle comprehensive reform in his first year in office.
"When we talked about immigration reform in the first year, that was before the economy was on the verge of collapse … the stock market was collapsing. And so my first priority, was making sure we prevented us from going into a great depression."
Univision host Jorge Ramos pressed Obama on his pledge, saying "a promise is a promise." FULL POST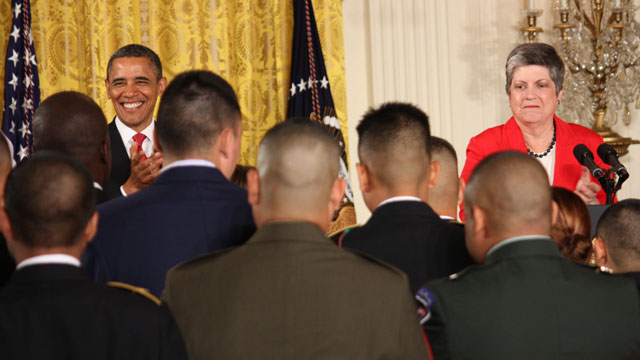 July 4th, 2012
02:01 PM ET
White House (CNN) - In a Fourth of July ceremony at the White House, brimming with political undertones, President Obama hosted a naturalization ceremony for more than two dozen active duty service members.
"[T]his is one of my favorite things to do. It brings me great joy and inspiration because it reminds us that we are a country that is bound together not simply by ethnicity or bloodlines, but by fidelity to a set of ideas," Mr. Obama told the audience of new Americans and their families.
The White House has hosted similar naturalization ceremonies in previous years but never on Independence Day. And while the newly minted citizens came from countries around the world including Russia, the Philippines and Cameroon, about half were Latinos, a key voting block in the upcoming election.
FULL POST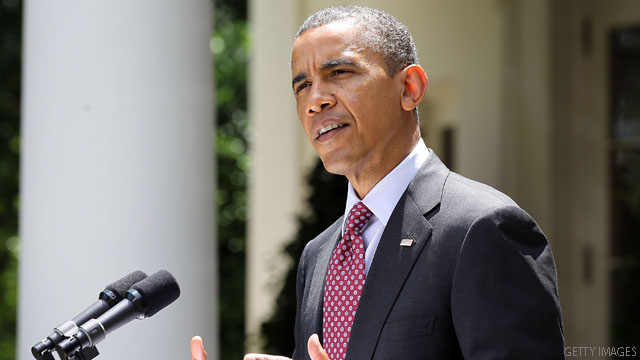 June 19th, 2012
10:10 AM ET
(CNN) – A majority of voters agreed with the immigration policy unveiled by President Barack Obama last week, according to a new poll.
The Bloomberg Poll released Tuesday showed 64% of likely voters backed the shift, which would allow the children of illegal immigrants who meet certain requirements to stave off deportation for two years. Although 30% of those surveyed disagreed with the president, coveted independent voters agreed with the decision by better than a two-to-one margin.
However, support was divided along party lines. Fifty-six percent of likely Republican voters opposed the decision while 86% of Democrats issued praise. Sixty-six percent of independents backed the policy change, while 26% disagreed.
Obama announced the shift on Friday, saying it will make U.S. immigration policy "more fair, more efficient and more just."
The changes would allow people not over the age of 30 who came to the United States before the age of 16, pose no criminal or security threat and were successful students or served in the military to receive a two-year deferral from deportation.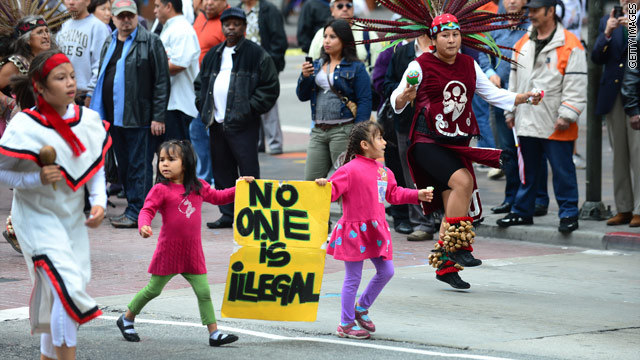 June 15th, 2012
12:11 PM ET
UPDATE TO PRESIDENT OBAMA'S SCHEDULE: President Obama will make remarks in the Rose Garden about the immigration announcement at 1:15p.
Washington (CNN) - In an election-year policy change, the Obama administration said Friday it will stop deporting young illegal immigrants who were brought to the United States as children if they meet certain requirements.
The new policy will cover people younger than 30 who came to the United States before the age of 16, pose no criminal or security threat, and were successful students or served in the military, the Department of Homeland Security announced.
It also will allow those meeting the requirements to apply for work permits, the statement said. The initial deferral of deportation will be for two years, and participants must be in the United States now and be able to prove they have been living in the country continuously for at least five years.
President Barack Obama will make a White House statement about the policy change Friday afternoon.
Click here for the entire story.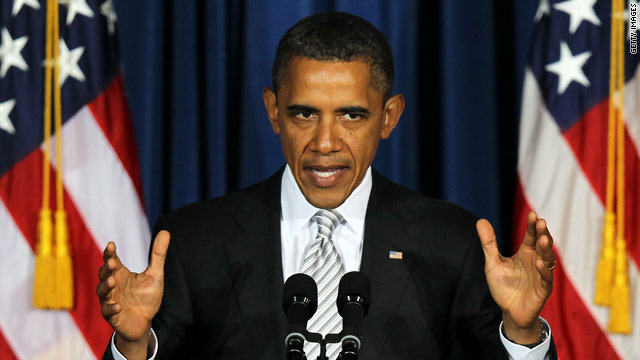 February 23rd, 2012
01:05 PM ET
Calling Republicans in Congress the "roadblock" to getting comprehensive immigration reform passed, President Barack Obama seemed to bristle when Univision radio host Eddie "Piolin" Sotelo pressed him on breaking his 2008 campaign promise to Latinos.
"I would have only broken my promise if I hadn't tried," the president told Sotelo in a radio interview broadcast Wednesday.
"But ultimately, I'm one man," the president continued. "You know, we live in a democracy. We don't live in a monarchy. I'm not the king. I'm the president."
Mr. Obama drew a clear contrast between himself and his potential Republican challengers telling Sotelo, "[W]e haven't seen any of the Republican candidates even support immigration reform. In fact, their leading candidate said he would veto even the Dream Act, much less comprehensive immigration reform," said the president in a reference to Mitt Romney's promise to veto any bill that would open a path to citizenship for some undocumented young people."
When asked if he felt he still had support in the Latino community, a voting block of some 12 million, the president answered with bravado.
"[M]y presidency is not over. I've got another five years coming up. We're going to get this done. And absolutely, we have strong support in the Latino community because they've seen what we've been working on."
May 12th, 2011
11:45 AM ET
WASHINGTON (CNN) - "I've got to say, there is no more inspiring way to begin a day than by praying with fellow believers," President Obama said Thursday morning at the National Hispanic Prayer Breakfast.
At the event with Hispanic faith leaders, the president took the opportunity to tout immigration reform, describing the it as a "moral imperative."
Obama spoke of patriots planning the American Revolution inBoston's Episcopal churches, and noted that the civil rights movement was born in Baptist churches across the South.
"At critical junctures throughout our history, it's often been men and women of faith who've helped to move this country forward," he observed.
And if immigration reform is to happen, Obama said he needed the help of those in the room.
"The only way we are going to get this done is by building a widespread movement for reform. That's why I'm asking you to keep preaching and persuading your congregations and communities.  That's why I'm asking you to keep on activating, getting involved, mobilizing.  That's why we all need to keep praying," he pleaded.
For his own part, Obama pledged to continue push the issue and work with Congress.
"I know there are some folks who wish I could just bypass Congress. I can't," he said.
May 10th, 2011
11:30 PM ET
By Alan Silverleib, CNN
WASHINGTON (CNN) - President Barack Obama heads to El Paso, Texas, on Tuesday to give a speech on the need for comprehensive immigration reform - a perennial hot-button political issue that both Democrats and Republicans hope to use to their advantage in 2012.
Video: Dan Lothian's report on President Obama's El Paso visit
Obama has held a series of meetings with key Latino officials and reform advocates in recent weeks. Despite an aggressive push for substantive policy changes from his political base, the president recently indicated he has ruled out acting on his own to implement provisions of a reform bill that failed to win congressional approval last year.
Nevertheless, immigration reform "remains a priority" for the administration, White House Press Secretary Jay Carney said Monday. There has been bipartisan support for reform in the past, Carney noted, and "we think we can build support for it again in the future."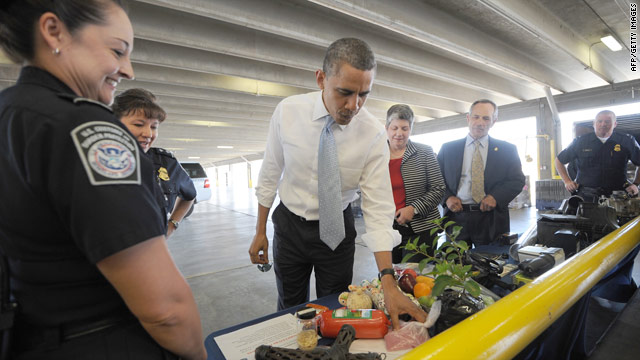 May 10th, 2011
05:41 PM ET
EL PASO, Texas (CNN) - Prior to delivering remarks on his vision for comprehensive immigration reform, President Obama toured the largest of four crossings that make up the El Paso Port of Entry Tuesday.
"How's it going," Obama asked officers from the Customs and Border Protection on hand to greet him, Secretary of Homeland Security Janet Napolitano, and Customs and Border Protection commissioner Alan Bersin at the Bridge of the Americas Port of Entry. The facility processes private and commercial vehicle and pedestrian traffic on the U.S.- Mexican border.
Looking out on the bridge just a few hundred yards away from Mexico, Obama inspected an x-ray machine that is used to check the contents of trucks crossing the border.
FULL POST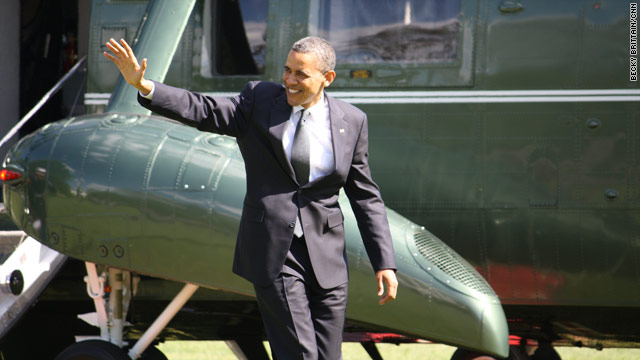 May 10th, 2011
06:33 AM ET
WASHINGTON (CNN) - When President Obama heads to El Paso,Texas Tuesday he'll be pushing comprehensive immigration reform and calling on Congress for a bi-partisan effort to fix the problem.
"He's going to make the case that legislation is the root to reform here and to press for legislative action," said one of three senior administration officials who briefed reporters ahead of the president's trip.
The president is expected to call for action "as soon as possible," the officials said, but he won't lay down a deadline.
While officials admit that there are "significant obstacles" in a divided Congress, they said that inaction is not an option. FULL POST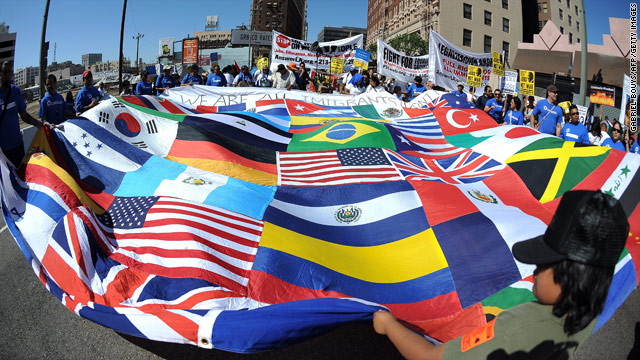 May 9th, 2011
01:51 PM ET
WASHINGTON  (CNN) - President Obama heads to El Paso,Texas tomorrow where he is expected to talk about an issue that was near and dear to his heart on the 2008 campaign trail: immigration.
Then candidate Obama frequently promised comprehensive immigration reform, even pledging to La Raza, the Hispanic civil rights advocacy group, that he would "make it a top priority in my first year as president."
"It's time for a president who won't walk away from something as important as comprehensive reform when it becomes politically unpopular," he told the group in July 2008, adding, "not just because we need to secure our borders and get control of who comes into our country, and not just because we have to crack down on employers abusing undocumented immigrants – but because we have to finally bring those 12 million people out of the shadows."
Two years later, reform remained but a pledge.