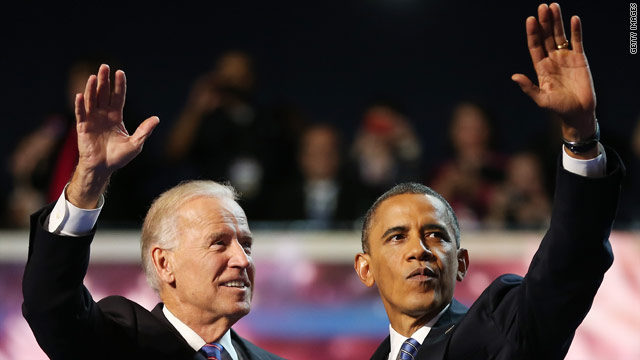 September 7th, 2012
12:30 PM ET
President Obama hits the campaign trail straight off his speech at the Democratic National Convention. He'll make his first post-convention stop in Portsmouth, NH on Friday. The First Lady, Vice President and Dr. Biden will also be there. His first stop will be at the Strawbery Banke Museum where, according to the campaign, the they will, "discuss their plan to restore middle-class security by paying down our debt in a balanced way that ensures everyone pays their fair share and still invests in the things we need to create jobs and grow our economy over the long term, like education, energy, innovation, and infrastructure." He'll continue his tour with a stop in Iowa on Friday evening at University of Iowa in Iowa City with another campaign event. The president will then head to Florida on the eve of his two-day bus tour through the battleground state.
Full Schedule:
FULL POST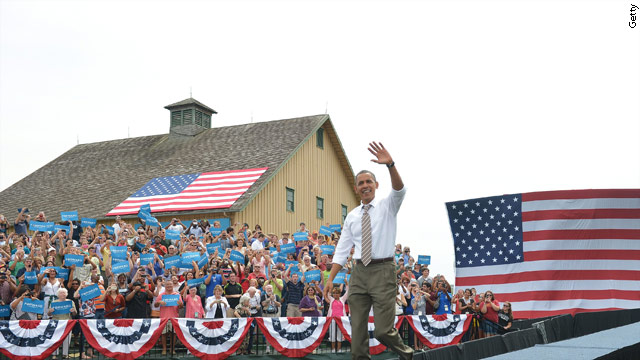 September 1st, 2012
06:07 PM ET
Urbandale, Iowa (CNN) - President Obama began his "Road to Charlotte" tour before 10,000 people here on Saturday, kicking off a string of events that will bring him right up to his acceptance speech at the Democratic National Convention on Thursday night.
"There's a reason for me to begin the journey here in Iowa, where it first began more than four years ago," Obama said, reminding Iowans that it was a victory at the state's caucuses in 2008 that set him on his path to the presidency. "And it will be you, Iowa, who choose the path we take from here."
Beginning what will surely be several days spent rebutting the messages of last week's Republican National Convention in Tampa, Florida, the president took his opponent to task for offering "rerun" policies "better suited for the last century."
"If you didn't DVR it, let me recap it for you," Obama said of the Republican's convention. "Everything's bad. It's Obama's fault, and Governor Romney is the only one who knows the secret to creating jobs and growing the economy. That was the pitch. There was a lot of talk about hard truths and bold choices, but nobody ever actually bothered to tell you what they were."
Read the full story on the CNN Political Ticker.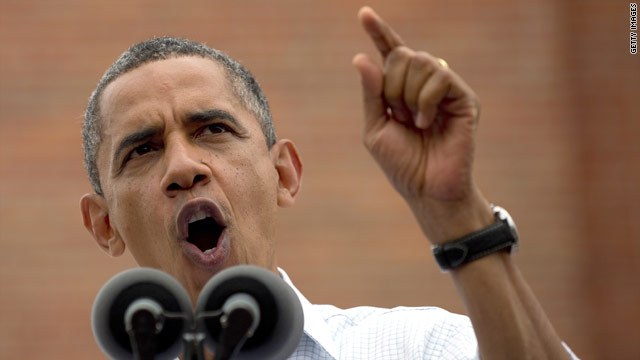 August 15th, 2012
04:54 PM ET
Dubuque, Iowa (CNN) – Continuing an increasingly heated campaign exchange on the topic of Medicare, President Obama defended his record here on Wednesday against attacks from his Republican rivals that he has cut benefits to seniors.
Linking the reforms included in Republican vice presidential candidate Paul Ryan's congressional budget proposal with Mitt Romney's campaign platform, Obama argued that they're attacking his plan because they don't want to sell their own.
"I think they know their plan's not very popular," the president said. "You can tell that because they're being pretty dishonest about my plan, especially by the way when it comes to Medicare. Now this is something I've got to point out here because they are just throwing everything at the wall to see if it sticks."
FULL POST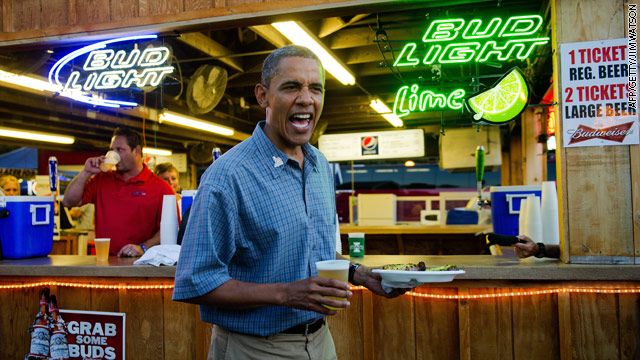 August 14th, 2012
09:15 AM ET
WHITE HOUSE (CNN) - President Obama made a somewhat unannounced stop at the Iowa State Fair on Monday evening, just hours after Republican Vice Presidential candidate Paul Ryan gave a speech there.
The president gave no formal remarks but he did buy a round of beers as he greeted many fair-goers.
"Bud lights all around on me!" Obama declared to those gathered in the Mike's Tavern beer tent on the Iowa State Fairgrounds. He clarified that the offer was only good for those 21 years old and older.
To the chants of "Four more beers!", he looked into his wallet and then amended his offer and promised 10 beers for 10 people. FULL POST
August 14th, 2012
08:35 AM ET
BOONE, Iowa (CNN) –President Barack Obama addressed an enthusiastic crowd of more than 2,000 supporters in Boone, Iowa, Monday, but even among the most diehard of fans it wasn't hard to find a critic.
Krishna Prabhu, a recent college graduate from Ames, Iowa, stood just over the president's left shoulder throughout his remarks at the Herman Park pavilion. A few minutes after Obama took the stage, Prabhu quietly unfolded a regular piece of white printer paper with the words "FUND PEPFAR" printed on it in big black letters. He held it silently for about five minutes in full view of the audience and all the television cameras aimed at the president's remarks, and then just as quietly, he refolded the paper and put it away.
PEPFAR – or the President's Emergency Program for AIDS Relief – was started by President George W. Bush in 2003 and is widely viewed as one of the great successes of his administration. The program was renewed by Congress in 2008 with a $48 billion commitment for fiscal years 2009 to 2013. FULL POST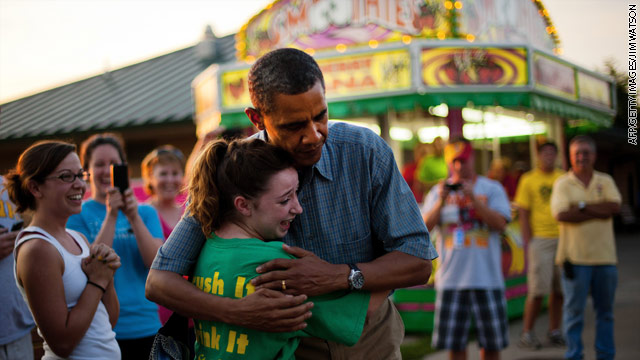 August 14th, 2012
08:00 AM ET
After an evening at the Iowa State Fair, President Obama continues his trek across the state with day two of his campaign bus tour. Today's stops include events in Oskaloosa, Marshalltown, and Waterloo and we expect several unexpected stops in between. We expect he'll continue to hit Republican Vice Presidential candidate Paul Ryan like he did yesterday when he repeated his claim that Ryan is the "ideological leader of the Republicans in Congress". And of course, he'll continue to talk about what he calls the "fundamental difference in visions" between he and Republican Mitt Romney.
For the full guidance released by the White House, click below. FULL POST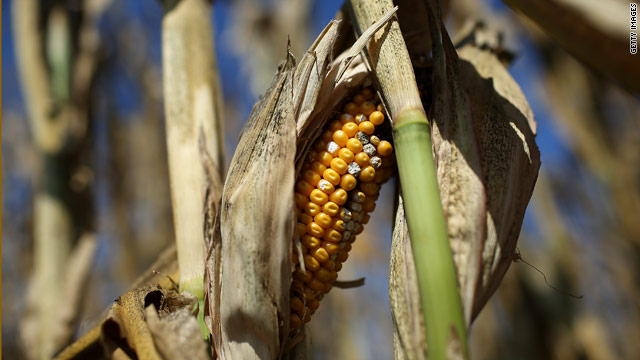 August 13th, 2012
11:44 AM ET
Council Bluffs, Iowa (CNN) - With Mitt Romney's newly minted running-mate Rep. Paul Ryan (R-WI) also campaigning in Iowa this week, President Obama plans to take a swipe at the vice presidential hopeful here during the first stop of a three-day bus tour across the Hawkeye state.
"He's one of those leaders of Congress standing in the way," the president is expected to say, referring to the Farm Bill, which is awaiting congressional approval and that the president believes will provide much needed relief for farmers and ranchers in Iowa and across the country.
"So if you happen to see Congressman Ryan, tell him how important this farm bill is to Iowa and our rural communities. It's time to put politics aside and pass it right away," the president is expected to say in Council Bluffs according to transcripts released by his re-election campaign.
FULL POST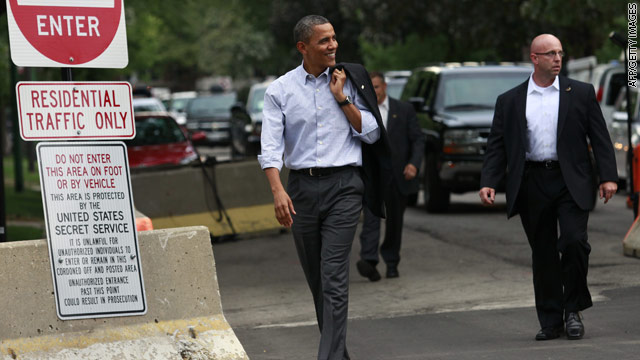 August 13th, 2012
08:03 AM ET
After holding five fundraisers in his hometown of Chicago, President Obama kicks off a three-day bus tour of Iowa today.  Later this morning, he'll head to Iowa by way of Omaha. He'll board Ground Force One, by no means the official name of the bus, and make his way to Council Bluffs, Iowa. Along the way, we expect him to stop for meet and greets with locals in some other towns. He's been known to stop at diners for breakfast or country stores or farmers' markets. Later this evening, he has another campaign event in Boone, Iowa.
For the official guidance released by the White House, click below. FULL POST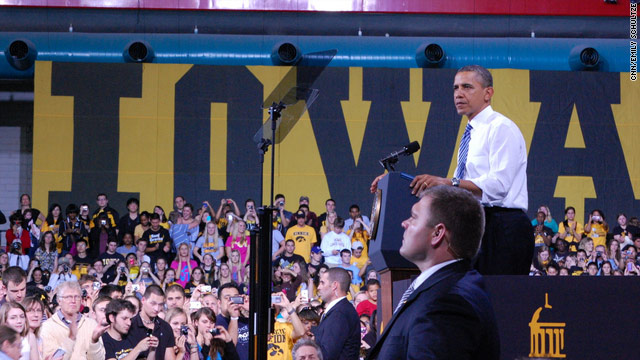 April 25th, 2012
03:57 PM ET
Iowa City, IA (CNN) -  President Obama visited his third college in two days with this stop at the University of Iowa, where he continued his push for the youth vote, calling on Republicans to extend lower interest rates on federally subsidized Stafford loans.  The rates are set to jump from 3.4% to 6.8% if Congress doesn't act by July 1.
Pushing his campaign message that he is the candidate fighting for the middle class, Obama sought to contrast himself with his wealthier opponent, former Massachusetts governor Mitt Romney, telling a crowd of students, "We were lucky to land good jobs with a steady income but we only finished paying off our student loans about eight years ago."
"Think about that," he said.  "I'm president of the United States. It was only about eight years ago that we finished paying off our student loans."
The president's trip to Iowa follows Tuesday's speeches at the University of North Carolina Chapel Hill and the University of Colorado at Boulder – all in battleground states.