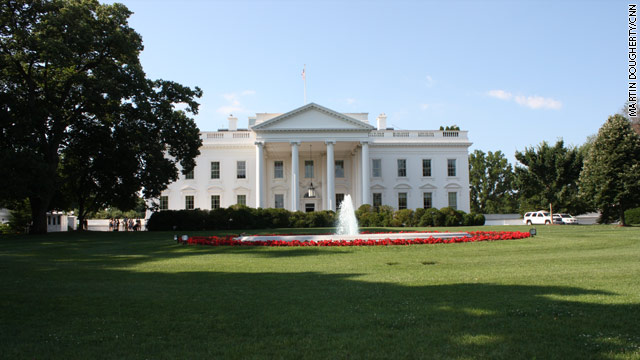 August 31st, 2012
08:15 AM ET
President Obama holds his first official event since July when he spends the day with troops at Fort Bliss, Texas. While there he'll deliver remarks at the First Aviation Support Battalion Hanger on base and will have a round-table discussion with soldiers and their families. This is his second visit to Fort Bliss since he became President. The last time he was there was exactly two years ago when he visited with troops before making the announcement that the combat operation in Iraq would be coming to an end. Later that evening, he made a statement from the Oval Office in primetime back in 2010. The last combat troops left Iraq on December 17, 2011. This, of courses, is one of the accomplishments that President Obama mentions in most campaign speeches of promises he has kept as president. He'll focus on the anniversary of his announcement with remarks "underscoring his commitment as Commander-in-Chief to responsibly ending those wars, while strengthening the health of our force and providing additional support to combat two unseen wounds of these wars – Post-Traumatic Stress Disorder and Traumatic Brain Injuries."
For full guidance from the White House, click below. FULL POST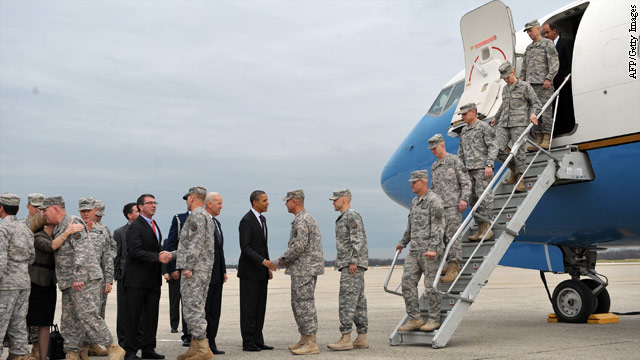 February 6th, 2012
10:17 AM ET
By Barbara Starr
The White House plans to hold a formal dinner in the coming weeks honoring Iraq war veterans, the fallen and their families, a senior DOD official has confirmed. He declined to be identified pending a formal White House announcement.
The official said the dinner for some 200 people will include military personnel of all ranks, but the focus will be on enlisted personnel who served in Iraq. The dinner comes as the veteran's advocacy group Iraq and Afghanistan Veterans of America has been pressing for a ticker tape parade to specifically honor veterans of the Iraq war.
The senior official said top US military officers are opposing holding a parade for the Iraq war, "while there are still troops in harms way," fighting in Afghanistan. "A New York city style ticker tape parade has come to represent a major national tribute," the official said.
Read more on CNN's Security Clearance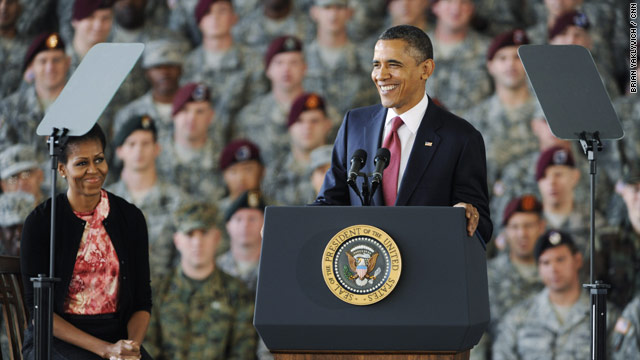 December 14th, 2011
06:34 PM ET
(CNN) - President Barack Obama on Wednesday welcomed home returning troops from Iraq, hailing their service to help a people they didn't know as an example of what makes America great.
"As your commander in chief, and on behalf of a grateful nation, I'm proud to finally say these two words, and I know your families agree - welcome home. Welcome home," Obama told cheering troops at Fort Bragg, North Carolina.
"Welcome home," he repeated again, to enthusiastic applause. "Welcome home."
The U.S. military mission that began in 2003 is ending this month, and Obama used the speech to mark the fulfillment of a campaign pledge he made in 2008 to end the war.
Noting the almost 4,500 Americans killed and more than 30,000 injured, Obama spoke of the heavy sacrifice and hard work in the Iraq mission.
"Because of you - because you sacrificed so much for a people that you had never met, Iraqis have a chance to forge their own destiny," Obama said. "That's part of what makes us special as Americans. Unlike the empires of old, we did so not for territory or for resources. We do it because it's right.
"There can be no fuller expression of America's support for self-determination than our leaving Iraq to its people. That says something about who we are."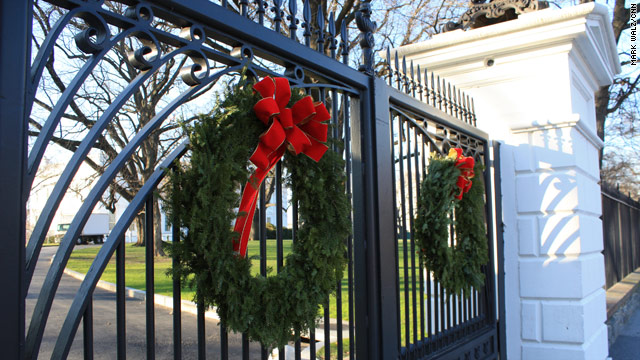 December 13th, 2011
08:00 AM ET
President Obama continues his focus on the withdrawal of U.S. troops from Iraq in the next couple of weeks by sitting down with local television affiliates for interviews  this morning. He'll be interviewed by WVEC from Norfolk, VA; WEAR from Pensacola, FL; and KOAA from Colorado Springs, CO- all markets near military bases. In guidance last night from the White House, "As we definitively end America's war in Iraq this month, the President will talk to anchors from television stations that have large military communities in their markets to discuss the enormous sacrifices and achievements of the brave Americans who served in the Iraq War, and he will speak about the extraordinary milestone of bringing the war in Iraq to an end." He'll also plans to talk about the payroll tax extensions and whatever other questions the interviewers ask.
Later this morning, the president turns his attention to the campaign and attends a campaign event at a local Washington, D.C. hotel.
For full guidance from the White House, click below. FULL POST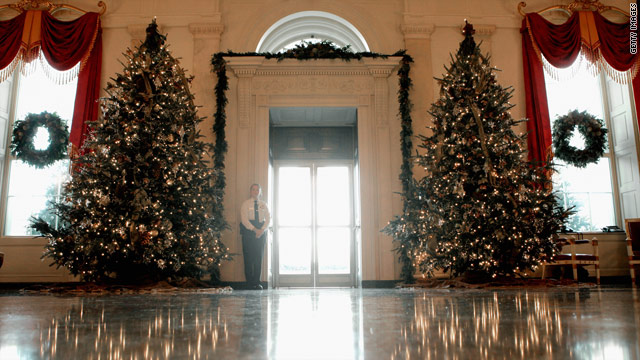 With only a few weeks until the withdrawal of U.S. troops, it's all about Iraq here at the White House. President Obama will meet with Iraqi Prime Minister al-Maliki to discuss the relationship between the two countries. As of today, there are still 6,000 troops among four bases in Iraq and today's meeting will be part of establishing the next phase of the partnership. The first thing on President Obama's schedule is an expanded bilateral meeting with al-Maliki where both countries' delegations will be present. Afterwards, it's a meeting with just the two leaders, which is closed to the press. The big event of the day will be a joint press conference in the South Court Auditorium of the Eisenhower Executive Office Building at 11:35am. The only other thing on the president's agenda is a meeting with Secretary of State Hillary Clinton.
Click below for the entire schedule released by the White House. FULL POST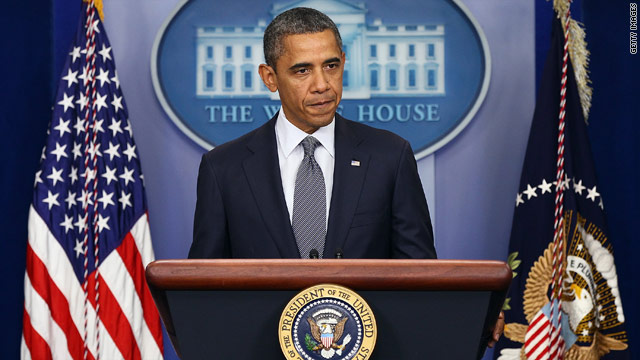 October 22nd, 2011
11:12 AM ET
Washington (CNN) - President Obama may be fighting an uphill battle in trying to turn the nation's ailing economy around, but when it comes to national security his accomplishments are stacking up.
From killing Osama bin Laden and American al Qaeda cleric Anwar al-Awlaki, to the NATO-led effort that ended in the death of Libya's Moammar Gadhafi, critics who have argued over the administration's foreign policy strategy are offering up muted praise.
The president is quick to point out that his latest move to pull all U.S. troops out of Iraq by the end of the year, ending the nearly nine-year war, fulfills a campaign promise.
It's a not so subtle reminder to a skeptical public as he battles low approval ratings and works to shore up his base ahead of the 2012 elections.
See the full story on the Political Ticker.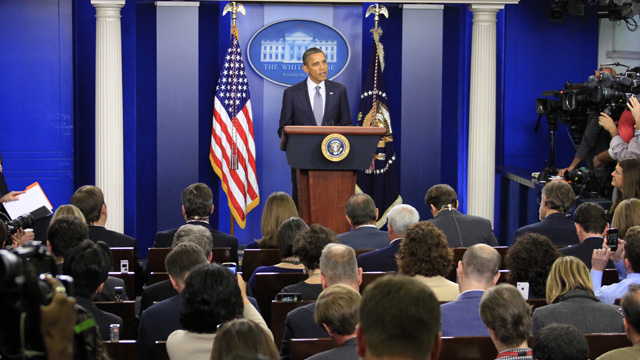 October 21st, 2011
02:48 PM ET
This afternoon President Obama stepped into the press briefing room at the White House to announce that he had just spoken via secure videoconference with Iraqi Prime Minister Nouri al-Maliki and reaffirmed his commitment to remove all U.S. troops from his country by the end of the year.
"After nearly nine years, America's war in Iraq will be over," Obama said. "Over the next two months, our troops in Iraq, tens of thousands of them, will pack up their gear and board convoys for the journey home. The last American soldier will cross the border out of Iraq with their heads held high, proud of their success, and knowing that the American people stand united in our support for our troops. That is how America's military efforts in Iraq will end."
CNN's national security unit reported on October 17 that the United States and Iraq have been unable to come to an agreement on key issue regarding legal immunity for U.S. troops who would remain in Iraq after the end of the year. A senior U.S. military official with direct knowledge of the discussions told CNN on Monday that this effectively ended discussion of maintaining a significant American force presence after the end of 2011.
There are approximately 39,000 U.S. troops currently in Iraq and the U.S. had initially wanted to keep between 3,000 and 5,000 troops in Iraq beyond the end of 2011. Although a small number of U.S. troops will remain attached to the U.S. Embassy in Baghdad, today's announcement shows that the Obama administration is going against the recommendations of many senior Republicans in Congress.
Already the president's announcement has been received with trepidation by Republicans on Capitol Hill. South Carolina Senator Lindsey Graham – a senior member of the Senate Armed Services committee – released a statement expressing his skepticism that the president's plan will succeed.
"I respectfully disagree with President Obama," Graham's statement read. "I feel all we have worked for, fought for, and sacrificed for is very much in jeopardy by today's announcement. I hope I am wrong and the President is right, but I fear this decision has set in motion events that will come back to haunt our country."
Rep. "Buck" McKeon – chairman of the House Armed Services Committee – released a similar statement. "I remain concerned that this full withdrawal of US forces will make that road tougher than it needs to be," McKeon's statement read. "Multiple experts have testified before my committee that the Iraqis still lack important capacities in their ability to maintain their internal stability and territorial integrity.  These shortcomings could reverse the decade of hard work and sacrifice both countries have endured to build a free Iraq."
Senate Democrats have come out in support of the president's decision, especially in light of the Iraqi government's refusal to guarantee immunity for U.S. troops. FULL POST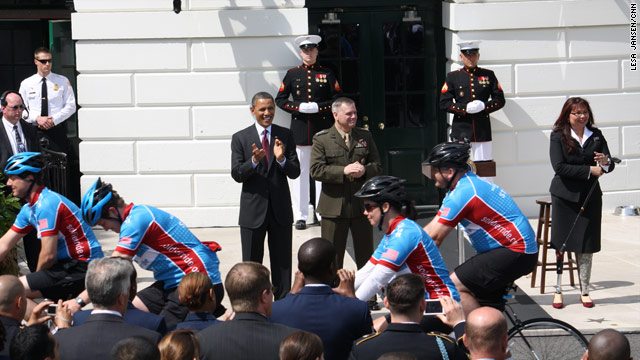 May 4th, 2011
05:55 PM ET
WASHINGTON (CNN) - Just days after the United States' dramatic, secret raid on Osama bin Laden's compound, President Obama told a gathering of more than 500 military men and women that "America will ensure that justice is done."
On the South Lawn of the White House Wednesday, service members from each branch of the military gathered to kick off the annual wounded warriors cycling ride. The president thanked them for their service, noting that the nation has been at war for nearly 10 years and acknowledged the bravery of the special operations team that killed Osama bin Laden.
"[T]hanks to the courage and precision of our forces - the terrorist who started this war and who took so many innocent lives learned that America does not forget." FULL POST
January 12th, 2011
05:56 PM ET
WASHINGTON (CNN) - Vice President Joe Biden has arrived on an unannounced visit to Iraq following earlier stops in Afghanistan and Pakistan.
The visit comes after Iraq announced the formation of an inclusive national government last month. That announcement followed a months long political stalemate between Iraq's various ethnic groups and sects following national elections in March of last year.
Biden's visit also comes after the United States formally ended its combat mission last August leaving less than 50,000 troops there in an advisory role. "The remaining troops are advising and assisting Iraq's security forces, conducting partnered counter-terrorism operations, and protecting U.S. civilians," the White House said in a written statement announcing Biden's visit to Iraq. "In accordance with an agreement between the U.S. and Iraqi governments, all U.S. forces will leave Iraq by December 31, 2011. At the same time, the United States is increasing its diplomatic, political and economic engagement with Iraq, opening consulates and branch offices throughout the country and pursuing important programs to help train Iraq's police and judiciary and to build strong business and investment ties."
FULL POST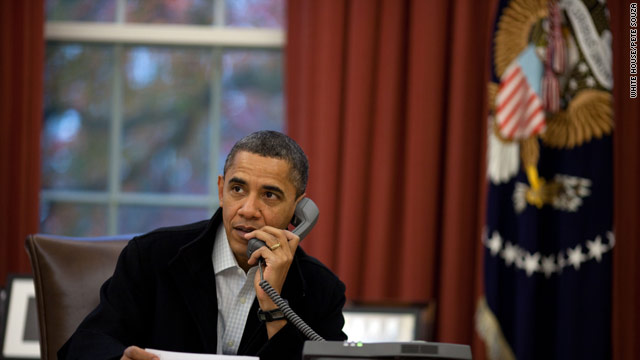 November 25th, 2010
02:52 PM ET
This morning, President Obama called 10 members of our armed services – two from each the Army, Air Force, Coast Guard, Marine Corps, and Navy – deployed in support of Operation New Dawn and Operation Enduring Freedom.
The President thanked each of them for their service and sacrifice and wished them and their families a Happy Thanksgiving.