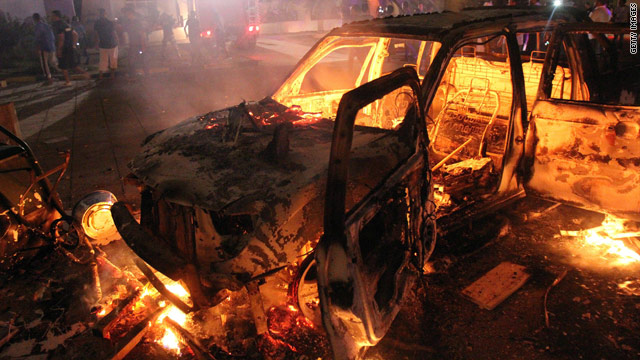 September 26th, 2012
03:35 PM ET
Both the Romney campaign and the Republican National Committee released statements Wednesday criticizing President Obama for not explicitly classifying the attacks on the U.S. consulate in Libya as "terrorist attacks" in public appearances over the past two weeks.
At the UN General Assembly on Tuesday, Obama called the violence, "attacks on America," but stopped short of labeling the perpetrators as terrorists.
"There should be no doubt that we will be relentless in tracking down the killers and bringing them to justice," the president said.
When specifically asked whether the strikes were terrorist attacks during a television appearance on ABC's The View on Monday, Obama wouldn't say. FULL POST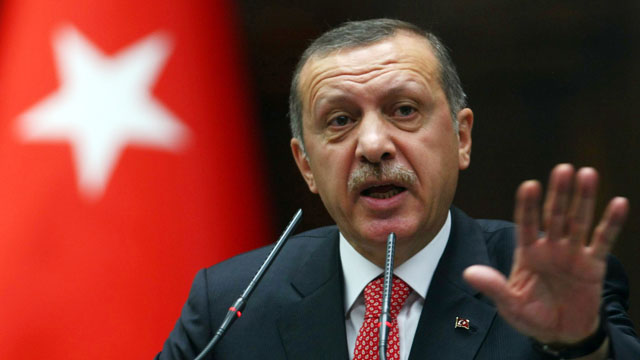 June 26th, 2012
01:00 PM ET
(CNN)–White House spokesman Jay Carney Tuesday condemned Syria's shoot down of a Turkish military plane last week calling the action "unacceptable". Speaking with reporters aboard Air Force One as the president traveled to campaign events in Georgia and Florida, Carney commended Turkey for what he called its "measured" response.
Carney said the United States stands by Turkey and its allies and will work with Turkey to hold Syria's Bashar al-Assad regime accountable. The incident, which occurred last Friday when the Turkish Phantom F-4 was shot down as it flew over Syrian waters, raised even more tension between Turkey and Syria, two heavily armed regional powers.
Carney said Syrians have, in his words, paid for Assad's "hubris and lies" and the spokesman again called for the international community to come together to remove the dictator.
But asked about Syria's regional ally Russia which has been resistant to backing Assad's removal, Carney would only say the United States has had "productive" conversations with Russia and admitted the two countries have "differed" on how to handle the growing violence in Syria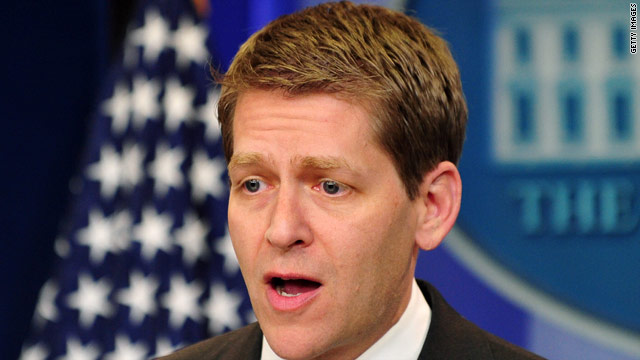 March 13th, 2012
04:57 PM ET
Washington (CNN) – Monday White House Press Secretary Jay Carney said any politician who claimed they could guarantee $2.50 a gallon gasoline would be "lying." There is only one candidate – Newt Gingrich – who has made headlines calling for exactly that.
On Tuesday, the president's spokesman had to walk back such impolitic language.
"It is a fallacy, as I said yesterday, to suggest that there's some three-point plan or five-point plan out there that could magically, if you wave a wand, reduce the price that Americans are paying per gallon of gas," Carney told reporters today. "I said yesterday that anybody who said that would be a liar. And I shouldn't have gone on motivations. I should have said that anybody who says that doesn't know what he's talking about."
On Monday, Carney had said: "What he [Obama] is not willing to do is to look the American people in the eye and claim that there is a strategy by which he can guarantee the price of gas will be $2.50 at the pump. Any politician who does that is lying, because it just - that strategy does not exist. It is a simple fact that there is no such plan that can guarantee the price of oil or the price at the pump."
FULL POST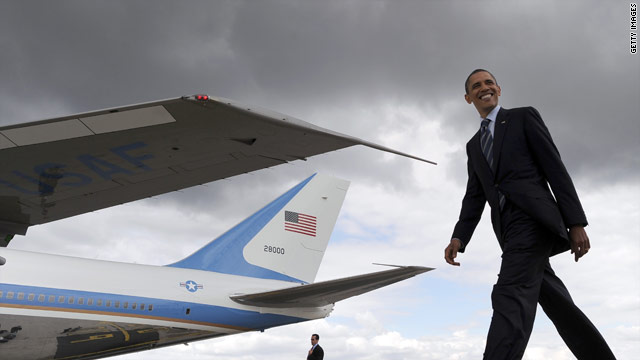 January 12th, 2012
03:14 PM ET
Why weren't press cameras allowed to capture President Obama's first visit to his campaign headquarters Wednesday?
The mystery continues.
The previously unscheduled stop was announced to members of the press corps on Air Force One as the president traveled to Chicago for a series of fundraisers. During the announcement, Deputy Press Secretary Josh Earnest said the press would not be allowed to cover the event, but did not give a specific reason why.
On Thursday, White House Press Secretary Jay Carney suggested the reason reporters were kept at bay was because the stop was "on the fly and brief."
But the White House press staff often ushers in the traveling press to similarly brief and so-called "off the record" stops when they want cameras to capture the president shaking hands and rubbing elbows at small businesses and restaurants.
"We're not hiding the fact that he is engaged in some campaign activities," Carney said. "I try and tell you - give you the facts, which is the fact is the president's reelection campaign isn't across the river in Roslyn, isn't in Washington, it's in Chicago, halfway across the country."
Carney added the quick visit to the headquarters "underscores the point I've been trying to make from here in answer to questions about the president's reelection campaign, which is that he is here in Washington focused on doing his job as president."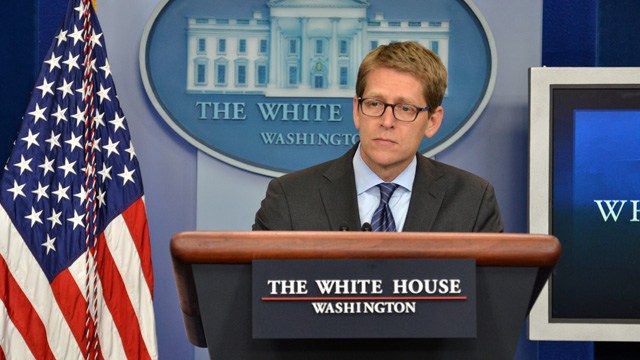 October 26th, 2011
04:59 PM ET
On the flight back to Washington D.C. today, White House Press Secretary Jay Carney gaggle with reporters aboard Air Force One and pushed back on a couple of stories in today's papers.
One by McClatchy claimed that President Obama and Vice President Biden hadn't talked to Iraqi leaders in the months leading up to a troop withdrawal decision. The article itself says that it's drawn from an embassy report based on postings on the White House website, and Carney called the piece entirely incorrect, saying that the administration does not provide read-outs for every call that's made from the White House, and thus not every correspondence would appear on the White House website. National Security Staff Spokesman Tommy Vietor is even quoted in the story saying that the article is "totally wrong."
Another push back was on reports that U.S. embassies around the world spent more than $70,000 collectively on Obama's autobiographies as gifts and for their libraries. Carney referred people to the State Department saying that this was an "embassy by embassy based decision."
"Obviously the White House didn't have anything to do with this," Carney said. "I think this is an embassy-by-embassy-based decision based on what they think is – in buying books – makes sense for them in terms of advancing American foreign policy interests. I've just seen in some paper that a lot of these embassies have books by Colin Powell, George W. Bush, other – Ronald Reagan, but again in terms of this particular – this story I would refer you to the State Department."
He also pushed back on Rep. Paul Ryan's speech this morning at the Heritage Foundation, and rolled out what sounded to me at least to be a new line of attack on the GOP argument against raising taxes on the wealthy. FULL POST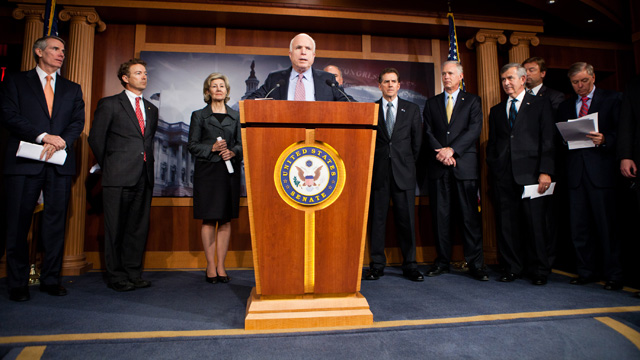 October 24th, 2011
05:28 PM ET
When President Obama rolled out his American Jobs Act last month, the administration chose not to include with it specific projections of the bill's possible economic effects. Instead, it left the prognosticating up to third-party analysts who quickly filed various projections of the plans potential benefits. Since then, the president has been traveling around the country touting these independent analyses and challenging Republicans to submit their jobs plan to similar scrutiny.
At a press conference on October 6, Obama took this tack when he gave the members of the White House press corps a "homework assignment."
"Go ask the Republicans what their jobs plan is if they're opposed to the American Jobs Act, and have it scored, have it assessed by the same independent economists that have assessed our jobs plan," Obama said. "These independent economists say that we could grow the economy as much as 2 percent, and as many as 1.9 million workers would be back on the job. …Have those economists evaluate what, over the next two years, the Republican jobs plan would do. I'll be interested in the answer."
Well, last week a group of Republican senators released the Jobs through Growth Act and today Macroeconomic Advisers – one of the firms who helped provide Obama with his numbers – posted its analysis of the plan on its blog. Among other proposals, the GOP plan calls for the adoption of a balanced budget amendment to the constitution, an idea that MA took issue with. White House Press Secretary Jay Carney wasted little time highlighting the firm's analysis as proof that the president's plan does more for job creation, even reading from the blog post before taking questions from members of the media traveling with the president aboard Air Force One today.
Here's the portion of MA's blog post that Carney read: FULL POST
October 21st, 2011
04:57 PM ET
Comedian Will Ferrell popped into the briefing room on Friday afternoon while on a tour of the White House with press secretary Jay Carney. Ferrell is in Washington D.C. to receive the Mark Twain Prize for American Humor on Sunday at the Kennedy Center. While in the briefing room, Ferrell stood behind the podium and took a picture with Carney while saying jokingly, "Jay, why are you forcing me to take a picture? This is all for your benefit."
According to the Kennedy Center, Sunday's awards ceremony will include "a lineup of the biggest names in entertainment, including Jack Black, Green Day, Larry King, Nathan Lane, Adam McKay, Lorne Michaels, Conan O'Brien, John C. Reilly, Paul Rudd, Maya Rudolph, and Molly Shannon."
Wait until 30 seconds into the video above for the funny picture moment.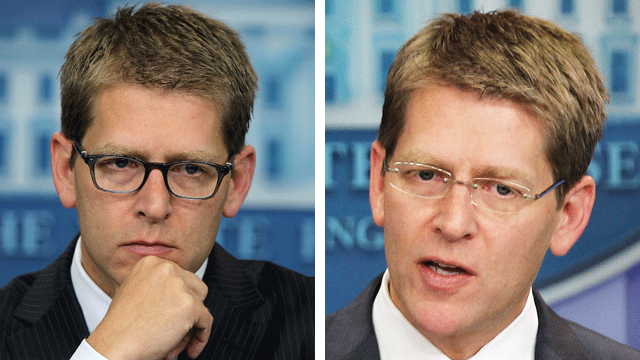 September 12th, 2011
05:03 PM ET
White House press secretary Jay Carney's self-described "retro-nerdy" eye-glass frames are sadly a thing of the past, likely crushed to pieces on some unfortunate Washington-area road over the weekend.
The sad news was delivered by Carney himself Monday during the White House briefing. Reporters noticed Carney was wearing his more conventional glasses after two weeks of sporting the Clark Kent-esque frames that some journalists remarked made him look like a "hipster"
"I am so mad about this. I lost my glasses," Carney said Monday. "I was buying my son a bike for his birthday. I think when I was taking it off the bike rack at home I had my sunglasses on and the other ones, and I think I put them on the bumper and then drove off."
"I take full responsibility for the regrettable action that resulted in the loss of my fancy new glasses," he added.
Carney also said he would try to "rustle the money together" for another new pair of frames because his prescription is out of date. No word if he'll go for the same look again.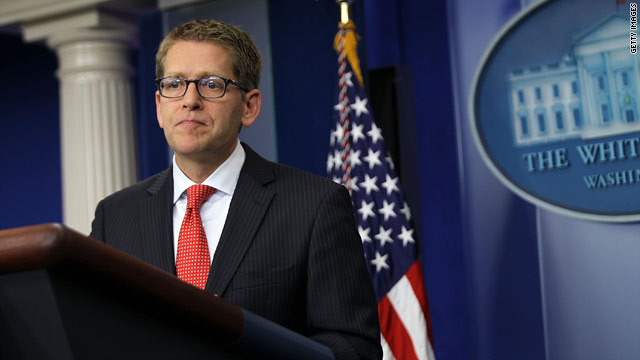 Ahead of the president's major jobs speech tomorrow to a joint session of Congress, White House Press Secretary Jay Carney offered few specific details at today's briefing. Carney also spoke about the upcoming 9/11 10th anniversary saying there are "no specific threats" but the White House remains "vigilent". 
On the president's jobs speech tomorrow:
(CARNEY) "As part of his proposal, the president will identify specific, scorable measures that will ensure that the jobs and growth measures are paid for."
(CARNEY) "...he will put forward, both in his speech and in supporting material, a very detailed series of proposals to grow the economy and create jobs.
...how the process moves forward, in terms of engaging Congress and working with Congress to pass those measures, I will leave for a later date. But you can be sure that they will be specific, they will be measurable, they will be paid for. And they will be, by any objective standard, the kinds of measures that have enjoyed bipartisan support in the past."
(CARNEY) "I am not going to get into specific numbers about the cost of the proposals he puts forward.
I will say, as I've said before, that they will be paid for...The important factor here is not the top-line number. It is the substance underneath the number."
(CARNEY) "He will tomorrow night put forward a jobs and growth package that he is quite certain responds to what the American people are demanding and is responsive to what the American economy demands."
On the 9/11 anniversary:
(CARNEY) "[T]here are no specific threats to which we are responding. But we are obviously very vigilant and are taking all the precautionary measures, both seen and unseen, that we believe are necessary around this anniversary."
(CARNEY) "[Y]esterday the president convened a meeting in the Situation Room with senior members of his homeland security team to ensure that all necessary homeland security measures, precautions are being taken in advance of the upcoming 10th anniversary of 9/11."
On the Pentagon raising the threat level at military bases in advance of the 9/11 anniversary:
"...[Y]ou've seen the report about the Department of Defense. I think they've spoken to that and the measures they're taking regarding military installations in the United States. This is a precautionary measure, and we don't have any specific credible threats. But obviously this is a significant anniversary. Al Qaida and others have expressed interest in anniversaries in the past. So we remain ever vigilant through the anniversary and beyond."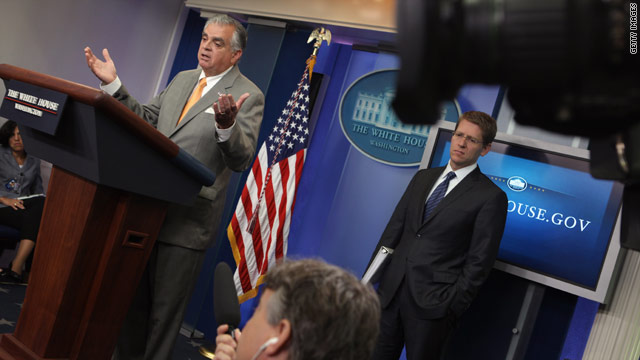 July 28th, 2011
12:51 PM ET
Update from Thursday's White House briefing:
Press Secretary Jay Carney says White House "optimistic" Congress will reach a debt compromise:
We continue to believe and remain optimistic that Congress will come to its senses, that cooler heads will prevail and that a compromise will be achieved. As I just spelled out, it really isn't that complicated at this point. What we need to do is get beyond voting on dead on arrival measures that aren't going to become law when we have so few days left to reach a compromise. We need to get that kind of political theater out of our system and get to work on something that can actually pass both Houses with bipartisan support and be signed by the president.
White House Press Secretary Jay Carney on the chances for a "grand bargain" on the debt ceiling:
All I'm saying is the president was at the table, the potential agreement was on the table, the grand bargain, and the speaker walked away from the table over an issue that can be resolved quite easily.
If the political will is there, we can move back to those negotiations. If that isn't possible in the next five days, then there are ways that we can resolve this issue in a fair compromise that does the key things, which is lock in significant cuts and lift the cloud over our economy and ensure that we're not, you know, playing in this three-ring circus for the next six months.
...I think I've indicated, and I will say it explicitly, that the chances aren't great that we end up between now and August 2nd with a sweeping, grand compromise between the Republicans and Democrats that reduces the deficit $3 trillion to $4 trillion over 10 years, includes balance between entitlement reform and tax reform. That's not likely, but it's available if the political will is there.
Ray LaHood, Secretary of Transportation and former Republican congressman advice to his former Republican colleagues on dealing with the debt ceiling:
This is a time that I think most of us that have watched politics have never seen before. Because there are people in Congress who don't like the word compromise, who don't believe in it.
We need for people to come together, to set aside their own egos and a certain part of their own agenda for the American people to make sure we maintain the strongest economy in the world to send a signal to the world that we can get big things done.
Secretary LaHood urged Congress to pass bill to fund Federal Aviation Administration:
Since Congress failed to pass an FAA bill, nearly 4000 FAA employees have been furloughed and as many as 70,000 construction workers across America are out of work. Important airport modernization projects have been shut down in every state in the country.