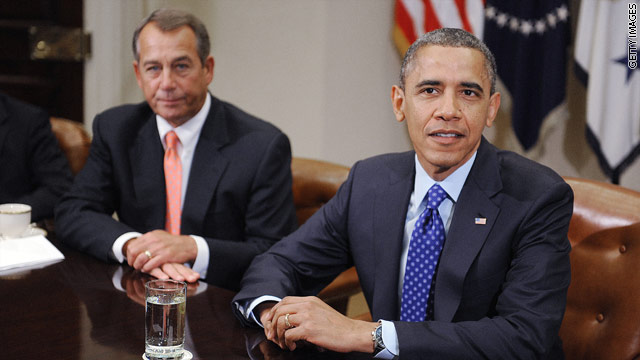 December 17th, 2012
12:13 PM ET
A White House official tells Dan Lothian that "The President and the Speaker are meeting at the White House to continue their discussions about the fiscal cliff and balanced deficit reduction." Boehner's spokesman released the exact statement. We'll hopefully get a readout of the meeting in today's briefing.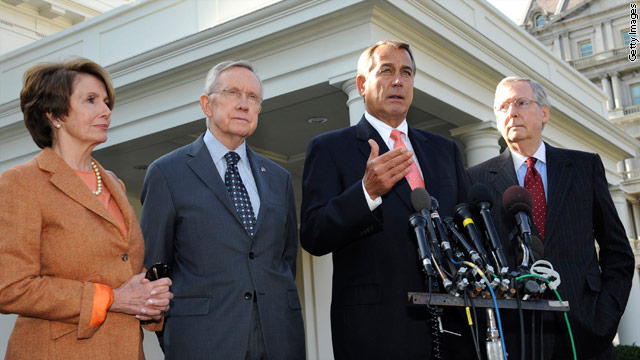 November 16th, 2012
01:22 PM ET
The bipartisan leadership of Congress sounded optimistic what they addressed reporters outside the entrance to the West Wing on Friday following their meeting with the president, vice president and members of the White House economic team. House Speaker John Boehner spoke first, calling the meeting "constructive" and vowing to keep additional revenue on the table:
We had a very constructive meeting with the president to talk about America's fiscal problem. I outlined a framework that deals with reforming our tax code and reforming our spending and I believe that the framework that I've outlined in our meeting today is consistent with the President's call for a fair and balanced approach. To show our seriousness, we've put revenue on the table, as long as it's accompanied by serious spending cuts. And while we're going to continue to have revenue on the table, it's going to be incumbent for my colleagues to show the American people that we're serious about cutting spending and solving our fiscal dilemma. Now I believe that we can do this and aver the fiscal cliff that's right in front of us today.
Next, Majority Leader Harry Reid stepped up to the the microphone. Using the common parlance of Washington D.C., Reid also called the meeting "constructive," repeatedly saying that he felt "very good" about what the leaders discussed, and promising not to wait until the last possible moment to get a deal done:
This isn't the first time that we've dealt with these issues. We feel we understand what the problem is and we've felt very – I feel very good about what we were able to talk about in there. We have the cornerstones of being able to work something out. We're both going to have to give up some of the things that we know are a problem. And so it's like when you arrive at a point where we all know something has to be done. There is no more 'let's do it some other time.' We're going to do it now and I think we feel very comfortable with each other and this isn't something we're going to wait until the last day of December to get it done. We have a plan. We're going to move forward on it. We're going to work during the Thanksgiving recess. We're going to meet with the president when we come back the first week – at least that's as I understand it. So I think it was a very constructive meeting. I feel very good about what we were able to talk about.
Democratic Leader Nancy Pelosi spoke next, emphasizing that her priority was to send a strong signal to consumers and the markets that the leaders are committed to finding a solution. Pelosi also acknowledged that if they aren't able to find a solution, the consequences could be severe: FULL POST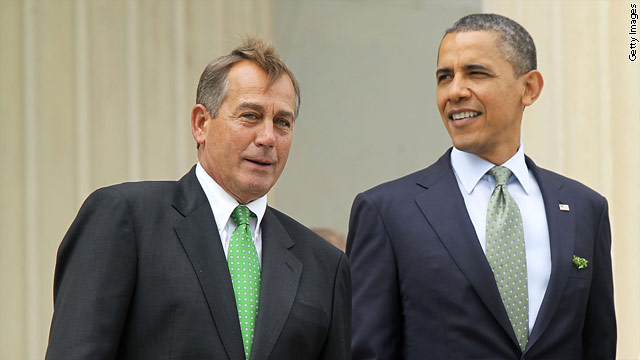 November 16th, 2012
07:37 AM ET
Today President Obama begins negotiations with congressional leaders on how to avoid the so-called fiscal cliff – severe budget cuts and tax increases that are set to go into effect at the end of the year. House Speaker John Boehner, Leader Nancy Pelosi, Senate Majority Leader Harry Reid and Minority Leader Mitch McConnell will all come to the White House at 10:15 for a meeting with the president and the Vice President Biden in the Roosevelt Room. Later Obama and Biden will meet with civic organizations and other outside groups for yet another listening session on the potential impacts of going over the fiscal cliff.
There is no press briefing today. Here's the schedule as released by the White House: FULL POST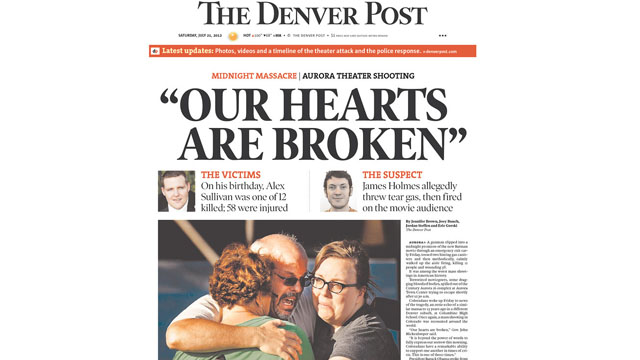 July 21st, 2012
10:03 AM ET
(CNN) – Void of politics, the weekly address of President Barack Obama and House speaker John Boehner coincided on Saturday, with each sending condolences to loved ones whose lives were cut short and those wounded in the Aurora, Colorado theater shooting.
Standing by for further details, both parties expressed regret over the massacre, agreeing to set politics aside in light of the incident.
"This weekend I hope everyone takes some time for prayer and reflection – for the victims of this terrible tragedy, for the people who knew them and loved them, for those who are still struggling to recover, and for all the victims of the less publicized acts of violence that plague our communities on a daily basis. Let us keep all these Americans in our prayers. And to the people of Aurora, may the Lord bring you comfort and healing in the hard days to come," said Obama.
House speaker John Boehner also weighed in on the tragedy.
"My plan today was to share some thoughts with you about the economy. But life, they say, is what happens when you're busy making other plans. There is still so much, too much, to sort out about the tragedy in Aurora, Colorado. Words cannot capture the horror, or make sense of something so senseless. So I won't try. This much I know. I know that when confronted with evil we cannot comprehend, Americans pull together and embrace our national family more tightly," said Boehner. (read more at CNN Political Ticker)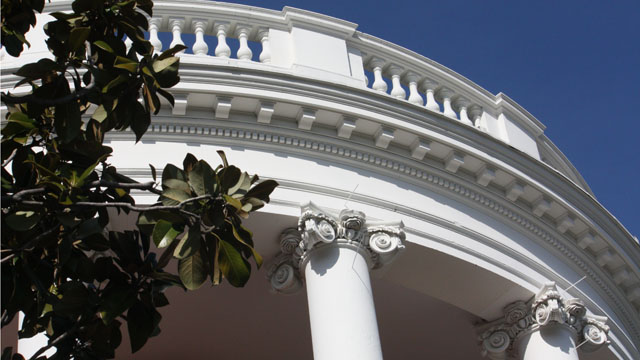 March 31st, 2012
11:20 AM ET
(CNN) – Democrats and Republicans addressed struggles facing middle-class families during their weekly addresses Saturday following a busy week dominated by Supreme Court judges' arguments on health care.
President Barack Obama and House Speaker John Boehner, a Republican from Ohio, spoke about proposals to help middle-class families, urging the opposing party to join theirs to find solutions.
Obama boosted the "Buffet Rule," a proposal to end Bush-era tax cuts for wealthy individuals, or, as Democrats describe it, would "ask some of the wealthiest Americans to pay their fair share."
"Now, if this were a perfect world, we'd have unlimited resources. No one would ever have to pay any taxes, and we could spend as much as we wanted," Obama said.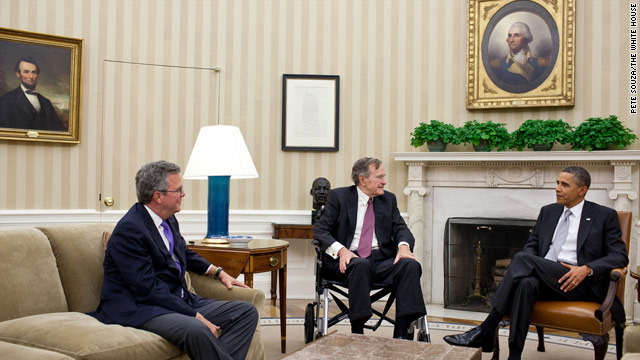 January 29th, 2012
01:48 PM ET
WASHINGTON (CNN) - President Obama poked fun at himself Saturday night while delivering a joke-filled monologue at the Alfalfa Club's annual dinner in Washington. "It is great to be here tonight, because I have about 45 more minutes on the State of the Union that I'd like to deliver tonight," Obama announced to the crowd of Washington insiders, politicians and business elite.
The exclusive black-tie dinner was closed to press coverage, but the White House released some excerpts of the President's remarks.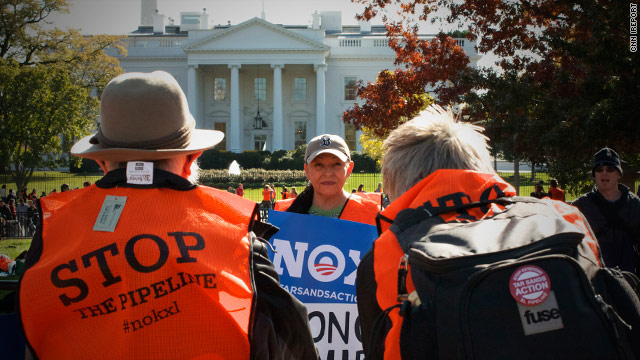 January 18th, 2012
12:19 PM ET
Washington (CNN) – The Obama administration will likely announce its opposition to the controversial Keystone pipeline project as early as today, according to a Democratic source briefed on the matter.
Though House Speaker John Boehner's office has not yet been informed of the White House decision, the Speaker said today, "This is not good for our country. The president wants to put this off until it's convenient for him to make a decision. That means after the next election. The fact is the American people are asking the question right now, "Where are the jobs?"
The proposed Keystone pipeline has been caught up in the Washington political discourse since Republicans inserted a clause in the payroll tax cut negotiations last fall trying to force a decision on the project within a limited time frame. The White House had tried to push the decision until 2013 after the coming presidential election.
The pipeline would run from northern Alberta in Canada down to Texas's Gulf Coast. Republicans and some unions want to push approval through for the project in favor of the job creation prospects. The administration points to environmental reviews still underway and opponents express concerns about the nation's oil dependency being further embraced in regards to not rushing a decision.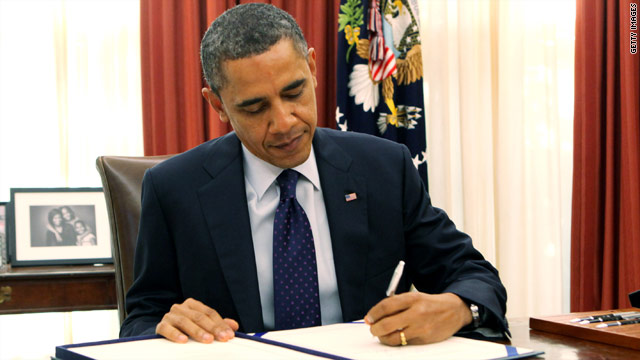 December 23rd, 2011
03:15 PM ET
Well, the stalemate is over and President Obama can leave to join his family in Hawaii. While he was scheduled to make a statement about the payroll tax cut extensions around 12:15, he finally spoke about an hour later. They were waiting for the actual bill to arrive at the White House and then he had to sign it. The White House also tells us he signed the omnibus bill for 2012.
Check out how our friends at CNN wires have wrapped today's events:
Washington (CNN) - President Barack Obama signed a two-month extension of the payroll tax cut Friday, ending what had been a heated political stalemate and sealing a hard-fought win for Democrats on an issue - taxes - that has historically favored the GOP.

Earlier in the day, the measure cleared the Democratic-controlled Senate and the Republican-controlled House of Representatives by unanimous consent, a procedural move allowing the measure to pass even though most members of Congress were already home for the holidays.

"This is some good news just in the nick of time," Obama said shortly before departing the White House for Hawaii. But "we have a lot more work to do. This continues to be a make-or-break moment for the middle class in this country."

Among other things, the $33 billion bill also includes a two-month extension of emergency federal unemployment benefits and the so-called "doc fix," a delay in scheduled payment reductions to doctors who treat Medicare patients.

Congress will consider a longer extension of all three measures when it reconvenes in January.
For the full story, click here.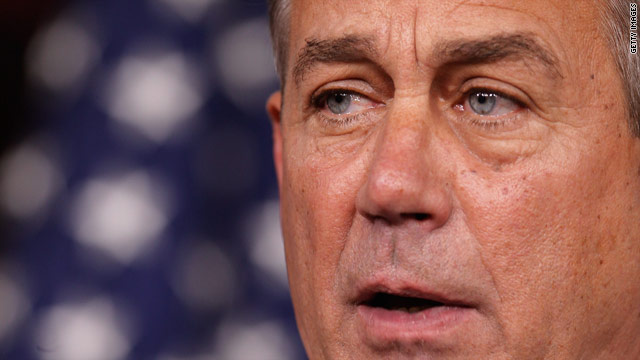 December 22nd, 2011
06:08 PM ET
House Speaker John Boehner on Thursday announced an agreement with Senate Democratic leader Harry Reid to extend the payroll tax cut for two months.  Afterwards both Speaker Boehner and President Obama released statements.
House Speaker John Boehner:
Senator Reid and I have reached an agreement that will ensure taxes do not increase for working families on January 1 while ensuring that a complex new reporting burden is not unintentionally imposed on small business job creators. Under the terms of our agreement, a new bill will be approved by the House that reflects the bipartisan agreement in the Senate along with new language that allows job creators to process and withhold payroll taxation under the same accounting structure that is currently in place. The Senate will join the House in immediately appointing conferees, with instructions to reach agreement in the weeks ahead on a full-year payroll tax extension. We will ask the House and Senate to approve this agreement by unanimous consent before Christmas. I thank our Members – particularly those who have remained here in the Capitol with the holidays approaching – for their efforts to enact a full-year extension of the payroll tax cut for working families."
President Barack Obama:
For the past several weeks, I've stated consistently that it was critical that Congress not go home without preventing a tax increase on 160 million working Americans. Today, I congratulate members of Congress for ending the partisan stalemate by reaching an agreement that meets that test.

Because of this agreement, every working American will keep his or her tax cut – about $1,000 for the average family. That's about $40 in every paycheck. Vital unemployment insurance will continue for millions of Americans who are looking for work. And when Congress returns, I urge them to keep working to reach an agreement that will extend this tax cut and unemployment insurance for all of 2012 without drama or delay.

This is good news, just in time for the holidays. This is the right thing to do to strengthen our families, grow our economy, and create new jobs. This is real money that will make a real difference in people's lives. And I want to thank every American who raised your voice to remind folks in this town what this debate was all about. It was about you. And today, your voices made all the difference.
December 21st, 2011
01:12 PM ET
While the payroll tax extensions are on hold for the time being, things are still moving behind the scenes. President Obama made phone calls to both House Speaker John Boehner and Senate Majority Leader Harry Reid. While there are no plans to have a face-to-face meeting, the White House has made it clear that the ball is in the House's court.
We got two different readouts of the Obama-Boehner phone call. If only we had been conferenced in to hear what really was said.
From the White House:
In his call to Speaker Boehner, the President reiterated the need and his commitment to work with Congress to extend the payroll tax cut for the entire year, and the fact that the short-term bipartisan compromise passed by almost the entire Senate is the only option to ensure that middle class families aren't hit with a tax hike in 10 days and gives both sides the time needed to work out a full year solution.  The President urged the Speaker to take up the bipartisan compromise passed in the Senate with overwhelming Democratic and Republican support that would prevent 160 million working Americans from being hit with a holiday tax hike on January 1st. ...The President urged the Speaker to allow a vote on the one compromise that Democrats and Republicans passed together to give the American people the assurance they need during this holiday season that they won't see a significant tax hike in just 10 days.
From an aide to Speaker Boehner:
Speaker Boehner spoke to President Obama this afternoon regarding the House's efforts to prevent a tax increase next year on 160 million working Americans. The Speaker reminded the President that the House is the only body that had done what he asked for by providing a full year of payroll tax relief and extended unemployment benefits. He urged the President to call on Senator Reid to appoint negotiators so that we can produce a full-year bill by the end of the year that provides a tax cut of $1,000 rather than only $166. The Speaker told the President that his conference was elected to change the way Washington does business and that we should not waste the next ten days simply because it is an inconvenient time of year. He said that our differences are not so great that we cannot pass a full-year bill by December 31st. Speaker reiterated to the President that Republican negotiators remain in Washington and ready to work. "Let's get this done today," the Speaker said.
For the full story from our friends at CNN Wires, click here.