August 20th, 2012
04:34 PM ET
(CNN) - The White House often extends dinner invitations to its friends across the globe. From Downing Street to Hollywood Boulevard, the executive branch rolls out it's own version of the red carpet hosting State Dinners for queens and kings, prime ministers and other heads of state.
But this time, the invitations were not intended for the likes of  Queen Elizabeth or George Clooney and the attendees who arrived at the White House on Monday were not commanders of countries or glitterati.  In fact many of them stood less than five feet tall, girls in breezy summer dresses, hair adorned with bows or flowers and boys clothed in crisp white shirts, ties knotted tightly at their necks. As they walked across the tiled floor, pausing to give interviews to the press, many of them were surprisingly confident despite their short stature and lack of political sway.
FULL POST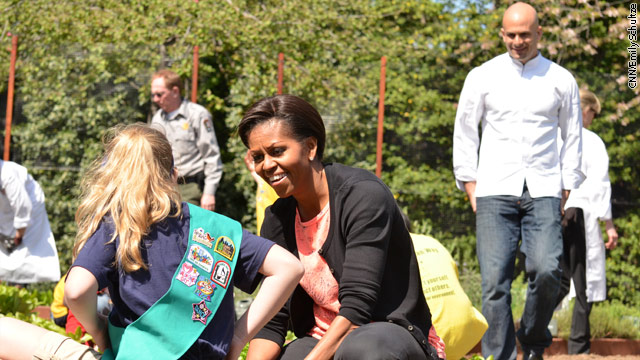 July 23rd, 2012
03:03 PM ET
(CNN) – The White House held a conference call on Monday to release the details of First Lady Michelle Obama's visit to London as the head of the U.S. delegation to the 2012 Olympic Games. Joining the first lady as part of the delegation will be former Olympics and Paralympics athletes Brandi Chastain, Dominique Dawes, Gabriel Diaz de Leon, Grant Hill and Summer Sanders.
"Leading our nation's delegation and traveling to London is truly a dream come true," Obama said. "If anybody had asked me when I was 10, or 11 or 20 or actually 40 whether I'd be doing this I would have said not. Some of my fondest memories when I was young and not so young involved watching the Olympics on TV and cheering on Team USA and as part of this trip and my Lets Move! initiative to solve the problem of childhood obesity I decided that I wanted to turn that Olympic spirit and inspiration into action by using these games as a way to get more kids up and moving."
The first lady will head to London on Thursday, and her official visit will begin with an informal breakfast for U.S. Olympians on Friday. Later in the morning, Obama will host a Let's Move! event for the children of American service members stationed in London as well as American and British students. Athletes such as David Beckham, Nadia Comaneci, Shawn Johnson, Carl Lewis, and Dikembe Mutombo will also attend the event. FULL POST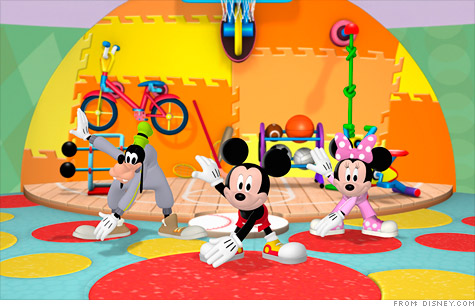 June 5th, 2012
02:11 PM ET
NEW YORK (CNNMoney) - Walt Disney Co. says it will set nutritional standards for the food advertisements on its networks aimed at children.
CEO Robert Iger announced the new policy at an appearance with First Lady Michelle Obama in Washington. The policy will apply to Disney
Channel, Disney XD, Disney Junior, Radio Disney, and Disney-owned online sites oriented to families, effective by 2015.
"Parents tell us they need our support and we're listening," said Iger. "And as it turns out, doing the right thing for kids just happens to be a smart strategy for the Walt Disney Company and for its businesses - opening up new markets for us and building on our relationships with families."
The policy will not apply to ads on adult-targeted Disney networks, such as the various ESPN sports networks or ABC's prime-time programming, which are the major profit driver at the media conglomerate.
Michelle Obama has been leading a national campaign for healthier diets. Her push includes new school lunch guidelines and a physical exercise program called "Let's Move" aimed at reducing childhood obesity.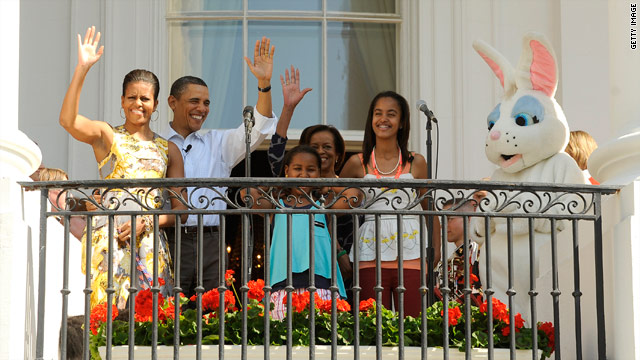 April 2nd, 2012
01:52 PM ET
The anticipation is building for some 30,000 kids and their parents for this year's 134th annual rite of spring at the White House: The Easter Egg Roll.
Now just one week out and the White House is teasing us with snippets of information.
Monday they released the much anticipated list of costumed characters who will be prancing around the White House lawn.
There are all the usual suspects like Bugs Bunny, Daffy Duck, Clifford the Big Red Dog and the Cat in the Hat.
But they'll be joined by movie characters, Alex the Lion from Madagascar 3 and those Penguins of Madagascar who are described on their website as an "elite strike force with unmatched commando skills." Hmm, the Secret Service might take exception to that!
The First Lady is putting her imprint on the festivities tailoring the activities to promote health and wellness keeping with this year's theme "Let's Go, Let's Play, Let's Move!" Michelle Obama's signature "Let's Move" initiative tackles the problem of childhood obesity. FULL POST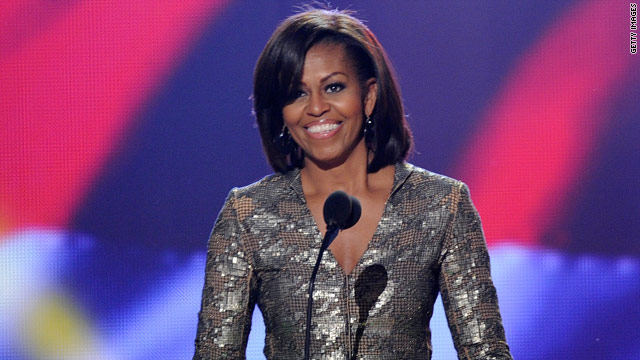 March 31st, 2012
11:48 AM ET
First lady Michelle Obama continues to take Hollywood by storm. She's appeared with David Letterman, Jay Leno and Ellen DeGeneres in recent months - and Saturday she made her first-ever live appearance on Nickelodeon's Kids' Choice Awards in Los Angeles.
Mrs. Obama presented "The Big Help Award" to country pop singer Taylor Swift for Swift's work helping tornado and flood victims.
"I'm here because I've always felt an obligation to give back; to lift up others the way my parents, my teachers and mentors lifted me. And that's something that our next honoree believes, too," Obama said at the awards ceremony. "Taylor Swift may be in the news most often for her award-winning songs and multi-platinum records, but every step of the way she has always made it a point to give back."
Last year, Swift raised nearly $1 million to help victims of devastating tornadoes in the Southeast. Swift opened the final dress rehearsal of her Speak Now tour to a paying audience of 13,000 people, donating all the proceeds to tornado victims.
The first lady won the same award herself two years ago for her work with Let's Move, her initiative designed to combat childhood obesity and encourage healthy habits.
Mrs. Obama has teamed up with Nickelodeon in the past for the network's Worldwide Day of Play, an effort to get kids involved in healthy activities and away from the TV for at least three hours a day. She also appeared on the network's hit show "iCarly" as part of her Joining Forces initiative to recognize and honor military families. The lead character in iCarly is the daughter of an Air Force colonel serving overseas.
Saturday's Kids' Choice Awards appearance is the first lady's first "in person" appearance on the awards show. She received "The Big Help Award" in 2010 via videotape.
–CNN's Greg Clary contributed to this report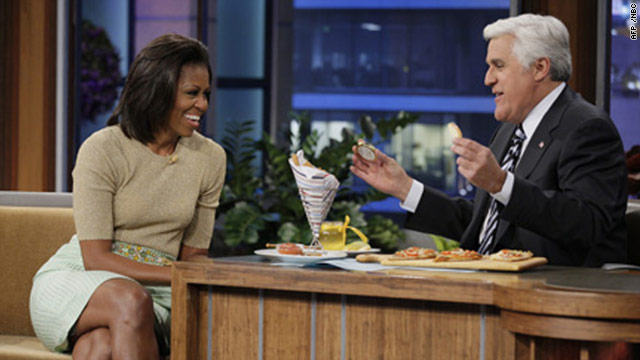 January 31st, 2012
10:28 PM ET
 We're getting a glimpse into what life is like in the White House including mentally preparing for a presidential campaign and sleepovers for the first daughters from first lady Michelle Obama as she appeared on The Tonight Show with Jay Leno Tuesday. 
The first lady is in California raising money for her husband's campaign at Democratic National Committee fundraisers and also advancing her Let's Move initiative to solve the problem of childhood obesity within a generation.
 Appearing on The Tonight Show with Jay Leno, Mrs. Obama confided her feelings on the upcoming campaign.
 "There's really no way to prepare for it.  You know, you just take each day as it comes.  I think, Barack and I, our motto is, you try to do the best job we can do every single day and the hope is that will speak for itself.  So, you know, we wake up everyday, we think about what this country needs."
 She told Leno two of the most important issues she has pressed for as first lady are her initiative to combat childhood obesity in this country and her work with military families.
On the subject of her own family, the first lady said her daughters Sasha and Malia are adjusting well to life in the White House.
"They're doing really well and I think that's been one of the most surprising things about living in the White House and probably one of the things I've worried most about was whether we could have a normal life,"  she told Leno in a video clip released by NBC. 
"The people at the White House are amazing, the girls are good, they're normal, we always check in, they have a regular life.  They've got friends and sleepovers, and to them its home.  It's been truly a blessing for us," she said. 
The first lady came to the Leno show bearing gifts as she presented the host with an apple and some White House honey from her White House kitchen garden.  The comedian couldn't let that pass without a double entendre joke saying, "That sounds bad…You know, with a different president, that could mean a whole different thing."
And Mitt Romney's musical skills also came up as Leno asked Mrs. Obama if she heard the GOP candidate's slightly off key rendition of  "America the Beautiful" on the campaign trail Tuesday.  Mrs. Obama didn't miss a beat saying she had seen the video in the NBC green room and as the audience laughed she hesitated only briefly diplomatically declaring the rendition "beautiful" and that, "It's a song that's to be sung by every American."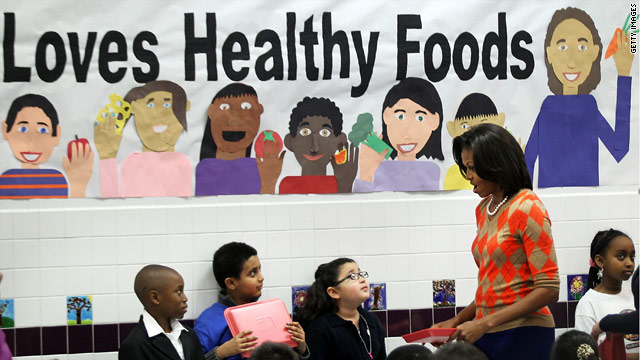 January 31st, 2012
04:38 PM ET
Michelle Obama is going Hollywood is a big way to push her Let's Move program designed to solve the problem of childhood obesity within a generation.
The first lady is in California taping The Tonight Show with Jay Leno, which is scheduled to air Tuesday night.
She taped an interview last week with celebrity chef Rachael Ray and The Ellen DeGeneres Show is teasing its upcoming interview with Mrs. Obama.
The chatter is leading up to the two year anniversary for Let's Move, the first lady's initiative designed to pave the way for a healthier generation of children by schooling parents in healthy eating habits and pressing schools and corporations to offer healthy eating options.
Mrs. Obama ramped up the rhetoric about her Tonight Show appearance when she tweeted this weekend: "@JayLeno says he never eats vegetables…we'll see about that! #LetsMove to get Jay to eat some veggies on #TheTonightShow on 1/31!" FULL POST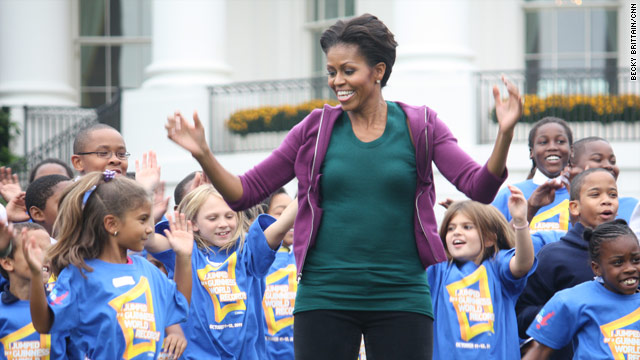 October 11th, 2011
05:44 PM ET
WHITE HOUSE (CNN) – Jumping with excitement, First Lady Michelle Obama and hundreds of local school children attempted to make their way into the next edition of the Guinness Book of World Records.
Mrs. Obama, also known today as the "Jumper-in-Chief", led 400 kids from schools in the DC area ages 8-14, to break the record for the most people doing jumping jacks in a 24-hour period. She kicked the challenge off at 3:00p on the South Lawn of the White House with one minute of continuous jumping jacks. The attempt will continue with groups of children around the country jumping until tomorrow afternoon. More than 20,425 jumpers are needed to break the record.
The event was witnessed by officials from the Guinness Book of World records, along with former Olympic skater Michelle Kwan who served as an independent judge.
NBC "Today" host Al Roker, who served as the emcee for the event, was tasked with keeping the kids in straight lines with enough room to do their jumping jacks. Once the clock started ticking, those lines disappeared and the first lady was mobbed by jumping kids.
Ms. Obama used the event as a way to promote her initiative "Let's Move!" which promotes healthy eating and exercise for America's children.
"What we're going to show people today is that moving is fun, right?," she said. "You can do it just dancing around in your backyard. You can get moving if you're walking your dog.  Or you can get moving doing some jumping jacks, right?  There are so many ways to keep moving. "
And keep moving is what they did. Once the one-minute of jumping jacks was over, Mrs. Obama was mobbed by children  wanting to meet her. At one point, Secret Service agents had to step in to give her some space from the celebrating mob.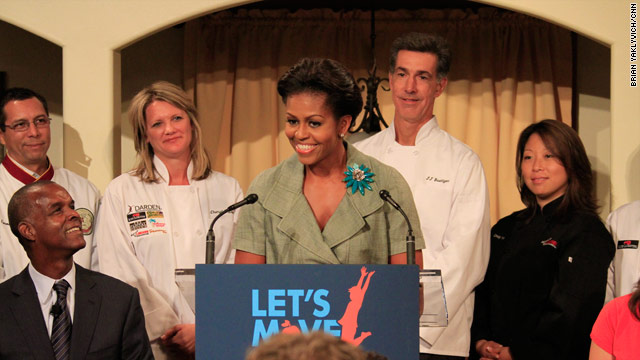 September 15th, 2011
04:47 PM ET
First Lady Michelle Obama scored a big win Thursday in her campaign to eliminate childhood obesity within a generation.  Mrs. Obama announced that the biggest full service restaurant company in the world, Darden Restaurants which owns Olive Garden, Red Lobster and LongHorn Steakhouse among others, has agreed to cut sodium and calories on its menus across the board as well as offering healthier menu choices targeted to kids. 
"This is a breakthrough moment in the restaurant industry," Mrs. Obama told reporters and guests invited by Darden and the White House to an Olive Garden Restaurant in suburban Hyattsville, Maryland.  The first lady, who called on restaurants to rethink their menus when she spoke at the National Restaurant Association more than a year ago, praised Darden for what she called its vision and commitment. 
"Darden is doing what no restaurant company has done before. They're not just making their kids' menus healthier so that parents have more choices and more control; they're making changes across their full menu at every single one of their restaurants throughout the country," she said. 
Darden announced it wants to cut its corporation's calorie "footprint" with a goal of reducing calories of items on its menus by 10% over the next five years and 20% over the next ten years.  The company also plans to cut the sodium or salt in its menu items by the same measure– 10% less salt in the next five years and 20% less salt in the next ten years.  FULL POST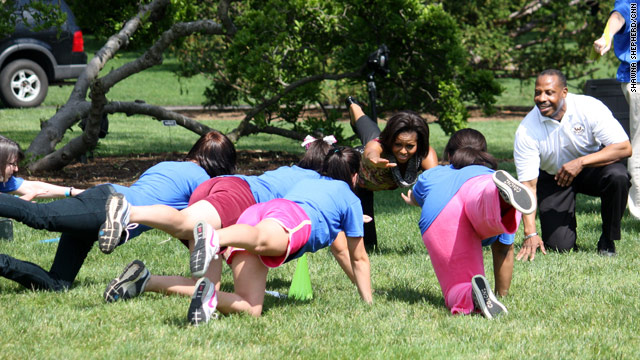 May 9th, 2011
06:15 PM ET
By White House Producers Shawna Shepherd and Bonney Kapp
WASHINGTON (CNN) - The first lady gave up the secret behind her toned arms as she encouraged military families to get more active.
As Michelle Obama rolled out "Let's Move!" commitments for National Guard and Reserve families, she gave a shout-out to her personal trainer, Cornell McClellan.
"If anybody wants to know who's responsible for these arms - it's that guy," said Mrs. Obama. "And it is always helpful to have somebody else pushing you - because let me tell you, there are times when my rational mind says it's enough, and he says no it's not."