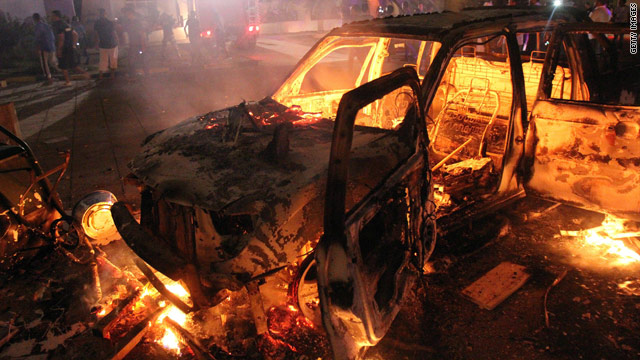 September 26th, 2012
03:35 PM ET
Both the Romney campaign and the Republican National Committee released statements Wednesday criticizing President Obama for not explicitly classifying the attacks on the U.S. consulate in Libya as "terrorist attacks" in public appearances over the past two weeks.
At the UN General Assembly on Tuesday, Obama called the violence, "attacks on America," but stopped short of labeling the perpetrators as terrorists.
"There should be no doubt that we will be relentless in tracking down the killers and bringing them to justice," the president said.
When specifically asked whether the strikes were terrorist attacks during a television appearance on ABC's The View on Monday, Obama wouldn't say. FULL POST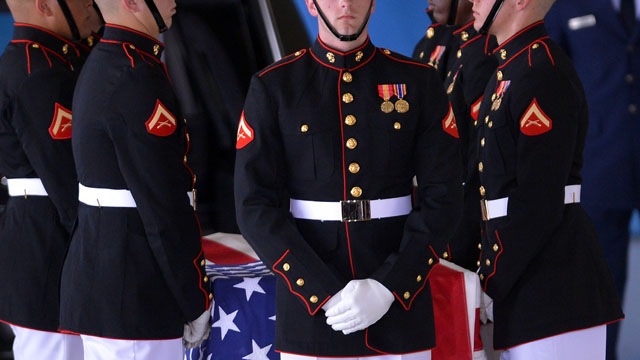 September 15th, 2012
11:01 AM ET
(CNN) – President Barack Obama on Saturday mourned the week's attacks on a U.S. consulate in Benghazi, Libya which killed four Americans, including the U.S. ambassador to the country.
"These four Americans represented the very best of our country," he said in his weekly address, naming Glen Doherty, Tyrone Woods, Sean Smith, and Ambassador Chris Stevens.
Woods and Doherty were former Navy SEALs, while Smith had served in the Air Force and was a computer expert.
Violence erupted this week in Benghazi and elsewhere in the Arab world – from Morocco to Tehran – based in anger over an inflammatory anti-Islam film. The film was posted online this summer but discussed and aired only recently in portions of the Middle East.
Protesters clashed with police in some cities on Friday, gathering in public squares and outside of embassies.
On Friday, Obama and Secretary of State Hillary Clinton spoke at a Transfer of Remains ceremony near Washington, D.C. when bodies of the four were returned to the U.S. Clinton referred to the "awful internet video that we had nothing to do with" and called the violence "senseless and it is totally unacceptable."
In his weekly address, Obama reiterated his message from previous statements, that "those who attack our people will find no escape from justice.
"We will not waver in their pursuit. And we will never allow anyone to shake the resolve of the United States of America," he said. FULL POST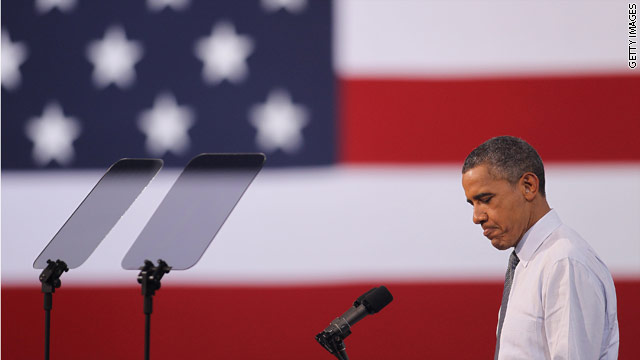 September 13th, 2012
08:00 AM ET
President Obama wakes up in Colorado this morning to continue his two-day campaign swing. Yesterday, he traveled to Las Vegas and his speech was a bit toned down from political rhetoric due to the situation in Libya. He stopped to remember the victims of the killings at the Benghazi consulate and began his remarks repeating his words from earlier on Wednesday about bringing the perpetrators to justice. Today, he has one political rally in Golden, Colorado and we will see if that toned-down speech is given again today. He'll return to DC this evening.
For the full guidance from the White House, click below. FULL POST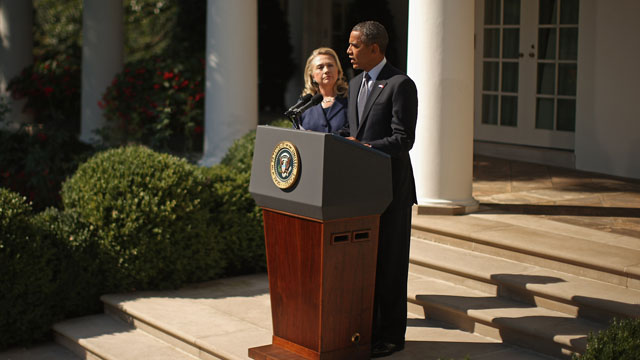 September 12th, 2012
11:53 AM ET
President Obama delivered a statement in the Rose Garden on the death of U.S. Ambassador Christopher Stevens and three other Americans in Libya.  Here is the full text:
Good morning. Every day, all across the world, American diplomats and civilians work tirelessly to advance the interests and values of our nation. Often, they are away from their families. Sometimes, they brave great danger.
Yesterday, four of these extraordinary Americans were killed in an attack on our diplomatic post in Benghazi. Among those killed was our Ambassador, Chris Stevens, as well as Foreign Service Officer Sean Smith. We are still notifying the families of the others who were killed. And today, the American people stand united in holding the families of the four Americans in our thoughts and in our prayers.
The United States condemns in the strongest terms this outrageous and shocking attack. We're working with the government of Libya to secure our diplomats. I've also directed my administration to increase our security at diplomatic posts around the world. And make no mistake, we will work with the Libyan government to bring to justice the killers who attacked our people.
Since our founding, the United States has been a nation that respects all faiths. We reject all efforts to denigrate the religious beliefs of others. But there is absolutely no justification to this type of senseless violence. None. The world must stand together to unequivocally reject these brutal acts.
Already, many Libyans have joined us in doing so, and this attack will not break the bonds between the United States and Libya. Libyan security personnel fought back against the attackers alongside Americans. Libyans helped some of our diplomats find safety, and they carried Ambassador Stevens's body to the hospital, where we tragically learned that he had died.
It's especially tragic that Chris Stevens died in Benghazi because it is a city that he helped to save. At the height of the Libyan revolution, Chris led our diplomatic post in Benghazi. With characteristic skill, courage, and resolve, he built partnerships with Libyan revolutionaries, and helped them as they planned to build a new Libya. When the Qaddafi regime came to an end, Chris was there to serve as our ambassador to the new Libya, and he worked tirelessly to support this young democracy, and I think both Secretary Clinton and I relied deeply on his knowledge of the situation on the ground there. He was a role model to all who worked with him and to the young diplomats who aspire to walk in his footsteps. FULL POST
September 12th, 2012
08:05 AM ET
Statement by the President on the Attack in Benghazi
I strongly condemn the outrageous attack on our diplomatic facility in Benghazi, which took the lives of four Americans, including Ambassador Chris Stevens. Right now, the American people have the families of those we lost in our thoughts and prayers. They exemplified America's commitment to freedom, justice, and partnership with nations and people around the globe, and stand in stark contrast to those who callously took their lives.
I have directed my Administration to provide all necessary resources to support the security of our personnel in Libya, and to increase security at our diplomatic posts around the globe. While the United States rejects efforts to denigrate the religious beliefs of others, we must all unequivocally oppose the kind of senseless violence that took the lives of these public servants.
On a personal note, Chris was a courageous and exemplary representative of the United States. Throughout the Libyan revolution, he selflessly served our country and the Libyan people at our mission in Benghazi. As Ambassador in Tripoli, he has supported Libya's transition to democracy. His legacy will endure wherever human beings reach for liberty and justice. I am profoundly grateful for his service to my Administration, and deeply saddened by this loss.
The brave Americans we lost represent the extraordinary service and sacrifices that our civilians make every day around the globe. As we stand united with their families, let us now redouble our own efforts to carry their work forward.
(read full story on CNN.com)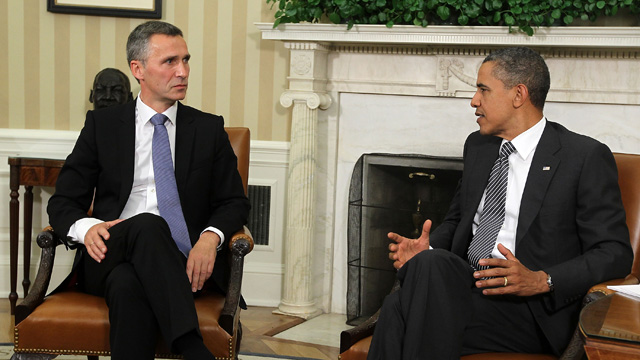 October 20th, 2011
06:16 PM ET
President Obama hosted Prime Minister Jens Stoltenberg of Norway in the Oval Office this afternoon, thanking him for his country's help in the NATO mission in Libya and offering his condolences for the large scale attack that took place in his country earlier this year. In regards to Norway's role in NATO's operations, Obama said that the relatively small Scandinavian country "punches above its weight" when it comes to air support and military assistance. The president also answered one question on whether Gadhafi's death vindicated his approach to the situation in Libya, here's his answer in full:
"There's no doubt that we did exactly what we said we were going to do in Libya, and I think it underscores the capacity of us to work together as an international community. The United States obviously has unique capacities and we are proud of the leadership we showed in that process, but increasingly wherever we have the possibility of working with outstanding partners like Norway then I think that we're going to be even more effective.

"And the United States will always preserve its right and duty to protect ourselves, our allies and our interests, but I think what this shows is that on a whole range of international issues there is an enormous capacity and we are able to leverage greater resources, more effectiveness at lower cost when we're able to work together. And so I'm very proud of the work that did on this operation.

"Most importantly I'm proud of what the Libyan people have achieved and I think they've got enourmous opportunity ahead of them. They've got a lot of challenges as well, but we have no given them the opportunity to determine their own destiny and that's something that we've seen across North Africa and the Arab world that there's nothing unique in aspiring to freedom and human rights and democracy. This is something that all people want to enjoy and I'm very pleased that the Libyan people are going to have the opportunity to do so."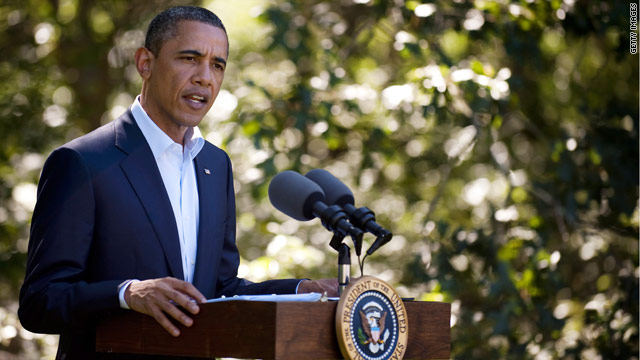 August 23rd, 2011
11:47 AM ET
VINEYARD HAVEN, MA (CNN) - As the situation in Libya was unraveling over the weekend, a vacationing President Obama was trying to get as much intelligence as possible from his national security team. He's an "aggressive robust consumer" of information said a senior administration official who did not want to be identified discussing internal deliberations.
Counterterrorism adviser John Brennan provided frequent updates in person. Other senior members of the national security team weighed in as called on and during at least two conference calls with the president, the official said.
With so much uncertainty and in the midst of what the president himself called a "fluid" situation, the White House wanted to be careful to have confirmation of critical details before sending the president out to make public statements.
His mood during this time was described by the official as "businesslike."
FULL POST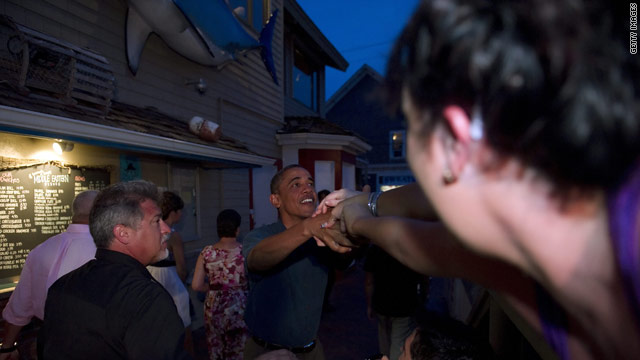 August 22nd, 2011
06:01 PM ET
(CNN) Martha's Vineyard, MA–Strong words today from President Obama as the situation in Libya deteriorated. "It's clear that Gadhafi's rule is over," the president announced once again calling on the Libyan strongman to step down. But the president cautioned that the situation in Libya remains fluid and his administration continues to monitor "fierce fighting" in some areas.
This on-camera statement from Mr. Obama at his vacation home on Martha's Vineyard ended two days of high-level talks, as well as late night and early morning conference calls with the president's national security team – all amidst a family vacation.
On Sunday, the CNN team that was part of the White House travel pool gathered in the early morning to follow the president's movements. As the situation in Libya intensified, reporters clamored to find out if the president would speak on camera. The White House's official response was, "not at this point."
The day progressed and the travel pool followed the president's movements from a morning at the beach to an afternoon of golf and a reception at the oceanfront home of a powerful media executive. And still no statement from the White House on Libya.
As evening approached, the White House alerted the travel pool that the president would be making an "off the record" movement where the press would be able to shoot video. It was finally a chance to see if the president would speak in front of the cameras. FULL POST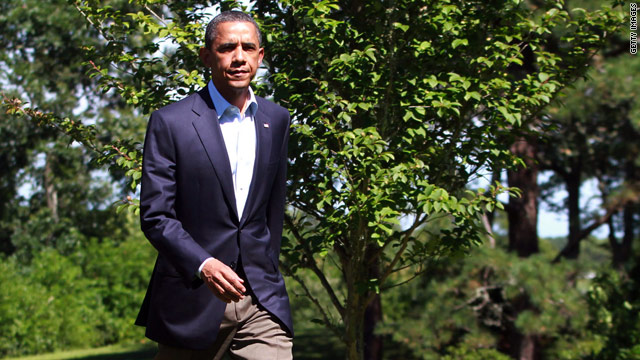 August 22nd, 2011
04:27 PM ET
While on vacation on Martha's Vineyard, the president made a brief statement this afternoon on the developing situation in Libya. Speaking to the small group of traveling press with him on the island, the president began by stating that he's been kept abreast of the situation despite being away from Washington:
I just completed a call with my National Security Council on the situation in Libya. And earlier today I spoke to Prime Minister Cameron about the extraordinary events taking place there. The situation is still very fluid. There remains a degree of uncertainty and there are still regime elements who pose a threat. But this much is clear: The Qaddafi regime is coming to an end, and the future of Libya is in the hands of its people.
The president summarized U.S. military involvement in Libya, beginning with the "peaceful protests" earlier this year and culminating with international recognition of the Transitional National Council as the "legitimate governing authority in Libya." And then he outlined the current situation:
Over the last several days, the situation in Libya has reached a tipping point as the opposition increased its coordination from east to west, took town after town, and the people of Tripoli rose up to claim their freedom.

For over four decades, the Libyan people have lived under the rule of a tyrant who denied them their most basic human rights. Now, the celebrations that we've seen in the streets of Libya shows that the pursuit of human dignity is far stronger than any dictator. I want to emphasize that this is not over yet. As the regime collapses, there is still fierce fighting in some areas, and we have reports of regime elements threatening to continue fighting. FULL POST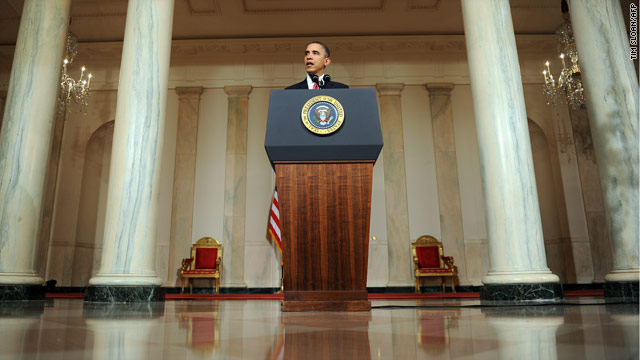 June 24th, 2011
02:21 PM ET
The House of Representatives Friday rejected a bill that would have sharply restricted funding for U.S. military actions in Libya.  Earlier today, the House voted against a resolution expressing support for the U.S.role in the NATO-led military campaign in Libya.
White House Press Secretary Jay Carney spoke to reporters on Air Force One as the president traveled back to Washington, DC from Pittsburgh.  "We think now is not the time to send the kind of mixed message that it sends when we are working with our allies to achieve the goals that we believe that are widely shared in Congress," Carney said.  But he insisted the move would not halt the U.S.involvement in the NATO-led effort.  "This is one vote," he said.  "[T]he writing is on the wall for Colonel Qaddafi, and now is not the time to let up.