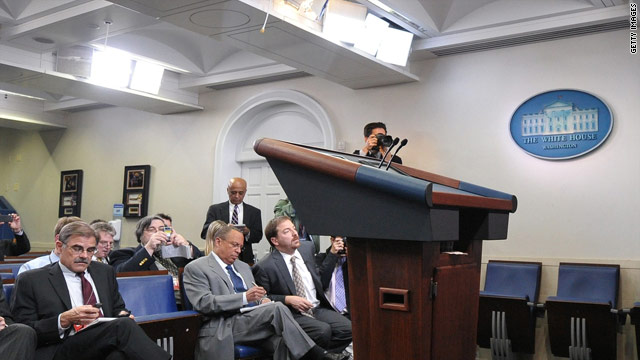 June 20th, 2011
09:45 AM ET
In light of the whole debate surrounding the War Powers resolution and whether U.S. forces are engaged in "hostilities," you can bet the latest news from Libya will dominate today's White House briefing:
Dafniya, Libya (CNN) - NATO acknowledged Sunday that an errant airstrike in Tripoli may have caused "a number of civilian casualties."

Libya's government had claimed earlier Sunday that nine people were killed and six injured when a NATO strike hit a residential neighborhood in the Libyan capital.

"This is cold-blooded murder," government spokesman Musa Ibrahim said at the scene in Tripoli. "Is this the protection of civilians? Is this really the search for peace and democracy in Libya, to attack peaceful neighborhoods of Tripoli?"
We can also be sure Jay Carney will get one or two questions on the so-called "Golf Summit" over the weekend:
Washington (CNN) – President Obama and Speaker Boehner found themselves on the same side for once Saturday – teaming up to beat Vice President Biden and Ohio Gov. John Kasich on the golf course in a nail-biter that was decided on the 18th hole.
What do you want to see answered?
May 25th, 2011
03:13 PM ET
LONDON (CNN)–With all the pomp and pageantry that Britain could muster President Obama Wednesday made history as the first American president to stand in London's Westminster Hall to address both Houses of Parliament.
He began on a lighter note saying, "I am told that the last three speakers here have been the Pope, Her Majesty the Queen, and Nelson Mandela - which is either a very high bar or the beginning of a very funny joke."
There was no punch line.  The president did speak about the strong relationship between Britainand the United States and the challenges ahead. (read more here)
-On the British-American relationship: "But as we enter this new chapter in our shared history, profound challenges stretch before us.  In a world where the prosperity of all nations is now inextricably linked, a new era of cooperation is required to ensure the growth and stability of the global economy.  As new threats spread across borders and oceans, we must dismantle terrorist networks and stop the spread of nuclear weapons, confront climate change and combat famine and disease.  And as a revolution races through the streets of the Middle East and North Africa, the entire world has a stake in the aspirations of a generation that longs to determine its own destiny." 
-On Libya: "We will proceed with humility, and the knowledge that we cannot dictate every outcome abroad.  Ultimately, freedom must be won by the people themselves, not imposed from without.  But we can and must stand with those who so struggle.  Because we have always believed that the future of our children and grandchildren will be better if other people's children and grandchildren are more prosperous and more free - from the beaches of Normandy to the Balkans to Benghazi."
-On the "Arab spring": "History tells us that democracy is not easy.  It will be years before these revolutions reach their conclusion, and there will be difficult days along the way.  Power rarely gives up without a fight - particularly in places where there are divisions of tribe and divisions of sect.  We also know that populism can take dangerous turns - from the extremism of those who would use democracy to deny minority rights, to the nationalism that left so many scars on this continent in the 20th century."
May 20th, 2011
09:57 AM ET
By CNN Senior Congressional Correspondent Dana Bash
WASHINGTON (CNN) –President Obama may be on the brink of breaking the law.
At issue: The 1973 War Powers Act, which says if the president does not get congressional authorization 60 days after military action, the mission must stop within 30 days.
The president formally notified Congress about the mission in Libya with a letter on March 21, which makes Friday the 60-day deadline.
Inaction is angering lawmakers from both the left and the right who rarely agree on anything.
Rep. Brad Sherman, D-California, tells CNN he believes Obama is trying to "bring democracy to Libya while shredding the Constitution of the United States."
May 19th, 2011
02:09 PM ET
By CNN's Alan Silverleib
WASHINGTON (CNN) - The United States will support efforts for reform across the Middle East and North Africa, including "transitions toward democracy," President Barack Obama said Thursday
In a speech at the U.S. State Department laying out his policies toward the region, the president said he is marking "a new chapter in American diplomacy."
He pointed to recent popular uprisings in Egypt, Tunisia, Libya, Syria, and elsewhere. "The events of the past six months show us that strategies of oppression and strategies of diversion will not work anymore," Obama said.
People in parts of the region "have seized control of their own destiny," he said.
FULL POST
May 12th, 2011
10:49 AM ET
The White House announced Thursday that National Security Advisor Tom Donilon will host a delegation from the Libyan Transitional National Council (TNC) at the White House Friday.
Dr. Mahmoud Gibril, the president of the TNC's Executive Bureau, will be on hand. Gibril met with Secretary of State Hillary Clinton when she was in Paris for a meeting with the Group of Eight foreign ministers in March.
After their White House visit, the TNC will meet with member of Congress.
Here is the release from the White House:
"National Security Advisor Tom Donilon looks forward to welcoming Dr. Mahmoud Gibril and the delegation from the Libyan Transitional National Council to the White House on Friday afternoon.  This is Dr. Gibril's first official visit to Washington as President of the Transitional National Council's Executive Bureau.  Dr. Gibril will also be meeting senior administration officials and members of Congress during his visit."
March 30th, 2011
06:35 PM ET
WASHINGTON (CNN) – There are multiple reports out today that President Barack Obama has signed a "secret order" authorizing covert U.S. support for Libyan rebel forces.
According to Reuters:
Obama signed the order, known as a presidential "finding," within the last two or three weeks, according to four U.S. government sources familiar with the matter.

Such findings are a principal form of presidential directive used to authorize secret operations by the Central Intelligence Agency. This is a necessary legal step before such action can take place but does not mean that it will.
Meanwhile, ABC News is reporting that the finding doesn't "provide arms to the rebels immediately, although it does prepare for such a contingency and other contingencies should the president decide to go down that road in the future."
In response to questions by the press on the reports, the White House issued the following statement from Press Secretary Jay Carney:
As is common practice for this and all Administrations, I am not going to comment on intelligence matters. I will reiterate what the President said yesterday – no decision has been made about providing arms to the opposition or to any group in Libya. We're not ruling it out or ruling it in. We're assessing and reviewing options for all types of assistance that we could provide to the Libyan people, and have consulted directly with the opposition and our international partners about these matters.
While CNN has not confirmed that Obama signed such a finding, John King reports that there is a CIA presence in Libya to help with "military and political understanding," and is gathering intelligence first hand from some of the opposition entities.
March 29th, 2011
08:02 PM ET
WASHINGTON (CNN) – President Barack Obama dropped by the United Nations Tuesday, to dedicate the U.S. Mission to the UN Building in honor of Ron Brown, who was killed in a plane crash while serving as Bill Clinton's Commerce Secretary.
Obama noted that while Brown was not an ambassador, he did die on a mission to the Balkans, "because, [Brown] said, just as America 'took the lead in the peace process, we need to show the way in rebuilding from the ruins of war."
It was not Obama's only reference to the 1990s war torn Balkans.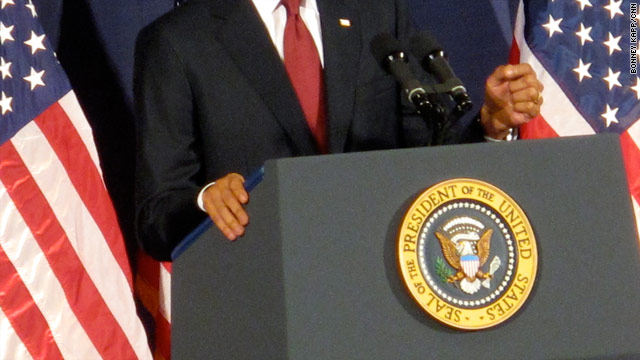 March 29th, 2011
03:45 PM ET
WASHINGTON (CNN) – Pushing back on criticism that President Obama did not deliver a clear message Monday on the end game in Libya, White House spokesman Jay Carney insisted the speech was "very clear about what our mission was."
Ticking off a series of U.S. policy goals detailed by the president, Carney added "what we've accomplished in a short period of time, the lives that have been saved, the remarkable effort to build a coalition and take action in just 31 days and now make that transition from a U.S. lead military mission to NATO lead mission."
Carney spoke with reporters aboard Air Force One as the president traveled to New York City for a fundraiser and dedication of a United Nations building in honor of former Commerce Secretary Ron Brown.
President Obama had been under immense pressure to deliver a speech that would answer outstanding questions about the U.S. role in Libya.
March 28th, 2011
10:27 PM ET
President Obama's speech about U.S. military involvement in Libya lasted about 30 minutes and consisted of approximately 3,360 words.
If you missed it, here's what you need to know from the speech – all in "just" 1,350 words.
March 28th, 2011
09:12 PM ET
WASHINGTON (CNN) - President Barack Obama made his case Monday night for intervention in Libya, addressing the nation amid tough calls for him to clarify the United States' role in the U.N.-authorized military mission.
Both Democrats and Republicans have criticized the president's policy in the war-torn North African nation. Among other things, they have questioned the purpose of the mission, as well as its cost, endgame, and consequences for the broader Arab world.
"It was not in our national interest" to let the citizens of Benghazi suffer a massacre at the hands of Gadhafi's forces, said Obama. It would have "stained the conscience of the world," he said, referring to Libyan leader Moammar Gadhafi.
He added that he ordered U.S. warships into the Mediterranean off Libya because of Gadhafi's "brutal repression" of his people and "a looming humanitarian crisis."
The transfer from U.S. to NATO command will take place Wednesday, Obama said.