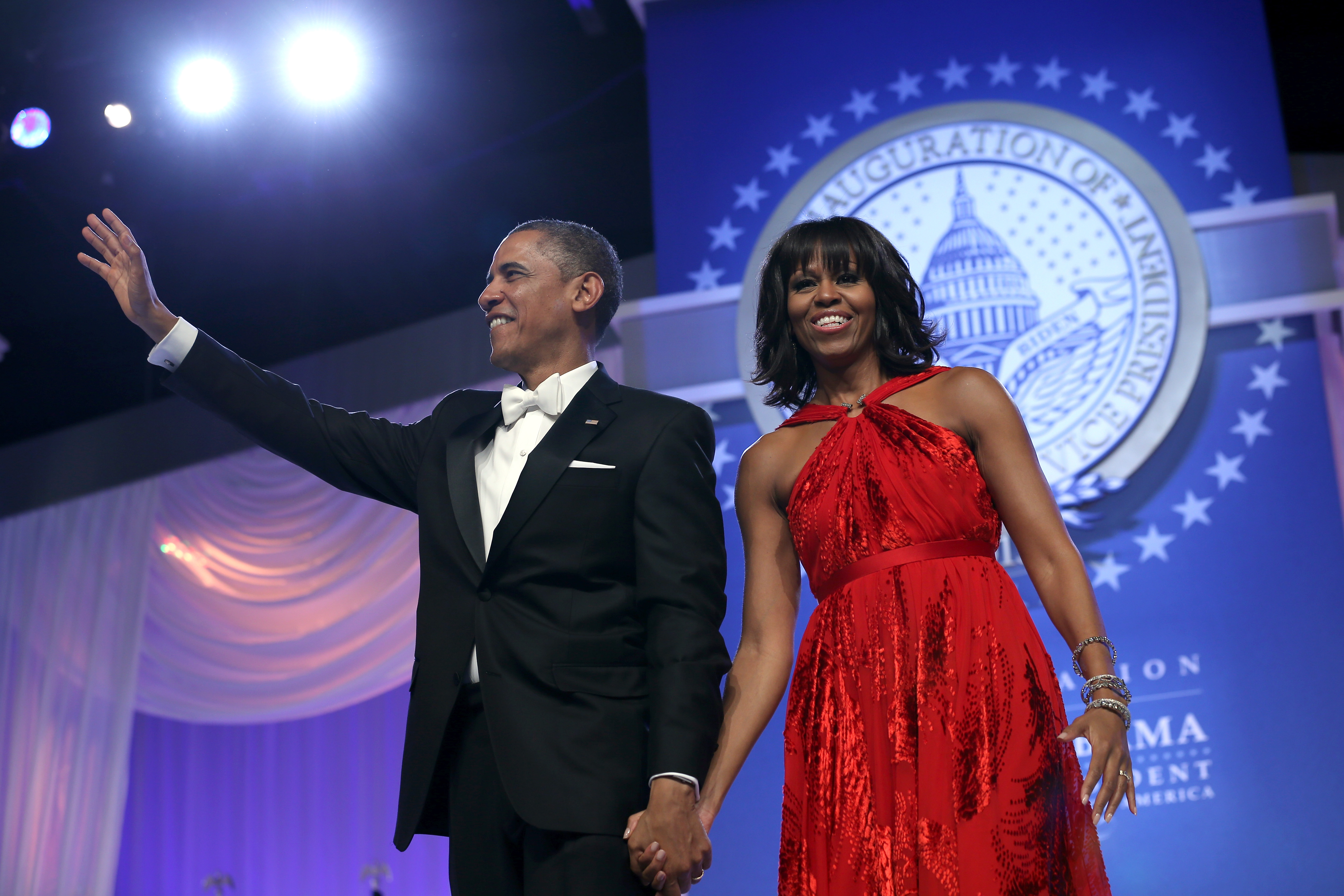 January 22nd, 2013
08:20 AM ET
Washington (CNN) – After all the anticipation and waiting, perhaps the biggest bombshell about Michelle Obama's inaugural ball dress was that it really wasn't a surprise at all.
Like 2009, the first lady wore a gown by the Taiwanese-born American designer Jason Wu, who was catapulted into the highest echelons of fashion when Obama donned one of his designs four years ago.
Obama, who is known for favoring lesser-known American designers, had several dresses presented to her before she made her decision, and didn't reveal what she would wear before she stepped out on stage at the Commander-in-Chief's ball, making her repeat turn in Jason Wu a rare moment of suspense amid the scripted revelry of the inauguration.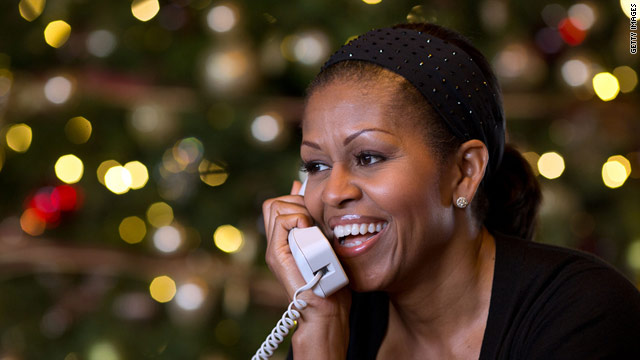 December 24th, 2012
06:12 PM ET
Honolulu, Hawaii (CNN) - It's only early afternoon in Hawaii where first lady Michelle Obama is vacationing, but she spent 30 minutes earlier this Christmas Eve "answering calls from children from across the country asking where Santa was located," according to a White House official.
It's all part of the annual NORAD Tracks Santa program run by the North American Aerospace Defense Command.
November 28th, 2012
09:09 PM ET
Washington (CNN) – First lady Michelle Obama welcomed the holiday season at the White House Wednesday with a viewing of decorations throughout the house.
She celebrated her fourth Christmas in Washington with military families, including Gold Star and Blue Star parents, spouses and children.
FULL POST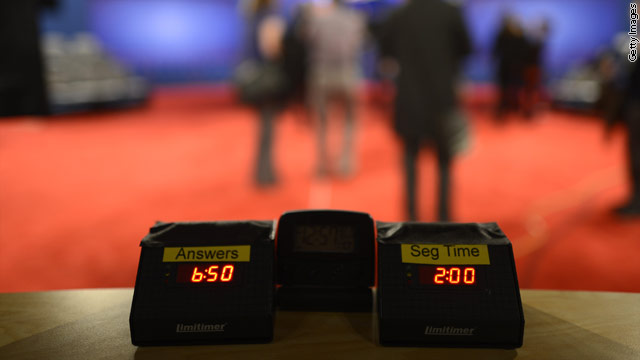 October 16th, 2012
10:03 AM ET
All eyes will be on President Obama tomorrow night at 9:00p to see if the second presidential debate will go better than the first for the president. We'll see if this round of debate prep in Williamsburg is more effective when he faces off with Mitt Romney at the debate at Hofstra University in Hempstead, New York.
He leaves Williamsburg just before lunch time and spends the afternoon with nothing on his schedule before the debate. The campaign was still tight-lipped on his preparations in Williamsburg when they spoke with reporters off-camera on Monday afternoon but they say we can expect to see a different Obama in tomorrow night's town hall debate. "You should expect that he's going to be firm, but respectful in correcting the record in the times we expect Mitt Romney will hide from and distort his own policies. He's energized and I expect he'll also be making a passionate case. But the audience is the people in the room, but also the people at home, and certainly he takes that into account in how he's preparing and looking ahead to tomorrow," said Jen Psaki, campaign spokeswoman.
Psaki said he's watched the video from the first debate and is looking at what he could do better. She also points out that he's his own harshest critic.
First Lady Michelle Obama will also attend the New York debate.
The Vice President takes a break from the campaign trail to attend the funeral of his friend Arlen Specter in Pennsylvania. He returns to the trail on Wednesday.
Full schedule after the jump
FULL POST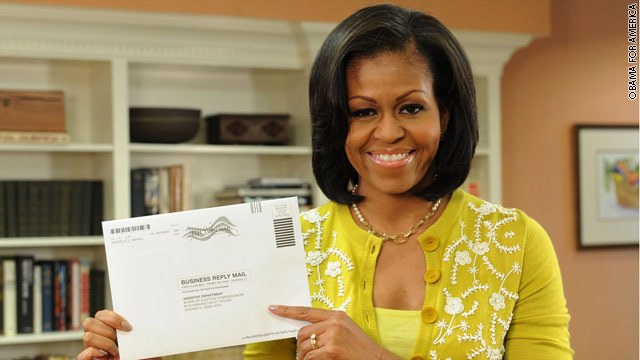 October 15th, 2012
02:59 PM ET
WHITE HOUSE (CNN) - First Lady Michelle Obama has officially cast her ballot in the 2012 presidential election.
The Obama for America campaign released a photo of her in the White House, preparing to mail her absentee ballot from the state of Illinois.
The first lady and president have recently been highlighting states' allowances for early voting and absentee ballots. Voting in her native Illinois began on September 27th. In battleground states, such as Colorado and Nevada, absentee voting begins this week. Virginia voters have been able to cast ballots since September 22nd.
"In states around the country, voters can already vote early in person or by mail," said Mrs. Obama in a press release announcing her vote. "It means you don't have to worry about your schedule filling up, or getting sick, or having to work late on Election Day. And more than anything, it means you can act right now to move our country forward."
The campaign also announced President Obama will vote early in Chicago next week.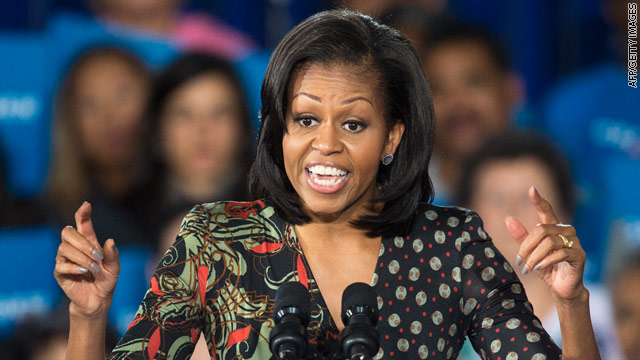 October 15th, 2012
10:54 AM ET
WHITE HOUSE (CNN)—First Lady Michelle Obama will hit the daytime talkshows once again in the final weeks of her husband's re-election campaign.
Mrs. Obama will tape an interview with "Live with Kelly and Michael" on Wednesday in New York. Co-host Kelly Ripa announced on Monday's show that the segment will air on Friday.
Her appearance will be the First Lady's second time on the show this year. In June, she appeared on the show to promote her book American Grown: The Story of the White House Kitchen Garden and Gardens Across America . She also surprised a jump-roping team with a demonstration of her double-dutch jump-roping skills.
Republican candidate Mitt Romney and his wife, Ann, appeared on the show in September where they talked about reality TV star Snooki, his pet peeve of Ann's method of squeezing toothpaste out of the tube, and an embarrassing moment of walking in on former President George W. Bush receiving a massage during a White House visit.
Last week, Mrs. Romney co-hosted ABC's "Good Morning America" with George Stephanopolous where she made her famous Welsh cakes and interviewed a thoroughbred rider from the Paralympics games in London in August.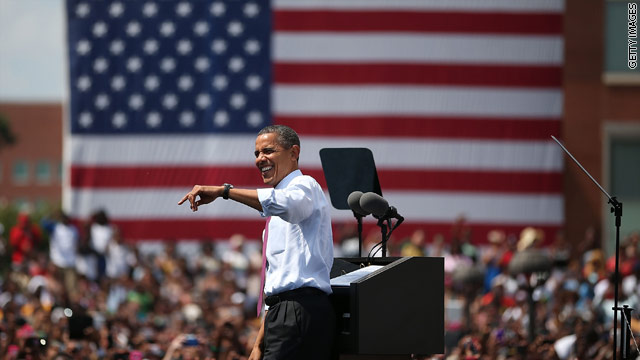 September 4th, 2012
03:04 PM ET
(CNN) – Two days before he will take the stage at the Democratic National Convention, President Barack Obama rallied supporters in the key battleground state of Virginia while giving a hat tip to the first lady.
"You'll hear tonight from the star of the Obama family," Obama told a large crowd at Norfolk State University. "This is just like a relay, where you start out with the fastest person."
First lady Michelle Obama is among the prime time speakers who will kick off the first night of the Democratic Convention Tuesday.
"I'm going to be at home, watching it with my girls and I'm going to try not to let them see their daddy cry," Obama added. "Because when Michelle starts talking I get all misty."
FULL POST
August 20th, 2012
04:34 PM ET
(CNN) - The White House often extends dinner invitations to its friends across the globe. From Downing Street to Hollywood Boulevard, the executive branch rolls out it's own version of the red carpet hosting State Dinners for queens and kings, prime ministers and other heads of state.
But this time, the invitations were not intended for the likes of  Queen Elizabeth or George Clooney and the attendees who arrived at the White House on Monday were not commanders of countries or glitterati.  In fact many of them stood less than five feet tall, girls in breezy summer dresses, hair adorned with bows or flowers and boys clothed in crisp white shirts, ties knotted tightly at their necks. As they walked across the tiled floor, pausing to give interviews to the press, many of them were surprisingly confident despite their short stature and lack of political sway.
FULL POST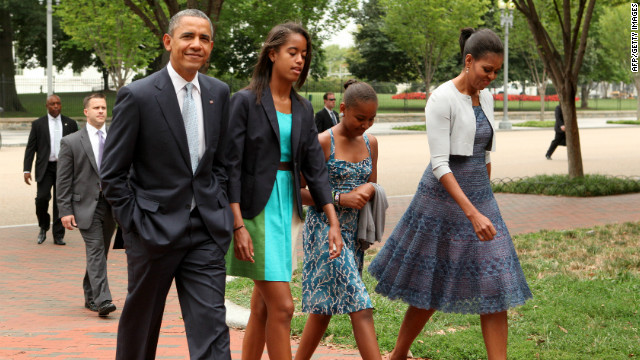 August 19th, 2012
01:23 PM ET
Washington (CNN) – The two men locked in an intense campaign for the White House marked one of the rare days that neither has a campaign event by attending church services with their families on Sunday.
President Barack Obama, along with first lady Michelle Obama and their two daughters, Sasha and Malia, walked across Lafayette Square on an overcast Sunday in the nation's capital to attend mass at St. John's Episcopal Church.
During the sermon, the Rev. Michael Angell spoke about what he called "a summer of violence." He mentioned recent shootings, including the movie theater shooting in Aurora, Colorado, that killed 12 people late last month and the shooting at a Sikh temple in Oak Creek, Wisconsin, that killed six people earlier this month.
FULL STORY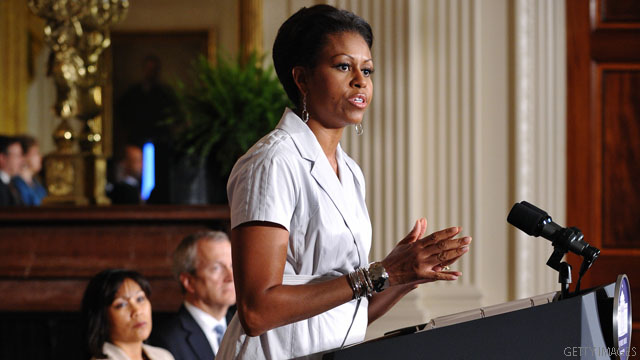 August 19th, 2012
12:59 PM ET
Washington (CNN) – First lady Michelle Obama will travel to Wisconsin Thursday to meet with family members of those killed and injured in a Sikh temple shooting earlier this month, White House officials confirmed Sunday.
The shooting – which left six people dead and four others injured – occurred August 5 in Oak Creek, Wisconsin. The shooter, identified by police as 40-year-old Army veteran Wade Michael Page, was shot to death by police responding to the Sunday morning attack.
At a memorial service for the shooting victims, Attorney General Eric Holder labeled the attack on the temple "an act of terrorism, an act of hatred, a hate crime" – the strongest denunciation of the rampage by a federal law enforcement official.
FULL STORY