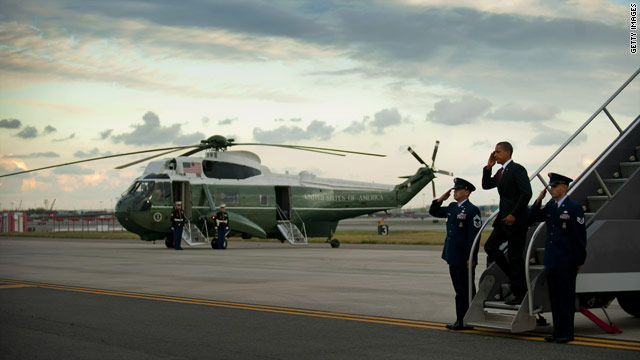 May 25th, 2012
12:53 PM ET
WASHINGTON (CNN) - President Obama rarely misses an opportunity to talk about the help his administration is offering to military veterans and their families. "We will care and serve our veterans the way they've served us," Mr. Obama said at a recent campaign event out west.
His message may be grounded in policy but in this election season it's also about the politics.
His re-election campaign is actively courting veterans who have traditionally supported Republicans.
"It's door-to-door, person-to-person, grocery store-to-grocery store. Letting people know the president's record on his policies to veterans," said Beau Biden, an Iraq veteran and the vice president's son, who is part of the campaign's grassroots effort "Veterans and Military Families for Obama."
FULL POST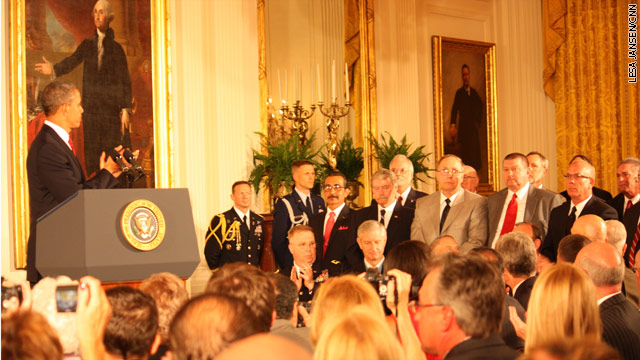 May 16th, 2012
05:25 PM ET
President Obama presented the Medal of Honor posthumously to Army Specialist Leslie H. Sabo, Jr. for "conspicuous gallantry" at a ceremony Wednesday at the White House.  Sabo was killed trying to save his fellow soldiers in Cambodia in 1970 during the Vietnam War.
President Obama spoke of the nation's gratitude to all of its soldiers.
"This gathering of soldiers, past and present, could not be more timely. As a nation, we've ended the war in Iraq. We are moving towards an end to the war in Afghanistan. After a decade of war, our troops are coming home. And this month, we'll begin to mark the 50th anniversary of the Vietnam War, a time when, to our shame, our veterans did not always receive the respect and the thanks they deserved - a mistake that must never be repeated."
Specialist Sabo's honor comes 43 years after his heroic act.  (Read Specialist Sabo's story on CNN Security Clearance)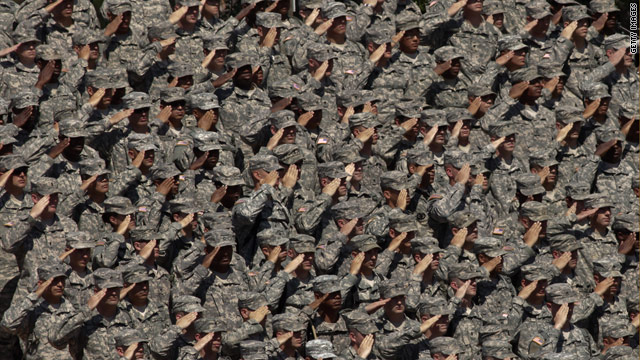 April 27th, 2012
10:41 AM ET
President Obama wants to crack down on for-profit colleges his administration says deceptively recruit post-9/11 veterans with false promises of lucrative careers.
The president will travel to Fort Stewart in Georgia Friday where he will unveil a new executive order aimed at forcing schools to be more transparent in their recruitment and marketing efforts.
While 9/11 GI Bill federal loans can be used at private, public, and for-profit schools alike, a recent Senate Committee report found eight of the ten largest recipients of GI Bill loans are for-profit schools. According to the report, for-profit colleges heavily recruit ex-service members with misleading military-themed websites that falsely suggest the federal funds can only be used at their schools. The Senate report also found the average dropout rate at these schools hovers around forty percent.
In the Executive Order the president will announce Friday, all schools who market to veterans will be required to be more transparent about the educational opportunities they provide and likely career placement outcomes. The Department of Defense will also be tasked with setting forth rules on how schools are permitted to recruit service members on military bases while the Department of Veterans Affairs will crack down on the school's deceptive websites specifically targeted to military members.
The executive order also mandates better financial aid and academic advising to enrolled veterans and a centralized complaint system for veterans who feel their school has defrauded them.
FULL POST
April 4th, 2012
06:50 PM ET
Easter came early for some of the military families at the Fisher House at Walter Reed National Military Medical Center in Bethesda, Maryland. And, it was First Lady Michelle Obama who came bearing pastries from the White House. Bo, the first dog dressed in bunny ears accompanied the first lady on her visit.
"It is always one of my favorite things to do, to come to the Fisher House," said the first lady holding a basket of Easter cookies, "This house is a home away from home for so many of our military families."
The Fisher House is a refuge for veterans and their families as they receive medical care at Walter Reed. On Wednesday, 19 of those families took part in making arts and crafts, with the first lady on hand to spend some time chatting and signing autographs.
The families are among the 73 that live on the premises at Walter Reed, there are 57 Fisher Houses across the country in total.
Wednesday's event is a part of Mrs. Obama's campaign to bring recognition and support to military families. It's been a year since the First Lady and Dr. Jill Biden kicked-off their "Joining Forces" initiative, and next week the two will hit the road on a two-day tour (which will include an appearance on the Colbert report, while in New York City) to celebrate its one year anniversary.
As she departed Mrs. Obama bid everyone adieu until Monday, when they will gather again, amongst many other revelers, for the annual Easter Egg Roll on the White House South Lawn.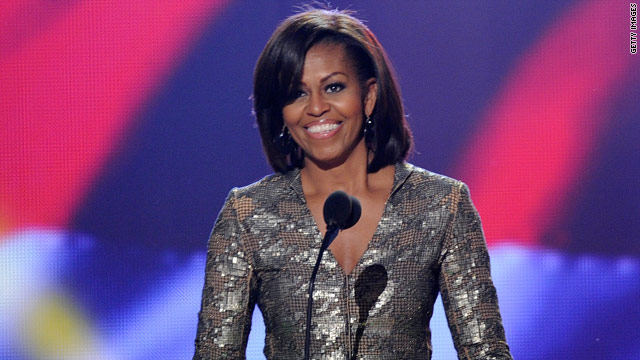 March 31st, 2012
11:48 AM ET
First lady Michelle Obama continues to take Hollywood by storm. She's appeared with David Letterman, Jay Leno and Ellen DeGeneres in recent months - and Saturday she made her first-ever live appearance on Nickelodeon's Kids' Choice Awards in Los Angeles.
Mrs. Obama presented "The Big Help Award" to country pop singer Taylor Swift for Swift's work helping tornado and flood victims.
"I'm here because I've always felt an obligation to give back; to lift up others the way my parents, my teachers and mentors lifted me. And that's something that our next honoree believes, too," Obama said at the awards ceremony. "Taylor Swift may be in the news most often for her award-winning songs and multi-platinum records, but every step of the way she has always made it a point to give back."
Last year, Swift raised nearly $1 million to help victims of devastating tornadoes in the Southeast. Swift opened the final dress rehearsal of her Speak Now tour to a paying audience of 13,000 people, donating all the proceeds to tornado victims.
The first lady won the same award herself two years ago for her work with Let's Move, her initiative designed to combat childhood obesity and encourage healthy habits.
Mrs. Obama has teamed up with Nickelodeon in the past for the network's Worldwide Day of Play, an effort to get kids involved in healthy activities and away from the TV for at least three hours a day. She also appeared on the network's hit show "iCarly" as part of her Joining Forces initiative to recognize and honor military families. The lead character in iCarly is the daughter of an Air Force colonel serving overseas.
Saturday's Kids' Choice Awards appearance is the first lady's first "in person" appearance on the awards show. She received "The Big Help Award" in 2010 via videotape.
–CNN's Greg Clary contributed to this report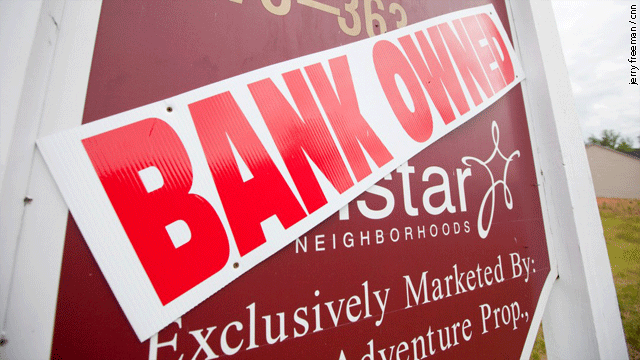 March 6th, 2012
09:30 AM ET
WASHINGTON (CNN) –With the U.S. housing market still struggling to recover, President Obama is hoping to provide some relief for those in the military, veterans and homeowners with government insured loans.
The announcement, expected to come at the president's 1:15pm news conference Tuesday in the White House briefing room, aims to reduce fees for borrowers with FHA loans who are trying to refinance at lower rates, saving about $1000 a year.
In addition, the president is expected to announce an agreement with lenders that will compensate those in the military and veterans who have been "wrongfully" charged higher interest rates and "wrongfully" foreclosed upon, according to information provided by a White House official.
"This is part of the president's overall strategy to support responsible homeowners and the housing recovery," the statement said.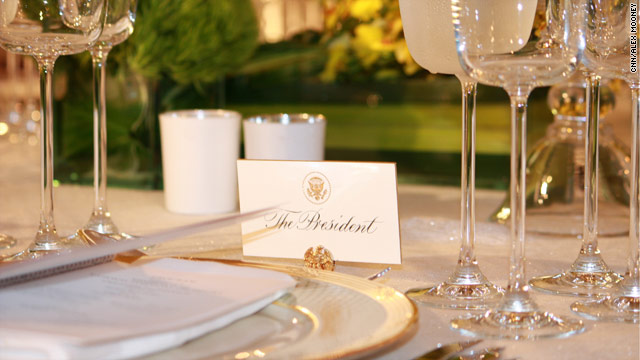 February 29th, 2012
10:35 AM ET
WASHINGTON (CNN) –The war in Iraq ended without much fanfare, but months later President Obama and the first lady are hosting a dinner to pay tribute to the troops who served and the families who supported them.
Two hundred people are expected to attend the Wednesday night gala at the White House, including former Marine Eric Alva who in 2003 became the first service member wounded in the Iraq war.  This won't be Alva's first trip to the White House.  He also attended the president's signing ceremony of  the repeal of "Don't Ask, Don't Tell" in December 2010.
Other highly decorated Iraq veterans will also be honored.
Army Col. Peter Newell served two tours and was awarded Silver and Bronze Stars, a Joint Service Achievement Medal and Presidential Unit Citation.
Army Sgt. 1st Class Sebastian Ellis was awarded a Bronze star with Valor and Army Commendation Medal with Valor in his three tours of duty.
And Chief Warrant Officer 4 Nelson Visaya received the Distinguish Flying Cross and Air Medal with Valor awards during his two tours.
FULL POST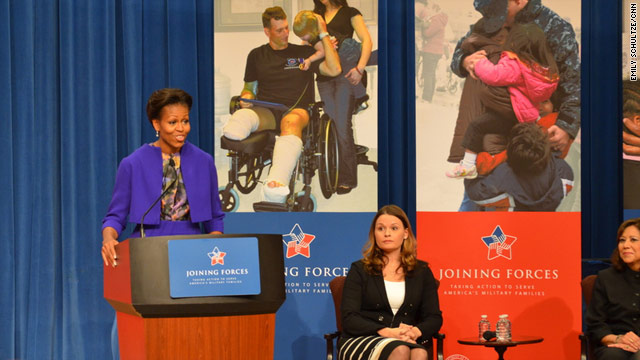 January 30th, 2012
03:07 PM ET
First Lady Michelle Obama spent Monday morning talking about one of her favorite causes, taking care of military families.  She announced proposed changes to the Family Medical Leave Act that will help military families take care of service members and their kids when they are called up for active duty or are injured.  In front of a crowd of military families and leaders at the U.S. Department of Labor, Mrs. Obama said the rules will "give more families support and flexibility" to take care of their loved ones.
The new proposal  includes the creation of a special 26-week military caregiver leave entitlement, this would be an additional option to the 12-week leave  currently available under the FMLA. The first lady said the rule "means that more caregivers can now provide support at a hospital for days or weeks at a time.  They can help they loved ones make that transition back home.  And they can do it all without worrying whether they will lose their job."
The new rule also includes veterans who have been discharged within the past 5 years. They too would be covered under this proposal, though the initial illness or injury must have been incurred while on active duty. This amends the current law which only covers family members of those currently serving in the military.
Another part of the proposal allows the families of regular active duty military who have recently been deployed to take up to 12 weeks to deal with child care, financial or legal issues.  Previously this rule only included active duty National Guard and Reserves.
The proposals will have a 60 day public comment period before the final rule is implemented. Congress does not need to act for this rule to take effect.
For more information on the proposed revisions visit
January 13th, 2012
05:16 PM ET
First Lady Michelle Obama can add "actress" to her repertoire after making a cameo appearance in the Nickelodeon hit, "iCarly".
Mrs. Obama and the entire cast celebrated her upcoming acting debut with a special screening of the episode called "iMeet The First Lady" at a local school, Hayfield Secondary, which has a high percentage of military families. The show, which honors children from military families, stars Miranda Cosgrove as Carly Shay, who is the daughter of an Air Force Colonel serving overseas.
The first lady talked to the students at the Alexandria, Virginia middle school about some of the challenges facing military kids.
"When you find a kid who's a military kid who's come in new, it's important for you all to do like iCarly's friends and step up and know the kinds of struggles and challenges they they're facing, alright? 'Cause it's not easy changing schools every few years and keeping your grades up and knowing that your dad is away serving in another part of the world, right?" Mrs. Obama said. "So we need all of you to step up as well, and all the kids all over the country to find out who the military kids are in your schools and make sure you make them feel welcome."
Mrs. Obama confessed that while her family doesn't watch too much television, they are fans of the show.
"We watch all kinds of things, I mean, but we try not to have too much T.V. time during the week. But we're big fans of iCarly, we certainly are. And I even get upset when I'm watching a re-run, so I'll be glad when the new episodes come out," the first lady said. FULL POST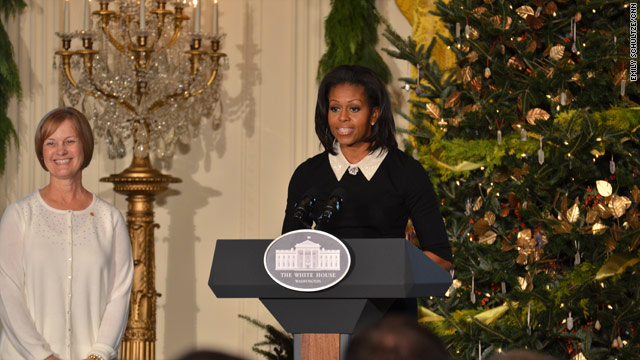 November 30th, 2011
05:55 PM ET
WHITE HOUSE (CNN) – First Lady Michelle Obama showed off the newly-decked halls of the White House on Wednesday to a select group of special guests.
Family members of military servicemen and women joined Mrs. Obama and her staff to preview this year's holiday decorations at the White House.
"I want to thank all of the Gold Star families for your enduring strength and commitment to this country. And I want to thank all of the troops, all of our veterans, all of our military families, whose service and sacrifice inspires us all," the first lady said. "I know for some of you, this holiday season will be tough. But hopefully, it's times like this that make you know that you live in a grateful nation, and that we are just so inspired by your sacrifice. And hopefully, this is a memory that will stay with you every holiday season."
This year's holiday theme is "Shine, Give, Share" and many aspects honor Gold Star and Blue Star families. There are 37 Christmas trees throughout the White House. The largest one, a 18-foot 6-inch balsam fir from Neshkoro, Wisconsin stands in the Blue Room. The tree is adorned with holiday cards made by military children, along with medals, badges, and patches representing all of the branches of the military.
Mrs. Obama spoke of one message on the tree which five children from Washington state wrote. "No matter how many Christmases our dad misses, he makes every Christmas special and we love him," the card read.
After her remarks in the East Room, she invited all the children to the State Dining Room where the White House served cookies and the kids made holiday crafts. The White House chefs have made 20,000 cookies so far for this holiday season. The White House says approximately 85,000 visitors will pass through its halls this December.