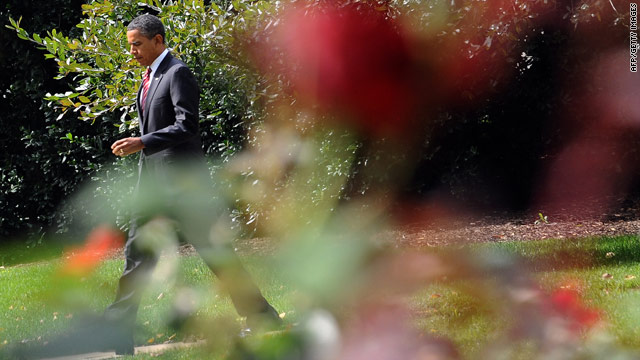 November 7th, 2011
12:23 PM ET
The guys over at the Political Ticker have a new post up about President Obama's approval rating that's definitely worth checking out. Here's the highlight:
According to the CNN Poll of Polls, which is an average of the most recent national surveys, 45 percent of Americans approve of how the president is handling his job and 51% disapprove.
Check out the whole article here.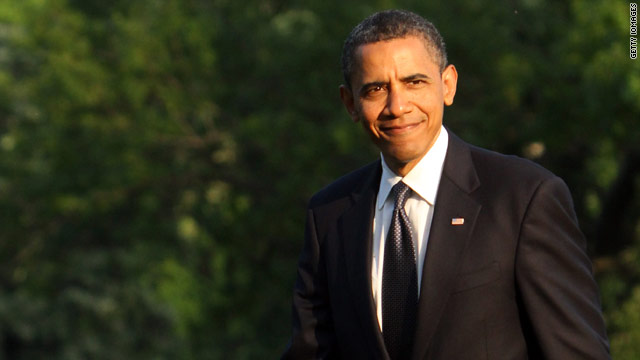 May 31st, 2011
09:53 AM ET
The CNN Political Unit reports President Obama's performance on national security and international affairs and his image as a strong leader appear to be behind his rising approval rating, according to a new national poll conducted while the president was on his week-long trip to Europe.
A CNN/Opinion Research Corporation survey released Monday indicates that Obama's approval rating among Americans stands at 54 percent, with 45 percent saying they disapprove of the job he's doing as president.
More HERE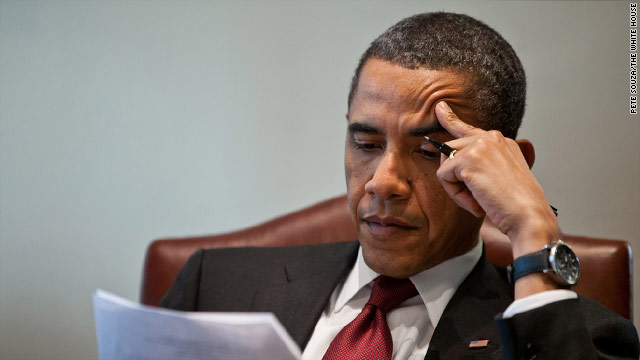 April 3rd, 2011
01:15 PM ET
Washington (CNN) – President Barack Obama made separate calls on Saturday to House Speaker John Boehner, and Senate Majority Leader Harry Reid to discuss ongoing budget negotiations, according to a statement released by the White House.
In the weekly GOP address released before the call, Boehner made it clear that bipartisan cooperation was not immediately within reach. "You've heard Democratic leaders claim an agreement has been reached on this issue, but let me be clear," he said. "There is no agreement. Republicans continue to fight for the largest spending cuts possible to help end Washington's job-crushing spending binge."
During the call, the president affirmed the need to cut spending and acknowledged progress toward reaching a bipartisan compromise to make $73 billion in spending cuts this year.
His team has been given a directive to work through the weekend and reach resolution on what will be eliminated, with an instruction to steer clear of any cuts that undermine economic growth, job creation and the ability to "win the future." The president voiced opposition to cuts that undermine those goals and any efforts to use the negotiation process as a way to further political agendas unrelated to the reduction of the deficit and spending.
Though he recognized the progress made toward spending legislation, Obama warned that the process is running out of time, and encouraged both parties to reach a solution in time to avoid a shutdown of government and possible threat to economic recovery.
Following the call, Boehner spokesman, Michael Steel objected to the notion of a compromise, saying, "The speaker reminded the president that there is no 'deal' or agreement on a final number, and he will continue to push for the largest possible spending cuts."
FULL STORY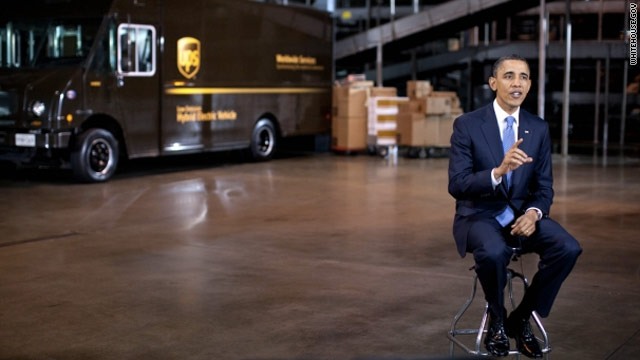 April 2nd, 2011
12:37 PM ET
(CNN)-President Barack Obama delivered the weekly address from a UPS customer center in Landover, Maryland to drive home the need for a commitment to clean energy vehicles and highlight recent job gains.
The president noted rising gas prices and outlined his plan to strengthen the economy and reduce the nation's dependency on oil imports. He also praised UPS, FedEx, Verizon, AT&T, and PepsiCo for taking the lead in transitioning to more fuel-efficient cars and trucks.
A commitment to increased oil exploration in America is included in the plan, but Obama stated that "drilling alone is not a real strategy to replace our dependence on foreign oil."
FULL POST
FULL STORY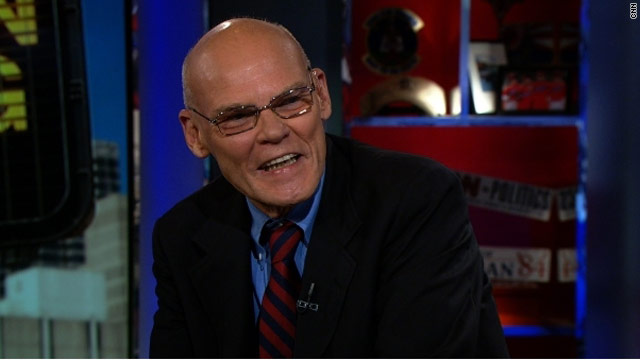 November 19th, 2010
10:03 AM ET
Washington (CNN) – Democratic strategist James Carville compared President Barack Obama to his democratic primary rival and current Secretary of State Hillary Clinton Thursday, implying Obama needs to toughen-up.
"If Hillary gave up one of her balls and gave it to Obama, he'd have two," Carville said at a "Christian Science Monitor" breakfast discussion.
For the complete story, read CNN's Political Ticker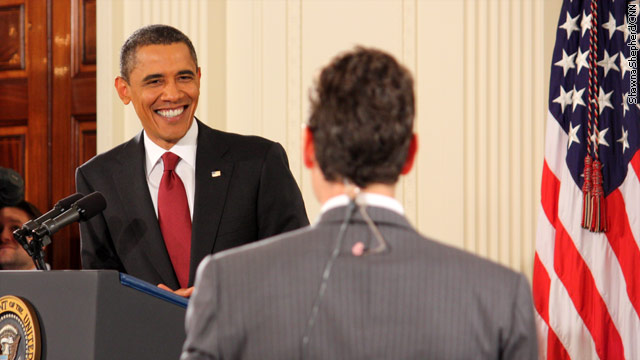 November 3rd, 2010
03:59 PM ET
Washington (CNN) - President Obama and the likely House Speaker may be at odds on many fronts, but the two have at least one thing in common that may help bridge the divide – their taste for Slurpees.
During a mostly somber post-midterm election news conference, President Obama was asked if he planned to have Rep. John Boehner over to the White House for a slurpee, a reference to his oft-used campaign trail metaphor in which he describes Democrats working to "dig the car out of the ditch" while Republicans sit back "sipping on a Slurpee."
For the complete story, check out CNN's Political Ticker
October 31st, 2010
11:26 AM ET
(CNN) – Some cable television viewers will see a commercial from President Obama beginning Saturday.
The 30-second spot, paid for by the Democratic National Committee, will air on MSNBC and BET and features a speech by the president that lays out the stakes in Tuesday's election, according to a Democratic Party source.
For the full story, read CNN's Political Ticker
October 26th, 2010
06:30 PM ET
Washington (CNN) –We don't know the make or model of the car President Obama and Democrats say they've been trying to push out of the ditch, but at least we know what's on the bumper. "Look, there's, there's an Obama bumper sticker on the car. We get that," said White House spokesman Robert Gibbs in response to a question from CNN.
Gibbs was attempting to illustrate that President Obama is taking responsibility for fixing the economy.
That new addition to a metaphor President Obama has repeated over and over again on the campaign trail to sharpen his economic message was akin to throwing a softball at Republicans. They quickly swung for the fences.
For the complete story, go to CNN's Political Ticker.
October 26th, 2010
01:14 PM ET
(CNN) – As Democrat Frank Caprio made exceedingly clear Monday, President Obama has not made an endorsement in the contentious Rhode Island governor's race.
But you wouldn't know that based on independent candidate Lincoln Chafee's new ad.
For the complete story, check out CNN's Political Ticker
October 26th, 2010
12:47 PM ET
(CNN) – A day after West Virginia Gov. Joe Manchin released an ad calling his opponent's ideas 'crazy,' Republican John Raese launched his own ad blasting Manchin and "his friend President Obama."
For the complete story, check out CNN's Political Ticker