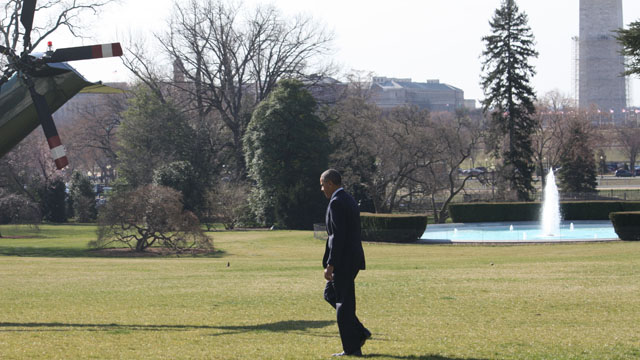 March 15th, 2013
11:25 AM ET
Washington (CNN) - With climate change as one of his administration's top priorities and the decision on the controversial Keystone pipeline expected at any time, President Obama takes his energy message to Chicago Friday.
The president is expected to press Congress to pass an energy proposal that the administration says would target two billion dollars over ten years to wean cars and trucks from fossil fuels to clean energy and create clean energy jobs.
The president announced his Energy Security Trust plan at his State of the Union address last month.
Friday Mr. Obama will lay out details of the plan as he speaks at the Argonne National Labs outside Chicago. White House officials told reporters on a conference call Thursday, the money to fund the alternative fuel research will come from increased royalties from oil and gas drilling and leasing on federal land.
The White House officials were quick to point out the administration does not plan to expand drilling areas especially on the Outer Continental Shelf but instead expect increased revenues due to streamlined leasing, increased production and upward price trends.
The Energy Security Trust would require an act of Congress but White House officials said they are encouraged by early bipartisan support.
The White House says this is just the latest in the president's "all above" energy approach. The Environmental Protection Agency Friday is expected to release a new report which the administration says underscores the progress made on the clean energy front including EPA estimates that CO2 emissions have decreased by 13% in the past five years and that fuel economy standards have increased by 16%.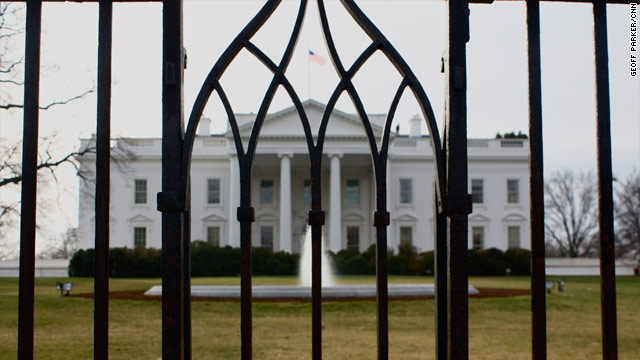 February 26th, 2013
08:12 AM ET
President Obama heads to Newport News, VA to talk about the effect that forced government spending cuts will have on Newport News Shipbuilding, the largest manufacturing employer in the state of Virginia. The company is a division of Huntington Ingalls Industries (HII), and in his remarks the president will highlight the impact that furloughs at one factory can have across the country. The White House circulated this information late Monday night:
HII's already fragile supply base consists of 5,000 companies located in all fifty states that depend on the work that companies like Newport News Shipbuilding do, many of which are small businesses that rely on Newport News Shipbuilding for their bottom line.

In Virginia alone, approximately 90,000 civilian Department of Defense employees would be furloughed if the sequester was to hit, reducing gross pay by around $648.4 million in total. As well, it would cancel the maintenance of 11 ships in Norfolk, defer four projects at Dahlgren, Oceana, and Norfolk, and delay other modernization and demolition projects. The President will urge Congressional Republicans to come to the table and compromise to find a solution to avert the sequester, and will make clear that the only reason these cuts will take place is if Congressional Republicans choose to protect loopholes only enjoyed by the wealthiest and big corporations at the expense of jobs in Virginia.
The president will depart the White House at 10:50 AM, and his remarks in Norfolk will come a little after 1PM. Here's the full schedule as released by the White House: FULL POST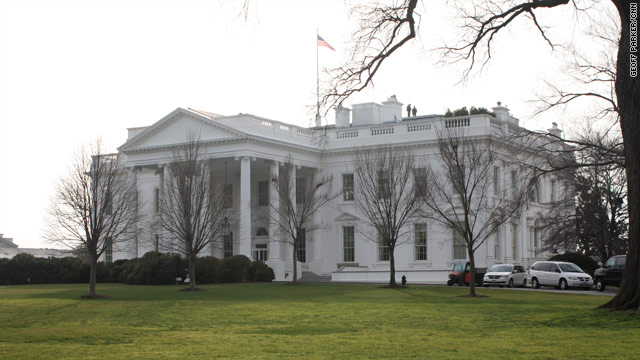 February 8th, 2013
05:49 PM ET
Washington (CNN) - President Obama will honor the six teachers and staff killed in the Newtown, Connecticut school massacre last December with the second highest civilian honor, the Citizens Medal in a ceremony next Friday at the White House.
In announcing the honor, the White House said, "the names of six courageous women were forever etched into the heart of our Nation as unthinkable tragedy swept through Newtown, Connecticut."
Principal Dawn Hochsprung, school psychologist Mary Sherlach and teachers Anne Marie Murphy, Lauren Rousseau, Rachel Davino, and Victoria Soto and twenty children were killed when a gunman opened fire inside the Sandy Hook Elementary School in December.
The Citizens Medal recognizes Americans who have performed "exemplary deeds of service for their country or fellow citizens."
Calling the six women from the Newtown tragedy "dedicated" to their students and their community the White House noted how they often put in long hours "to give the children in their care a future worthy of their talents."
As many as 6,000 individuals were nominated for the Citizens Medal for 2012. FULL POST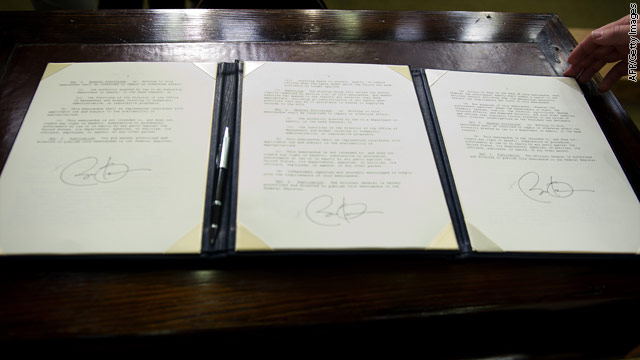 January 17th, 2013
07:45 AM ET
One day after signing three executive orders and enacting 20 other actions aimed to reduce gun violence, President Obama has no public events on his schedule Thursday. The president and Vice President Biden will receive the daily briefing in the morning, and then it's scheduled to be a quiet day. Press Secretary Jay Carney will brief the media at 11:45 AM.
Here's the schedule as released by the White House:
10:00AM THE PRESIDENT and THE VICE PRESIDENT receive the Presidential Daily Briefing

Oval Office

Closed Press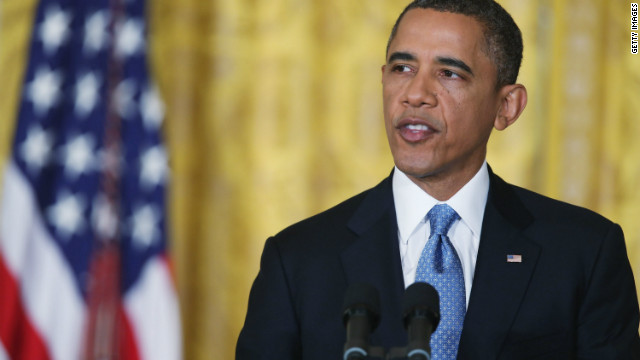 January 15th, 2013
06:28 AM ET
Washington (CNN) – President Barack Obama pushed back on criticism that he has not reached out enough to members of Congress socially to help build more personal relationships.
"With respect to this 'truism' about me not socializing enough and patting folks on the back and all that stuff, most people who know me know I'm a pretty friendly guy. And I like a good party. And the truth is when I was in the Senate, I had great relationships over there, and up until that point that I became president this was not an accusation that you heard very frequently," the president said at his news conference Monday.
He said some Republicans feel that it doesn't "look real good socializing with me."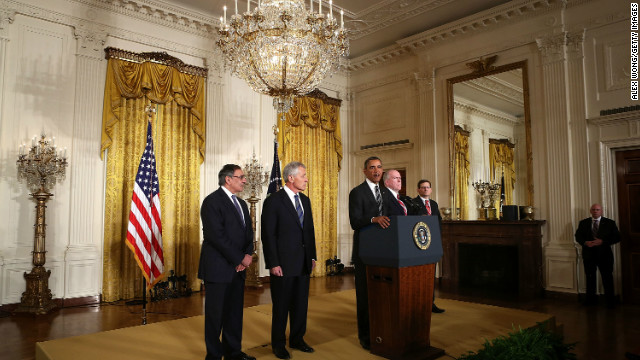 January 14th, 2013
04:32 PM ET
Washington (CNN) – Just wait and see.
That was President Barack Obama's response Monday to critics who have questioned why his second-term cabinet nominees have all been white males.
"I would just suggest that everybody kind of wait until they've seen all my appointments, who is in the White House staff and who is in my cabinet, before they rush to judgment," Obama said during his Monday news conference, which focused mostly on the upcoming debate over raising the federal debt limit.
Since winning re-election in November, Obama has made four high-profile nominations for posts in his cabinet, including tapping Sen. John Kerry for secretary of state. If confirmed, he'll replace Hillary Clinton, the highest profile woman in Obama's administration.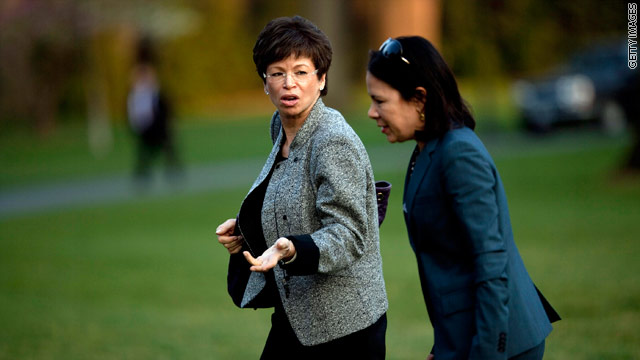 January 11th, 2013
07:02 PM ET
(CNN) – Nancy-Ann DeParle, among the most prominent women in President Barack Obama's inner circle, is set to depart her White House post after his second-term inauguration.
DeParle, deputy White House chief of staff, will join the Brookings Institution later this month and also begin lecturing at Harvard Law School. News of DeParle's departure was announced Friday by Brookings Institution's president, Strobe Talbott.
Earlier this week, Labor Secretary Hilda Solis announced she would resign. EPA Administrator Lisa Jackson and Secretary of State Hillary Clinton also are on their way out.
FULL POST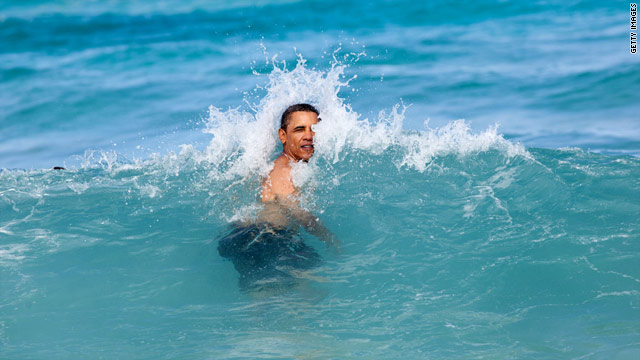 January 3rd, 2013
11:23 AM ET
Honolulu, Hawaii (CNN) - If you are a president who desperately wants to salvage your Hawaiian vacation, why stick around Washington to sign a bill when an automatic pen can do it for you?
That's what happened Wednesday when the long-haggled over bill to avert the fiscal cliff was delivered to the White House for the president's signature. With Obama 5,000 miles away in Hawaii, aides decided to prepare the president with an electronic version of the document for his review rather than commission a special flight to currier over the document.
Upon review of the electronic copy, the president directed his signature be affixed to the bill – via that auto pen back in Washingon. It's a move that, while convenient, raised questions over just how a president can make a bill become a law.
After all, Article I, Section 7, of the Constitution provides that a bill must be presented to the president and "[i]f he approve he shall sign it, but if not he shall return it" (emphasis added).
So can an auto-pen, where the president himself is not technically signing, conform to what the Constitution demands? FULL POST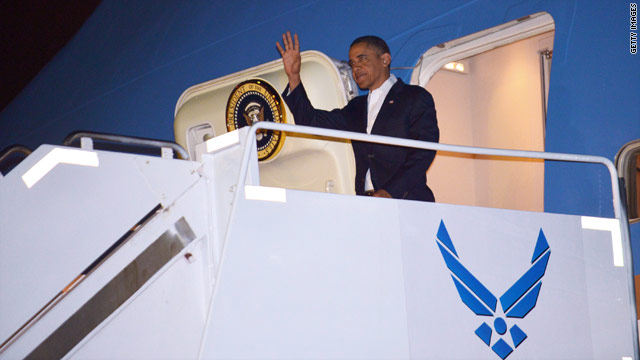 January 2nd, 2013
05:37 PM ET
Kailua, Hawaii (CNN) - Drama surrounding the fiscal cliff negotiations in Washington lasted well into New Years Day, but a mere 12 hours later President Obama was fully back to his vacation routine 5,000 miles away in Hawaii.
Landing at a rainy Hickam Air Force Base in the pre-dawn hours, the president made a quick stop at his vacation house before scooting to the gym at nearby Marine Corps Air Station Kaneohe Bay.
Two hours later, Obama was on the move again, this time for a round of golf – also at the Kaneohe Bay Air Station. His foursome included old Chicago friends Marty Nesbitt and Allison Davis as well as Bobby Titcomb, a childhood friend of Obama from his days growing up in Hawaii.
December 25th, 2012
10:55 PM ET
Honolulu, Hawaii (CNN) - President Obama began his Christmas morning like most Americans – opening gifts and singing carols, according to the White House.
No word on what was under the tree for the president this year, though a fiscal cliff deal was clearly not.  Later Tuesday, the White House announced Obama would cut his vacation short and return to Washington the same day the Senate reconvenes to tackle the looming January 1 deadline before taxes automatically increase and spending cuts set in.
Meanwhile, the president visited the local Marine Base Tuesday afternoon, where he addressed over 100 troops and their families as they were sitting down to a Christmas dinner.  This came after Obama made calls to  service members on Christmas Eve, according to the White House.
"The greatest honor I have as President is being Commander-in-Chief. And the reason it's an honor is because not only do we have the finest military in the world but we also have the finest fighting men and women in the world. And so many of you make sacrifices day in, day out on behalf of our freedom, on behalf of our security," Obama told the service members Tuesday.
While the president's vacation is coming to a close early, the White House says first lady Michelle Obama and daughters Sasha and Malia will remain on the island.