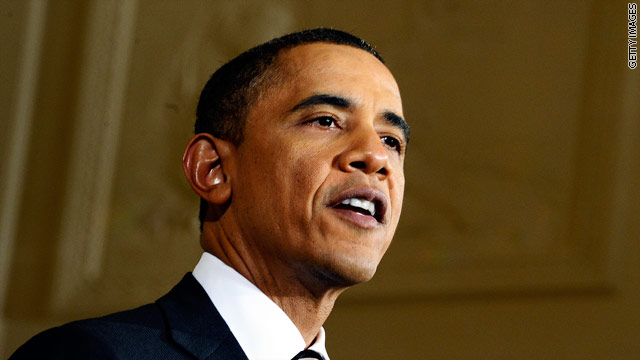 April 4th, 2012
07:55 AM ET
Washington (CNN) – As the four remaining Republican presidential candidates battle for delegates in Tuesday night's primaries, the man they hope to unseat in November – President Barack Obama – will quietly clinch his party's nomination for a second term as the polls close in Maryland and the District of Columbia at 8:00 p.m.
Like his Republican counterparts, President Obama has been competing in primaries and caucuses this year and picking up delegates along the way. Unlike the Republicans, Obama faces no serious opposition in his quest for renomination.
According to CNN's delegate estimate, the president has 2,735 of the 2,778 delegates needed to secure his party's nod. He is expected to win most or all of the 119 delegates at stake in Maryland and D.C., as well as the 100 delegates at stake in Wisconsin later in the evening.
Read the full story over at the Ticker.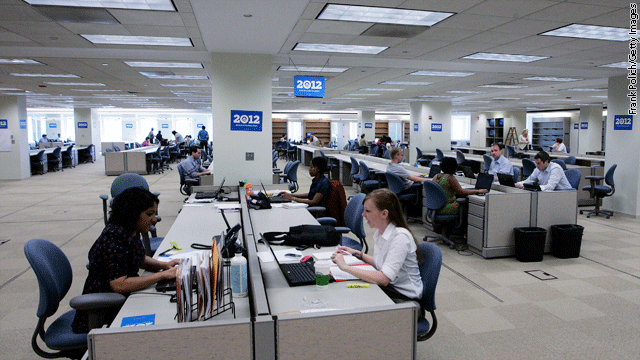 March 15th, 2012
08:53 PM ET
Washington (CNN) – President Barack Obama's reelection campaign unveiled Thursday a 17-minute long video painting a glowing portrait of the President's first three years in office. The theme: President Obama inherited one of the worst financial meltdowns in history and, despite the odds, improved the economic picture while racking up accomplishments that should make key Democratic constituencies happy.
The video, narrated by Tom Hanks, features interviews with former President Bill Clinton, Vice President  Joe Biden, former Senior White House Adviser David Axelrod and former Chief of Staff Rahm Emanuel, among others. Academy Award winner David Guggenheim directed the spot.
Watch the video here.
The ad's overarching theme is that the President made tough decisions based not on political expedience but instead for enduring change, but that he has more work to do. The message seems geared more toward base voters who are already inclined to support him, not toward swaying the undecided.
The video, called "The Road We've Traveled," begins with dire descriptions of the state of the U.S. economy immediately following President Obama's election. Axelrod describes a post-election briefing this way: "There was a screen set up for slides, but we might as well have been showing a horror movie because what was described in that meeting was an economic crisis beyond what anybody had imagined." FULL POST
March 15th, 2012
08:09 PM ET
Check out Erin Burnett's interview with Obama campaign senior strategist David Axelrod, and see a sneak preview of the campaign's long-form campaign ad called "The Road We've Traveled."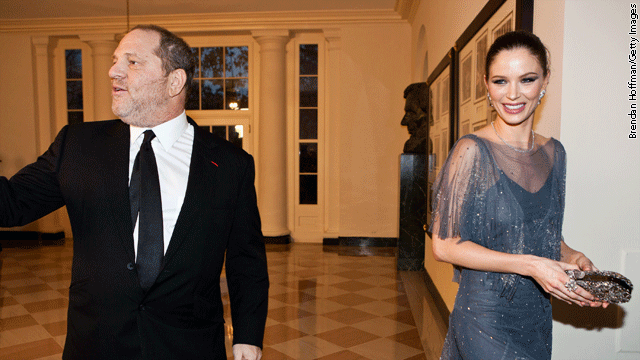 March 15th, 2012
04:30 PM ET
Alongside notable figures from Hollywood to Washington at the State Dinner for British Prime Minister David Cameron on Wednesday night, there were also 47 so-called bundlers, or mega-fundraisers, for President Barack Obama's reelection campaign that made the exclusive guest list. A bundler is a fundraiser who bundles donations from others on behalf of the campaign. Combined, this group of fundraisers has raised at least $10 million for the president – and likely much, much more.
The Obama campaign provides a list of these "volunteer fundraisers" on its website, but rather than reveal exactly how much they have raised, they simply place the donors into tiers. Thirteen of the dinner attendees raised more than a half a million dollars for the president, 24 raised between $200,000 and $500,000, eight raised between $100,000 and $200,000 and three between $50,000 and $100,000.
Here's a full list of the bundlers who attended and how much they've raised: FULL POST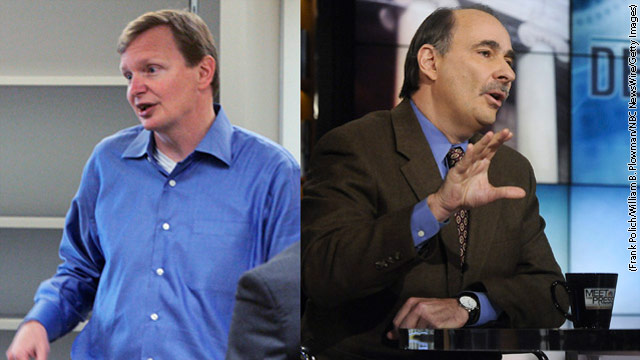 March 7th, 2012
04:23 PM ET
On a conference call with reporters Wednesday morning, senior members of President Obama's reelection campaign announced that they will be releasing a 17-minute documentary next week focusing on the successes of the president's first term in office. The short film is directed by Oscar-winning documentarian Davis Guggenheim, whose relationship with Obama goes all the way back to 2008 when he directed a documentary on the president for the Democratic National Convention.
Wednesday's conference call came just one day after Super Tuesday, when the four remaining GOP presidential candidates faced off in ten primaries and caucuses across the country. With those contests fresh in their minds, Obama campaign manager Jim Messina and senior strategist David Axelrod used the call to offer their interpretation of Tuesday night's results.
The call focused almost entirely on the demographic weaknesses of frontrunner Mitt Romney. In his opening remarks, Messina pointed to low turnout in many states on Tuesday and exit poll data showing weaknesses among independents to argue that Romney is hurting his prospects for the general election.
"What we saw last night is overall republican primary turnout down 8.8% in the Super Tuesday states," Messina said, listing off 6 states where turnout was down compared to 2008. "Independents have bailed on Romney just in time for the general election. Romney's gone so far right that it's cost him the independents' support. Only in his home state of Massachusetts did he win independents. He lost independents in every single other state." FULL POST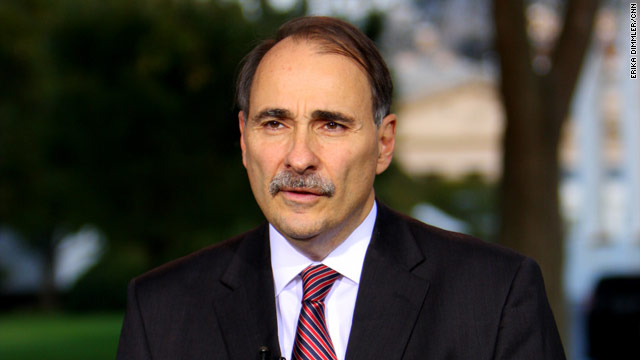 December 13th, 2011
01:41 PM ET
Washington (CNN) - President Barack Obama's top re-election campaign advisers predict that an extended Republican primary battle will produce a weakened GOP nominee, and that a longer process could drain the independent Republican super PACs of much of their money.
And while top officials continue to focus most of their fire on former Massachusetts Gov. Mitt Romney, one of them did compare new GOP front-runner and former House Speaker Newt Gingrich to the rear end of a monkey.
Asked if Gingrich can sustain his front-runner over time, senior Obama campaign strategist David Axelrod said "I told my colleagues yesterday a bit of homespun wisdom that I got from an alderman in Chicago some years ago when one of his colleagues wanted to run for higher office and he was really dubious. He said, 'just remember the higher a monkey climbs on a pole, the more you can see his butt.' So, you know, the Speaker is very high on the pole right now and we'll see how people like the view."
Axelrod also described Gingrich's economic proposals as "far more radical than Romney's," and says if the former House speaker wins the nomination, there's plenty of material in Gingrich's record to use against him in a general election.
His comments came Tuesday as the top Obama campaign officials briefed political reporters in Washington on the campaign's strategy to win the 270 electoral votes needed for re-election next year.
FULL POST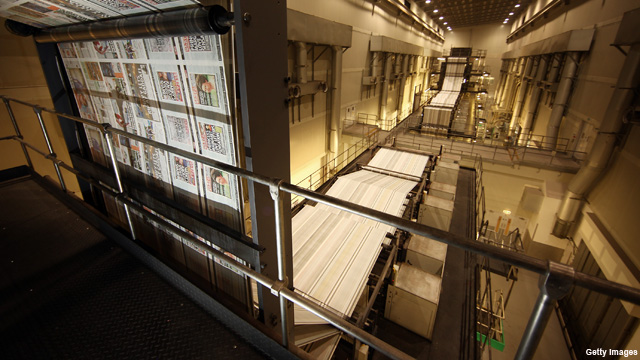 October 28th, 2011
09:15 AM ET
One article we know the Obama campaign is reading today comes from the New York Times on the close connections many of the president's big-dollar fundraisers have with the lobbying industry. This seems to be the crux of the article:
At least 15 of Mr. Obama's "bundlers" — supporters who contribute their own money to his campaign and solicit it from others — are involved in lobbying for Washington consulting shops or private companies. They have raised more than $5 million so far for the campaign.

Because the bundlers are not registered as lobbyists with the Senate, the Obama campaign has managed to avoid running afoul of its self-imposed ban on taking money from lobbyists.
Ben LaBolt, spokesman for the president's reelection campaign, posted a blog post early this morning, saying that the New York Times story "misses the forest for the trees," in its reporting, "obscuring the President's long history of advancing ethics and government reform and brushing right past his opponents' records with nothing but a shrug." Here's some more from his response:
From the first day he announced he was running for President, Barack Obama hasn't accepted a dime from federal lobbyists or political action committees (PACs). He led the way in disclosing major volunteer fundraisers for his campaign, disclosing both the names of the individuals who raise money for the campaign as well as the levels of contributions that they raise
The New York Times makes a nod in LaBolt's direction in this paragraph by acknowledging the Obama campaign's efforts to keep lobbyists away:
As a matter of policy, Mr. Obama's re-election campaign goes beyond what campaign law requires by refusing contributions from any "individual registered as a federal lobbyist." Registered lobbyists are not even allowed inside his fund-raising events, and the campaign routinely returns checks from those trying to contribute.
Here are some other articles the White House may be reading today:
Election worries give momentum to deficit talks [Reuters]
US Stock Futures Pull Back Ahead Of Spending, Sentiment Data [Dow Jones Newswire]
Consumer spending up in September on savings [Reuters]
JPMorgan won't charge debit card fee as big banks back away from idea [Wall Street Journal]
Rise in Medicare premiums less than feared in 2012 [BusinessWeek]
Justice Dept. memo writer is mum on pot crackdown [BusinessWeek]
September 20th, 2011
06:43 PM ET
Yesterday CNN was first to report that the Obama campaign had scheduled a conference call for this afternoon with members of the Jewish community where it would lay out the president's record in support of Israel. Organizers of the call explained that it was not scheduled in reaction to recent bad press regarding the president's stance on Israel, but rather planned long in advance in attempt to arm supporters with detailed information about the president's record in advance of the Jewish high holidays of Rosh Hashanah and Yom Kippur – and the political dinner discussions that often accompany them.
Well, the call has just wrapped up after roughly 40 minutes and one of the leaders of the call, former-Congressman Robert Wexler – a chief surrogate for President Obama amongst Jewish voters during the 2008 election – offered CNN a few observations about how it played out.
Wexler, who served seven terms in congress before leaving in 2010 to take over as president of the S. Daniel Abraham Center for Middle East Peace, said that today's call is just the "first step of an aggressive effort to lay out President Obama's record on Israel." But he was careful to place the entire discussion in a broader context.
"Most Americans – Jewish Americans included – are focused on the economy," Wexler said, later adding that, "to divorce this discussion from President Obama's views on Social Security and Medicare and the views of the Republican nominee on those issues is useless." FULL POST
September 19th, 2011
05:32 PM ET
NEW YORK, NY (CNN) - As part of an ongoing outreach to Jewish voters and in response to mounting criticism of President Obama's record on Israel, and polls showing support in the Jewish community slipping, the Obama campaign is mounting a vigorous defense beginning with a national conference call on Tuesday.
In an email to Jewish supporters, Ira Forman, Jewish Outreach Director for the Obama campaign said, "the other side is working hard to distort the President's record - particularly when it comes to his strong support of Israel. To set the record straight, it'll be up to supporters like us who know the truth to get the word out."
DNC chair Rep. Debbie Wasserman Schultz and former Rep. Robert Wexler, president of the S. Daniel Abraham Center for Middle East Peace, will join the call to listen to concerns and walk participants through the president's record. The call will be followed with more details on the president's record posted on the campaign website.
The outreach takes place as President Obama is set to take center stage at the United Nations General Assembly in New York City, where he's expected to address the issue of  Palestinian statehood.