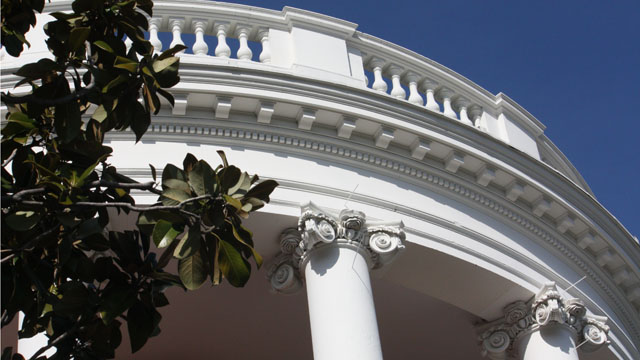 March 31st, 2012
11:20 AM ET
(CNN) – Democrats and Republicans addressed struggles facing middle-class families during their weekly addresses Saturday following a busy week dominated by Supreme Court judges' arguments on health care.
President Barack Obama and House Speaker John Boehner, a Republican from Ohio, spoke about proposals to help middle-class families, urging the opposing party to join theirs to find solutions.
Obama boosted the "Buffet Rule," a proposal to end Bush-era tax cuts for wealthy individuals, or, as Democrats describe it, would "ask some of the wealthiest Americans to pay their fair share."
"Now, if this were a perfect world, we'd have unlimited resources. No one would ever have to pay any taxes, and we could spend as much as we wanted," Obama said.
December 21st, 2011
01:12 PM ET
While the payroll tax extensions are on hold for the time being, things are still moving behind the scenes. President Obama made phone calls to both House Speaker John Boehner and Senate Majority Leader Harry Reid. While there are no plans to have a face-to-face meeting, the White House has made it clear that the ball is in the House's court.
We got two different readouts of the Obama-Boehner phone call. If only we had been conferenced in to hear what really was said.
From the White House:
In his call to Speaker Boehner, the President reiterated the need and his commitment to work with Congress to extend the payroll tax cut for the entire year, and the fact that the short-term bipartisan compromise passed by almost the entire Senate is the only option to ensure that middle class families aren't hit with a tax hike in 10 days and gives both sides the time needed to work out a full year solution.  The President urged the Speaker to take up the bipartisan compromise passed in the Senate with overwhelming Democratic and Republican support that would prevent 160 million working Americans from being hit with a holiday tax hike on January 1st. ...The President urged the Speaker to allow a vote on the one compromise that Democrats and Republicans passed together to give the American people the assurance they need during this holiday season that they won't see a significant tax hike in just 10 days.
From an aide to Speaker Boehner:
Speaker Boehner spoke to President Obama this afternoon regarding the House's efforts to prevent a tax increase next year on 160 million working Americans. The Speaker reminded the President that the House is the only body that had done what he asked for by providing a full year of payroll tax relief and extended unemployment benefits. He urged the President to call on Senator Reid to appoint negotiators so that we can produce a full-year bill by the end of the year that provides a tax cut of $1,000 rather than only $166. The Speaker told the President that his conference was elected to change the way Washington does business and that we should not waste the next ten days simply because it is an inconvenient time of year. He said that our differences are not so great that we cannot pass a full-year bill by December 31st. Speaker reiterated to the President that Republican negotiators remain in Washington and ready to work. "Let's get this done today," the Speaker said.
For the full story from our friends at CNN Wires, click here.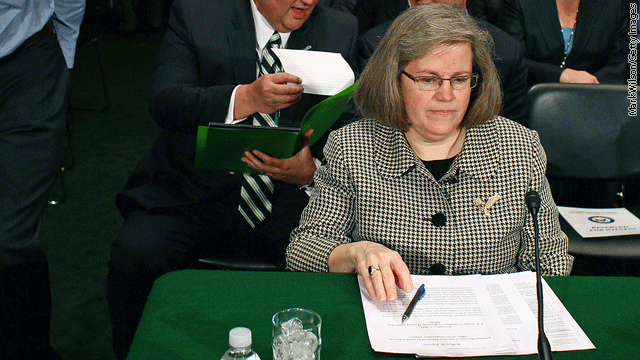 November 3rd, 2011
03:29 PM ET
The White House is again pressuring Republicans in the Senate to support the nomination of Richard Cordray as head the Consumer Financial Protection Bureau.  The latest pressure point: military families.  In a conference call with reporters, White House officials cited the importance of the CFPB in the lives of service members  to protect them from predatory lenders, certain types of installment loans and debt collectors who often harass service members during active duty.
Pegging this latest push to today's testimony before the Senate banking committee by Holly Petraeus – head of Servicemember Affairs at the CFPB – representatives from the Treasury Department, the National Economic Council and the Executive Office of the President explained why the CFPB's ability to help military families was effectively neutered by not having a director.
"The way the statute works, until such time as the CFPB gets a director it will not have the authority to supervise and enforce all these various consumer protection laws, with respect to payday lenders, debt collectors, etcetera, etcetera, the kinds of firms that we're talking about…that are preying on military families," said Deputy Treasury Secretary Neil Wolin.
Cordray's nomination recently passed out of the banking committee on a party-line vote, with all 10 Republican members voting in opposition, and Senate Republicans have vowed to block his nomination if it ever comes to the floor. On today's call Stephanie Cutter – a deputy senior advisor to President Obama – used Mrs. Petraeus' testimony as proof that military families are hurt by such Republican opposition.
Citing a specific question from Republican Sen. Richard Shelby about whether the CFPB had enough resources to do its job, Cutter quoted Mrs. Petraeus as saying that while the resources are there to the job, "they're not able to actually do the work." FULL POST
April 6th, 2011
07:15 PM ET
WASHINGTON (CNN)– After returning to the White House from a trip to Pennsylvania and New York, President Obama will meet with House Speaker John Boehner and Senate Majority Leader Harry Reid to "help them bridge the narrow, but important gaps that remain," said a White House official.
Earlier in the day the president had received a more optimistic assessment on the negotiations after speaking by phone with Boehner and Reid, according to the official.
"They told him that they were making progress and did not need him to get involved."
Even so the official added that "the White House team has been monitoring the situation," all day.
Traveling with the president, spokesman Jay Carney told reporters that the president concluded that "not enough progress has been made," according to a pool report.
Another source familiar with the situation was more blunt. "There was almost no progress made today." FULL POST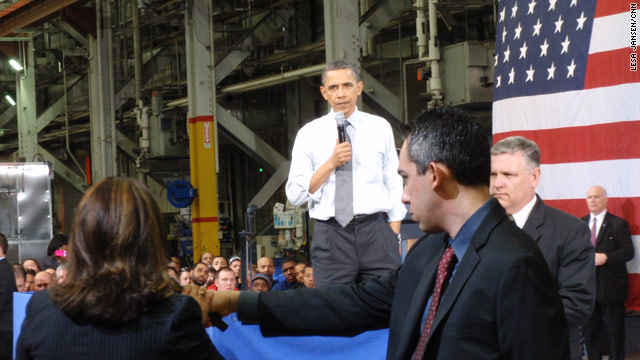 April 6th, 2011
06:38 PM ET
(FAIRLESS HILLS, PA) CNN - As a federal government shutdown looms, President Obama Wednesday scolded congressional Republicans for injecting ideology into the budget debate and holding up a deal on funding the government for the rest of the year.  "[B]ut somehow we don't have a deal, because some folks are trying to inject politics in what should be a simple debate about how to pay our bills," the president told workers at a Pennsylvania wind turbine factory.  "They're stuffing all kinds of issues in there, abortion, the environment, health care.  There are times to have those discussions, but the time is not now.  Right now we need to pay our bills, and the government needs to stay open."
The comments were made at a town hall where the president tried to focus his message yet again on clean, renewable energy.  He spoke to more than 400 workers at the Gamesa Technology Corporation in Fairless Hills, PA, 25 miles north-east of Philadelphia.  The president reiterated his administration's commitment to renewable energy like wind turbines and the development of job markets and investment in these fields to bolster the economy.  "We are going to get 80% of our electricity from clean sources," Mr. Obama told the workers.  "If we follow through on this, if we tackle this challenge, our economy will be less vulnerable to swings in oil prices our nation will no longer be beholden to the country we now rely on for oil imports."  FULL POST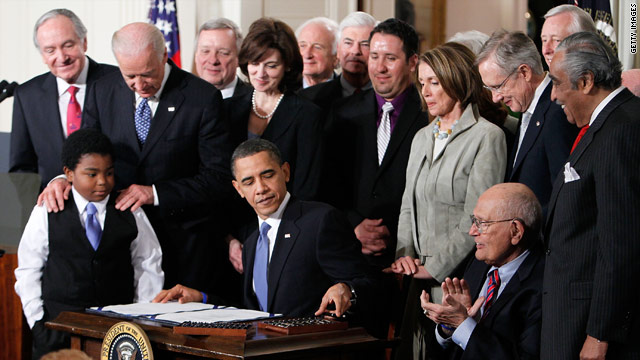 March 23rd, 2011
06:46 PM ET
WASHINGTON (CNN) – On the one-year anniversary of President Obama signing the health care reform law, the debate for the law's future continues.
Groups on both sides of the issue marked the anniversary of the enactment of the Patient Protection and Affordable Care Act by voicing their opinions in a flurry of written statements.
President Obama and Democrats have lauded the reform passed last year for extending benefits for young adults under their parents' insurance until they are 26, banning insurance companies from dropping patients when they get sick, and prohibiting children with pre-existing conditions from being denied coverage. The Obama administration also argued that the reform would benefit the economy by creating jobs and reducing the deficit. FULL POST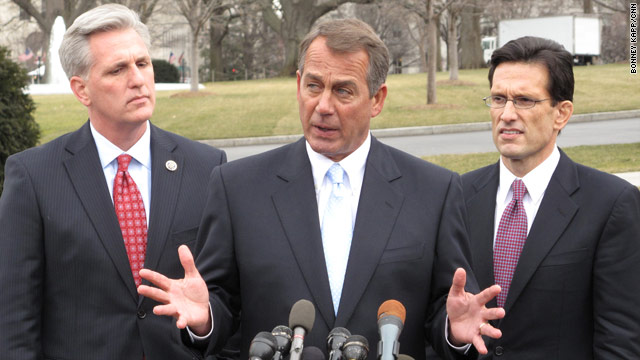 February 9th, 2011
02:26 PM ET
WASHINGTON (CNN) - President Obama hosted the House Republican leadership for lunch this afternoon to continue his outreach to those on the other side of the aisle.
There's no word of what was on the menu food-wise but topics on the agenda were mostly economy-related: specifically spending cuts, trade, and creating jobs. Afterward, House Speaker John Boehner, Majority Leader Eric Cantor, and Majority Whip Kevin McCarthy said it was a "very good meeting" where they were "able to find enough common ground to show the American people we're willing to work on their behalf."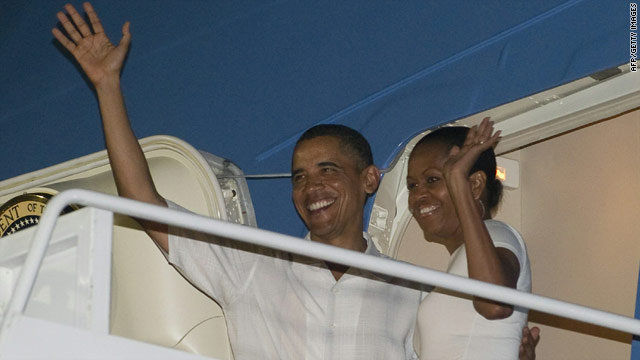 January 4th, 2011
08:45 AM ET
(CNN)-  President Obama said early Tuesday that he hopes Republican leaders "realize that there will be plenty of time to campaign for 2012 in 2012."
During a surprise visit to the press cabin aboard Air Force One on his way back from his vacation in Hawaii, Obama said he hopes to build on the progress made during last month's lame-duck session.
"My hope is that John Boehner and Mitch McConnell will realize that there will be plenty of time to campaign for 2012 in 2012. And that our job this year is to make sure that we build on recovery," Obama said. FULL POST